Young Chef and Young Baker 2017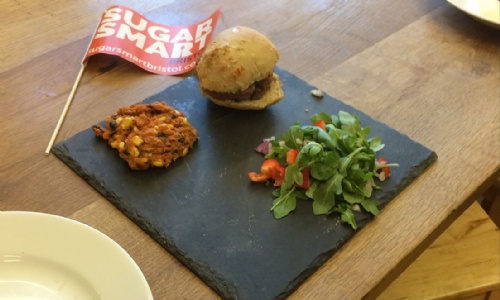 The finals of this prestigious competition run by Bristol Healthy Schools took pace on Tuesday and Wednesday of this week at Bordeaux Quay restaurant. Cotham School have a strong reputation in this competition from the high number of entries we place each year but also over a number of years getting to the final. Talulla Harris 8TS and Ellisa Zananiri were finalists in the the Young Baker Competition. Talulla made 'Homemade Pitta Breads with Falafel and Tzatiziki and Ellisa made a 'Sun-dried Tomato and Black Olive Focaccia'. The judges quickly tried these dishes and unfortunately we didn't get to take photos of the finished dishes. The judging was very tough and students were competing against a number of Bristol schools. We are pleased to announce that Talulla was named the winner of Bristol Young Baker 2017. Both Talulla and Ellisa enjoyed the experience cooking at Bordeaux Quay and are keen to enter next year. We also made it onto the television as we featured on 'Made in Bristol' in the Crunch program.
For Bristol Young Chef we had four finalists at the event, Masha Evans 8KBO entered with her dish of 'Masha's Spaghetti Carba na na' and 'Blueberry and Banana Oat Pancakes', Elliott Jones 8TS with his 'Spaghetti Bolognese with a Fruit Cake Dessert', Oliver Kirkham 8AWS with a 'Mexican Burger with Sweet Potato Mash', salad and a dessert of a taco pancake filled creme fraiche berries. Harley Harris 10RH with 'Roast Chicken with Mediterranean sauce and Handmade Pasta' with a dessert of 'Blueberry Tiramisù with Hand Brewed Coffee'. Students coped very well on a hot day using commercial equipment. The winner was Harley Harris the judges commended him on the range of skills he used and the way that he had to adapt his recipe to suit the commercial kitchen.
We are very proud in the efforts of these students and would also like to thanks their families for their continued support and tasting numerous trial runs!
The winners will be going to City Hall ion Wednesday for the prize giving and all finalists will receive a gift from us.