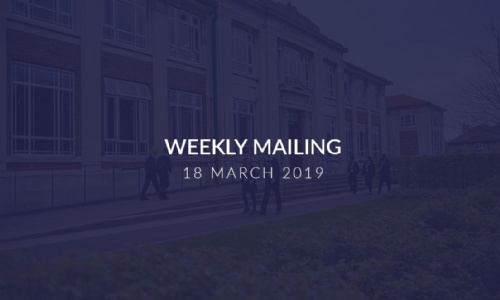 Weekly Mailing - Monday 18 March 2019
Published 18/03/19, by Mark Shutter
Dear Parents and Carers
Playing Fields at Stoke Lodge update
It was absolutely brilliant to see our students returning to our playing fields this week and there was an all-round 'thumbs- up' from them at the quality of the provision they are now able to access in the same as other students in the City are through their school playing fields.
Disappointingly, it would seem that not everyone feels the same way and certain members of the public, not associated with the school, have displayed behaviour which can only be intended to make our students and staff feel at the very least, uncomfortable, and at the worst, intimidated.
I take the conduct of these individuals extremely seriously and have reported it to the Bristol Safeguarding Board and to the police who I fully trust will take appropriate action against any member of the public behaving in a manner in which they would not behave outside a school gate or a playing field attached to a school site.
For added reassurance we currently have an extra staff presence at the playing fields to ensure that our students and PE staff feel safe and secure whilst they are taking part in lessons. However, we also trust that swift police action will put an immediate stop to any more irresponsible and strange behaviour from the individuals who have caused us, and you, such concern.
I will, as ever, keep you fully informed of any further developments in my weekly mailings home but in the interim if you have any further concerns please do contact us at the school.
My sincere thanks for your ongoing support and tireless campaigning on behalf of our students and school.
Please click here to view the updated FAQ document about our playing fields at Stoke Lodge. FAQ 30 has been added and FAQ 1,2,4,1,17,22 and 26 have been amended in order to provide further clarity
These questions have been put together to provide information concerning the future use of Stoke Lodge Playing Fields. This is not intended to be a definitive list, nor a legal document, but rather a place to share information. We hope you will find this helpful. We will add to these as our projects develop further.
Please also find below my usual updates on events that have taken place in school, information, letters etc.
Best wishes for the week ahead,
Ms Jo Butler
Headteacher
Read More