Weekly Mailing - Friday 08 June 2018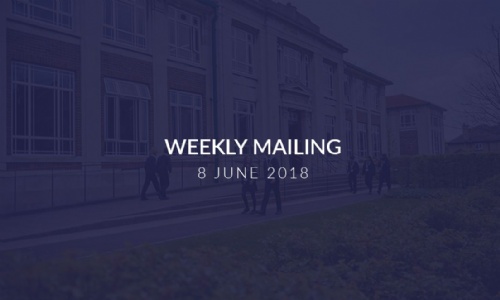 Dear Parents / Carers

Please find below my usual information, letters and updates on events that have taken place this week. .

Ms Jo Butler
Headteacher
Upcoming Events
w/c 11 June
Week B

Yr. 9 German Exchange

Tues 12 June

Performing Arts Celebration Evening

Wed 13 June
Congratulations
Talk to us
If you would like to tell us about any student achievements outside of school or to promote a community event etc via our weekly mailing please do not hesitate to contact us with details
Important Information for Parents/Carers
Meat free Monday - 11 June 2018
Sigma are supporting Meat Free Monday on Monday 11 June. Sigma House Reps Lola Gurvitz, Adam Davey Takolia, Christine Wierzbicki and Jana Al Masri ​​have been working together with Mrs Haskins-Cotton, the School Catering Manager, to put together a menu for this event. They have also worked together on the promotional side and have designed posters and a menu. As part of our role in the school we would like Meat Free Monday to raise awareness of the environmental impact on eating meat, and to encourage people to help slow climate change, preserve precious natural resources and improve their health by having at least one meat free day every week. One day a week can make the world of difference.
Word of the week
Each week at Cotham we promote a Word of the Week. This is to help students expand the range of vocabulary they use. Please find the word for the week ahead by clicking here.
Celebrate and Connect Supper - Thursday 19 July 2018
Cotham School would like to invite all parents to our Celebrate and Connect supper on Thursday 19 July. The event will take place from 7pm to 9.30 pm. This will be a fantastic opportunity for parents and teachers to meet one another and celebrate the amazing diversity of our school.
Currently 41 different languages are spoken in Cotham and we have students representing every continent.
Please join us, bring a dish to share and make some new friends.

Mrs Marlene Kelly
Learning Mentor/Ethnic Minority Achievement Co-ordinator
Famous School Branches Loyalty Scheme
This summer FSB are launching a Loyalty Scheme which will enable customers to earn points on their purchases which can then be exchanged for money off of future purchases. Participating parents will also be able to participate in future promotions and receive information on Sales events.
As part of this launch FSB are also running a competition for new pupils starting this September 2018. One parent from each school will win a £30.00 Schooltogs voucher that can be spent in store. Just sign up to the Loyalty Scheme to be entered into the draw.
OTR Newsletter
OTR are an organisation who run various projects across Bristol and South Gloucestershire. They have been designed with the help of young people, and all of them are delivered by a team of super-friendly staff and volunteers.
Please can we ask you to draw your child's attention to the following useful resource packed with tips and tricks for looking after your mental health, as well information on the latest projects and how they can get involved. Click here to access the June 2018 newsletter.
Key Stage 3 (KS3) News
Year 7/8 Maths Assessment Dates
Year 7 End of year exams
Week beginning 18 June
A-side of Year group (Tuesday P4 paper 1 and Wednesday P5 paper 2)
B-side of Year group (Tuesday P2 paper 1 and Friday P2 paper 2)
Year 8 End of year exams
Week beginning 25 June
A- side of the Year group (Mon P3 paper 1 and Tuesday P2 paper 2)
B- side of the Year group (Tue P2 paper 1 and Wednesday P5 paper 2)
Year 9 Science Exam
All Year 9 students will sit a science exam on Thursday 21 June at 1.45.
All students are expected to be revising for this exam to achieve as highly as they can.
The exam will include content from topics B1, B2, B3 / C1, C2, C3 / P1, P2, P3.
All students have a login to the online textbook on the kerboodle website (password resets available from class teachers). Class teachers will also put more revision materials onto Google Classrooms to help with revision.
Results will be used to determine science groups for next year. This includes which students will be offered to study Separate Sciences GCSE (formally called Triple Science). The remainder of students will all study Combined Science (formally called Double Science).
Revision sessions will run on Tuesdays after school 3.15-4.15 (5, 12 and 19 June) in C202. Everyone is recommended to attend.
We would like to wish all KS3 students the very best for their exams this term.
Key Stage 4 (KS4) News
Year 10
Year 10 Work Experience 2-6 July 2018
There are still students who have not yet secured a Work experience Placement. Please ensure they do this asap.
End of Year Exams- Monday 18 June- Friday 29 June
End of year exams for Year 10 students will commence on Monday 18 June and continue until Friday 29 June. The results that they achieve will be sent to you in your child's Academic Monitoring report at the end of Term 6. Your child's end of year Academic Monitoring report will contain their Current GCSE Grade, their Exam Grade, and their teachers Predicted Grade. Teachers will use your child's performance in these exams to arrive at a Predicted Grade.
Your child will be asked for their Predicted Grades when they apply to Post 16 Institutions. Institutions will consider these Predicted Grades carefully before making an offer of study to your child. The next 'mock' exam for students will not take place until January 2019 and so it is important that your child's Predicted Grades are strong enough to allow them to apply for the courses that they want to study next year. It is therefore vital that your child prepares carefully and thoroughly for these end of year exams.
A copy of the exam timetable can be viewed here.
A copy of the content being assessed in each of their exams can be viewed here.
Students will have been given a copy of their own timetable this week. Where an exam clash exists, their own timetable will tell them on which day they will complete their exams. We rely on students carrying their timetables with them at all times during exam season and being prompt to their exams. Please discuss the exam timetable with them and check that they know where they need to go for the exam and that they are fully equipped.
The following resources will be helpful in supporting your child with their revision:
Support your child in preparing an exam preparation schedule so that they complete revision tasks - a template revision schedule can be found here.
Ensure your child has revision guides that can help to support their learning - a list of these is here along with details of useful revision websites for each subject.
Examination Command Words document here - examples of command words that students need to be confident using.
GCSEpod and SAMLearning contain lots of valuable online revision activities for most subjects (log on details for these sites can be found at the end of this mailing under useful links).
Year 11
The additional examination preparation sessions have now begun and will continue to occur for the following subject areas on the following days.
Attendance to these sessions has not been as positive as we would have expected. Please discuss these with your child and encourage them to attend if they have been invited (we wrote to all parents prior to the half term and the info has also been posted on Year 11 google classroom).

Date Subject Period Students
Mon 11 June Maths 3 and 4 Invite only
Tue 12 June Chemistry 3 and 4 Invite only
Tue 12 June Food 3 and 4 All welcome
Tue 12 June Child Dev 5 All welcome
Wed 13 June RM 3 and 4 All welcome
Thur 14 June Physics 3 and 4 Invite only
Fri 15 June German 3 and 4 All welcome
Mon 18 June Graphics 3 and 4 All welcome
Tue 19 June Dance 3 and 4 All welcome
Wed 20 June German 3 and 4 All welcome

During the exam period the library will remain open for students to complete revision; they need to collect a Library pass from student reception as they arrive in school.

All students should be in normal school uniform and have their lanyard with them (for exam identification) whenever they are in school.

If you are worried that your child is not revising enough at home then the following may be helpful resources:

Year 11 November mock exam papers and markschemes and exemplar solutions can be accessed here.
February Mock Exams and markschemes can be accessed here. There is value in students re-completing these and demonstrating that they can recall knowledge previously assessed, and act on feedback already given to them to improve their original raw mark.

Support your child in preparing a summer exam preparation schedule so that they complete revision tasks - a template revision schedule can be found here

Ensure your child has revision guides that can help to support their learning - a list of these can be found here along with details of useful revision websites for each subject.

Examination Command Words document here - examples of command words that students need to be using with confidence.

See the Top Tips for Parents sheet attached here which contains useful reminders about 'what to do' and 'what not to do'.

GCSEpod and SAMLearning contain lots of valuable online revision activities for most subjects (log on details for these sites can be found at the end of this mailing under useful links).

Please continue to encourage your child to revise over the May term holiday even if the weather is glorious!
GCSE examination timetables
Students have been issued with their own personal final examination timetable showing their own GCSE exams and examination board rules. No further paper timetable will be issued and it is important to keep this information safe. An electronic version of their timetable has also been added to the Year 11 Google classroom page so that students can obtain another copy if necessary.

A full GCSE timetable can be viewed here.
A copy of Examination Rules can be found here.
National Citizens Service
Click here to view a letter from the NCS about their Summer 2018 programme.
​​​Post-16 News
AS and A2 Exams are in full swing and all students have behaved impeccably - please ensure that your son/daughter knows which room they are in - most exams this year are in the Sports Hall at Cotham main school but there are some in G001. Students who are in small rooms are usually in B008 at Main school and G201/G205/G207 in Charnwood. If they do not have their timetable then they should come and see Mrs Kempt - they MUST have ID badges to enter the hall - if they do not they need to collect a sticker from main school Student Reception.
Futures 18 Week is Thursday 5 and Friday July where students are off timetable and have a variety of useful workshops to attend - more details to follow. All students will have the opportunity to sign up to UCAS on Friday 6 July.
There is no Core Programme next Wednesday due to exams but on 27 June we have Evolve Outreach coming in to do a workshop on applying to Higher Education focussing on how to write an effective personal statement for UCAS.
Any student interested in applying to Oxbridge or Medicine/Dentistry/Veterinary should see Mrs Kempt if they need some advice and support.
All students who received a U grade in their mocks will be sitting a re-mock paper in the next week - they will be informed as to which day by their teacher - all students are aware of the procedure if they have obtained a U grade in their mock.
Click here to access more information about Technical Apprenticeship opportunities available at Bristol University for Year 13 students.
Careers News
Interested in a career in wild animal care/management?
The Higher Education department at SGS College is holding a Zoological Management Open Event this Saturday 9 June from 10am -12.00pm where students can find out about the degree courses they offer. As the event takes place at Bristol Zoo, you must reserve a place by emailing highereducation@sgscol.ac.uk
Find out about other courses at SGS College (from Level 2 to degree level) at their general open day, also on Saturday 9 June 10am-1pm, when all campuses are open, incl. Filton, WISE, Berkeley Green and Bristol School of Art.
What does a career in professional services involve?
PwC UK (ranked as the world's most prestigious accounting firm) are holding a Schools Open Day event for students in Year 11-13 and their parents at their Bristol office on Tuesday 12 June from 4-7pm. You will find out what PwC does, what opportunities are on offer to school-leavers and graduates and how to gain work experience there. Please click here to register.
Management Trainee Programme for school leavers
Taylor Wimpey (one of the UK's largest residential developers) have created three roles suitable for school leavers with Level 3 qualifications at their Bristol office: Trainee Design & Planning Executive, Trainee Quantity Surveyor, General Management Trainee. Click here for more details - (closing date is 29 June)
Legal Apprenticeship opportunity
Burges Salmon (a top Bristol law firm) have a Level 3 Paralegal Apprenticeship opportunity available, starting this September, for school-leavers with Level 3 qualifications. Successful apprentices may continue on to qualify as a solicitor. Click here for more details.
Subject Area News
PE/Sports Update
Please click here for a list of all of the PE/Sports Extra-Curricular activities available to students in Term 6
Follow @CothamPE on Twitter for all the latest news and updates from the Cotham School PE department
Visual Arts Update
End of Show - 8-13 June 2018
Returning to Centrespace, THIS FRIDAY is the annual 'End of Show' organised and presented by our extremely talented North Bristol students. The show is intended as a culmination and celebration of work produced over the past two years and will no doubt be imbued with young talent. The private view will commence at 6pm-9pm on 8 June and the show will then be open from 10am - 5pm until 13 June. We would love you to come and show your support. Please click here to view the poster.
Performing Arts Update
Drama Work of the week
This week the accolade goes to Ezra Penny (8SL) for his Lego recreation of a Shakespearean street. Congratulations, we look forward to more great work in the future. Click here to view.
Shakespeare Fun Fact!
Today's Shakespeare fun facts are provided by Miss Gordon: Shakespeare never seemed to spell his name properly, often signing his name "Willm Shakp," By others, he was referred to by over 80 different names, such as "Shaxberd." and "Shappere".
Modern Technology and Visual Arts: Food Science
Year 10 GCSE Food students are taking part in an exciting opportunity as part the Bristol Food Connections Festival 2018 Students will partake in an 'Apprentice' style Challenge to purchase produce from Bristol Fruit and Vegetable Market with an aim to process this into fruit and vegetable products to up-sell at a City Centre market. We will have an early visit to the Fruit and Vegetable market at 7am to purchase our produce ahead of selling this at the Harbourside on Thursday 14 June at 12.30am.
In preparation for this students were introduced to the task at the boardroom of the market. Students also had a tour of the market to enable them to consider what could be bought on the day and which fruits or vegetables would be most suitable. The Cheddar strawberries are a possibility especially as students were able to have a punnet each to take away with them! Click here to view images.
We would invite any parents and carers who are available, to come and visit our market stall and purchase the prepared food items. Several other schools are involved and we would appreciate the support. In due course students will have prepared their marketing materials and we will share this to you. We will based in the centre of Bristol at the Harbourside market. - Mrs Brock - Modern Technologies and Visual Arts (Deputy Faculty Lead)
House News
Sigma
Sigma Ice Lolly Sale
Well done to the new Sigma Prefects Abir, Aineias, Louis and Paramjeet who organised and ran their first event - Sigma Ice Lolly and Choc Ice Sale. Although the sun was not out it was a great success. All money raised is going towards our Water Project. As a House we are raising funds for a new water fountain.
Community News
Casual Interpreter Vacancy with Bristol City Council
The Translation and Interpreting team are currently recruiting casual Interpreters in many languages. A copy of the job advert can be found here.
Life cycle - Bike Maintenance course for Young People
Life Cycle is running a 1-day beginners' cycle maintenance course for young people on Thursday 23 August 2018, 11am-4pm. This Beginners' course is the perfect way for young people aged 16 – 20 to build a strong foundation in cycle mechanics.
With the help of an expert, City & Guilds-qualified mechanic, trainees will learn how to:
Name the parts of a bike
Adjust saddle height
Repair punctures
Adjust brakes
Understand how gears work
Each trainee will work on a Life Cycle bike inside our professional workshop in Horfield. They can then practice on their own bikes at home to keep those skills fresh!

PRICE: £49.95 (includes a FREE puncture repair kit).
BOOKING: https://goo.gl/2qxecA
For more information contact 0117 353 4580 or visit www.lifecycleuk.org.uk
Free SS Great Britain Event
Brunel's SS Great Britain to invite students and their families to a free family event designed to inspire them with science and engineering.
Called 'Explore Engineering' the event takes place on Tuesday 19 June (6.30pm to 8.30pm) on the historic ship the SS Great Britain and in the surrounding dockyard on Bristol's harbourside. It is a fantastic opportunity for secondary school students to meet inspiring scientists and engineers, take part in hands-on activities and explore the amazing opportunities available in these exciting industries.
In particular we would like to encourage young women to come along and find out more about science, engineering, technology and maths (STEM) and hear real-life examples of how these careers work in practice. They will have a chance to meet representatives from local STEM companies, as well as our own Ship's Conservation Engineer, Nicola Grahamslaw, who is a Chartered Mechanical Engineer.
This event is part of Bristol's Deeds Not Words programme marking 100 years since the first women were given the vote in the UK. As part of this, we are celebrating and supporting the role of women in science and engineering as currently less than 10% of professional engineers and fewer than 15% of engineering students in Britain are women.
The event also takes place in the run-up to International Women in Engineering Day on 23 June.
While the event is free, we are asking everyone interested in attending to register in advance at
www.ssgreatbritain.org/whats-on/explore-engineering
Horfield Festival of Children's Literature
Horfield Church of England Primary School is hosting the first ever Bristol's Festival of Children's Literature this summer, on Saturday 14 July. As UKLA Literacy School of the Year 2017-18 Horfield are keen to give something back to the Bristol community through a celebration of children's literature. The UKLA website has tickets priced relatively low (for a literature festival) to ensure accessibility to all Bristol children.
SENDaWelcome events
SENDaWelcome Summer Social, Sunday 24 June 2pm- 4pm - St Michael's Church Hall, Gloucester Road.
Come along with family and friends... We have some great supporters of our initiative coming including the sensory truck, Scrapstore, Circomedia and Baby Bites! We are seeking a keen face-painting volunteer and volunteers in general to help out on the day so please contact us if you can help- many thanks!
Useful quick links
Keep us posted
It would be great if parents/carers could let the school know of any student achievements outside of school please. It is sometimes only at parents' evenings that we find out what students are doing in their own time. Email us: adminoffice@cotham.bristol.sch.uk
Key Dates
Please click here to view the Key Dates by year group for the 2017-18 academic year. You will be notified of any significant changes/additions, but please can we ask that you check the dates for your year group regularly as they are subject to change.
Parents' Evening Booking System (PES)
Please click here to access the online appointment booking system for Parents Evenings/Family Consultation Day. Please note this is only available if an event is due. We will email you to let you know when booking opens. If you encounter any difficulties with booking your appointments please contact the admin team by email to adminoffice@cotham.bristol.sch.uk or tel: 0117 919 8000
Assessment Calendars for KS3
We have created Assessment Calendars which contain details of the class assessments that will take place in each subject. The final column contains a link which gives information about each of the assessments.

Click here to see Year 7
Click here to see Year 8
Click here to see Year 9
Click here to see Year 10
WisePay
WisePay is the Online Payment Service at Cotham School which allows you to pay for trips and visits as well as to add credit to your child's Cashless Catering account. Click here to access your account now. If you have any queries about your account please contact the support team by email to wisepay@cotham.bristol.sch.uk
School Uniform
Please click here to view the compulsory uniform requirements of Cotham School, along with visual examples of uniform and details of our uniform suppliers.
GCSEpod
Click here to access GCSEpod which contains lots of revision resources for most GCSEs. Students self register through the website using their name and school details.
SAM Learning
Click here to access SAM learning which contains revision exercises and self marking quizzes with automatic progress tracking and reporting. Please use the Centre ID: BS6CS. Student usernames and passwords are their birthday formatted as DDMMYY, followed by their Initials.
Diagnostic Questions
Click here to access. This site contains self marking quizzes with lots of templates including some from a range of exam boards. It's easy to make your own questions in Microsoft PowerPoint too. Students sign up with their school Google account using the G+ button to automatically create a school account.
Free School Meals
https://www.cloudforedu.org.uk/ofsm/sims to check if your child is eligible for Free School Meals or to apply.

Click here to Contact Us