Weekly Mailing - Friday 07 September 2018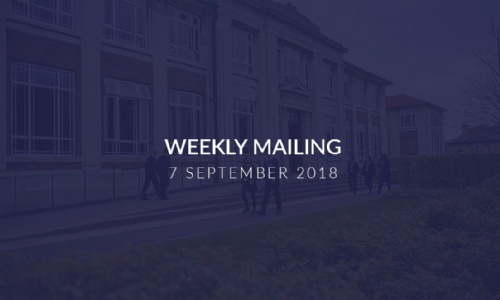 Dear Parents / Carers
A special welcome to the new academic year all our new Year 7 parents and carers! It's been a really great start to the new term and all our students have joined us refreshed and focused for the year ahead. I am not alone in noticing this and have had many positive conversations with staff about both individual and whole classes of students. Please find below my usual updates on events that have taken place this week, information, letters etc.
Ms Jo Butler
Headteacher
Congratulations
"Celebrate and Connect Supper" Event at Cotham School
At the end of the Summer term Cotham School hosted a celebratory evening to acknowledge the diversity of our school. The aim was to encourage parents and staff to come together to share our understanding of different cultures.
During the evening a film exploring diversity at Cotham School was shown. The film "The World of Cotham" was produced, with the help students from Years 7, 8 and 9 by Beeston Media.
The evening went well; it had a relaxed ambience with plenty of tasty food!
I had hoped that it would have been more culturally representative of the school's diversity and with this in mind I am working to develop this aspect for next year. The demographic of the school has changed over the years with an increasing number of students coming from a variety of backgrounds and ethnicities and we really want to ensure that all our students, parents and carers feel a part of Cotham School.
I would like to offer our thanks and gratitude to all those parents and carers who gave up their time to enable this event to happen and also to those who provided such resources as cups, plates, cutlery, tablecloths, table decorations etc.
I would like to also thank Judith Prosser for all her hard work.
And finally a huge thank you to Beeston Media for working with our students to make this amazing film.
Mrs M Kelly - Learning Mentor/Ethnic Minority Achievement Co-ordinator
Healthy School Award
We're really excited to announce that we have passed the Personal, Social, Health and Economics Education (PSHE) Badge of the Healthy Schools Awards! We are the first secondary school in the City to pass this new award. The Healthy Schools Team felt that:
"This was a very strong submission and it is clear that Cotham is committed to outstanding PSHE. The fact that the school has timetabled, regular lessons for all year groups means that pupils have access to a wide range of health and wellbeing topics, have opportunity to have their voice heard and can make meaningful and informed decisions about their own health and wellbeing. Since the programme of study follows the PSHE Association's 'best practice' guidance we are also clear that what is taught is high quality and meets the needs of young people today. The fact that pupils in Key Stage 4 are entered for a qualification also sends a strong message that this is a subject that has worth and is important while more officially rewarding their progress. We can see that the school is also committed to PSHE teachers as staff have been able to attend multiple training courses and networks year on year which has no doubt ensured excellence in their teaching. Lastly, we can see that the subject is regularly monitored internally and that when students have asked for certain topics to be taught, the PSHE team have responded well."
Mr B Saunders, Assistant Head of Faculty - Humanities.
Important Information for Parents/Carers
Early School Closure - Wednesday 19 September
The School's Open Evening for Year 6 parents and families will be held on Wednesday 19 September from 6.30 - 8.30 p.m. As you will appreciate this is one of the most important events in the school year, therefore the school will close early for students to help staff prepare.
The school day for students in Years 7 - 11 will end at the start of lunchtime and they will therefore be dismissed from the school site at 1.05 p.m. Any student eligible for a Free School Meal will be able to collect it from the dining hall before they leave.
Work will be set for students to complete as independent study in lieu of the single lesson missed. Sixth Form lessons will continue as normal at the Charnwood site for all Post-16 students.
Thank you for your continued support of the school and its work.
Future school closures for the 2018/19 academic year will be published in next weeks mailing.
Cotham School Online Safety Newsletter
Please click here to view the September edition.
Mobile Phones
A link to the mobile phone policy is here as a reminder. We do not call parents and carers when a mobile phone has been confiscated. If students need to contact them in an emergency they can ask Student Reception to make a call home on their behalf.
Free School Meals - Important update
https://www.cloudforedu.org.uk/ofsm/sims to check if your child is eligible for Free School Meals or to apply.
Students receiving Free School Meals can receive free cereal and milk every morning in our Breakfast Club from 8.10 - 8.30am. Students will need their lanyards to swipe their cards at the tills in the canteen in the usual way but the money for the cereal and milk will not be taken off their daily free school meal allowance.
GWR Student Rail Ticketing Scheme
We are very pleased to announce that the Severnside Community Rail Partnership have confirmed that they continuing the Student Rail Ticketing Scheme. This partnership offers our students and families a huge saving on rail travel to and from the school on the Severnside Community Rail. An annual ticket costs £40.00 or families can buy their ticket in instalments. All the details are contained in the letter and application form here.
Reflection Space/Prayer Room
A118 is currently available as a supervised "Prayer and Reflection Space" from 1.10 pm to 1.30 pm Monday - Thursday. This is open to the whole school community to provide a multi-faith space for reflection and prayer.
Mental Health and Wellbeing
Off the Record (OTR) offer excellent and free workshops called Resilience Labs for young people aged 14-25 living in Bristol or 11-18 living in South Gloucestershire to teach them skills and strategies for managing stress and anxiety in all parts of life. Click here to find out about the dates and themes of their workshops for Terms 1 and 2.
Rail upgrade work in the Bristol area this autumn
Please see attached letter from GWR about planned engineering work taking place in the Bristol area this autumn that may impact on train services to and from local schools. Students will be required to use a bus rail replacement to reach school at the beginning of Term 2. The practicalities of this are being discussed with the school Rail Reps and further information will follow shortly.
Eating Disorders Conference
You are invited to attend a conference on prevention and early intervention for eating disorders in children and young people. It is taking place on Tuesday 2 October 2018, 9.30am – 3.30pm at BAWA Healthcare & Leisure, BS34 7RG.
FREE tickets are available here: http://eatingdisordersconference.eventbrite.co.uk/?s=86963222
The event is aimed at parents and carers and people working with children and young people in Bristol, North Somerset and South Gloucestershire. Improving access to treatment for eating disorders is a local and national priority; this conference aims to contribute to improving preventative measures, such as promoting positive body image, and early identification and intervention.
Speakers and workshops to include:
Dr Pooky Knightsmith - researcher, writer and speaker on eating disorders, Vice Chair of the Children and Young People's Mental Health Coalition

Dr Mark Pietroni - Director of Public Health for South Gloucestershire

Eva Musby - parent, author and speaker on eating disorders

NHS Child and Adolescent Mental Health Services

UWE Centre for Appearance Research

Workshops for professionals on early intervention and support, school prevention, building our own resilience, and sessions for parents and carers
Funding for the event has been provided by NHS Bristol, North Somerset and South Gloucestershire Clinical Commissioning Group. It is being organised by the Public Health & Wellbeing team at South Gloucestershire Council on behalf of the CCG and Bristol City, North Somerset and South Gloucestershire Councils.
Word of the week
Each week at Cotham we promote a Word of the Week. This is to help students expand the range of vocabulary they use. Please find the word for the week ahead by clicking here.
The Red Box Project
At the end of last term we joined a nationwide project to provide free sanitary wear in schools and break the taboo around menstruation. You can find out more about the project here
We now have discreet Red Boxes in a number of key locations around the school including Student Reception, Visitors Reception and the First Aid office, to enable our girls and young women to be able to help themselves to sanitary products when they need them, rather than to miss out on their education because of their period.
We are canvassing local businesses and residents to donate regularly to our box and are appealing to all our parents and carers to do the same. Any donation of a sanitary product, no matter how small, will be appreciated. Donations can be dropped off at either of the the school Receptions.
Finally, we have a Facebook page set up that is committed to this cause called 'The Red Box Project - Cotham', so please also show your support by joining our page.
Post-16 News
Welcome back to all our Year 13s and a massive welcome to our new Year 12s. This week has been a very busy one enrolling students and arranging their timetables
Please be aware that students cannot request subject changes until the week beginning 24 September.
Please remind your child in Year 13 to update their ID card at the main school IT department and wear their lanyards at all times
Please remind your child in Year 12 that they must have their ID cards around their necks at all time - if they have not had their photo taken then they must do this asap.
Parent Engagement Meeting (PEG) takes place on Wednesday 12 September - letters have been sent out. All are most welcome.
Student wellbeing is very important to us. If your child would like to see the school counsellor or is having any issues at school please ask them to come and see Mrs Kempt or email kemptc@cotham.bristol.sch.uk
To find out more about recent events and achievements in Post 16, please visit the 'This Term at Cotham Post 16' section of our website.
Subject Area News
PE/Sports Update
Please click here for a list of all of the PE/Sports Extra-Curricular activities available to students in Term 1
Follow @CothamPE on Twitter for all the latest news and updates from the Cotham School PE department
Performing Arts News
Work of the Week
On behalf of the Performing Arts team, we'd like to wish a warm welcome to all of those joining Cotham School this year and, to those returning, welcome back!
This year, we are going to be sharing our favourite work of the week from across Dance, Drama and Music. This could be an excellent piece of classwork or an amazing homework.
Last year, we saw masks, fully working models of theatres (with working lights!), a video and even a cake! Any students chosen for work of the week will receive an additional PA point in their workbooks, which, along with those awarded in lessons will lead to the elusive bronze, silver and gold awards.
We look forward to seeing all of your hard work in the coming year.
Dance Uniform
Now that all students have received their timetables, we would like to remind you that all students are expected to wear a dance specific uniform. This consists of the Cotham dance t-shirt with black shorts/ trackies/ leggings. Uniform is available from http://www.harrissports.co.uk/. Harris's will also be coming into school every Thursday to sell uniform. Please come to the main school reception between 2:30 - 4:00pm to purchase. If, for any reason, you are unable to purchase the correct kit by your son/daughter's next dance lesson then they must have a note in their planner from you and an alternative plain black t-shirt.
Community News
Winston's Wish
Winston's Wish are a charity who support bereaved children, their families, and the professionals who work with them. Winston's Wish are extending their support to bereaved children, young people and their families throughout Bristol. They have a funded 5 year project to offer free therapeutic support. They have an event at City Hall on 18 September to launch their new offer, please click here to view the invitation and details of the support available below.
Bristol Academy of Drama
Bristol Academy of Drama have opened a new drama class for secondary school students (Years 7-11). The classes intends to offer students a solid introduction to performance and promises to offer a wide variety of opportunities for students, with masterclasses in many different areas of performance, as well as puppetry, stand up comedy, acting for TV, Improvisation and Comedia Del Arte sessions.
There is a free taster session taking place at the Quakers Meeting House. 300 Gloucester Road on Wednesday 12 September at 4.45pm - 6.45pm.
Please click here to view the flyer or here to visit the Academy website
Useful quick links
Keep us posted
It would be great if parents/carers could let the school know of any student achievements outside of school please. It is sometimes only at parents' evenings that we find out what students are doing in their own time. Email us: adminoffice@cotham.bristol.sch.uk
Key Dates
Please click here to view the Key Dates by year group for the 2017-18 academic year. You will be notified of any significant changes/additions, but please can we ask that you check the dates for your year group regularly as they are subject to change.
Parents' Evening Booking System (PES)
Please click here to access the online appointment booking system for Parents Evenings/Family Consultation Day. Please note this is only available if an event is due. We will email you to let you know when booking opens. If you encounter any difficulties with booking your appointments please contact the admin team by email to adminoffice@cotham.bristol.sch.uk or tel: 0117 919 8000
Assessment Calendars for KS3
We have created Assessment Calendars which contain details of the class assessments that will take place in each subject. The final column contains a link which gives information about each of the assessments.
Click here to see Year 7
Click here to see Year 8
Click here to see Year 9
Click here to see Year 10
WisePay
WisePay is the Online Payment Service at Cotham School which allows you to pay for trips and visits as well as to add credit to your child's Cashless Catering account. Click here to access your account now. If you have any queries about your account please contact the support team by email to wisepay@cotham.bristol.sch.uk
School Uniform
Please click here to view the compulsory uniform requirements of Cotham School, along with visual examples of uniform and details of our uniform suppliers.
GCSEpod
Click here to access GCSEpod which contains lots of revision resources for most GCSEs. Students self register through the website using their name and school details.
SAM Learning
Click here to access SAM learning which contains revision exercises and self marking quizzes with automatic progress tracking and reporting. Please use the Centre ID: BS6CS. Student usernames and passwords are their birthday formatted as DDMMYY, followed by their Initials.
Diagnostic Questions
Click here to access. This site contains self marking quizzes with lots of templates including some from a range of exam boards. It's easy to make your own questions in Microsoft PowerPoint too. Students sign up with their school Google account using the G+ button to automatically create a school account
Free School Meals
https://www.cloudforedu.org.uk/ofsm/sims to check if your child is eligible for Free School Meals or to apply.
Click here to Contact Us