Weekly Mailing - Friday 19 July 2019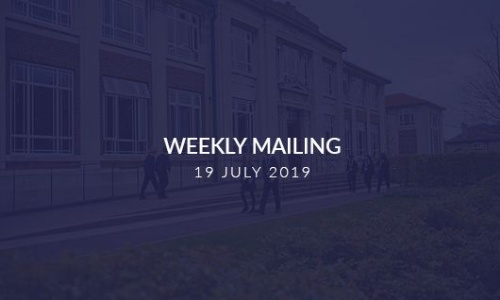 Dear Parents and Carers

Please find below my usual information, letters and updates on events that have taken place this week along with some information for the start of the next academic term. I have to say that with each day that goes by I become ever more proud of the achievements of our wonderful students and staff. This mailing almost brings us to the end of this academic year and I'd like to take this opportunity to thank you for the essential support you provide to ensure your children get the best from school and hope that you will join me in thanking the staff for their excellent and hard work this year.

I wish all of you, our students and all of your loved ones a really enjoyable and I hope, restful, summer break.

Ms Jo Butler
Headteacher


Good News

Pay it Forward Campaign
'Pay it Forward' is an international movement which promotes the undertaking of random (or not so random) acts of kindness. Using the ethos of 'Pay it Forward', the Governors and I feel that now is the time to launch our very own campaign.

For the remainder of this year and subsequently through campaign updates and new termly initiatives next year, we will be providing details of how parents, carers, ex-students, our community and alumni can 'Pay it Forward' to support Cotham School students. Please find a letter here explaining more about the campaign and how you can take part, your 'Pay it Forward' contributions will make a significant difference to our school whether they are financial, helping with resource upcycling or the giving of your time and skills.

Arrangements for the start of term September 2019
Monday 2 September - INSET day for Cotham School staff. NO STUDENTS IN SCHOOL
Tuesday 3 September - Year 7 only in School. Arrival at 8.30 am at Cotham Road Student Entrance where tutors will meet and greet the children.
Wednesday 4 September - Year 7 arrive for 8.30 am at Cotham Road Student Entrance where tutors will meet and greet the children. All other Cotham students arrive for 10.45 am.
The school day finishes at 2.45 pm.
Students will be expected to be in full school uniform from Tuesday 3 September (year 7) and Wednesday 4 September (years 8 -11)
Term Dates/INSET Days, Revised Timings to the School Day and Early Closures 2019-2020 Academic Year
Click here to see the Term Dates/INSET Days, Revised Timings to the School Day and Early School Closures for the next academic year under the tab "Term Dates 2019 - 2020".

Opportunity to Purchase School Uniform
If you wish to purchase School Uniform at the start of the new term in September, Harris's Uniform Suppliers will be in School on Thursday 5 September between 2.30pm – 4.00pm located in Main Reception, Cotham Lawn Road.

Our Parent / Carer Support Group will be selling pre-loved uniform on Friday 6 September between 2.30pm – 4.00pm located in Main Reception, Cotham Lawn Road.

If you have any items of uniform that you no longer require, please think of us! We are always happy to receive donated uniform either here on Main Reception or Student Reception. Our Parent / Carer Committee welcome volunteers to sell uniform on Parents Evenings and after school on the first Friday of every Term, if you can spare a few hours please contact Main Reception.

Addition of Shorts to the School Uniform from September 2019
From September we have a new addition of Shorts to the school uniform, a sample of what they look like can be viewed here. These are available to purchase from our uniform provider Famous Branches both online and from their shops 190 Henleaze Rd, Bristol BS9 4NE and 140 East St, Bristol BS3 4EW. To guarantee that your order will be ready in time for September, orders need to be placed by 29 July 2019. Only the Cothamised school short from this supplier will be accepted as part of the uniform.
Statutory changes to the PSHE curriculum from September 2019
Please click here for further information regarding statutory changes to the PSHE curriculum from September 2019.

Sports Day Results
Well done to all students who took part in both sports days last Friday and Monday. The atmosphere was electric at Stoke Lodge with students and staff wearing house colours, shouting and cheering on their fellow teammates and friends to produce some fantastic performances.

Below are the sports day results for each year group.

Year 7
1st Omega
2nd Delta
3rd Sigma
4th Gemma

Year 8
1st Omega
2nd Gamma
3rd Sigma
4th Delta

Year 9
1st Omega
2nd Gamma
3rd Delta
4th Sigma

Year 10
1st Gamma
2nd Omega
3rd Delta
4th Sigma

Sports Awards Evening
Well done to everyone who received an award at our Sports Award Evening last week. We were joined by Owen Smith, GB 400m athlete, who gave an inspirational talk about how he got into athletics, his achievements and goals for the coming year which included competing at the Tokyo 2020 Olympics.

Congratulations to the following students who were awarded the Sportsman and Sportswomen Trophies for 2019. These students had regularly attended clubs and fixtures, showed a desire to improve and support others and were a great role model to other students.

Year 7
Sportsman - GB 7DS
Sportswoman - HA 7DS

Year 8
Sportsman - ME 8BAK
Sportswoman - EM 8JBR

Year 9
Sportsman - IK 9GC
Sportswoman - AB 9EM

Year 10
Sportsman - KS 10TS
Sportswoman - CD 10SHA

New Cotham Sports Leaders
Congratulations to the Year 9 students who have been selected to become Cotham Sports Leaders in year 10. They successfully made it through a combination of an interview and leading a year 6 induction session. Well done all!

Year 10 Work Experience this term
During Term 6 Year 10 students had the opportunity to spend a week on Work Experience. The week has given students the opportunity to develop employability skills and gain valuable experience. We had students placed in a variety of different sectors including retail, art and design, engineering, primary education, nurseries, animal care, charities, banking, catering, law, administration and drama. The feedback has been fantastic by both employers and students. Some students have received part time jobs and were rewarded for the hard work and dedication they showed. Employers commented on how it was a pleasure to have Cotham students and how many worked harder than some staff! Students were organised and prepared for their week. Employers were pleased to see that many arrived early and looked smart and were ready to work.

Here are just a few comments we had from employers.

"An awesome week with a group of fun, imaginative, creative, resourceful and respectful young people who did themselves and their school proud. They were challenged, over four days, to develop options to counteract future cyber threats from unmanned satellite technology. Being young and computer literate they innovated a solution that none of us foresaw, counteracting the threat with our own, youth based, computer hacking team. They met Fast Jet pilots and specialist engineers, took part in an environmental awareness quiz, learnt about ERICPD and the Health and Safety at Work Act, won various awards throughout the week and designed an ECO brick flower bed, which will be built on the ABW site in July. Their week at ABW culminated in an outstanding presentation to the Management Board (our senior executive team) which they delivered with confidence, answering a variety of challenging questions."

"That young lady is an absolute credit to your school"

"Brilliant", they didn't want him to leave!

"She has been a pleasure to have. Nothing is a problem and so willing."

"I must say thank you for sending a very courteous and polite young person this morning. He was punctual, and whilst a little quiet, he was ready for any task presented. He presented me with is CV first thing and today he has been given information on the companies and the businesses he will be learning about, and a basic induction. He was given a main task to be completed and one attribute which we liked was that he was happy to ask questions and was not afraid if he didn't understand to ask again or check his choices. A tough thing to do in a new place with unknown people. But we hope he found everyone helpful."

Student Achievements
NB 9RM has passed her Grade 4 piano with merit.

EP 9RD has successfully gained a place on Into Film's Youth Advisory Council.

EJ 7CBR recently won the players player of the year at Shirehampton Colts under 12s, his first year with the club and he was thrust into the limelight when he took over as goalie when the team were 12-0 down. Despite a traumatic first few matches he kept persevering and the clean sheets and wins came as he and the team improved.

Well done to all of you and many congratulations on your fantastic achievements!

Praise Indeed!
From time to time we like to share positive feedback/praise the school receives. Please see below recent a message of praise regarding the Stepping up to Year 11 information session.

"I Just wanted to say thank you for such an informative session yesterday evening.

I am so impressed at the tailored feedback you are giving to each child and the focus that will give to their revision and efforts.

A huge thank you to all concerned for the upgrade sessions which sound so beneficial. The work is much appreciated."


Important Information for Parents/Carers

Farewells
This year we say a very fond 'au revoir' to the following brilliant and hardworking members of staff:-

Mrs Bajic-Raymond, Mr Bielschowsky, Ms D'Adamo, Mr Emery, Mr Fagan, Ms Geary, Mrs Goddard-Jones, Mr Hardy, Ms Howe, Ms Hunt, Ms Knight, Ms Mellis, Mr Millard, Ms Morgan, Ms Siab and Ms Wilkie.

Some are retiring after many years at Cotham and others are off to new jobs, to study or to other exciting ventures. We will be saying our formal farewells to each member of staff in school on Tuesday but I'm sure you'll join me in wishing them all the very best for the future.

Ms Potter (Assistant Headteacher for Post 16) goes on Maternity Leave next week and we look forward to hearing about the new arrival very soon. Next year her role will be covered by the very able Mrs Quirke (Assistant Headteacher)

The following members of staff have recently joined us and are settling in to their new roles
Ms Helen George - Learning Co-Ordinator for Yr. 7
Mr Ollie Knight - Learning Co-Ordinator for Yr. 8

Mr Kieran Lavender will be joining us as an IT Apprentice on 29 July.

In September 2019 we welcome the following members of staff:
Ms Kate Constable - HLTA Numeracy; Mr Patrick Cottam - Science Teacher; Ms Nicola Dutton - Careers Assistant; Ms Victoria Farren - Visual Arts Teacher; Ms Cydney Forbes - Cover Supervisor; Ms Kirsty Gifford - Modern Foreign Languages Teacher; Ms Lauren Hennessy - Maths Teacher; Ms Georgia Hodges - Geography Teacher; Mr Edward Johnson - Assistant Faculty Leader for Performing Arts; Ms Aurora Reid - Assistant Headteacher; Mr Ben Reid - Science Teacher; Ms Elvina Rivers - Maths Teacher; Mr Ian Spencer - Data Administrator; Ms Abigail Tidball - Assistant Headteacher; Ms Salma Wilson - English Teacher

We look forward to welcoming and working with our new members of staff from September.

Internal Appointments
Congratulations to the following members of staff on their new internal appointments:-

Mrs Arnold - Learning Co-ordinator for Yr. 9
Ms Brice - Acting Deputy Faculty Leader Humanities
Ms Burt - Food Technician
Mr Lloyd - Faculty Leader Humanities
Ms Madge - Assistant Faculty Leader Humanities
Miss McDonagh- Partnership Coordinator
Mr Meakin- Lead Cover Supervisor
Ms Moore- Deputy SENCO Manager
Mr Morton - Faculty Leader Modern Foreign Languages and Acting Assistant Headteacher
Mr Reed - Deputy Headteacher
Mr Slane- Assistant Faculty Leader Science
Mrs Swayne- Assistant Faculty Leader MFL
Mr Watts - Faculty Leader STEAM and Acting Assistant Headteacher
Ms Wood - Faculty Leader for English

We wish them well in their new appointments.

Learning Coordinators for next Academic Year from September 2019
Yr. 7 - Ms George; Yr. 8 - Mr Knight; Yr. 9 - Ms Arnold; Yr. 10 - Ms Pierce and Yr. 11 - Ms Allender

Library Books and Subject Textbooks
Please can we ask that all overdue library books and unwanted subject textbooks are returned to the library by the end of term. Any GCSE textbooks will automatically be renewed for the following year. Students are welcome to borrow reading books for the summer break- please speak to Miss Davies if you would like some summer reading recommendations.
Additionally, please can parents of Year 11 and 13 students please ensure that all books are returned to us by the last day of term so these books are ready to be issued again in September.

2020 Ski Trip
There are only 3 places left on the 2020 Ski trip, if any Year 7, 8 and 9 students are interested in going they can pick a letter from the PE office or see attached letter here.

GWR Student Rail Ticketing Scheme
We are very pleased to announce that the Severnside Community Rail Partnership have confirmed that they are willing to continue with the Student Rail Ticketing Scheme. This partnership offers our students and families a huge saving on rail travel to and from the school on the Severnside Community Rail. An annual ticket costs £40.00 or families can buy their ticket in instalments. All the details are contained in the letter and application form here.

Lost Property Display
Location: Student Reception
Dates: Monday 22 and Tuesday 23 July 2019
Parents and Carers: Can come look during school hours
Students: Can look during morning break, lunchtime and after school
Any items not claimed will be donated to charity.


Cyberbullying Guide
An online organisation called HomeGuides has developed guidance to help children, parents and teachers to understand what cyberbullying is and what can be done about it. Download the guide here.

Online Safety Newsletter
Please click here to view this month's online safety newsletter.
Please click here to view an online Safety booklet which includes an overview of key parental controls.

Subject Area News

Physical Education (PE)
A massive thank you to all students who have taken part in extra-curricular activities and school fixtures over the last academic year. They have been amazing, showing a great attitude and desire to compete at various sports in and out of school. As a department, we are extremely proud of your achievements and commitment to sport at Cotham School.

STEAM GCSE Food
Adrian Kirikmaa Food Development Manager at St Monica Trust, founder of the School of Food came to speak and demonstrate a dish to current Year 10 students. He spoke to students about the opportunities at The School of Food; The School of Food is the brainchild of Michelin-starred chef, Josh Eggleton and Best Ambassador for Food winner Adrian Kirikmaa. These two highly experienced chefs have joined forces with the Ofsted outstanding rated Weston College to develop a unique training programme that will give young people access to high-quality kitchens, industry experts and invaluable insights. Students were able to discuss with Adrian the opportunities the apprenticeship offers, as well as discussing why Bristol has such a diverse and varied food culture. Chef AO assisted Adrian to make a chicken and shiitake mushroom dish, the remaining chicken wings were cooked in a marinade with a fresh salad and ciabatta bread. We would like to thank Adrian for his continued support and St Monica's Trust for supplying the ingredients. We are planning that Year 11 students who are interested in an apprenticeship can visit Ashton Gate Stadium where apprentices meet weekly for training.

Please click here to view some photographs and videos from the session.

Key Stage 3 News

Year 9
Ms Sarah Wood, our Year 9 Learning Coordinator gave an emotional goodbye to students in Year 9 this week. Ms Wood has been a Learning Coordinator for many years but will become the Faculty Leader for English from September 2019. I know that our Parents and Carers will want to join us in thanking her for her thoughtful leadership of Year 9 and the support which she has given to our students this year and in previous years.

Ms Patra Pierce will become the Learning Coordinator for the year group from September 2019.

Key Stage 4 News

Year 10
Thank you to all of the parents and carers that attended our Stepping up to Year 11 information session on Thursday 11 July. It was great to see so many of you there to hear about how you can support your child over the summer to ensure that they return in September ready for the demands of Year 11.

The presentation from the evening can be found here.

Year 10 students have recently completed their mock exams and will have started to receive marked papers showing their raw marks and their mock exam grade. All students will have had an opportunity to review their mock exam paper, understand their areas of strength and weakness, and create a plan to allow them to think carefully about the work that they need to complete over the summer. Teachers will have provided students with really clear feedback about their areas of weakness so that they are clear about the areas / topics / concepts that they need to improve.

Students will be required to re-complete their end of year 10 mock exam paper if they did not achieve their Minimum Expected Grade in their mock exam. The Minimum Expected Grade set for your son/daughter is based on their exam results at the end of primary school and is the same for all subjects.

Some subjects have also set additional tasks over the summer period. These can all be found here.

Electronic copies of the end of year 10 mock exam papers and markschemes can be found here.

Your child's End of Year Academic Monitoring Report will let you see their Mock Exam grade and their Minimum Expected Grade in each subject so that you and they are clear about which papers this will apply to. This will be given to students to bring home next week.

Please encourage your child to print off any mock exam papers that they need to re-complete before the end of term if they are unable to print at home.

Year 11
Cotham Email
Year 11 students should continue to regularly check their Cotham email over the summer for important updates and information regarding results and enrolment from the Post 16 Centre.

GCSE Results Day
GCSE results are available from 10.00am to 12 noon on Thursday 22 August 2019 from Charnwood. Results can only be given to pupils. Permission for someone else to collect results must be supplied in writing before the end of Term 6 and proof of identification provided on the day.

All uncollected results will be posted home; results will not be issued by telephone or email. North Bristol Post-16 team and our Careers Adviser will be available on results day for advice and guidance on Post-16 courses. We hope all our students will be proud of the results they achieve and wish them the very best of luck in their future studies.

Creative Youth Network
A representative from Creative Youth Network will be with us on results day. CYN are an organisation specialising in supporting young people who may face barriers in their education or who struggle within the standard school system. They will be on site at Charnwood to offer additional support to any of our students who may be unsure about their next steps or who require information about alternative routes and options.

Post 16 News

Important Information for results, enrolment and induction
Please click here for all information on results days, enrolment, and induction.

UCAS
Students should spend the holidays planning their Personal Statements for UCAS, they should be drafting this using UNIFROG. A reminder that students interested in Medicine, Veterinary Science, Dentistry and Oxbridge must notify Mrs Kempt as soon as possible if they have not already done so. The internal deadline for these applications is the beginning of October, please contact Mrs Kempt for more information.

Wellbeing over the summer break
Some students suffer from the lack of routine and company over the summer holidays. I have emailed all students with a "surviving the summer" package with some excellent websites and resources, please encourage your son/daughter to come and have a chat with Mrs Kempt should they need some extra support over the holidays. She also has many self-help books along with revision guides that students can borrow over the holidays, here is the link to the student wellbeing bulletin.

Careers and guidance
Here is the link to our Careers Bulletin which is updated weekly.

We wish all our students a very well earned rest and look forward to seeing them in September.

House News

Sigma, Delta, Gamma and Omega have all had a fantastic year, please click on the following links to hear more from each house. Please click here to hear from Sigma, click here for Delta's download, find out about Gamma here and Omega here.


Staff Vacancies

Cotham School are currently recruiting new members of staff to work with us at the school. We are currently looking to hire a Catering Assistant.

For more information about school roles please click here.

Student Careers Update

Bristol is building an artificial surfing lake out by Easter Compton. There looks like there will be some interesting job opportunities if you want to take a look or get in touch with them https://www.thewave.com/jobs/

Cotham School is working with local large employers and UWE to build a "pipeline" of talent to the Cyber Security Industry. Our Careers Leader would love to receive your support/advice/comments on how best to do this, please send your support emails to paices@cotham.bristol.sch.uk.

Cotham School is committed to achieving all 8 Gatsby Benchmarks of Good Career Guidance. https://www.gatsby.org.uk/education/focus-areas/good-career-guidance

In order to fund extra trips out and DBS checks for Mentors etc we are looking for Bid opportunities. If you know of any funding opportunities that Cotham school could Bid for please email Suzanne Paice, Careers Leader, paices@cotham.bristol.sch.uk

Apprenticeships

City of Bristol College Apprenticeship Bulletin and South West Apprenticeship Company have apprenticeship vacancies here and here.

Other apprenticeships can be found through the Gov website here, Target Careers, Success at School , Get My First Job and Not Going to Uni.


Students looking for Saturday jobs can find good advice through this website

Please keep your eyes on the Careers section of the website for updates.

Community News

Friends of Alalay
Ex-Cotham student Annie Syrett has provided an update on her charity, Friends of Alalay. To read more about the work with the street children at Alalay at the moment, please click here

SquareFood Foundation Summer Cookery Workshops
The SquareFood Foundation in Knowle are holding summer cookery workshops over the holidays, SquareFood was set up by Barny Haughton, local chef, restaurateur and teacher. The workshops are challenging, engaging and fun and aimed at 12 – 16 year olds. For more information please click here.

Family Activities during the Summer Holiday
Please click here to view some of the activities happening around the city over the summer holidays.