Weekly Mailing - Friday 6 September 2019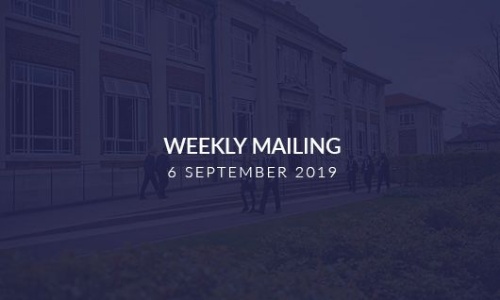 Dear Parents and Carers

Welcome to my first weekly mailing of the new academic year. I hope you were able to enjoy some special time with your children over the holidays and were able to get at least a little well-deserved rest. A very special welcome to all our new Year 7 parents and carers! We've had a really great start to the new term and our students have joined us refreshed and focused for the year ahead. I've had some great conversations and interactions with students this week and also many positive conversations with staff about both individual and whole classes of students. Please find below my usual updates on activities and events that have taken place this week plus important information, letters etc.

Ms Jo Butler
Headteacher


Good News

Arts Award Success - 100% Pass Rate
Congratulations to the Year 10 pupils who completed their Silver Arts Award at the end of last term. After a huge amount of hard work, all candidates passed and now have a Level 2 qualification (equivalent to a GCSE).
There were some fantastic creative projects such as making a carnival costume, writing a graphic novel, creating an animation and running an Architecture Club.
Well done to all!

Arts Award for current Year 9 pupils will run as a lunchtime club in E116 every Tuesday, starting on 17 September. If you have any questions, please email ashcrofth@cotham.bristol.sch.uk

Student Achievements
A huge congratulations to OD 10EM who achieved a distinction in her LAMDA solo acting grade 7 (silver) over the summer holidays.

Another huge congratulations to LW 8AB/LG who has passed his ABRSM Grade 4 piano exam.

Both are fantastic achievements!

Attendance Draw Winners at the end of last Academic Year
An impressive 260 students were entered into the attendance draw at the end of the last academic year for achieving 100% attendance in term 6.

The winners of the £25 voucher for each year group were:

Year 7 - DK 7RA and NI 7JPG
Year 8 - EW 8JBA and ER 8BSA
Year 9 - LH 9EM and SL 9GC
Year 10 - RH 10SME and CB 10SME

Well done to all students on their excellent attendance.

Keep us posted
It would be great if parents/carers could let the school know of any student achievements outside of school. We really love to hear about these. It is sometimes only at parents' evenings that we find out what students are doing in their own time. Email us: weeklymailing@cotham.bristol.sch.uk

Important Information for Parents/Carers

Early School Closure- Wednesday 18 September
The School's Open Evening for Year 6 parents and families will be held on Wednesday 18 September from 6.30 - 8.30pm. As you will appreciate this is one of the most important events in the school year, therefore the school will close early for students to help staff prepare.

The school day for students in Years 7 - 11 will end at Midday. Any student eligible for a Free School Meal will be able to collect it from the dining hall before they leave.

Post 16 lessons will continue as normal at the Charnwood site for all Post-16 students.

Thank you for your continued support of the school and its work.

Behaviour and Rewards at Cotham- 'Getting Every Day Right'
All students deserve the opportunity to receive a good education that enables them to live a positive, happy and successful life beyond school. We request your support as parents / carers to encourage your child to meet our behaviour expectations every day. Please click here for further information on expectations and how you can support your child.

GWR Student Rail Ticketing Scheme
We are very pleased to announce that the Severnside Community Rail Partnership have confirmed that they are willing to continue with the Student Rail Ticketing Scheme. This partnership offers our students and families a huge saving on rail travel to and from the school on the Severnside Community Rail. An annual ticket costs £40.00 or families can buy their ticket in instalments. All the details are contained in the letter and application form here.

Student Mobile Phones in Years 7-11
We have a strict policy that must be adhered to if students bring a mobile phone into school and if a student breaks it their phone will be confiscated. A link to the mobile phone policy is here as a reminder. We do not call parents and carers when a mobile phone has been confiscated. If students need to contact them in an emergency they can ask Student Reception to make a call home on their behalf.

Reflection Space/Prayer Room
A118 is currently available as a supervised "Prayer and Reflection Space" from 1.10 pm to 1.30 pm Monday - Thursday. This is open to the whole school community to provide a multi-faith space for reflection and prayer.

Word of the week
Each week at Cotham we promote a Word of the Week. This is to help students expand the range of vocabulary they use. Please find the word for the week ahead by clicking here.

Extra-Curricular Activities
More information coming soon.

Cyberbullying Guide
An online organisation called HomeGuides has developed guidance to help children, parents and teachers to understand what cyberbullying is and what can be done about it. Download the guide here.

Online Safety Newsletter
Please click here to view this month's online safety newsletter.
Please click here to view an online Safety booklet which includes an overview of key parental controls.

Subject Area News

Physical Education (PE)
Extra-Curricular Clubs
Please click here for a list of all of the PE/Sports Extra-Curricular activities available to students in Term 1, which start next week.
Follow @CothamPE on Twitter for all the latest news and updates from the Cotham School PE department

Post 16 News

We welcome all our new Year 12 students to the North Bristol Post 16 Centre and welcome back our Year 13 students. We wish all our students the very best for their studies. All Post 16 Lessons start on Monday 9 September 2019.

Year 12
All Year 12 students must attend registration on Monday morning in their tutor rooms at 8.30am. If your son/daughter has not received their lanyard or timetable then they must come to Charnwood reception on Monday morning. Lanyards must be worn by all Post 16 students at all times, you will be notified if your son/daughter is regularly without their lanyard.

Year 13
UCAS
A reminder that students interested in Medicine, Veterinary Science, Dentistry and Oxbridge must notify Mrs Kempt as soon as possible if they have not already done so. The internal deadline for these applications is the beginning of October, please contact Mrs Kempt for more information.
Students should be drafting their personal statements and meeting with their form tutor for 1:1 appointments.

PEG
You are warmly invited to attend our first PEG (Parent Engagement Group) meeting on Wednesday 11 September at 7pm. Letters will be emailed out with further details.

Student Wellbeing
We take your child's well being very seriously and have many avenues of support available. A reminder that there is a school counsellor, a Post 16 Reflection room and many places that your child can study alone should they wish to. Please see Mrs Kempt for more information. There is a also a mindfulness drop in session on a Thursday lunchtime.
Off the Record (OTR) are offering weekly Resilience Lab drop in sessions on Perry Road http://www.otrbristol.org.uk/what-we-do/resilience-lab/ there is no waiting list and all students are very welcome.
HappyMaps is a website providing resources for Parents and Carers around Children's mental health, Please click here to view the website.

Careers and guidance:
Here is the link to our Careers Bulletin which is updated weekly.
For more information from Post 16 please see the "This Term at Post 16" section of the website please click here.

Staff Vacancies

Cotham School are currently recruiting new members of staff to work with us at the school. We are currently looking to hire a Catering Assistant, School Site Assistant / Handyperson / Caretaker, Senior Inclusion Manager and Designated Mental Health Lead and a HLTA Numeracy.

For more information about school roles please click here.

Community News

Cue Bristol Youth Theatre Group- Monday Evenings at Cotham School
Cue Bristol is a fun and creative youth theatre group held at Cotham School every Monday evening in the Performing Arts building. It is a fantastic opportunity for those who love drama to spend time exploring ideas, playing drama games, building confidence and making new friends.

Session times are:
Year 7 and 8 5.15pm - 6.45pm
Year 9,10 and11 7.00pm - 8.30pm
Sessions start on Monday 23 September. For new members, this is a free taster session and sessions thereafter the cost is £50 per 10 session block.
If you have any questions please email ashcrofth@cotham.bristol.sch.uk

Useful Quick Links

Key Dates
Please click here to view the Key Dates by year group for the 2019-20 academic year. You will be notified of any significant changes/additions, but please can we ask that you check the dates for your year group regularly as they are subject to change.

Parents' Evening Booking System (PES)
Please click here to access the online appointment booking system for Parents Evenings/Family Consultation Day. Please note this is only available if an event is due. We will email you to let you know when booking opens. If you encounter any difficulties with booking your appointments please contact the admin team by email to adminoffice@cotham.bristol.sch.uk or tel: 0117 919 8000

WisePay
WisePay is the Online Payment Service at Cotham School which allows you to pay for trips and visits as well as to add credit to your child's Cashless Catering account. Click here to access your account now. If you have any queries about your account please contact the support team by email to wisepay@cotham.bristol.sch.uk

School Uniform
Please click here to view the compulsory uniform requirements of Cotham School, along with visual examples of uniform and details of our uniform suppliers.

GCSEpod
Click here to access GCSEpod which contains lots of revision resources for most GCSEs. Students self register through the website using their name and school details.

Diagnostic Questions
Click here to access. This site contains self marking quizzes with lots of templates including some from a range of exam boards. It's easy to make your own questions in Microsoft PowerPoint too. Students sign up with their school Google account using the G+ button to automatically create a school account

Edmodo
Edmodo is an application that can be used on both mobile devices and in the web environment to create an online community of practice. Edmodo is a free social learning platform that allows students to access the course content uploaded by their teachers.
https://www.edmodo.com/

Seneca
All students and teachers now have free access to Seneca - a revision and homework platform making studying more fun. Seneca is an interactive way to learn official course content. Their web app covers 150+ exam board specific courses condensing what students need to know for their exams. The software is able to identify gaps in learning. For instance, when you get a question wrong, the platform will repeat the topic in different formats and their smart algorithm has proven to make students remember topics 2x faster. Seneca is totally free for students, teachers and parents. You can sign up via senecalearning.com

Contact Details
Please note the following contact numbers and email addresses if you need to contact the school:

Main Reception - 0117 919 8000/ reception@cotham.bristol.sch.uk
Student Reception - 0117 919 8013 / studentreception@cotham.bristol.sch.uk
Absence - 0117 919 8019/ absence@cotham.bristol.sch.uk
NBP16C - 0117 919 8100/ post16@cotham.bristol.sch.uk
Finance - 0117 919 8016/ finance@cotham.bristol.sch.uk
Exams - 0117 919 8024/ exams@cotham.bristol.sch.uk
Admin Office - 01179198053/ adminoffice@cotham.bristol.sch.uk
Library- library@cotham.bristol.sch.uk