Weekly Mailing - Friday 6 March 2020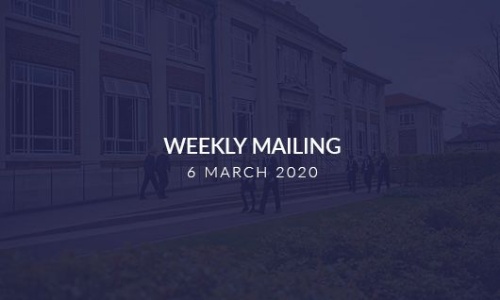 Dear Parents and Carers

Please find below this week's important information for Parents/Carers and students as well as updates on School events, activities and opportunities for your reference. I wish you a very relaxing weekend

Ms Jo Butler
Headteacher

Good News

Student Achivements
As a result of the Year 12 Work Experience, Rayhan, one of our fantastic Business Administration students has published an article on the Studio Cotton website. Please click here to view the article.

Charity Swimathon- Sunday 8 March 9.30-10.30am Clifton High Pool
Good luck to Team Cotham as they take on the swimathon this Sunday. There is still time to sponsor the team, please support them, their just giving page is here.

There is still time to enter, turn up at the pool for 9.15am and Mrs Arnold will register you there.

Pay it Forward Campaign - Easyfundraising
Good News, we have hit the 46 supporters mark and these supporters have raised £250.00 to date for Cotham School through their shopping activities. Thank you for your support, it's much appreciated.

It's very easy to register, new people are registering all the time, let's make the last big push to have 50 supporters and then aim beyond that, if you haven't registered yet please do.

What is Easyfundraising?
When you shop with the 4,000 retailers registered with Easyfundraising, each retailer pays the school a small donation to say 'thank you'. The donation is sent to the school with no cost or deduction. We can use this to help our students.

This is a simple and free way to help us with our campaign! Please remember anyone can register, friends and family. Help us, don't delay, register today!

For more information or to sign up please click here

Pay it Forward Campaign - An update
We are pleased to thank you for getting behind the Pay it Forward Campaign and donating so generously.

Since September we have received £11,680.00 in donations. We also are receiving a constant stream of generous donations in the form of pre-loved uniform and equipment, books, GCSE and A Level Revision Guides, office equipment and pledges from volunteers who are helping with maths, music lessons, science and grant applications.

We have been very fortunate recently to receive a box of several hundred Graphic Comics
including Batman, Star Wars and many more Comic heroes. These were donated by Henry Arnold, he had seen a collection like this in Clifton Library and wanted students at Cotham to have the opportunity to read and enjoy his comics.

These generous donations are really making a difference to our students and how we can support them in their learning journey.

If you have not heard of our campaign yet, it's not too late to get involved, this is continuing for the rest of this school year!

Pay it Forward' is an international movement which promotes the undertaking of random (or not so random) acts of kindness. Using the ethos of 'Pay it Forward', the Governors and I felt that this was exactly the sort of campaign that we wanted to launch.

Here's the many ways you can Pay it Forward today!

It's really easy to donate, to make a single donation, all you need to do is click here. For those that would like to make a regular donation, please set up a regular payment with your bank. Our details are: Lloyds Bank plc Sort code: 309483 Account number: 41658468.

To donate your pre-loved items, please call into the school, main reception, Cotham Lawn Road and if you have time to spare and would like to volunteer, please ring the main school number on 0117 919 8000 or email into info@cotham.bristol.sch.uk


Keep us posted
It would be great if parents/carers could let the school know of any student achievements outside of school. It is sometimes only at parents' evenings that we find out what students are doing in their own time. Email us: weeklymailing@cotham.bristol.sch.uk


Student Wellbeing

Teens and sleep: Why they need it and how to get enough
Scientific research shows that many teens do not get enough sleep. To be at their best, they need between 8 and 10 hours of sleep every day. While they might not always be able to get this much, it's important that they try and get as much as they can.

Is your teen:

Tired of always feeling sleepy?
Having trouble staying awake in class?
Having difficulty concentrating?
Feeling moody or even depressed?
Finding it hard to get out of bed for school in the morning?
Having an overwhelming need for a nap as soon as they get home from school?
If you answered yes to any of the above questions then chances are that your teen is probably not getting enough sleep.

Why is it important to get enough sleep?
Although getting enough sleep may not seem that big a deal, teens who don't get enough sleep and are overtired are more likely to:
struggle in school,
have trouble with memory, concentration and motivation (the desire to accomplish a goal),
be involved in car crashes and other accidents. Sleepiness (the feeling of wanting or needing to sleep in places and at times when they shouldn't) affects reaction times, or
feel depressed, which can become a serious medical condition.
Here are some suggestions for teens to improve the amount of sleep/ quality of sleep they are getting
Have a relaxing bedtime routine. Have a light snack (such as a glass of milk) before bed. Try to go to bed at about the same time every night. Keep your room cool, dark and quiet but open the curtains or turn on the lights as soon as you get up in the morning.
Always fall asleep in your bed. Use your bed for sleeping only. Avoid doing homework, using a smartphone or tablet, or playing video games while in bed. Try to be in your bed with the lights out for at least 8 hours every night.
Napping during the day can make it difficult to fall asleep. If you want to nap, keep it short (less than 30 minutes). Definitely don't nap after dinner.
Get exercise every day, but avoid very hard exercise in the evening.
Avoid caffeine (coffee, tea, pop, energy drinks), especially after mid-afternoon. Don't use any products to help you sleep such as alcohol, herbal products or over-the-counter sleep aids.
Limit screen time before bed. Using electronic media and being exposed to the screen's light before trying to sleep can make it harder to fall asleep.
On weekends, no matter how late you go to bed, try to get up within 2 hours to 4 hours of your usual wake time. This is especially important if you have trouble falling asleep on Sunday nights.
Make sure you are not trying to do too much. Do you still have some time for fun and to get enough sleep? If you are having trouble sleeping because you have too much on your mind, try keeping a diary or to-do lists. If you write things down before sleep, you may feel less worried or stressed.
Teens should go to the doctor if they:
have trouble falling asleep at night despite trying the tips above.
wake up through the night or early in the morning and cannot get back to sleep.
continue to feel like they have no energy despite getting enough sleep.
are having trouble meeting their responsibilities – such as not being able to go to school, get to work on time, or spend time with their friends.
have feelings of sadness that don't seem to go away.
have worried feelings that make it hard to focus on other things.
often feel sick in other ways (such as headaches, loss of appetite or other symptoms they can't explain).

Important Information for Parents/Carers

Correct footwear for PE
Please can all students ensure that they have the correct PE kit, including a separate pair of sport shoes.
Students are unable to wear their school shoes for PE due to the muddy conditions on our playing fields at this time of year. Muddy shoes are not allowed to be worn on the coaches or around school, which explains the need for a pair of sport shoes that can be used during the lesson and then put in a plastic bag after PE.

New Polo shirt for PE Kit
The school's PE kit is being updated to the current school logo. From September 2020 our new Year 7 students will be sporting the new PE kit which is very similar to the current one but will have the new school logo on the garments. At the moment we have different coloured polo shirts; purple for KS3 and green for KS4. We have decided there is no need for a different colour for the different Key Stages therefore we have chosen purple as the school colour. Students currently in Years 7 - 10 will still be able to wear the green polo shirt until they grow out of it or until our uniform suppliers run out of stock so there is no need for parents to have to purchase the new style polo shirt immediately. We wanted to make you aware of the change just in case the uniform suppliers run out of the old stock and you are now directed to the new stock. Famous Branches (Henleaze) will be supplying the new purple polo shirt for PE - all other uniform items are still available from both suppliers except shorts which again can be obtained from Famous Branches.

Archaeology at Ashton Court: 16-18 experience 2 July—3 July 2020
Archaeology at Ashton Court is a unique opportunity to find out what archaeology involves, take part in a real excavation and work as a team with professional archaeologists from Archeoscan and Wessex Archaeology. Students will also learn transferable skills, meet new people, go behind the scenes at Bristol Museum and the University of Bristol and explore different careers in archaeology and the sciences. More information on this event can be found here, applications to take part need to be submitted by 20 April 2020.

Extra- Curricular Activities Term 4
A current list of extra-curricular activities available can be found here.

Cotham's Got Talent!
We are a group of Year 12 students organising the school talent show called Cotham's Got Talent. Cotham's Got Talent will be taking place next week on 11,12 and 13 March in the Dance Studio at lunchtime.

It is free to enter and it is not too late to sign up! If your child would like to take part please email Miss McDonagh (McDonaghK@cotham.bristol.sch.uk) If your child does not want to take part but they would like to watch please give them 20p so they can be a member of the audience. All money raised will go towards house charities.

Kile (Y12 Student)

Places remaining on the 2021 Easter ski trip to Vallnord, Andorra Saturday 3 April to Saturday 10 April 2021
There are still some places remaining on the 2021 Ski trip, if your child is interested in going please ask them to speak to Mr Collin.

Youth Strike 4 Climate
The next Youth Strike 4 Climate protest is scheduled for Friday 13 March between 11.00am and 2.00pm. Please click here to see the Headteacher's letter about this together with a link to a form to advise if you give permission for your child to attend the protest. As per previous events, parents or guardians must collect students from the Student Reception on Cotham Road at 10.15am. If this doesn't happen students will not be released to attend and will be sent back to class.

Word of the week
Each week at Cotham we promote a Word of the Week. This is to help students expand the range of vocabulary they use. Please find the word for the week after half term by clicking here.

Online Safety Newsletter- March Edition
Please click here to view this month's online safety newsletter.
Please click here to view an online Safety booklet which includes an overview of key parental controls.

Cyberbullying Guide
An online organisation called HomeGuides has developed guidance to help children, parents and teachers to understand what cyberbullying is and what can be done about it. Download the guide here.

Subject Area News

Physical Education (PE)
Fixtures week commencing 9 March 2020

Monday 9 March - Year 9 Football vs Oasis Brightstowe (a)

Parental Consent for Sports Fixtures 2019- 2020

Please complete the parental consent form which can be found here and return to school as soon as possible if your child is taking part in school fixtures this year. Once on file we can then select your child for these fixtures and we will confirm by email or text the details nearer the date that these are taking place.

Extra-Curricular Clubs

Please click here for a list of all of the PE/Sports Extra-Curricular activities available to students in Term 4.

Follow @CothamPE on Twitter for all the latest news and updates from the Cotham School PE department

Visual Arts
Work of the Week
Please click here to view an amazing ink and stick drawing of a beautiful artichoke by Ruiridh in Year 10.

Key Stage 3 News

Year 8 Parents' Evening - Thursday 2 April 4.00pm - 6.30pm
This is an opportunity for you to meet with your child's subject teachers to review their progress and discuss their learning.

Booking opens on Monday 9 March at 6.30am.

Please click here to access the online appointment booking system. If you encounter any difficulties with booking your appointments please contact the admin team by email at adminoffice@cotham.bristol.sch.uk or tel: 0117 919 8000.

Year 9 Exams
Year 9 exams will take place between Monday 16 March and Friday 27 March 2020. Please encourage your child to start preparing for their exams and ensure they have full equipment.

An exam timetable will be shared with students. Revision techniques and exam preparation is taking place during tutor time.

Key Stage 4 News

Prefect Interviews
This week, Ms Pierce and the Heads of House had the pleasure of interviewing some incredible potential prefects. We received more applications than ever before and the field was exceptionally strong. We are immensely proud of all the students who put themselves forward for the role and the commitment, maturity and enthusiasm they have demonstrated in the application process.

Prefect appointments will be announced in the Year 10 Assembly next Thursday.

Year 10 Work Experience Monday 29 June - Friday 3 July 2020
Four weeks left to organise WEX! Students should now be finalising their Work Experience placements. The final deadline to return completed WEX forms is Friday 3 April. If your child has not yet secured a placement please can you support and assist them to do so.

All Year 10 students are expected to organise a work experience placement.

Any students who require additional support can drop in to see Ms Dutton, Work Experience Coordinator, on Monday, Tuesday or Wednesday lunchtimes.

A copy of the work experience letter can be found here.
A copy of the WEX form can be found here. This form must be completed and returned for a placement to go ahead.

Year 11 Exam Preparation
If you are worried that your child is not revising enough at home then the following may be helpful resources:
Support your child in preparing a summer exam preparation schedule so that they complete revision tasks - a template revision schedule can be found here
Ensure that all homework assignments are completed
Ensure your child has revision guides that can help to support their learning - a list of these is enclosed and attached here along with details of useful revision websites for each subject
Read and discuss the Examination Command Words document attached here with your child
See the Top Tips for Parents sheet attached here which contains useful reminders about 'what to do' and 'what not to do'
The Year 11 January mock exams can be accessed here. There is value in students re-completing these and demonstrating that they can recall knowledge previously assessed, and act on feedback already given to them to improve their original raw mark. Our school challenge is for all students to increase their recent mock exam result by 10 or 15 or 20 marks over the February Revision week break.
Use the Subject 'to do' sheets which highlight the type of acts that students should be completing as part of their revision.
Academic Monitoring Reports will be sent home in the week commencing 24 February. However all students will know their mock exam grade now so please do ask them about their grades and marks and plans for revision.

Thank you to those parents that attended the Parent Post Mock Information Session this week. The presentation contains lots of useful links to many of the resources designed to support Year 11 students with their revision.

GCSE Provisional Examination Timetable Summer 2020
Please find the provisional summer exam timetable here. Please note that all students must be available up to Wednesday 24 June 2020 to complete any GCSE exam that may need to be cancelled as a result of national emergency or disaster.

Year 11 Prom Date
The group of parents who are kindly arranging the Year 11 Prom have set a date. It will be held on Thursday 25 June 2020. Please click link here to see information on the Year 11 Prom and how to obtain tickets.


Post 16 News

During assembly this week we had a presentation from Project Trust who talked about their gap year volunteering opportunities. It was a valuable and interesting presentation which many students were keen to learn more about. More information can be found via this link. Thank you to Hannah for her presentation and sharing her experience of this.

Some key dates for this term include:
Year 12 parents evening is on 26 March from 4.30pm - 7pm at Redland Green
Summer exam timetables are now available from Charnwood reception. Timetables are for Year 12 students who are sitting formal BTEC exams and Year 13 students. Please encourage students to check through these and talk to their tutors if there are any issues with them
The Oxbridge conference is taking place on the 24 March in Birmingham, the coach leaves Redland Green and 7am prompt. Please can all students who have expressed a wish to go make sure they have returned their completed permission slip. This trip is now full so we are unable to accept any further bookings


Year 12 Update

A huge well done to our Year 12 Business students who recently completed a weeks work experience as part of their BTEC Level 2 course. The feedback from the employers and those staff visiting students has been so positive. The students were a credit to themselves and the school, and we were very proud of them.

Work Experience

Year 12 work experience will take place this year between 29 June - 1 July and is compulsory for all Year 12 students. Please encourage students to start seeking placements as soon as possible. If any student in Year 12 has already completed a work experience placement or is planning to do so prior to the 29 June please let Ms Beaver know so she can see if this can be counted as compulsory work experience. All students have access to 'Springpod' which shows work experience vacancies and helpful tips for securing placements.

Year 13 Update

Year 13 Exam timetable

A reminder that the Year 13 exam timetable is available here. Please also be aware that the 24 June is an exam contingency day so this needs to be kept free.

UCAS Applications

Congratulations to all the Year 13 students who have completed their UCAS applications. Please contact Marie Beaver if anyone requires help in managing their offers or still wishes to apply for university.

Student Wellbeing

We take your child's wellbeing very seriously - we have many avenues of support available. Further information can be found via this link.

Creative Youth Network

Creative Youth Network also offers a lot of support and one to one therapy - please ask your child to see Mrs Beaver for more information a link to their website can be found here.

Off the Record (OTR)

OTR are offering weekly Resilience Lab drop in sessions on Perry Road there is no waiting list and all students are very welcome. More information can be found here.

Careers

A reminder that Ms Paice is available every Wednesday in G402 at Charnwood to meet students and all Year 12 students should have signed up to SpringPod which is a work experience platform.

Here is the link to our Careers Bulletin which is updated weekly.

Staff Vacancies

Cotham School is currently recruiting new members of staff to work with us at the school. We are currently looking to hire an Assistant IT Services Manager, Senior Finance Assistant, Cover Supervisor, Science Technician,Humanities Teacher, English Teacher, Teacher of Maths and Form Tutor and a Learning Support Assistant.

For more information about school roles please click here.

Student Careers Update

Jobs Fair coming up in Bristol- Friday 3 April at the Colston Hall
The Bristol Jobs Fair is on Friday 3 April between 10am - 2pm at the Colston Hall, please click here for more information and take your CV with you.

Junior Saunders Event at Ashton Gate- Saturday 9 May
Junior Saunders is putting on an event at Ashton Gate to inspire Year 11 students just before they take their GCSEs. "GCSE boost" is now in full swing. The date is Saturday 9 May 2020 11.30am-2.30pm please see the flyers here and here regarding the event.
Tickets to attend the event are FREE and available on Eventbrite - on a first come first served basis - here is the link to secure your place.
More information can also be seen here from the Bristol live story.

NCSC Trailblazer and Adventurers
The National Cyber Security Centre (NCSC) provides free short courses designed to introduce the younger generation to the world of cyber security.

There are two courses taking place at UWE, Bristol on Saturday 28 March. Each lasts for 3 ½ hours. All young people are invited to attend. Parents and carers are welcome to accompany them.

Trailblazers (9.00am - 12.30pm). This event is for students in Year 8

Adventurers (1.30pm – 5.00pm). This event is for students in Year 9

Both events are free to attend. Further details can also be found here.

Registration

Trailblazers – Year 8 morning session (9am – 12.30pm)

Adventurers – Year 9 afternoon session (1.30pm – 5pm)


Energus Cyber Security Apprenticeships Available in Bristol
Energus are inviting people to apply for their Cyber Security Apprenticeships. These positions are available in Bristol, Cumbria and Oxford.

Entry requirements for this Cyber Security Level 4 Apprenticeship include at least five GCSEs grades A – C (9 – 4) and Level 3 qualifications, including A-levels, NVQ/SVQ Level 3 or a BTEC National – ideally in IT, Cyber Security, STEM (Science, Technology, Engineering or Mathematics) or other relevant subject.

The deadline for Bristol applications is Friday 1 May.

For further details click here.

Apprenticeships
City of Bristol College Apprenticeship Bulletin and South West Apprenticeship Company have apprenticeship vacancies here and here.

Other apprenticeships can be found through the Gov website here, Target Careers, Success at School , Get My First Job and Not Going to Uni.


Saturday jobs
Students looking for Saturday jobs can find good advice through this website

Please keep your eyes on the Careers section of the website for updates.


Bristol Education Partnership Events

Supporting your child through exams and revision: Talk for parents, Tuesday 10 March, 18:30, Bristol Grammar School, 1532 Performing Arts Centre, Elton Road, Bristol, BS8 1SJ

This talk will be led by Ben Fellows, the Lead Academic Tutor at Bristol Grammar School, with support from Justin Harford, Director of Sixth Form. The aim is to share key messages and resources, as well as further guidance aimed specifically at supporting students outside of school. Refreshments will be available from 18.00. If you would like to attend, please reserve a place by following this link.

Talk for Parents with Dr Dominique Thompson, Monday 16 March, 18:00 – 19:00, Chatterton Hall, Colston's School, Bell Hill, Stapleton, Bristol BS16 1BJ

Dominique Thompson is an award winning national student health expert and regular commentator on student health matters, having appeared on the Today programme (BBC Radio 4), Sky TV and in The Guardian, The Times and The Financial Times. She set up Buzz Consulting after working for almost 20 years as a student health GP, with a special interest in mental health. Her most recent book, How to grow a grown up, reveals what parents can do to support teenagers and young adults – and how to manage problems along the way. Free tickets are available from https://www.ticketsource.co.uk/colstons-school/t-gmexxr

Bristol Learning Festival, 30 March – 5 April

60+ local organisations. 200+ FREE learning activities. For all ages and communities, right across Bristol. Come to Underfall Yard, BS1 6XG Monday 30 March between 11:00 and 14:00 for the launch of the festival and to see what's on offer. http://www.bristollearningcity.com/events/ @BristolLearning #Learningfest2020 #LoveLearning

Reminder: Easter Family Show - Stella and the Star Shiners, Thursday 9 April, 11:00 and 14:00, 1532 Performing Arts Centre, Bristol Grammar School, Elton Road, BS3 1SJ

1532 is hosting Stella and the Star Shiners during the Easter holidays and is offering a 20% discount for any parents of children at BEP schools. Age Recommendation 4+; under 1's go free. To access the Bristol Education Partnership parents' discount follow the link below, book the number of tickets required, then log on if you have booked tickets with 1532 before, or set up an account: the next page will have promo code box: type BSPP into this box to gain discount.
To book tickets, follow the link here.

Reminder: Year 12 Higher Ed Evening – Monday 8 June, 18:30, Redmaids' High School, Westbury Rd, Bristol BS9 3AW

An information evening for students in Year 11 and above about higher education options. Students may attend unaccompanied, but names should be advised in advance. Please book places with Alice England: a_england@redmaidshigh.co.uk

Community News

Mayor of Bristol's Culture Team- Bristol's Art in City Hall
The Mayor of Bristol's Culture Team would like to provide an opportunity for all communities to be represented through art in the corridors and public spaces of the civic heart of the city, and is inviting artists to enter their artworks for the first Bristol's Art in City Hall programme.

They are looking for one wall-based artwork from each of Bristol's 34 wards in order to showcase local talent and use the walls of City Hall as a platform for stories from across the city. Submission is free and open to Bristol-based artists, community groups, schools or arts organisations.

This project is about ensuring that City Hall as a public building truly represents the communities it works for.

Submissions via email for the first round of selection will be accepted between Monday 2 March and Friday 27 March 2020. For more details about entry requirements and the submission form, please see the documents here and here.

Redland Library events – March 2020
Redland Library are running two events in March – a Books & Wildlife event and From Page to Stage.

Desert Island Books on Books & Wildlife- Tuesday 12 March 7.00pm (Doors open 6.45pm)
Members of a guest panel nominate and discuss their favourite books on wildlife. They also nominate a 'wild card' being any book that they have enjoyed and would recommend to others. Admission is £3 (pay at the door) Further details can be found here.

From Page to Stage- Tuesday 26 March 7.00pm (Doors open 6.45pm)
Members of a guest panel nominate and discuss books that have been adapted for the theatre. Admission is £3 (pay at the door) Further details can be found here.

Researching your Family History- Tuesday 1 April 7.00pm (Doors open 6.45pm)
They are also holding their very popular Researching your Family History event again on Tuesday 7 April. Places are limited and therefore booking is required. This is a taster session on how to research your family tree and use the Ancestry website. This will comprise an introduction given by Stephen Williams (experienced genealogist & former Bristol West MP) followed by hands-on computer time.
Numbers are limited and booking is essential.
To book a place, please email FriendsOfRedlandLibrary@gmail.com
Further details can be found here.


HappyMaps Website- Providing resources for Parents and Carers around Children's mental health
HappyMaps is a website providing a one stop shop of resources around children's mental health from babies to young adults and includes websites, videos, books, Apps and links to ways to find counselling and other support. The website was funded by NHS England with input from specialist services (CAMHS) and local charities and is supported by Bristol Mind. Please click here to view the website.


Useful quick links

Key Dates
Please click here to view the Key Dates by year group for the 2019-20 academic year. You will be notified of any significant changes/additions, but please can we ask that you check the dates for your year group regularly as they are subject to change.

Parents' Evening Booking System (PES)
Please click here to access the online appointment booking system for Parents Evenings/Family Consultation Day. Please note this is only available if an event is due. We will email you to let you know when booking opens. If you encounter any difficulties with booking your appointments please contact the admin team by email to adminoffice@cotham.bristol.sch.uk or tel: 0117 919 8000

Assessment Calendars for KS3
We have created Assessment Calendars for 2019/20. Each Assessment Calendar contains details of the class assessments that will take place in their subjects. The final column contains a link which gives information about each of the assessments.
To see the Year 7 Assessment Calendar click here
To see the Year 8 Assessment Calendar click here
To see the Year 9 Assessment Calendar click here
To see the Year 10 Assessment Calendar click here
To see the Year 11 Assessment Calendar click here

Parents Information Sessions
KS3 Parent Information Session 3 October 2019 - click here
Year 10 Parent Information Session 7 November 2019 - click here
Year 11 Parent Information Session 14 November 2019 - click here

Homework and Independent Learning timetables
Please see the attached link describing our Homework Guidelines for students in the school.
In KS3 we do not have homework timetables.
Homework and Independent Learning Timetable for Year 10
Homework and Independent Learning Timetable for Year 11

GCSEpod
Click here to access GCSEpod which contains lots of revision resources for most GCSEs. Students self register through the website using their name and school details.

Diagnostic Questions
Click here to access. This site contains self marking quizzes with lots of templates including some from a range of exam boards. It's easy to make your own questions in Microsoft PowerPoint too. Students sign up with their school Google account using the G+ button to automatically create a school account

Edmodo
Edmodo is an application that can be used on both mobile devices and in the web environment to create an online community of practice. Edmodo is a free social learning platform that allows students to access the course content uploaded by their teachers.
https://www.edmodo.com/

Seneca
All students and teachers now have free access to Seneca - a revision and homework platform making studying more fun. Seneca is an interactive way to learn official course content. Their web app covers 150+ exam board specific courses condensing what students need to know for their exams. The software is able to identify gaps in learning. For instance, when you get a question wrong, the platform will repeat the topic in different formats and their smart algorithm has proven to make students remember topics 2x faster. Seneca is totally free for students, teachers and parents. You can sign up via senecalearning.com

Free School Meals
To apply or check if your child is eligible for Free School Meals please click on this link.
If you have any questions or need assistance please do not hesitate to contact Mrs Hopkins at Student Reception.

WisePay
WisePay is the Online Payment Service at Cotham School which allows you to pay for trips and visits as well as to add credit to your child's Cashless Catering account. Click here to access your account now. If you have any queries about your account please contact the support team by email to wisepay@cotham.bristol.sch.uk

School Uniform
Please click here to view the compulsory uniform requirements of Cotham School, along with visual examples of uniform and details of our uniform suppliers.

Contact Details
Please note the following contact numbers and email addresses if you need to contact the school:

Main Reception - 0117 919 8000/ reception@cotham.bristol.sch.uk
Student Reception - 0117 919 8013 / studentreception@cotham.bristol.sch.uk
Absence - 0117 919 8019/ absence@cotham.bristol.sch.uk
NBP16C - 0117 919 8100/ post16@cotham.bristol.sch.uk
Finance - 0117 919 8016/ finance@cotham.bristol.sch.uk
Exams - 0117 919 8024/ exams@cotham.bristol.sch.uk
Admin Office - 01179198053/ adminoffice@cotham.bristol.sch.uk
Library- library@cotham.bristol.sch.uk