Weekly Mailing Friday 29 September 2017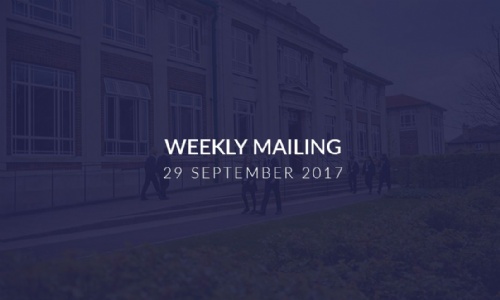 Dear Parents / Carers

Please find below my usual information, letters and updates on events that have taken place this week.

With best wishes for the weekend,

Ms Jo Butler
Headteacher

Next week (Week commencing Monday 2 October) is a Week A
CONGRATULATIONS
Most Improved Player Award
Congratulations to Fiontan Firth-Williams who has had a great year at Bedminster Cricket Club, and at the recent presentation evening received a Most Improved Player award. His team, BedminsterU13 , also won the North Somerset Youth Cricket League this year and received their winners medal and trophy.
IMPORTANT INFORMATION FOR PARENTS/CARERS
Meningitis awareness
Public Health Englandhave contacted Bristol schools to say that they aware that many parents and young people are concerned about the recent meningitis cases in Bristol. They have provided a list of frequently asked questions for us to share with you all. If you have any further questions please direct these to the Public Health England team by email to: england.southwestscrimms@nhs.net.
Literacy at Cotham
The Punctuation Show and The GCSE Show visited Cotham this week, delivering shows to Years 8 and 10. The students engaged excellently with each show and sang along with the songs.
To help your child further with their literacy, you can download an album of songs to reinforce what was learned and revised. Simply visit the website link http://www.thepunctuationshow.com/parents. Once you arrive at the page, please insert the pass code 'discount16' in the box provided. You will then arrive at a web page where you can download the album "Songs from the Punctuation and Grammar Shows". We hope you enjoy the songs and that they help your child to learn.
KEY STAGE 3 (KS3) INFORMATION
YEAR 7
Literacy, Numeracy and Skills Evening
Thank you to those Year 7 parents/carers who attended the workshops on Monday evening. It was great to meet you and it was pleasing to hear how happy you were with the transition your child is making to our school.
I can confirm that the answer sheets from the Skills workshop were independently verified and the parents and carers of those children in Omega house can be congratulated on their victory in the Skills Think Time Challenge!
For those parents and carers who were unable to attend the evening, digital copies of the resources shared can be found here. Thank you for your support.
Year 7 Adventure Week
We are now planning the Year 7 Adventure Week, which will take place from 2-6 July 2018. We will be staying at Croft Farm Waterpark in Gloucestershire, and taking part in a range of water based and land based activities led by specialist instructors for example; kayaking, sailing, archery, fencing, buggy building and high ropes. Full information will be sent out next week, and we will be asking for a £50 deposit to be paid to secure your child's place no later than Friday 21 October.
KEY STAGE 4 (KS4) INFORMATION
YEAR 11
Parents' Evening
You are warmly invited to attend our Year 11 Parents' Evening on Thursday 5 October, 4.30pm - 7.30pm.
Please click here to view instructions on how to book your appointments. We hope that you will take this opportunity to meet with your child's subject teachers and we look forward to seeing you.

If you have any difficulty making an appointment using the PES system please contact Leadership PAs on 0117 919 8053 or email LPA@cotham.bristol.sch.uk
North Bristol Post-16 Centre Open Evening( Cotham's 6th Form) Thursday 12 October 6.30-9.00pm
The event takes place at Cotham and Redland Green Schools on alternate years. This year's event will take place at Redland Green School. Click here to visit the NBP16 Centre website.
Forthcoming Open Days at local Colleges and Sixth-forms:
South Glos. and Stroud College - all sites (including the new Berkeley Green engineering centre) - Saturday. 30 September 10.00am-1.00pm
St Brendan's 6th Form College - Saturday 7 October 10.00am-2.30pm
City of Bristol College - College Green Centre - Wednesday. 11 October 5.00-7.30pm
HOUSE UPDATES
Omega
This year Omega House has decided to support the Jessie May Foundation as its charity. This charity supports terminally ill children in Bristol, hoping to give them the best quality of life possible.
We are also running two challenges this year:
'The Omega Legend': this award will be given monthly to a student who has gone above and beyond in both work and behaviour that month. It comes with a certificate, badge and £3 on their lunch card!
Our 'Omega Legend' for September is Ahmed Ali in 9KBO
The Penny Pick-up Challenge: Each tutor group will be provided with a collection pot for coins found on the street/floor. Whichever tutor group collects the most cash at the end of each term will be awarded with the prize of pizza!
Mr Barber - Head of House
Sigma
Sigma House have had a great start to the year. We have now had our first House Assembly where we welcomed Ellie Bailey from The Rainbow Centre, our new House charity, to explain what they do and how the money we raise can help them. The Rainbow Centre for Children provides free and professional support to children and their families affected by life threatening illness and bereavement.
To kick-start our fundraising we have set our first Tutor Challenge. Tutor groups have been given a large tube of Smarties and once they have shared them have been asked to fill them with loose change. They have three weeks to fill their tubes. The tutor group who collects the most money will be awarded with a treat.
Our first Charity Fundraising day is Friday 13 October and we will be having a cake sale.
The September Sigma Superstar has been awarded to Abdi Hassan 8ID. Abdi has shown kindness towards others, helped other students in his team and always has a smile for everyone. A true Superstar! We are proud to have Abdi in Sigma House.
The Sigma High Flyers Award is given to the students who have achieved the most House Points so far this year. Congratulations to the following students- you are our current High Flyers.
7BSA Stella Hutchins
8ID Jackson Tucker
9ACL Luqmann Abdullah
10RMO Rajab Hussain
11JLL William Thurkettle
House v House competitions, Sigma Prefects Frankie and Ishba are organising an Inter House competition of Dodge Ball. This will take place at lunch time in the sports hall soon. Details and date to follow.
This week, we finished our assembly with a tutor treat. We gave each of our tutors one of our new chocolate bars - The Super Sigma Bar and inside one of the bars was a golden ticket. 7BAK were the lucky winners of the golden ticket and will receive their treat next week.
Mrs Arnold - Head of House
Delta
In our House Assembly this week the Delta House community was reminded about what it means to be in Delta. Our House Captain, Mahad shared the Delta House values as a helpful reminder to Years 8-11 and as a key message to those new students in Year 7. The Delta House values are:
To be kind
To be hardworking
To try your best
Mahad went on to say that it is important for all of us to be the best versions of ourselves and with that it mind we have challenged ourselves to be even better than last year. Something we are striving to be better at is doing our bit for the local community and for that reason we have begun our first fundraising activity of the year for Off The Record. Thank you very much to those who have already brought in their donation to the 'Chocolottery'. Our Prefects will continue to collect donations next week and will be selling tickets during afternoon tutor times. The date of the draw is yet to be announced...remember that you have to be in it to win it, so do encourage your child to get their ticket(s) before it is too late!
It has been great to see the brilliant start to the year made by so many of our Delta students and how staff have been recognising students through House Points. The students named below were our first Delta House Heroes of the year:
Liam Moore (7KM)
Lola Eden Beaver (7PPR)
Fadumo Ismail (8DD)
Fin Wylie (8EM)
Sude Topuz (9AWS)
Tom Brazier (9TS)
Neve Lloyd Owen (10CCY)
Nadia Johns (10SBA)
Kacper Barszcz (11RBI)
Laszlo Brennan (11RH)
I am also delighted to report that our House has started off the way we have finished previous years; leading the way in terms of House Points. We must not get complacent, though, as Gammaare hot on our heels!
Thank you to all those students in Delta who consistently demonstrate the Delta House values and have helped us make a great start to the year. I am certain this will continue.
Miss McDonagh - Head of House
Gamma
Gamma is proud to announce that they will be supporting Above and Beyond as their local charity this year. Above and Beyond raises funds for Bristol hospitals to create welcoming environments, provide state of the art equipment and provide additional specialist staff. As part of this partnership we are encouraging students and parents/ carers to take part in the 'Knit for your hospital' campaign. Please can we ask you to support us by bringing in knitted hearts of 4-5 inches (click here for pattern). We will be using the hearts to decorate the Bristol Heart Institute atrium in February and people will be invited to make a donation to hang a heart with a message of love, support, hope, remembrance or thanks.
Gammahave awarded the following students for making an admirable start to the term:
Sultan Bawazir Year 7
Eleanor Jones Year 7
James Dean Year 8
Bryn Coates-Cook Year 8
Abdijabar Osman Year 9
Maya Hay-Nicholls Year 10
Sophie Jones Year 10
Hamda Hussein Year 11
Saul Bhaidani Year 11.
We would also like to congratulate Rylan Bawden for being the current Gamma House Champion. We wish him all the best in his Basketball career at Bristol Storm.
Miss Madge - Head of House
Spookfest
Tuesday31October will see Cotham's first annual Spookfest. Students can visit the hub at break time to buy some spooky treats and take part in fun activities like apple bobbing to raise money for Above and Beyond. Click here to view the poster.
POST-16 NEWS
This week in Post-16:
BBC journalist and presenter Susannah Streeter spoke to Year 12 about her career journey. She gave the students advice about which degree courses to choose, how to present effectively and how to be resilient in the face of adversity. The students asked lots of intelligent questions, and Susannah's advice on presentation skills was well received by our Student Vice President candidates who made speeches to their peers after her talk.
Year 12 students new to Cotham School enjoyed a quiz and social event in Charnwood canteen last week. 70 students joined together to make new friends and get settled into their new routine at the North Bristol Post-16 Centre.
Find out more
To find out more about what is going on at the North Bristol Post 16 Centre, please click here to visit the website.
Needed - Post 16 - Programming Mentors
Our KS5 Computer Science students are now into the early stages of their Year 13 programming projects.
We are looking for mentors with programming experience to the support students in the programming and development of these projects. The students are doing a range of projects from programming drones to coding a strategy simulator for F1 to programming an online stock control system for a large department store.
Being a mentor would involve meeting up with the student after school at Cotham to assist them with any programming problems they are having. These meetings could happen fortnightly or less frequently depending on the needs of the student.
If you would be interested in helping out the and providing some valuable programming experience please contact Mr Watts
SUBJECT AREA NEWS
PE/SPORTS UPDATEpdate
Please click here to view all of our recent results and the upcoming fixtures for the week ahead.
Imperial Junior Netball Club
Tuesday afterschool club 5.30 - 6.30pm at City Academy
U12 and U14 girls spaces available for Cotham students. Mrs Ferris is happy to meet students at City Academy (at 5.30) on Tuesday 10 October to support any girls who would like to start the club. Please contact Mrs Ferris with any queries.
Please click here for information about the Extra-Curricular Activities available to student in PE during Term 1.
Follow @CothamPE on Twitter for all the latest news and updates from the Cotham School PE department
It would be great if parents/carers could let the school/PE department know of any students achievements outside of school please. It is sometimes only at subject evenings that we find out what students are doing outside of school! Email us: lts@cotham.bristol.sch.uk
PERFORMING ARTS UPDATE
Steel Pans
Lessons begin again on Friday 6 October for Years 8, 9, 10 and 11. A timetable will go up in the Performing Arts Foyer at the beginning of next week. Please be aware that you must pay for the terms lessons in advance via your WisePay accounts, which will also register will also register your child's participation in this activity.
Year 7 Steel Pans
Lesson begin for Year 7 students on Monday 9 October. Please be aware that you must pay for the terms lessons in advance via your WisePay accounts, which will also register will also register your child's participation in this activity. There will be a meeting at breaktime on Monday 9 October in the Music Department in E113 to organise the bands in advance.. There have unfortunately been a large number of Year 7 students who were unable to attend the recent taster session. We will aim to organise one more. Watch this space!
Music Theory Classes
Wednesday afternoons 3.05pm - 4.30pm, inE113 Music department. £35 for 2 terms. Just turn up on Wednesday to join the class. Fees can be paid via WisePay.
Cotham Chorus (choir)
The Cotham Chorus choir takes place on Monday lunchtimes in the Music Department. All keen singers are invited to come along and join in.
Music Tuition Update
If there are any students who have still not had contact from BPM or an instrumental teacher regarding tuition this term, please contact Mr Campbell know and he will look into this for you.
Cue Bristol Youth Theatre
Cue Bristol is a fun and welcoming Youth Theatre group open to all pupils in Years 7-11 from schools across Bristol. Sessions take place on Mondays in the Dance Studio at the following times:
Years 7- 8: 5.15pm - 6.45pm
Years 9 -11: 7.00pm - 8.30pm
Each block of 10 sessions cost £50. Payment can be made via WisePay for all Cotham Students.
Everyone welcome, just turn up!
VISUAL ARTS UPDATE
Christmas Card Competition
The Visual Arts Department is running a competition to design the school Christmas Card. The competition is open to all years and the winner will be selected for the final card design. House points to be awarded for runners up. Deadline 10 November 2017. View poster here.
Artwork of the Week
Art WOW this week goes to Kasavia Smolka-Headley with her beautiful summer homework featuring Frida Kahlo adorned with her signature flowers made of tissue paper. Kasavia also took the time to write a small biography about the artist. Click here to view Kasavia's work.
Art Club
This activity will continue to be held every Friday lunchtime for KS3 students. Students are also able to work in the department after school on Tuesday, Wednesday and Thursday.
COMMUNITY NEWS
Fundraising for Age UK and Totnes Caring UK
On Saturday 2 December8am at Horfield Leisure Centre Mrs Webb-Martin will be participating in a charity event to help raise money for Age UK and Totnes Caring UK in order to combat isolation and loneliness in old age. As a team of 10, we will be pushing a 'prowler' sled loaded with 40kg a total distance of 20km. This is likely to take the team 4 hours or more, so will an exhausting but very rewarding morning!
If you would like to donate to help raise money for a very worthwhile cause, please click here. Thank you.
24 Hours in Bristol 2017 - Photography Competition
The popular '24 Hours in Bristol' photo-marathon competition, which sees 10,000 photographs taken in a single day, returns on 30 September with an exciting new format for 2017 – all entries must be taken on Smartphones or tablets only.

Last year's competition was won by Bath photographer Paolo Ferla, with his stunning night time image of the Clifton Suspension Bridge.
The annual competition to capture a day in the life of Bristol is now in its fifth year and will take place over 24 hours, from 12.00pm Saturday 30 September to 12.00pm Sunday 1 October. Anyone with a smartphone can enter to compete for the £5,000 prizes.
Online registration is now open at www.24hoursinbristol.co.uk. Anyone who would like to enter is advised to register as soon as possible, as entry numbers will be limited.
Digital Bristol Week
The University of Bristol is partnering with the BBC and other organisations across Bristol to run free digital events and training as part of Digital Bristol Week. There are still places available for the following events:
Ada. Ada. Ada.
Free interactive theatre performance for schools (Monday 16 October). Aimed at years 7,8 and 9 the play explores the life and work of Ada Lovelace through interactive theatre. Click here for more info.
Hack Day for Year 12 students
This one-day hackathon will explore how a human-centred design approach might inform ideas for improving cities. Students will identify examples of emerging technology that could be used within the solutions they propose. The aim of the hackathon is to get the views of young people on the vision and planning for the future of Bristol. Click http://www.bbc.co.uk/academy/en/articles/art20170908110815642 for more info.
Mosaic Singers
Mosaic Singers are a small friendly singing group who meet in Stoke Bishop on a Tuesday evening 7.30 to 9.30pm. We sing a variety of numbers from modern pop, golden oldies, songs from musicals and even some classical pieces - but nothing too heavy! We are looking for new recruits - no audition required! Please contact David Vicary on 07973 460994 for further information.
Library News
Please click here to view the latest newsletter from East Group Libraries.
Redland Library - Desert Island Books
Join a panel of interesting people as they nominate their choice of book on a particular theme + a 'wild card'. The events take place on Tuesday 3 and Tuesday 17 October. Click here for more info.
Be part of the Bristol Clean Streets Campaign
Building on the success of the Great Bristol Spring Clean, the Autumn Litter Blitz will be taking place 16 – 29 October 2017.
This event, organised by Bristol Clean Streets encourages you to get together with family, friends and neighbours during this period and make a difference in your local community by doing a litter pick big or small, or something else to spruce up your area.
Bristol Waste Company have all the things you will need to do one safely. They can loan you litter pickers, bags, high visibility jackets and will even arrange to collect the waste you collect for free. Please note that Litter picking kits are loaned on a first come first served basis.
For more information Email hello@bristolwastecompany.co.uk Visit www.bristolwastecompany.co.uk/litterpick
Or call 0117 304 9022
USEFUL QUICK LINKS
Key Dates
Please click here to view the Key Dates by year group for the 2017-18 academic year. You will be notified of any significant changes/additions, but please can we ask that you endeavour to check the dates for your year group regularly as they are subject to change.
WisePay
WisePay is the Online Payment Service at Cotham School which allows you to pay for trips and visits as well as to add credit to your child's Cashless Catering account. If you have any queries about your account please contact the support team by email to wisepay@cotham.bristol.sch.uk
Parents' Evening System (PES)
This is the online system by which all appointments must be booked for Parents' Evenings. Click here to view the Parent's' Guide to PES. Click here to access PES.
School Uniform
Please click here to view the compulsory uniform requirements of Cotham School, along with visual examples and details of our uniform suppliers.
Cotham School Virtual Learning Environment (VLE) - Weebly
Click here to access the Cotham School VLE. On this VLE you will find links to the sites for each department at Cotham School. These contain useful information and documents for the subject area.
Free School Meals
https://www.myfreeschoolmeals.com/ to check if your child is eligible for Free School Meals or to apply.