Weekly Mailing Friday 14 October 2016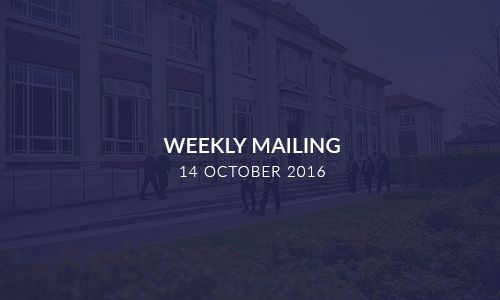 Dear Parents / Carers

I am pleased to update you on events that have taken place this week and to let you know about some of those that will take place in the near future.

Ms Jo Butler
Headteacher
SCHOOL NEWS

Whole School INSET day
A reminder that the school is closed on Friday 21 October

Free School Meals and the pupil premium
Find out if your child can get free school meals and how to apply and understand how to get extra funding for your school by clicking here.

Click here for a Polish translation
Click here for a Somali translation

Year 10 - Information Evening
The information evening for Year 10 parents and carers on Thursday 6 October went very well.
The evening described the new grading structure of GCSEs, and gave parents opportunities to get more details of each of the GCSE courses being offered, and their course structures. Core subject Curriculum representatives (Maths, English, Science, Humanities and Modern Foreign Languages) were also present to give advice about supporting your child's progress over the next 2 years. All of the information from the evening is available by clicking here

Year 7 - Family Consultation Day
Family Consultation Day for Year 7 only, takes place on Thursday 17 November. We ask that all parents and carers book a 15 minute appointment with their child's tutor between 8.30am - 5.00pm to take advantage of this valuable opportunity to discuss how your children have settled into life at Cotham. During your appointment you will be able to to discuss your child's engagement and well-being, participation in the wider life of the school, and to set targets for the remainder of the year.

Your child's Learning Coordinator Mrs Wood and Deputy Headteacher Ms Leong will also be available to talk to. Mrs Reed, our Attendance Officer, will also be on hand to discuss any concerns you may have regarding attendance.

To book your appointment and for more information please click here

Black History Month
During October we are focusing on a celebration of the wonderful diversity that makes Cotham School such a great place to study and work. As part of this, we are also very lucky to be able to have Deputy Mayor of Bristol, Councillor Asher Craig, visit the school at the start of next month to inspire all of our students with her journey from being a student at Cotham School to the great successes and contribution to the city that she has achieved already. In addition, five of our Year 11 students are visiting Iron Acton Primary school to deliver an assembly of their own on Black History Month, selecting inspiring people from past and present to talk about to the young


Performing Arts Update
Drama
This term Year 7 have been set the task of answering, in the most creative way, "What is Drama?" The response has been incredible! Students' work has included pottery, video diaries, a dance, life size human collages, puppets and even a cake! This has inspired us to award a 'Work of the Week' so that you can see some of the incredible things Year 7 have been making. The first recipient of the 'Work of the Week' award is Sam Yeo in 7SL for his Comedy/Tragedy Drama Cake.

Cue Bristol Youth Theatre
Our Theatre School is now up and running again. Click here to find out how your child can get involved. It's never too late to sign up.

CPAN (Cotham Performing Arts Network) needs YOU!
Click here to find out how you can get involved and help support the Performing Arts at Cotham School

Whole School Show 2016
This year's whole school show will be Macbeth. Auditions are open to students from all year groups. We are currently looking for both Actors and Singers. Click here to find out more

Visual Arts Update
Christmas Card Competition
The Visual Arts Department is running a competition to design the school Christmas Card. The competition is open to all years and the winner will be selected for the final card design. House points to be awarded for runners up. Deadline 11 November 2016. View poster here

Extra Curricular Clubs and activities
Click here to see a full list of all of the activities on offer across the school

PE/Sports Update
Click here to view this week's Netball and Rugby Results
Click here to view fixtures for the week ahead
Click here to celebrate our students achievements in Sports outside of school
Click here for details of all the Extra Curricular sports activities available at Cotham

Post 16
Forthcoming Post-16 Open Events:
Bristol City Community Trust (Football & Sport courses) - Mon 17 October 7.00-8.00pm
City of Bristol College - Ashley Down site - Wed 19 October 5.00-7.30pm
Access to Music College (Hengrove) - Wed 19 October 6.00 & 7.00pm
St Brendans 6th Form College - Thurs 20 October 5.00-8.00pm

COMMUNITY NEWS

Important Safeguarding notice from Avon and Somerset Constabulary
In light of the recent reports of 'clown-related' incidents in our force area, the Avon & Somerset Constabulary has issued the following statement:

During the past few days we have received several reports of people dressed as clowns and behaving in an anti-social and threatening manner. It follows a number of similar incidents across the country which have been widely reported in the national media.

Insp Julie Knight, of the local policing directorate, said: "We don't want to stop people enjoying themselves but we'd like to ask people to consider how their behaviour will affect others. "These incidents can potentially be very distressing and frightening for those involved and we are taking all reports made to us seriously. "Anyone involved in intimidating or threatening behaviour may well end up committing an offence, being arrested and having a criminal record and we'd urge them to think carefully about the consequences of their actions.

She also commented "We're aware of a number of social media groups raising concerns about this type of behaviour and we'd ask people to refrain from taking matters into their own hands and to report anything they are worried about to us. "We'd also like to remind people that in dealing with these issues valuable police resources are also being used, potentially impacting on our capacity to respond to other more serious incidents."

Anyone with information can report it directly to the Police via this link.

Healthy City Week 15 - 22 October Bristol Soup Event
See all the details about the next Bristol Soup Event on our Community News page here

Recent Letters Home
| | |
| --- | --- |
| Topic (week ending 23/09/2016) | For the attention of: |
| | Year 7 students |
| | All Students |
| | Year 10 students |
| | Year 10 students |
| | Year 7 parents |

All files are in PDF format. You need Adobe Reader to open these files. You can download Adobe Reader for free from adobe.com/reader