Weekly Mailing Friday 11 November 2016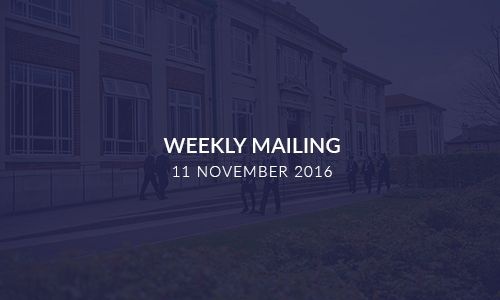 Dear Parents / Carers
I am pleased to update you on events that have taken place this week and to let you know about some of those that will take place in the near future.
Ms Jo Butler
Headteacher

SCHOOL NEWS

IMPORTANT - MAT Consultation Update
Thank you to all of you who took part in the Governing Body's (GB) recent consultation on whether Cotham should work with Prima to form a MAT. The consultation recently ended and the GB have now met to consider the responses and to decide on how they should proceed in light of these. Please click here to view a communication from Jim Bowyer (Chair of Governors) confirming the outcome of the meeting

KS3 INFORMATION

Information Evenings for Parents/Carers
There will be three information evenings for parents on Tuesday 22 November, Tuesday 29 November and Tuesday 6 December. The purpose of the evening will be to share the changes in the way in which the school will report to parents about their child's progress in each of their subjects. Parents are invited to attend one of the sessions depending on which date is most convenient for them. The sessions will commence at 6.00pm in the main hall (please access via school reception) and will finish by 7.00pm. The last 15 minutes will provide parents with an opportunity to ask any questions. Please indicate your preference for which date you want to attend by clicking here.

KS4 INFORMATION

Year 10 - Maths tests
Year 10 maths test is on Monday 21 November and will cover chapters 1-4. There is a revision list on the maths website (cothamschoolmaths.weebly.com) as well as a file with lots of revision ideas.
Year 11 maths mock is in the week beginning 28 November and will consist of 2 papers, one non-calculator and one calculator. These papers cover the entire course, although a revision list will be posted on the maths website next week.
There are now several GCSE textbooks in the library available for short-term loans if you want to use them to help you revise. These can also be seen on kerboodle (see your teacher if you don't know how to get onto kerboodle).

Year 10 - Science: Mock Exams
There will be a mock exam in the last week of term before Christmas. All students need to revise units B1, B2, B3, C1, C2, C3, P1, P2, P3.
All students have 3 science textbooks and kerboodle login to revise from. In addition they can buy revision guides and workbooks containing exam style questions from Science for £6 each.

Year 10 Work Experience opportunity
Rolls Royce are offering this exciting opportunity to young people in Bristol. Please click here for more information.

Year 11 Mock Exams
Year 11 Mocks will take place in the week commencing Monday 28 November to Friday 2 December.
Please click here to view the exam timetable.

Reporting absences including being late and appointments
If your child is going to be absent from school for any reason, or is going to be late to school in the morning, please call 0117 919 8019. If you do use the main school number, choose option 1 for the Attendance Office. This will ensure the information gets to the correct person.

Week A/ Week B??
We are aware that students and parent/carers alike are often unsure whether we are in a Week A or Week B of the school timetable. In an effort to assist we have now added this information to the school calendar area of the new school website (click here to view). W/C Monday 14 November will be a Week B.

Damage to School Books
With the autumnal weather upon us again we have already had a number of library books returned wet and mouldy. Can we ask that students please keep all books inside a waterproof bag to protect them from the bad weather? Even a plastic carrier bag inside the normal school bag would help if the bag is not waterproof. We have plastic book bags FREE from the Library- please ask if you need one!

PERFORMING ARTS UPDATE

Dance Evening 2016 - Tuesday 29 November 7.00pm
Dance Evening celebrates the success of Dance in the school. Performances are from all age ranges, including exam classes that demonstrate the variety, skill and joy that can be found in Dance.
Tickets are on sale now Via wisepay at £5 Adults/ £3 Concessions
Click here for more info

VISUAL ARTS UPDATE

Parcels of Comfort Exhibition
The Parcels of Comfort exhibition is still on at the Cathedral. The installation shows parcels of knitting, food and tobacco that played a crucial role in the war effort. Featuring reproduction parcels, this exhibition by local textile artists and Cotham School GCSE textile students recreates the atmosphere of the time.
For more information please click here for more information.
Open weekdays 8.00am-4.30pm/weekends 8.00am-3.00pm. Visitor access is limited between 9.30am-11.30am on Sunday morning due to services.

PE/SPORTS UPDATE

Please click here to view all of this week's results from; Year 7 Netball Festival, Year 7 Rugby Festival, Senior Sportshall Athletics, Bristol School's Swimming Final. Also listed here are the Fixtures for the week ahead.

Golden Hill Clubhouse
Golden Hill Sports, are trying to get enough votes in the Aviva Community Fund to get a grant to fix their dilapidated Clubhouse. Given that so many Cotham kids play football and cricket at the club, please support their cause and go to the link attached https://www.avivacommunityfund.co.uk/voting/project/view/16-2300 . There is no cost, no spam, children can vote and the voting window lasts until 18 November.

Parkour
We took a group of students to Freedog Urban Activities Centre to prepare them for their upcoming parkour and gymnastics lessons this term and next. Click here to find out more

POST 16 NEWS

Authentic Biologist's Present at Symposium in London
Click here to read more

Forthcoming Post-16 Open Events:
Access to Music Bristol (based in Hengrove) - Wed. 16 Nov, 6.00 or 7.00pm (book via www.accesstomusic.ac.uk)
St Brendans 6th Form College - Wed 16 Nov, 5.00-8.00pm
BTEA (Bristol Technology & Engineering Academy) nr Bristol Parkway Station - Thurs.17 Nov, 6.30-8.00pm

COMMUNITY NEWS

St Paul's Carnival
St Paul's Carnival (Bristol) CIC, has launched a campaign to recruit a new board of Directors. Along with delivering an authentic African Caribbean Carnival in 2017, they will also lead on developing a 50th-anniversary strategy whilst securing the long-term future of the Carnival.
For more details on the new St Paul's Carnival (Bristol) CIC, please see the attached press release and poster. To apply to become a Director go to www.voscur.org/carnival. Otherwise do note that the application deadline is 9.00am on Friday 25 November

Recent Letters Home:
| Topic (week ending 4/11/2016) | For the attention of: |
| --- | --- |
| | All Students |
| | Year 9 Students |
| | Year 7 parents and carers |
| | Year 7 |
All files are in PDF format. You need Adobe Reader to open these files.
You can download Adobe Reader for free from adobe.com/reader