Cotham School House Bake Off Video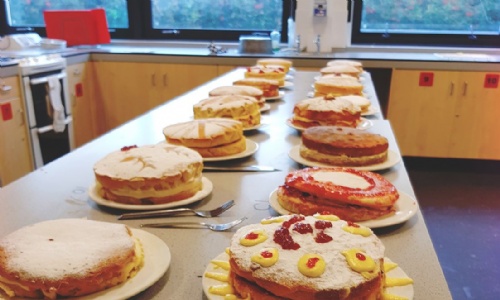 Last week 20 students battled it out in The House Bake Off. They entered the room at 9am and were given 1 hour and 45 minutes to make, bake and present their technical challenge.
Their challenge was to bake a Victoria Sandwich and they were given ingredients and a brief to follow. All 20 students baked to a high standard and at 10.45 they stopped baking and the cakes were judged.
The judges were Dave Martin - Alumni and Abbie Parsons - Bristol Ladies Rugby Player and England International Academy player.
The cakes were judged on taste, texture, colour and appearance. It was a tough decision but eventually after a lot of cake eating and a long discussion the results were in.
The Winner of The House Bake Off was....... Luca Pritchard 11JLL Sigma House
In second place was ... Masha Evans 9KBO Omega House
In third place was Jeremy Cross 10 DU Omega House
Winners were awarded Amazon Vouchers. Congratulations to all the Bakers who worked so hard. All participants were awarded a wooden spoon that was engraved with 'House Bake Off 2017' and their House Colour ribbon. A special thank you to Mr Shutter who filmed the Bake Off and took photos.