Lord Mayor & Lady Mayoress visit Cotham School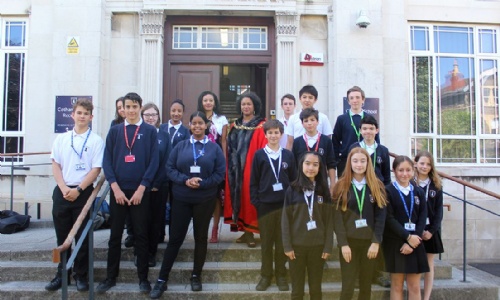 Last week, a group of us had the pleasure of meeting the newly appointed Lord Mayor and Lady Mayoress of Bristol. We all met in the school hall, we in our school uniform and the lord mayor in her full regalia, the scarlet robes, and the golden chains. She was a fascinating person, not just because of what she said in the meeting, but because of her background as well. She is one of the very few women who have ever had the honour of being Lord Mayor of Bristol and she is relatively young compared to the other Lord Mayors in the past which acted as an inspiration to all of us young people listening.
The Mayor had quite a few exciting things to talk about. Unlike the humdrum ideas we expected from a Lord Mayor, she told us that she wanted to bring more country dancing into primary schools for kids to enjoy like they did when they were younger. But she didn't just want kids to start dancing, she told us that she wanted to get people to dance in the intervals of their council meetings in the city hall, which we are excited to be going to next month so that we can also bust out some moves and throw some shapes. She also spoke passionately about the Windrush generation which we were all happy to hear. I think this meeting was quite useful as we got to find out a lot more about the roles of the Lord Mayor and Mayoress which before, had been something of a mystery to us.
From Aineias Arango, 10MAH