Sigma News
Meet the Sigma Tutor Reps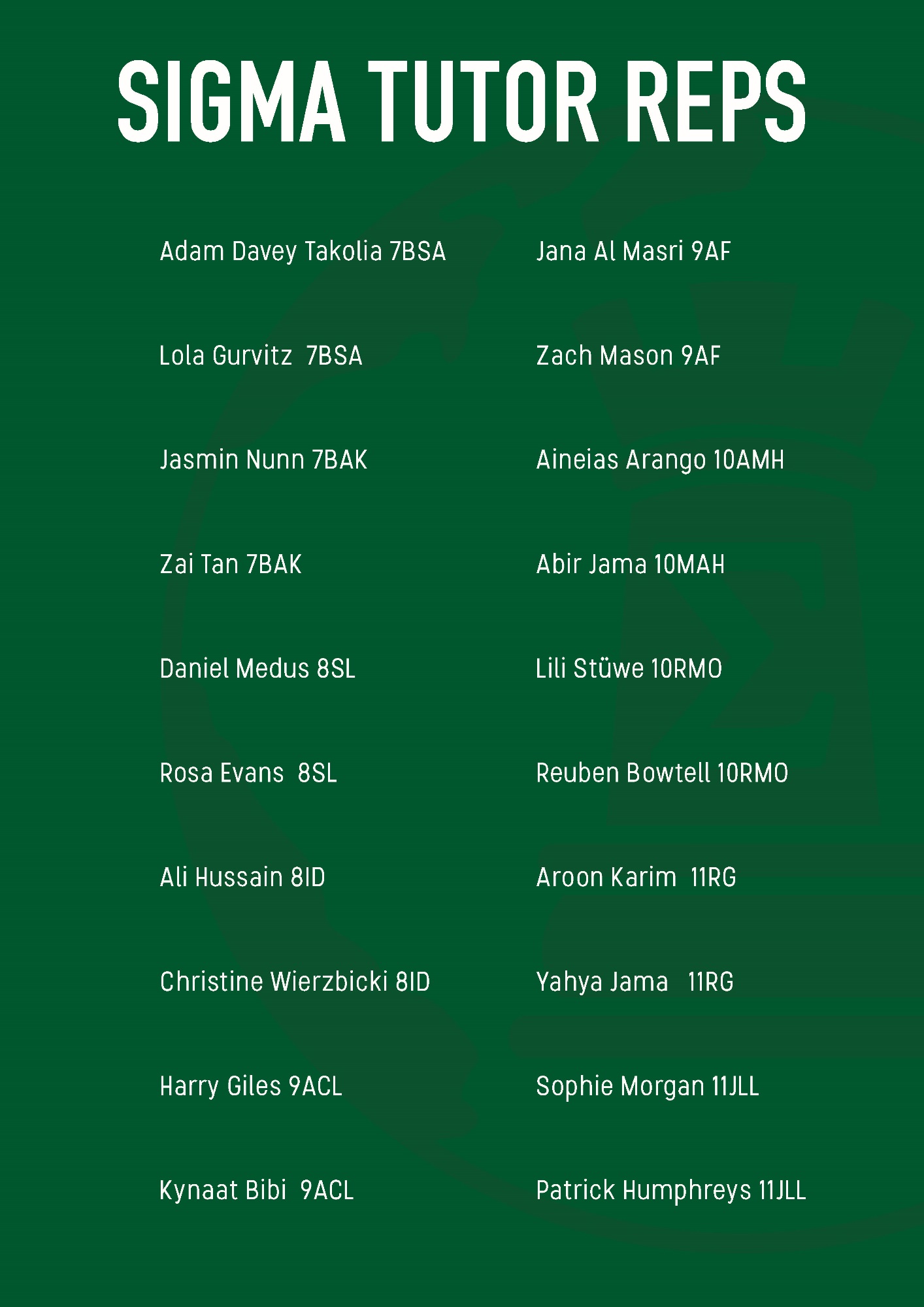 Sigma have had a great start to the year. We had our first House Assembly and we welcomed Ellie Bailey from The Rainbow Centre, our new House charity, to explain what they do and how our money we raise can help them.
The Rainbow Centre for Children provides free and professional support to children and their families affected by life threatening illness and bereavement.
To kick start our fundraising we have set our first Tutor Challenge.
Tutor groups have been given a large tube of Smarties and once they have shared them they have been asked to fill them with loose change. They have three weeks to fill their tubes. The tutor group who collects the most money will be awarded with a treat.
Our first Charity Fundraising day is Friday 13 October and we will be having a cake sale.
September Sigma Superstar
This has been awarded to Abdi Hassan 8ID. Abdi has shown kindness towards others, helped other students in his team and always has a smile for everyone. A true Superstar, we are proud to have you in Sigma
Sigma High Flyers, this is awarded to the students who have achieved the most house points so far this year. Congratulations to the following students, you are our High Flyers.
7BSA Stella Hutchins
8ID Jackson Tucker
9ACL Luqmann Abdullah
10RMO Rajab Hussain
11JLL William Thurkette
House v House competitions
Sigma Prefects Frankie and Ishba are organising an Inter House competition of Dodge Ball, this will take place in the sports hall over a lunch time, details and date to follow.
We finished our assembly with a tutor treat. We gave each of our tutors one of our new chocolate bars - The Super Sigma Bar and inside one of the bars was a golden ticket. 7BAK were the lucky winners of the golden ticket and will receive their treat next week.
Best wishes
Sigma House
Please enter some content for your news story here.