Gamma News
These last few week have been very busy for Gamma with our House assembly and lots to celebrate. Firstly, we would like to welcome the following six students into our student voice representatives-

7CBR
Rushon Walker-Brown
Jasmine Yuille
7JPG
Alfie Blackmore
Sonny Phuntsok
7RA
Khalid Farah
Ella Madeley

Each one of these students have shown a real interest and dedication to the house system and we are excited to start sharing year 7 student opinions. Over the next few weeks these students as well as older Gamma representatives will be meeting with Ms Butler to discuss Gamma's focus of Teaching and Learning. Expect updates over the next few weeks!
This past week saw Gamma's house assembly where we introduced the joint House Christmas appeal. We shared reasons to be grateful and explored the rising problem Bristol is experiencing with homelessness. Omega is focused on helping he local community and are therefore leading the collection for the homeless. Details below…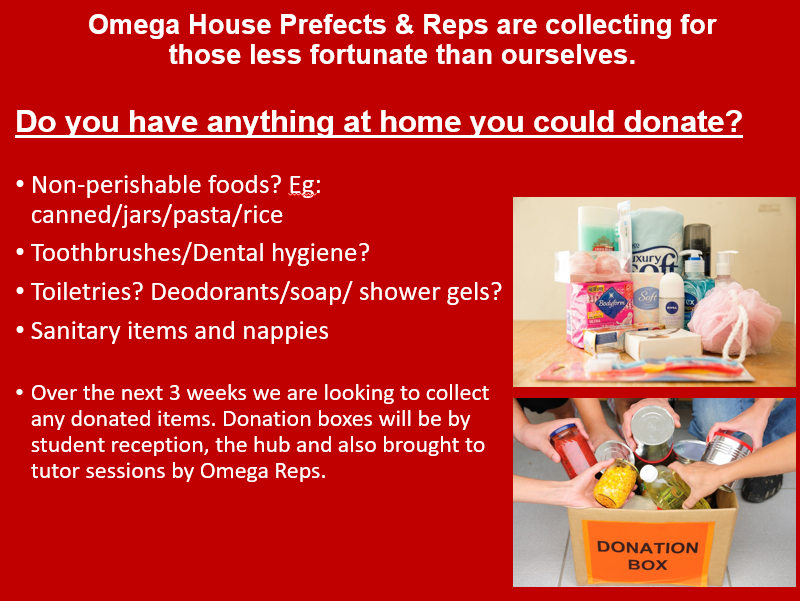 In line with this message, Gamma tutors were asked to nominate one student each from their tutor group which they felt have shown kind and giving qualities. These students were praised and rewarded with a £5.00 amazon gift voucher and a new Gamma water bottle which has been introduced to help support Cotham's reduction in plastic consumption. A massive congratulations to the students listed below-
7JPG- Sajeeda Ahmed- Very sweet and polite
7RA- Shouq Aleissa-Thoughtful and considerate by bringing in doughnuts
7CBR- Eiliyah Rehman- Extremely polite and always says good morning and holds door open
8SD/IJ- Najib Ullah Raj- Has been an absolute star with Fahim, in translating and working with him.
8MPI: Klio Konstantopoulou- quietly considerate and caring and always sensitive to others
9ABI- Amy Howe- She's ready to help her friends out at a drop of a hat.
9RD- Cassie McKenzie- Very helpful to other students and teachers
10SME: Nasim Khan- Very caring and supportive of his friends in the tutor group
10SHA: Norah Farah- General loveliness and amazingness. Always says good morning always says have a nice weekend. Looks after her friends
11WN: Lili Riley- for being thoughtful and kind to others
11AWO: Rosie Wright- she supports other tutees really well when they are having difficulties
Miss Madge would also like to congratulate all of the students who have taken part in the photography competition for the Cotham Newspaper (google classroom code- qk1qkj). The winning student happens to be a Gamma student- Rose Carolan 8SD/IJ with the edited photograph seen below. She will receive a £5.00 amazon gift voucher as well as being published on the front page of the newspaper. There were tonnes of great entries but the creativity shown by Rose was exemplary. Well done!