Gamma News
Gamma house is going into the Easter holidays feeling a great sense of pride in our House system. Sigma, Delta, Omega and Gamma have worked really hard over the last term to collaborate on some impressive projects. This was initially launched with our inter House competition to design a robot for the visual arts department that will soon be displayed for all to see the canteen. A big congratulations to Khalid, Tia, Felix, Bertie and Heider from 7JPG.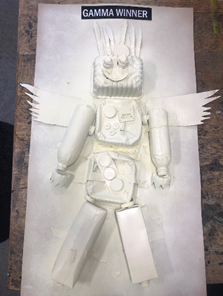 We are launching a very similar competition where students can design a recycled bottle sculpture. They will need to design a sculpture made from disposable water bottles.

All you need to do is design a sculpture that connects people with the issue of marine plastic pollution. You can paint, draw or event construct your design, but it should connect people to the issue, their actions and the oceans. Your design could say something about the problem of waste plastics, or the environmental impact, it could show a solution or highlight the statistics. The choice is yours!
Please attach a picture of your sculpture design - you can draw it, design it in a computer package or even build it yourself. Just be sure that your pictures are clear and annotated if necessary.
Please send your entries to Mrs Arnold arnoldl@cotham.bristol.sch.uk
Closing date for entries is Friday 26th April.
We will have prizes for the top 5 entries and the overall winner will be Cotham Schools entry into a National Competition sponsored by Robeco in partnership with City to Sea.
We are very pleased with fundraising that has occurred with many students taking part and donating to our charity within a Valentine 's Day Raffle and the most recent non-uniform day. So far we have raised £881 for our charity Above and Beyond and our most recent non-uniform day has raised £805 to be shared between all 4 house charities.

Next term we are going to have a massive push on our charity fundraising so please make sure you send over any ideas you have to Miss Madge- madges@cotham.bristol.sch.uk – she would really appreciate it!

This month's Gamma House champion is Yusra Ali. She is taught by Miss Madge in History and is always so positive and polite. She makes sure to greet everyone she meets and finishes all her work to the best of her ability. We are very proud of Yusra and all her achievements.

We wish you all a restful and egg-cellent Easter.