Delta Download 9 March 201
As a house our focus is upon behaviour and rewards and so we spent our assembly focusing on the positives by rewarding and recognising students for a variety of reasons.
Delta Dazzler
Our Delta Dazzler this month goes to a student who is always polite and friendly. She goes out of her way to help others and is in Mr Slane's tutor group! I am immensely proud to have this student in Delta because of her kind and caring nature. Congratulations to Zahrah Mahmood in 9TS, you are the Delta Dazzler for February!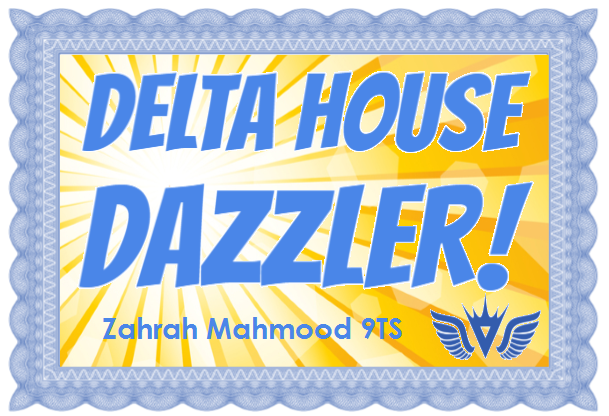 House Heroes
Our house heroes this month are all of those students who have not received a single behaviour point for this whole academic year! This goes to show that they get things right day in, day out. Each House Hero was treated to an Easter egg and House Hero postcard to say thank you and well done. The students are: Tom Adby 8EM, Oskar Allerbrand 9TS, Amina Birdi 8EM, Joe Brazier 7PPR, Iola Budden 7KM, Khadra Cilmi 8EM, Erica Crotty 8DD, Ethan Davies 7PPR, Evie Davies 8DD, Wilf Davies 8DD, Lola Eden Beaver 7PPR, Lola English 9AWS, Poppy Gillard 7KM, Pippa Inglis 7KM, Fadumo Ismail 8DD, Scarlett Jarrold 11RBI, Maddie Johnson 11RBI, Otis Lamb 10CCY, Max Luce 8DD, Jan Mahler 9TS, Elena Matei 11RH, Unathi Mayendisa 8EM, Peter Medus 10SBA, Shakila Ngozi 11RBI, Isabelle Peck 9TS, Brianna Petgrave 8DD, Art Ricesara 10CCY, Una Rogers 9AWS, Fosiya Salah 8DD, Josh Smith 9AWS, Catriona Tornero Russell 11RBI. Congratulations Team Delta, see if you can retain your record for the whole year!
Students recognising each other
Miss McDonagh was pleased to receive nominations from students to highlight their kindness and attitude towards others in our school community. Well done to Kashygha, Freya and Muna for getting involved!
Delta 100 Club
The following students have already achieved 100 house points. This is a fantastic achievement and as a result these students will enjoy an extended break on Friday 16th March with some sweet treats. A huge well done goes to: Joe Brazier (103), Ethan Davies (119), Wilf Davies (106), Itziar Diez Manzanas (101), Zakariya Ibrahim (107), Ria Kaur (110), Liam Moore (101), Cheikh Nino (103), Esme Perera (108), Hannah Robbins (126), Amelia Spooner (105), Fin Wylie (115).
Going Doughnuts for Delta!
On Friday 16th March we will be having a doughnut sale in the hub to raise money for our house charity Off The Record. Donuts will cost 50p each so make sure you remember to bring cash with you to school.