Sports/PE News - 19 May 2017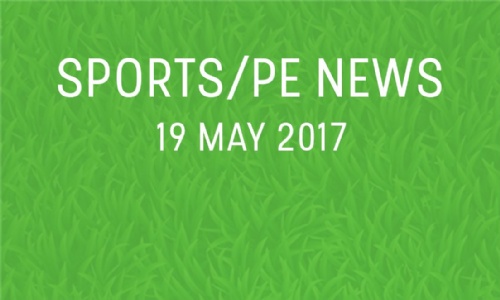 Latest Sport/PE news from the week.
Students Achievements
Well done to Charlie Haynes (year 9) for being selected to represent the Gloucestershire U/25 Middleton Cup Squad and to Kaylen Smith who competed in the Yate Avon Athletics County Championships last Saturday and came 1st in the Under 15 boys 200m and 3rd in the Under 15 boys 100m. A fantastic effort and achievement by both boys.
Bristol Schools Athletics Trials
Well done to all those students who took part in the trials at Packers Athletics on Thursday. There were some notable performances from Kavasia Smolka-Headley 100m Minor Girls race; Kaylen Smith Junior Boys 200m race and Charlotte Martin in the Junior Girls HJ who jumped 1m. 55cm setting a new Personal Best.
Senior Cricket Results
Unfortuntately the the boys lost their first match of the season to St Bedes on Thursday 59-72. There were some notable performances Luko Johnson (year 9) with the bat and Sid Bass (year 9) with the ball.
Rounders Results
Year 7 lost to Oasis Brighstowe 10-14
Year 8 beat Oasis Brightstowe 14-6
Girls Football Taster Session
Bristol Rovers FC will be holding a girls taster session to all years after school on Thursday 25 May at Cotham from 3.30pm - 4.30pm on MUGA.
Fixtures next week:
Monday 22 May - Year 7 & 8 boys and Girls Super 6 Athletics @ RGS. Return 5.45pm
Tuesday 23 May - Junior Cricket vs RGS. Return 5.30pm; Year 7, 8 & 9 rounders vs Henbury (h)
Thursday 25 May - Year 9 & 10 boys and girls Super 6 Athletics at RGS. Return 5.45pm
Below are the remaining fixtures after half term for Cricket and rounders.
CRICKET
Wednesday 7 June - Senior vs City Academy @ Packers, Whitehall
Tuesday 14 June - Senior vs Bristol Free School @ Bishopston Cricket Club
Wednesday 21 June - Senior Cricket vs RGS @ Kellaway Playing Fields
Junior vs Bristol Free School TBC
ROUNDERS
Tuesday 6 June - Years 7, 8, 9 & 10 vs St Bedes (a)
Wednesday 7 June - Years 7 & 8 vs Bristol Free School (h)