Weekly Mailing Friday 6 January 2017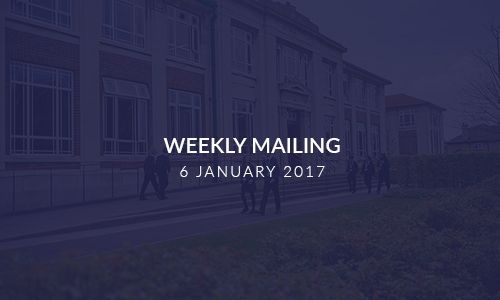 Dear Parents / Carers
A Happy New Year to you all. It's been a great start to the term with students returning refreshed and really focused on their learning. It's been a real pleasure to walk around the school this week and to see this when I've dropped into lessons.
Please find my usual update on events that have taken place this week and to let you know about some of those that will take place in the near future.
Ms Jo Butler
Headteacher
KEY STAGE 3 (KS3) INFORMATION
KS3 Information Evening for Parents
Thank you to those parents and carers that were able to attend the KS3 Information Evenings which ran on 22 November, 29 November, and 6 December. The purpose of the evenings was to share the changes in the way the school will report to parents and carers about their child's progress in each of their subjects. They were also used to provide parents and carers with advice on supporting their child's progress. We hope you found them useful. A copy of the presentations used on the evenings can be found here and the KS3 Curriculum booklet can be found here.
Year 7 Skills (First Aid courses January 2017)
Being able to administer First Aid is a fundamental and perhaps life saving skill that everyone should learn. As part of the Year 7 Skills programme every Year 7 student is trained to be a Young First Aider. This year St John's Ambulance will deliver the 'First Aid in a Day' course to each Year 7 tutor group. The students will be off timetable for that day. Dates can be found below.
Monday 9 January: 7VBL
Tuesday 10 January: 7ID
Wednesday 11 January: 7GC
Friday 13 January: 7GM
Monday 16 January: 7SL
Tuesday 17 January: 7DD
Wednesday 18 January: 7NCA
Thursday 19 January: 7EM
If you have any queries about this please get in touch with Miss McDonagh via email McDonaghK@cotham.bristol.sch.uk
Year 9 Options Evening - Wednesday 18 January - 5.30 - 7.30pm
This event for Parents and Carers will be focused on the 2017-19 Key Stage 4 curriculum and an outline of the procedure and the timeline for finalising options. There will be presentations by members of the Leadership team in the main hall at 5.45pm and 6.45pm and the Information, Advice and Guidance Advisor will also be present to offer advice on possible Post 16 education and careers options. Students will have seen the same presentation during assembly that day.
There will also be an opportunity to take individual questions at the end of each presentation. We have invited subject staff and Year 10 students currently following the courses to attend. The Key Stage 4 Curriculum Booklet will be distributed at this event.
Year 9 Parents Evening - Thursday 26 January - 5.30 - 7.30pm
At this event you will be able to meet with subject teachers to discuss your child's progress and suitability for particular subjects at Key Stage 4. Subject teachers are available from 5.00pm until 7.30pm. Appointments can be made using the online booking system (PES) accessed via the school website or by clicking here. Students should attend the Parents Evening with you.
We are currently experiencing some problems with booking appointments with Dance staff for this event. Please be advised that we are aware of the issue and looking to resolve this as soon as possible. An email will be sent to parents to advise when this facility becomes available.
Options Surgery - Tuesday 31 January - 6.00pm - 7.00pm
In addition, Mr Reed (Assistant Headteacher) and Mrs Bajic-Raymond (Senior Deputy Headteacher) will be running an Options Surgery to help with any further queries on Tuesday 31 January from 6.00pm to 7.00pm. More details to follow.
Year 9 - 'The Real Game' - Thursday 12 January
Please be advised that Year 9 students are off timetable during periods 1 - 4. 'The Real Game' is a teaching resource which provides pupils many opportunities to explore adult life. Through the game students experience a range of different learning styles and also develop employability and key skills. These can be transferred to personal decision making by students making subject choices at the end of KS3 and determining their personal learning strategy, for their future careers.'
Year 9 Maths Assessments
Maths staff will provide the exact dates of assessment to students in class next week.
Assessments are in class and an hour long. Students will need to bring all the usual maths equipment including a calculator. Detailed revision lists are provided on the department website: http://cothamschoolmaths.weebly.com
We would encourage students to work through the list alongside their textbook to help support their revision. In addition, we provide extra support through the Maths Homework Club after school every Monday and Wednesday in A209. Students are encouraged to bring revision along and are able to gain help on difficult topics.
KEY STAGE 4 (KS4) INFORMATION
Year 10 Work Experience (WEX) 3 - 7 July
All students need to ensure that they return completed WEX forms to Mrs Arnold.
If your child has not yet applied for a placement, please do encourage them to do so as soon as possible. Forms and WEX info can be found on the school website in parent and student area or by clicking here.
Thank you SIGMA! - Lord Mayor of Bristol Christmas Appeal
Please click here to view the letter of thanks that we received from Chairman Bruce Simmonds
PE/SPORTS UPDATE
Please click here to view all of this week's results, along with information about all of the Fixtures for the week ahead.
Student achievements outside of school
Congratulations to Ezra Penny (7SL) for achieving his Green Belt in Kung Fu
Congratulations to Sarah Walsh (8SHA) who has been named by Gloucestershire Cricket Board in the Girls County U13 Development Squad. Click here for more info
Extra Curricular Activities
To view the timetables of extra-curricular activities available to your child at Cotham please click on the links below:
PERFORMING ARTS UPDATE
Dance are launching a new extra-curricular timetable with a brand new company for Year 7 and 8 girls and boys taught by GCSE students and the exciting Year 9 and KS4/5 companies working to take spectacular dances to the competition The Great Big Dance Off! in which we came first and second in the South West last year! Any queries, please ask your child to speak to their dance teacher. All start next week, everyone welcome!
VISUAL ARTS UPDATE
There is an exciting opportunity for all Year 11 Visual Arts students to go to London on 24 February to visit the Tate Modern and see an exhibition featuring the work of Robert Rauschenberg. The deadline for payment has been extended until 11 January. Click here for more info
Artwork of the week
This week the award goes to Daisy Stagg in Yr13. Please click here to view.
ALUMNI NEWS
Future First and Cotham
Join our Alumni Network today - Click here for more info
COMMUNITY NEWS
Parents Plus Adolescents Programme
Parenting Teens can be tough! This parenting programme specifically targets and understands the issues of working with
and parenting teenagers. The course covers issues from communication and problem solving to dealing with aggression and conflict. Please click here to find out more and to book your place now.
Community Initiative in Bristol
People want to be helpful … it makes us feel good. So it shouldn't come as too much of a surprise that 20 million people in the UK (more than 1 in 2 adults) say they would like to spend more time volunteering.
Yet as life goes on, despite our best intentions, other commitments get in the way, because quite frankly, we never know where to start. So what if there was a website that could tell you who needed what, where – and put you in touch with them - directly?
Helpfulpeeps.com, a bristol based website has been doing just that. Founded by Simon Hills and Saf Nazeer, Helpfulpeeps is a new social networking site born from a collective belief that life is better when we help each other. All help on the site is given free of charge - no transaction or exchange; just good old-fashioned community help.
Since launching a pilot in Bristol last year, the online community has grown to over 10,000 registered members. So whether it involves help with cat sitting or learning a new language, moving a sofa or lending a hand at a charity event, Helpfulpeeps has seen the need requested – and fulfilled by a kind stranger.
So far the website has led to a restoration of faith in humanity for many, lifelong friendships for some and even a Guinness world record being broken for charity!
Helpfulpeeps is now in the process of launching officially neighbourhood by neighbourhood across Bristol. You can join in at www.helpfulpeeps.com (it's free and always will be).
Volunteer and build the Bristol Pound community
LIBRARY NEWS
Click here for all the news from your local libraries. For more information on any of the activities mentioned please contact the branch concerned.
Avian (bird) Flu advice
While the risk is very low for humans, please click here to view some advice for keeping safe this winter
RECENT LETTERS HOME
| Topic (week ending 25/11/2016) | For the attention of: |
| --- | --- |
| | Year 8 French students |
All files are in PDF format. You need Adobe Reader to open these files. You can download Adobe Reader for free from adobe.com/reader