Weekly Mailing Friday 9 September 2016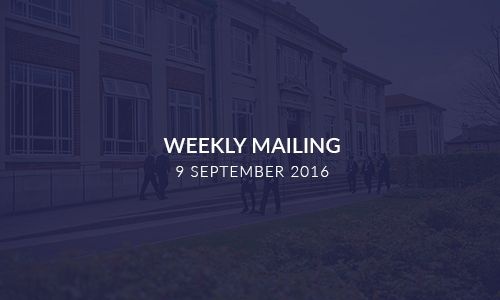 It's been a really great start to the new term and all our students have returned refreshed and focused for the year ahead. I am not alone in noticing this and have had many positive conversations with staff about both individual and whole classes of students! I am pleased to update you on events that have taken place this week and to let you know about some of those that will take place in the near future. Please also find below additional information related to the life of the school and a link to letters that have been sent home in the last week.
Ms Jo Butler
Headteacher
Message from Learning Co-ordinators
Welcome back to all year groups and well done for a settled and calm start to term.
Year 7 are looking very smart in the new school uniform and it is pleasing to see students from all year groups returning to school positive, refreshed and looking smart. It was lovely to start the new academic year being welcomed by smiling faces and stories of summer holidays.
We would like to remind parents and carers that we expect students to be in black leather school shoes and not trainers as the school uniform policy states. Please can all parents sign the home school agreement in the planner and sign the planner each week.
We would like to encourage students in all year groups to get involved in extracurricular and after school activities and there are a wide range on offer from sports and performing arts clubs to GCSE catch up sessions. The library is also open after school everyday for students to complete homework and extend their learning. We looking forward to a productive and hard working year.
Mrs Woods (Yr. 7), Miss Allender (Yr. 8), Miss Beynon (Yr. 9), Mrs Wilkie (Yr. 10) and Miss Aiken (Yr. 11)
---
Early School Closure on Wednesday 21 September 2016
The School's Open Evening for Year 6 parents and families will be held on Wednesday 21 September from 6.30 - 8.30 p.m. As you will appreciate this is one of the most important events in the school year, therefore I have taken the decision to close the school early for students to help staff prepare.
The school day for students in Years 7 - 11 will end at the start of lunchtime and they will therefore be dismissed from the school site at 1.05 p.m.
Any student eligible for a free school meal will be able to collect it from the dining hall before they leave.
Work will be set for students to complete as independent study in lieu of the single lesson missed. Sixth Form lessons will continue as normal at the Charnwood site for all Post-16 students.
Thank you for your continued support of the school and its work.
---
New website
Our new website has launched. Thank you to our co-op forum reps who took so much time to help us get it right. I hope you like it!. Take a look here.
---
Exam Results 2016
Cotham students have worked exceptionally hard to achieve a really great set of results and they fully deserve their success. We have an extremely comprehensive 11-16 and Post 16 provision at Cotham but our students make great progress whatever their starting points. We are all very proud of their many and varied talents and accomplishments.
GCSE
Congratulations to our Year 11 students and staff on the very good set of GCSE results which show improvement on the last year although the starting point of the cohort was lower. These are the *headlines:
77% of the students obtained at least a grade C in English Language and 80% secured a grade C or above in Maths.
72% of students achieved A*-C in both English and Maths
80% of students have achieved at least the minimum expected levels of progress in English and Maths from KS2
50% of students made more than expected progress across a range of subjects
25% of students achieved the English Baccalaureate qualifications
24% of all grades are A*/A (compared to national average of 20%)
In total 44 students achieved 5 or more A*/A and 24 achieved 8 or more A*/A grades.
72% of all grades are C or above and 46% A*-B.
There is a small 4% gap in performance of girls vs. boys, bucking the national trend
The performance of disadvantaged students (for whom the school receives pupil premium) improved further this year as did the performance of students with special educational needs.
All students obtained enough qualifications to enable them to continue their post 16 studies, mostly at the North Bristol Post 16 Centre.
We will not have a value added measure (known as progress 8 from 2016) for some time, but based on last year's data, Cotham students made overall progress above the national average from their starting point. More than 50% of students made more than expected progress in English and Maths.
Here are the names of 24 students who obtained between 8 and 14 A*-A:
Theodore Davies, Corin Elliott, Atchchuthan Kanagasabai, Rose Dayan, William Goodey, Maia Hughes Woods, Beth Killen, Maisie Newman, Ben Northcott, Amy Gardiner, Gabriel Osborne, Ben Probert, Ben Prosser, Amber Rawlinson, Eve Knox, Frances Roberts, Shardai Watkins, Ella Wilks, Poppy Winfield, Emma Bopp, Bianca Lazar, Elen Lloyd Owen, Jed Preist and Cecily Russell.
Here are the names of just a fraction of the students who have made fantastic progress since their arrival at Cotham:
Poppy Winfield, May Gordon, Mariam Tahir, Libbie Haynes, Eve Knox, Eve Hichen, Gemma Stephenson, Laura Hopkins, Will John, Adarsh Singh, Zeinab Hussein, Ben Northcott, Cornelia Bayliss, Eden Pearson, Eliot Hardwick, Ella Wilks, Jude Jones, Safah Ahmed, Amy Gardiner, Ben Probert, Faduma Gelle
NB: All results are provisional pending a number of re-marks.
---
Post 16 courses
The North Bristol Post 16 Centre and Cotham School has gone from strength to strength with outstanding A level, Pre U and BTEC results.
Congratulations to all our students as they use their results as a stepping-stone for their ambitious futures. We are very pleased to see the percentage of students achieving the highest grades is above the national average. This is true not only at A*-A grades, but also at A, B and C grades. We are particularly proud of our students who have overcome personal adversity to achieve great success. Their hard work, commitment and determination has paid off and the vast majority of students have gained places at their first choice University.
Our students can be very proud of their excellent results across a whole range of courses offered at the Centre. In the context of the well-documented and greater challenge in A levels and BTECs, to have held our strong position and seen an increase in the highest grades is truly outstanding. We are equally proud of the fact that we support a very broad range of students, including those with modest starting points, making these outcomes and the progress our students make, all the more impressive."
In over 29 subjects there was a 100% pass rate, 38 students achieved A*-A's in 3 or more of their A-levels and 9 students will be taking up their offers of places at Oxford and Cambridge and 11 students, some of whom are from our partner schools, will begin courses in medicine, dentistry and veterinary science. A large proportion of students have successfully secured Russell group university places. This year we have also continued to see a rise in the number of students achieving outstanding results, who have been successful in securing places on competitive and highly prestigious Apprentice schemes, examples of these are with Bishop Fleming and the BBC. Students were also highly successful in their BTEC courses, securing a 100% pass rate with over three quarters of grades at Distinction* and Merit. These results demonstrate that the Centre is continuously providing high quality education and teaching to students in Bristol and the wider Bristol area and more importantly that students feel challenged and supported to achieve their very best.
In Further Maths, Chemistry, Economics, French, German, Mathematics, Ancient History, and in our performing arts and arts based courses the results were brilliant with over 60% of students gaining A*-B grades. Mathematics and science represent 1 in 3 of all entries. The results in these subjects were a real strength of the centre, reflecting the specialisms of the two schools.
We want to congratulate all our students and wish them well as they take up their next steps at university, employment, begin their gap year and their future careers. Our students' achievements are supported through comprehensive information, advice and guidance and an enrichment programme, which develops broader skills to enable our students to be successful citizens for the 21st Century.
Cotham Student Destinations 2016
43% of university places are at Russell Group institutions
70% of UCAS applicants got their first choice place
5 students are going to Oxford or Cambridge
9 successful applications for Medicine Dentistry
A significant increase in higher apprenticeships, two with the MoD.
21 Art Foundation students
---
Year 11 Post-16 Plans
Our IAG/Careers Advisor, Ms Chester, will start seeing the rest of Year 11 for a 1:1 careers interview from Monday 10 Sept. Parents will be notified of the exact day and time by text, so please remind your children when they should attend. Ms Chester will be available in B104 at lunchtime from 1.30-2.00pm each day (except Friday) for students who wish to drop-in with short queries.
---
College Open Days
Please note the following dates in the Autumn terms and try to ensure that Year 11 students attend all those that are relevant to their future plans:
NORTH BRISTOL POST-16 CENTRE
To be held at Cotham School – Thurs.13 Oct, 6.30-9pm (deadline for applications: Fri. 2 Dec.)
CITY OF BRISTOL COLLEGE
College Green – Tues. 4 Oct., 5.00-7.30pm; Ashley Down – Wed. 19 Oct., 5.00-7.30pm; Advanced Engineering Centre (AEC) – Thurs. 3 Nov., 5.00-7.30pm; College Green – Sat. 26 Nov.,10.00am-1.00pm; SBSA – Thurs. 8 Dec., 5.00-7.30pm
SOUTH GLOS.& STROUD COLLEGE:
All sites (incl. Filton and WISE) – Sat. 1 Oct.,10.00am-1.00pm; Sat. 5 Nov.,10.00am-2.00pm; Thurs.1 Dec., 5.30-8.00pm
OTHER 6th FORMS and COLLEGES:
See their websites for dates.
---
Post 16 Applications for 2017-18
The North Bristol Post 16 Centre will have over 850 students next year, and students are taught at both Cotham and Redland Green learning communities, which are located a quarter of a mile apart. Both learning communities offer a wide range of A-levels and level 2 and 3 courses alongside many opportunities for extra-curricular activities and leadership development.
This is a comprehensive Sixth Form Centre with a reputation for excellence; students who attend the Centre come from a wide range of schools. Students attending the partner schools of Cotham, Fairfield, Henbury, Orchard School and Redland Green are guaranteed places. However, we also welcome applications from the wider Bristol area, demonstrating our commitment to developing partnerships and links in Bristol and the wider community.
For students who are looking to apply to the North Bristol Post 16 Centre for September 2017, our main Open Evening will be on Thursday, 13th October 2016 from 6.30pm to 9.00pm and a subsequent Information Evening is on Wednesday, 3 November 2016 from 7.00pm. For further information please go to our website (www.nbp16c.org.uk).
---
National Citizenship Service (NCS)
A large number of Cotham Yr. 11 and Yr. 12 students took part in the NCS 4 week programme in the summer. This is a government sponsored scheme which enables young people from all social backgrounds to work together on a charity project; learning valuable team building and event organising skills. The scheme involves a two week residential programme and a number of amazing activities including orienteering and abseiling. Click here to see the students receiving a certificate at a graduation event in Bristol. Further details can be found on the NCS website
---
Visual Arts
After a restful summer break the Visual Arts Department are ready for another exciting year full of art competitions, exhibitions and other exciting opportunities.
Artwork of the Week goes to Lola English (8AWS) for her beautiful poster produced for the summer homework task. The brief was to research an architect or an artist who is inspired by buildings and design an A3 poster for an imaginary exhibition of the chosen architect or artist. Click here to see Lola's poster.
Art club will be held every Friday lunch time for KS3 students. Students are also able to work in the department after school on Tuesday, Wednesday and Thursday.
---
Driving and Parking on Cotham Lawn Road
Please could parents and carers take great care when driving and parking on Cotham Lawn Road at peak times when dropping off and picking up your children. The road is a residential one as well as very narrow. School staff have become increasingly concerned for the safety of students at busy times at the start and the end of the day. Please be considerate and respect our neighbours who are very supportive of the school. But in particular please be conscious of the safety of our children and avoid driving into Cotham Lawn Road at busy times. If it is absolutely necessary to do so please respect the zigzag lines in front of the school that are there to protect all the school's students.
---
Student Rewards and Behaviour for Learning Systems
Cotham School operates a Rewards and Behaviour for Learning (BfL) system, which covers all aspects of school life. Its aims are first and foremost to reward our students for their good effort and learning outcomes as well as their varied contributions to the life of the school. House Points record students' successes and they can also receive postcards, phone calls home and certificates, for amongst other things; achievement, effort, resilience, diligence and manners. Various awards evenings including those for PE and Performing Arts celebrate excellence and our year group assemblies, House assemblies and House Days have dedicated time allocated to celebrate the full range of our students achievements both within and outside of the classroom.
Our consequences system aims to:
eliminate disruptive behaviour, so that there is a culture of achievement, ambition and learning everywhere in the school, and no learning time is wasted
provide clarity for staff and students about acceptable behaviour
provide a consistent and fair approach to the consequences of misbehaviour
encourage and support students to take responsibility for their own actions and learning
enable teachers to deliver engaging and creative lessons, where students can experiment and take risks in their learning
Based on feedback we received last academic year we have modified our systems for encouraging good BfL which took effect at the end of June. This is because we want to reduce incidents of low level disruptive behaviour in the classroom caused by a minority of students which their peers and feedback from parents evenings have told us can affect the quality of learning in lessons. We believe these modifications have already impacted positively on our students' learning experience in lessons and on their enjoyment of their social time at break and lunchtime when we trialled them at the end of last term.
For parents and carers new to Cotham, we asked our elected student representatives from Years 7-10 , House Prefects and Captains to examine their concerns about behaviour on a Student Voice day at Bristol University and to come up with some suggestions. The culmination of the students' work was a 'Student Charter' which was named the 'Basic 8 Rules in the Classroom'. To support the charter a 'Basic 8 'poster was produced and placed in all classrooms and around the school community. Click here to find out more
The system works in the following way:
If, after being warned more than once that their behaviour is breaking one or more of the rules of the 'Student Charter', a student continues to make the wrong choice and is disrupting the learning of their peers, they will be asked to leave the classroom and placed in a separate, supervised classroom to continue their studies. This is known at the school as 'separated learning'. Should your child be placed into separated learning you will receive a text to make you aware of this. Any student placed in a separated learning classroom will finish their studies for the day at 3.30pm.
As part of our modifications we have reduced the length and number of existing Learning Coordinator and Headteacher's detentions to be replaced with a single lunch time detention. This will run everyday from 1.05pm - 1.30pm. Any student placed in this detention will of course be given adequate time to have their lunch at 1.30pm ahead of the start of afternoon registration.
Students who may need extra support in making appropriate choices with regard to their behaviour will continue to be supported by a wide range of staff including their form tutors, Learning Coordinators, Behaviour Managers, Learning Mentor, Heads of House, peer mentors, prefects, learning support assistants and the Inclusion team of teachers. We hope that we may continue to rely on your valued and crucial support in improving our systems for supporting students' learning and progress at Cotham. Should you have any questions or wish to discuss your child's learning, progress or behaviour at school please contact their Learning Coordinator.
---
Music Marketplace Open Evening
On Thursday 15 September between 6.30pm and 8.00pm, the Music Department will be holding 'Music Market Place', a drop-in event in the Music department (located within the Performing Arts building).
This event will offer parents and carers and Cotham pupils the opportunity to meet staff, experience playing a musical instrument, take away information on music instrumental lessons, costs and timetabling. As well as information about instrumental lessons parents and carers will be able to find out about the extra-curricular music groups that run at Cotham, ranging from steel pan bands to choirs and orchestral ensembles.

A member of the Music department and a number of peripatetic music teachers will be on hand to answer any questions you may have about music at Cotham School. No prior booking is necessary and there is no fixed program for the evening, just drop-in between the hours of 6.30pm to 8.00pm to find out more!
If you have any questions regarding this event please contact Ben Campbell, Curriculum Co-ordinator for Music at campbellb@cotham.bristol.sch.uk or phone on 0117 9198022.
---
Accessing Wisepay and My Free School Meals
We have had a number of enquiries from parents regarding how to access Wisepay and My Free School Meals from the new school website. Please click here for a step by step guide for your information
If your child has been receiving free school meals you will need to renew your application to ensure they can continue to have a free school meal in September 2016. For further information please read here
---
Homework and Independent Learning Tasks
Students in all year groups can expect to receive 2 pieces of homework or independent learning tasks to complete per evening. A copy of the homework timetable for each year group can be found here. The completion of homework is an integral part of a student's learning and offers them them the opportunity to consolidate and practise the skills introduced during their lessons. All students are provided with a homework planner in which to record their homework as it is set. We ask all parents and carers to support their child's progress by providing an environment in which to complete their homework, by asking them about their homework, and by regularly checking their child's planner to support them in completing their homework.
In addition to using their school planners, students will also have their homeworks set and assigned to them using Google Classroom. Google Classroom replaces FROG as our means of setting homework online. A link to google classroom can be found on the school website under Useful Links and also here. All students can log into google classroom using their school email. Google classroom will provide a fuller description of the homework set for them by their teacher. Students will also automatically receive an email from their teacher as homework assignments are set for them.
All students are being introduced to google classroom during ICT lessons and tutor time sessions.
We hope to be able to make google classroom available for parents soon, but in the meantime, parents can ask their child to log into the site to see details of the homeworks being set.
---
School Uniform
If you need to buy uniform for students in Years 8 - 11, please continue to buy the 'old' uniform. The new uniform with sweater and colour collared polo shirt is for Year 7 only
The full school uniform can be viewed here. Please click here for examples of the only type of school trousers that are acceptable.
Coats: Plain and dark coats only without intrusive logos or brands. No denim, leather or bomber style jackets. No hoodies. Coats which are suitable for school are shown here.
Bags: Students need a substantial school bag big enough to contain PE/Dance kit, exercise books, text books, a pencil case, planner and other equipment. Small string bags, handbags and fashion bags are not permitted.
Shoes: Acceptable types of school shoes are shown here (please note styles depicted are not exhaustive). Please check the school's requirements very carefully before purchasing any new shoes for your child. Trainers and Trainer-style shoes are not acceptable. Footwear should be: Black, leather type shoes only (no boots, raised heel, canvas, trainers, logos or brands). No 'dolly'/ballet type shoes. Shoes must fasten securely with laces or a strap and the foot must be fully enclosed.
---
Prayer/Reflection Room
Room A118 is a supervised Prayer/Reflection room available to the whole school community each day between 1.10 p.m. and 1.30 p.m.
---
Pokemon Go
The NSPCC have issued guidance about keeping safe whilst playing Pokemon Go. See the advice by clicking here
---
Parcels of Comfort Exhibition
Year 11 Textiles students have been involved with a very interesting exhibition and have worked really hard to produce some lovely outcomes. You can see the flyer here and here
---
Key Dates for Terms 1 and 2
Date

Event

For the attention of:

Term 1 (Thursday 1st Sept – Friday 21st Oct)

Tues 15 Sept

Music Market Place Open Evening (6:30 - 8pm)

All students

Cotham Co-operative Alumni Meeting (3:15 4:15pm)

Cotham Alumni

Weds 21 Sept

Yr 6 Open Evening (6:30 - 9pm)

Yr 6

Mon 26 Sept

Headteachers' Welcome to Yr 7 Parents and Skills Evening

Yr 7

Mon 26 Sept - Thurs 6 Oct

German Exchange - UK return visit

Yr 10

Weds 28 Sept

Yr 6 Open Morning (9:15am)

Yr 6

Thurs 29/Fri 30 Sept

Burnham Geography Fieldwork Trip

Yr 11 Geog

Thurs 6 Oct

Yr 10 GCSE Parents' Information Evening

Yr 10

Mon 10 Oct

Shakespeare in Schools Festival - Cast Workshop at Tobacco Factory

Yr 9

Tues 11 Oct

Yr 6 Open Morning (9:15)

Yr 6

Tues 11 Oct

Cotham Co-operative Forum Meeting

Forum members

Mon 17 Oct

Yr 11 Parents' Evening

Yr 11

Weds 19 Oct

Yr 6 Open Morning (9:15am)

Yr 6

Thurs 20 Oct

Last day of Term 1

All students

Fri 21 Oct

INSET DAY - SCHOOL CLOSED

All students

Term 2 - (Monday 31st Oct – Friday 16 Dec)

Mon 31 Oct

First day of Term 2

All students

Thurs 3/Fri 4 Nov

WW1 Battlefields Trip

Yr 10 History

Mon 14 Nov

Shakespeare in Schools Festival performance at Tobacco Factory

Yr 9

Thurs 17 Nov

Family Consultation Day

Year 7

W/C Mon 28 Nov

Yr 11 Mock Exams

Year 11

Tues 29 Nov

Cotham Co-operative Forum Meeting

Forum members

Tues 29/Weds 30 Nov

Dance Evening - Click here for more info

All welcome

Thurs 1st Dec

Yr 10 Parents' Evening

Tues 6 Dec

Christmas Concert

All welcome

Mon 12 Dec

Drama Mock Performance Exams

GCSE Drama students Yr 10

Fri 16 Dec

Last day of Term 2

All students