Weekly Mailing Friday 13 January 2017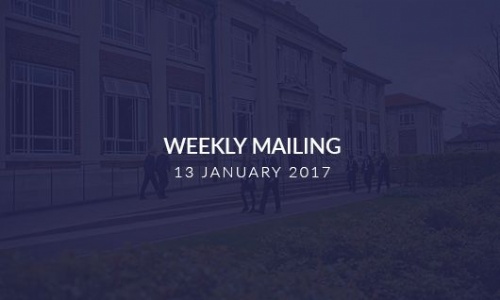 Please find my usual update on events that have taken place this week and to let you know about some of those that will take place in the near future.
Ms Jo Butler
Headteacher
SCHOOL NEWS
Info for all Year Groups
Next week (Week commencing Monday 16 January) is a WEEK A
Contacting us
Following the recent increase in virus attacks on schools, we have now removed the staff email address list from the school website as a precautionary measure. Cotham staff email addresses take the form of: surname first initial @cotham.bristol.sch.uk - so by looking at your child's teachers name on their timetable you can create their email address. For example Joe Bloggs would have an email address of BloggsJ@cotham.bristol.sch.uk. If you have any difficulties contacting a member of staff please do not hesitate to contact reception by email to info@cotham.bristol.sch.uk or tel 0117 919 8000.
WisePay & Cashless Catering issue
We are aware of an issue which started on 09/01/2017 where our cashless catering system is not reporting back a transaction history to WisePay. This means that the catering account balances currently shown on WisePay are not correct.
Our cashless catering provider is currently investigating the issue and we hope to restore this functionality very soon. Apologies for any inconvenience caused
Homework and Independent Learning Tasks
Students in all year groups can expect to receive 2 pieces of homework or independent learning tasks to complete per evening. A copy of the homework timetable for each year group can be found here. The completion of homework is an integral part of a student's learning and offers them them the opportunity to consolidate and practise the skills introduced during their lessons. All students are provided with a homework planner in which to record their homework as it is set. We ask all parents and carers to support their child's progress by providing an environment in which to complete their homework, by asking them about their homework, and by regularly checking their child's planner to support them in completing their homework.
In addition to using their school planners, students will also have their homeworks set and assigned to them using Google Classroom. Google Classroom replaced FROG as our means of setting homework online at the start of the academic year. A link to google classroom can be found on the school website under Useful Links and also here. All students can log into google classroom using their school email and know how to do so. Google classroom will provide a fuller description of the homework set for them by their teacher. Students will also automatically receive an email from their teacher as homework assignments are set for them.
We hope to be able to make google classroom available for parents soon, but in the meantime, parents can ask their child to log into the site to see details of the homework being set.
Safeguarding Concern
We recently received information from a parent about a man in his 40's, overweight with a dark blue or black hoody on St Matthews Road in Cotham who approached students asking if they wanted to make money. We remind our students to stay safe and vigilant and to report any concerns to a member of staff immediately.
Fundraising
As a result of our Non-Uniform day in December, we raised a total of £857.89 which has been split between our nominated charities as follows:
Cancer Research UK £107.23
Macmillan Cancer Support £107.23
WWF-UK £107.23
WaterAid £107.23
The Grand Appeal £428.97
KEY STAGE 3 (KS3) INFORMATION
KS3 Information Evening for Parents
Thank you to those parents and carers that were able to attend the KS3 Information Evenings which ran on 22 November, 29 November, and 6 December. The purpose of the evenings was to share the changes in the way the school will report to parents and carers about their child's progress in each of their subjects. They were also used to provide parents and carers with advice on supporting their child's progress. We hope you found them useful. A copy of the presentations used on the evenings can be found here and the KS3 Curriculum booklet can be found here.
Year 7 Parents' Evening - PLEASE NOTE CHANGE OF DATE
The Year 7 Parents' Evening has changed from Thursday 2 February to Thursday 2 March.
Immunisations for Young People
The NHS has provided us with 'Frequently asked questions' booklets for Year 7 parents, regarding immunisations (HPV, Td/IPV and MenACWY) given to young people during their secondary education. This will be distributed to Year 7 parents at the upcoming parents evening on Thursday 2 March. For more information please click here to visit the NHS information site. Please talk to your GP or practice nurse for advice.
Year 9 Options Evening - Wednesday 18 January - 5.30pm - 7.30pm
This event for Parents and Carers will be focused on the 2017-19 Key Stage 4 curriculum and an outline of the procedure and the timeline for finalising options. There will be presentations by members of the Leadership team in the main hall at 5.45pm and 6.45pm and the Information, Advice and Guidance Advisor will also be present to offer advice on possible Post 16 education and careers options. Students will have seen the same presentation during assembly that day.
There will also be an opportunity to take individual questions at the end of each presentation. We have invited subject staff and Year 10 students currently following the courses to attend. The Key Stage 4 Curriculum Booklet will be distributed at this event.
Year 9 Parents Evening - Thursday 26 January - 5.30pm - 7.30pm
At this event you will be able to meet with subject teachers to discuss your child's progress and suitability for particular subjects at Key Stage 4. Subject teachers are available from 5.00pm until 7.30pm. Appointments can be made using the online booking system (PES) accessed via the school website or by clicking here. Students should attend the Parents Evening with you.
We are currently experiencing some problems with booking appointments with Dance staff for this event. Please be advised that we are aware of the issue and looking to resolve this as soon as possible. An email will be sent to parents to advise when this facility becomes available.
Options Surgery - Tuesday 31 January - 6.00pm - 7.00pm
In addition, Mr Reed (Assistant Headteacher) and Mrs Bajic-Raymond (Senior Deputy Headteacher) will be running an Options Surgery to help with any further queries on Tuesday 31 January from 6.00pm to 7.00pm. More details for follow.
Year 9 Grade Reports
Year 9 reports will be issued to students on Monday 16 January during tutor time. Please ask your child for their report when they return home.
KEY STAGE 4 (KS4) INFORMATION
Year 10 Work Experience (WEX) 3 - 7 July
All students need to ensure that they return completed WEX forms to Mrs Arnold.
If your child has not yet applied for a placement, please do encourage them to do so as soon as possible. Forms and WEX info can be found on the school website in parent and student area or by clicking here.
Year 10 Work Experience at the University of Bristol - School of Earth Sciences 3 - 7 July 2017
The University of Bristol are still ​inviting applications now for Year 10 students from local schools to participate in their 2017 work experience programme. Further details including the application process have been posted on the University website.
Year 11 February Mock Exams
Year 11 Mock exams will take place from Monday 27 February until Tuesday 7 March. A timetable of the exams in this period will be sent to parents and carers via the weekly mailing soon.
Year 11 GCSE exam timetable
Please click here to view the timetable. This is 'provisional' at this stage and therefore subject to some changes by the Exam Boards. The GCSE exam period will finish on 28 June. Students will receive their individual timetable w/c 20 February.
Year 11 Additional Studies
Please click here to view the additional study sessions available to Year 11 students
Help your child revise for their GCSE's with GCSEpod
GCSE pod is an online platform that provides subject specific video podcasts for 20+ GCSE subjects. The school has paid for a subscription to the service, this allows your child access to all of their revision podcasts free of charge. It is a fantastic service that allows students to revise anywhere they are online. Please click here to visit our website for more information
PE/SPORTS UPDATE
Please click here to view all of this week's results, along with information about all of the Fixtures for the week ahead.
EXTRA CURRICULAR ACTIVITIES
To view the timetables of extra curricular activities available to your child at Cotham please click on the links below:
Trips and Visits
Cotham School is very proud of the wide range of Trips and Visits on offer to our students. From local excursions to residential visits overseas. Please click here to view the range of trips that have already been offered to students in Terms 1 and 2 of this academic year, we think you will agree that they were indeed wide and varied, offering opportunities to all year groups and in all curriculum areas. Please do check the weekly mailing each week to keep informed about upcoming opportunities for your child
Royal Society of Chemistry's Top of the Bench Competition
Click here to read about this recent trip
Performing Arts Update
Year 8 have been creating set designs as part of their 'Page to Stage' unit of work. In this week's 'Drama work of the Week' we feature Erin White (8AF) & Harry Giles (8ACL) for their creative designs. Click here to view.
CO-OP NEWS
Please click here to read this week's newsletter from the Co-operative College
Community News
Do you want to feature on a BBC One prime time series?
BBC One are currently in production of a brand new series of 'Eat Well For Less?'. Applications are now open and they are currently on the lookout for fun and lively families who would love to save some money on their weekly shop and eat more healthily. Click here for more information.
Good News!
We are very proud of three Year 7 students (Thomas and Jonathan Rich, and Max Luce) who found a wallet on Hampton Road on their way to school, at the end of last term. The wallet contained a few bank cards and a club membership card and £25. They handed the wallet into reception, and our receptionist tracked down the owner and reunited her with her lost items and cash.
We were so pleased to hear this good news and felt that others may like to know how responsible and honest they were, and join us in congratulating them for their community spirit.
We always like to celebrate the many good things our students do, so if your son or daughter is involved in any good deeds, in or out of school, do let us know so we can acknowledge and celebrate their loveliness!