Weekly Mailing - Friday 20 October 2017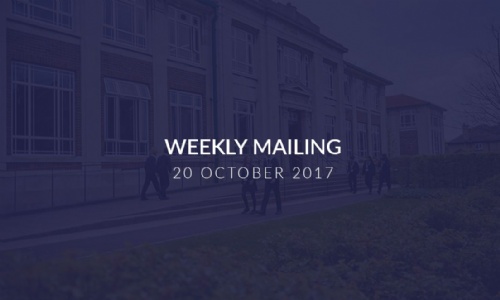 Dear Parents / Carers
Please find below my usual information, letters and updates on events that have taken place this week.
With best wishes for the weekend and the half term break,
Ms Jo Butler
Headteacher
Next week (Week commencing Monday 30 October) is a Week B
Congratulations
Cricketing Success
At the recent Annual Young Cricketers' Presentation Evening at Gloucestershire's Brightside County Ground, Sarah received the County Girls Under 13 "Performance of the Year Award". The award recognised her match-winning innings of 41 against Wales at Colston's School on 21 May 2017.
In addition, following a successful trial, Sarah has been named in the County Girls Under 15 winter training squad, which will train weekly from January 2018, in preparation for the 2018 season to come. Congratulations Sarah!
South West Regional Waterpolo Academy
Congratulations to Jonathan Roche 9ACL who has been selected to the South West Regional Waterpolo Academy.
Important Information for Parents/Carers
Safeguarding - Understanding Child Sexual Exploitation
The Bristol Children's Safeguarding Board has asked that we share the guide in the link below with all Parents/Carers.
https://bristolsafeguarding.org/media/1285/cse-parents-leaflet.pdf
School to Home Communication
Please download the MyEd app to see information about your child and message the school for free. You can view attendance, absence, timetables, achievements and key dates etc. See more information here and download for both Android and Apple devices.
Public Health
Many of you will be aware of the very sad loss of a pupil this week at one of Bristol's secondary schools.
I am sure you will all join me in thinking of the pupil, the family and the school who are living with this loss. Currently there is an unconfirmed suggestion of Meningitis and Public Health have issued advice and guidance. Please see the attached.
NHS Bristol Clinical Commissioning Group & Bristol City Council's Children & Young People's Emotional Health & Wellbeing Transformation Team have developed an online directory of local and national services and resources for children, young people and their families. The directory aims to be the 'go to' place for searchable information about different mental health services and NHS commissioned providers: https://www.bristolccg.nhs.uk/media/medialibrary/2017/06/Emotional_health_and_wellbeing_director y.pdf
All School Information
Black History Visit
On Tuesday 17 October, a small group of Year 10 students went on a trip to the Wills Memorial Building to take part in the University's Black History Month event, along with many students from other schools. Click here to read a report of the event written by Amelie Mears (10DF)
Restart a Heart Day 2017
On Monday 16 October 2017, Cotham students alongside thousands of young people around the UK had the opportunity to learn how to help restart the heart of someone who has suffered a cardiac arrest with the support of North Bristol NHS Trust, The British Heart Foundation, St John Ambulance, and The British Red Cross along with all regional Ambulance Services and Fire and Rescue Services from across the country. The aim on this day was to train more than 150,000 young people how to perform cardiopulmonary resuscitation (CPR) on that day. Cotham School students contributed to that figure by training 103 students from Year 7 up to Year 12.
Currently in the UK, less than one in ten people (8.6%) survive a cardiac arrest. The British Heart Foundation's aim is to ensure that CPR is taught in schools, if conducted an additional 100 lives could be saved each week – the equivalent of approximately 5,000 every year.
We would like to thank Nicky Connolly from Resuscitation Services Department at North Bristol NHS Trust, for her delivery and enthusiasm on this day as well as providing students with safety advice when dealing with an emergency. Students enjoyed the sessions and learnt valuable CPR, this is the second consecutive year that Cotham School has been part of this campaign. Please do view the pictures as well as the videos it is clear when students are conducting correctly CPR techniques to the beat of 'Staying Alive'!
Further information can be found here. Click here to view the televised Vinnie Jones video.
Non-Uniform Day raising money for Charity
The amount raised from yesterday's non uniform was an amazing £932.06
This will be split between the four house charities
Above and Beyond
The Jessie May Trust
Rainbow Centre
Off the Record
Thank you to all the perfects for standing with buckets and to the students and staff for contributing.
Halloween Themed Menu
Catering will be presenting a Halloween themed menu on 31 October. See the menu here
Quiet Prayer/Reflection
Room A118 is a supervised space available to the school community every day between 1.10pm and 1.30pm for quiet prayer or reflection.
Key Stage 3 (KS3) Information
Year 7 School Camp
A reminder that £50 deposits for Year 7 camp are due now. Click here for letter
Bristol Crown Court visit - Year 9
On 19 October Ms Allender took 13 Year 9 students to visit Bristol Crown Court for the morning. This was an exciting visit where students spent time with a Judge learning about the way a courtroom works and were given an opportunity to experience being a member of the jury and a witness at the stand. Students had prepared lots of questions in tutor time which the judge answered, giving a real insight into his role. We then all had the opportunity to sit in the gallery and watch a bit of a real life trial - providing the students with a real-life learning opportunity like never before. The students represented the school well and really enjoyed the opportunity.
Student comments:
'The best bit was listening to the sentencing. I like it because it was so real and I never knew how tense it could be - it was one of the best trips I've ever been on.' Mackenzie Westlake 9KBO
'I enjoyed it a lot and since it was real we took it a lot more seriously and the best part was the argument because it made us learn new factors that decide sentences.' Bilal Malik 9AF
Assessment Calendars for KS3
We have created Assessment Calendars which contain details of the class assessments that will take place in each of Years 7, 8 and 9 this year. These are live documents which will be updated with more details as we move through the year. The final column of each calendar contains a link which gives information about each of the assessments.
These will be included in our weekly mailing to parents in the first week of every term so that you are clear about class assessments taking place in the term.
Key Stage 4 (KS4) Information
Bristol Youth Council Trip Report by Ameli Mears 10DF
On Thursday the 12 October, a group of Year 10 and 11 students went on a trip to the City Hall to participate in an event with the Bristol Youth Council.
First we listened to a quick introduction to the event, then met the Youth council members who would be staying with us throughout the day.
Next, a Redland City Council member came to our table and talked to us about issues we would like to ask the Panel of Council Members. The questions that were discussed centred mostly around relationships between the public and Cotham students, while others strayed to different areas of the city.
Eventually, the Year 10 group decided to ask what could be done to make older people respect younger people, as the group collectively agreed that attitudes towards them - from elders - sometimes seemed to be bitter and impolite for no apparent reason.
Then, tables were switched around for the next activity, so we had the chance to meet students from other schools.
The activity was to plan a campaign to get young people into politics, with a budget of £4000. Our group settled for a social media approach.
Afterwards, lunch was provided, and for the last major activity, all the students entered a debate chamber, where two political debates took place. The first, whether or not 16 year olds should be allowed to vote, and the second, whether or not there should be a second, more well informed Brexit referendum. Valid and interesting points were given from both sides, and after each debate, there was a hands up/down vote on the matter. The majority of students voted for 16 year olds to be allowed the vote, and the outcome of the Brexit vote was more 50/50.
We exited the debate hall, and as one last task, we wrote down one - political - statement on a piece of paper which we would strive to fulfill. Overall, the trip was an extremely enjoyable and educational experience, and I highly recommend future years engaging with it. Click here to view the photos.
YEAR 10
We want to congratulate our Year 10 students on their start to the year and their GCSEs. Please click here to see the current KS4 Year 10 Curriculum Booklet. This describes each of the courses in detail, and offers useful advice about essential reading and assessment as well as essential revision guides that all students are encouraged to purchase.
Also attached here is a Year 10 Assessment Calendar detailing the dates of 'in class' assessments that will take place over the year. Our curriculum areas have also included links with short summaries of the content being covered in these class assessments to allow parents to support our students with their studies. This is a live link and will be updated with details of assessments that are due to take place after term 2.
The latter half of the Assessment Calendar details Controlled Assessment deadlines that exist in Business Studies, Dance, Drama and iMedia during Year 10.
The Year 10 Independent Learning and Homework timetable is also attached here.
There will be a Welcome to GCSEs Evening for Year 10 parents with representatives from English, Maths, Science, French, German, Geography and History in attendance, describing how to support students with their studies in Year 10. This will take place in Term 3 and the date will be confirmed soon.
YEAR 11
Thank you to those parents and carers who attended our Year 11 Revision Evening on Wednesday 18 October. During the meeting representatives from English, Maths, Science, French, German, Geography and History were there to describe how to support students with revision throughout Year 11 and in advance of their mock exams which commence on 13 November.
A link to the KS4 Year 11 Curriculum Booklet can be found here.
A link to the presentation used on the evening can be found here.
A link to the Additional Study sessions being offered to Year 11 students can be found here.
Year 11 Mock Exams
Mock exams for Year 11 will take place from Monday 13 November until Tuesday 21 November. All exams will take place in the Sports Hall unless otherwise stated. Students must be in full and correct school uniform and have their lanyard with them at all times.
Students should ensure that they are in school for 8.35am every day. Students taking morning exams and afternoon exams should go straight to the exam hall (they do not need to see their tutor).
A copy of the mock exam timetable can be seen here. All students will be given a copy of their own individual timetable showing their seating plan, which they must carry with them at all times. Some students will have exam clashes but their timetable will confirm which exam they should attend. Any exam missed as a result of a clash or absence will be completed during the afternoon of Tuesday 21 November. It is important that every student ensures that they are in school to complete these mock exams.
Exam rules are strict and we want the mock exam period to replicate the period of GCSE exams as closely as possible. Students are not permitted to take mobile phones into the exam hall. We are unable to guarantee the security of students mobile phones whilst they are in exams and advise all students to leave their phones at home.
Careers News
Apprenticeships
Rolls-Royce are holding an open evening on Wednesday 1 November. 18:00-20:00, (location: Horizon Hall, BS34 6QA) where you can find out about the different apprenticeships they are offering to 16-18 year old school leavers in Engineering, Business and Operations, some of which include full funding of a degree. More details at careers.rolls-royce.co.uk/apprenticeships and link to register: http://tinyurl.com/yb8jp8ua.
Post-16 News
This week in Post-16:
Former Cotham student Chlo Winfield won the Emma Humphreys Memorial Prize last week, and received the award at the Feminism in London Conference. The prize is awarded for raising awareness about violence against women and children. Chlo was instrumental in setting up Cotham's Respect Ambassadors project, which is relaunching after the October half term.
Find out more
To find out more about what is going on at the North Bristol Post 16 Centre, please click here to visit the website.
House News
Delta
lThe eagerly anticipated Delta House Chocolottery prize draw took place on Thursday 19 October. Delta students and staff contributed a chocolate bar and in return were given a free raffle ticket. All other students and staff bought tickets and we raised £88.50 for Off The Record. We had four winners including Marley in 7KM, Razaan in 8NCA, Fern in 8GM and our Ultimate Chocolottery winner was Emily in 7SD. The students said they were "shocked and happy" to have won in the Chocolottery with several of them saying they hadn't won anything in their lives! A huge thank you to all who took part and congratulations to our very worthy winners. Photos to follow.
Delta Coming Soon….
Crossbar Challenge! More details will be released after half term but get practicing so you can go head to head with teacher and be crowned King / Queen of the Crossbar Challenge!
Omega
This term Omega have been raising money for the Jessie May foundation as our local charity. Our fundraising events have been:
Penny Pick-up Challenge: Each tutor group will get a collection pot for coins found on the street/floor, whichever tutor group collects the most at the end of a term will be awarded with pizza. Collection date for the pennies is Thursday 19 October. Pizza will be awarded on the first week back.
Doughnut eating competition: (Photos can be found here) in which students paid £1 to accept the challenge of eating a doughnut without using their hands, both chocolate and eternal fame were awarded to Paulo Antonio 10MAH, Zaki Abudeip 9AF and Will Jarvis 9JSB who achieved the task in an amazing time of 22 seconds. Helping Raise £44 for the Jessie May Foundation.
Non-school uniform day: - Thursday 19 October - All money raised by the school is split between the four house charities.
Subject Area News
MODERN FOREIGN LANGUAGES (MFL) UPDATE
Bristol - Bordeaux Exchange
Attention Year 9 and 10 French Students!
Are you interested in visiting Bordeaux? Bordeaux is lively, vibrant city in the South West of France which is twinned with Bristol. This is an excellent opportunity to meet new people, visit new places and improve your French. Click here for more information.
If you are interested contact your French teacher or speak to Mr Morton in the MFL office.
Applications to take part in this exchange must be complete by the 15 November. Don't miss out!
PE/SPORTS UPDATE
Please click here to view all of our recent results and the upcoming fixtures for the week ahead.
Please click here for information about the Extra-Curricular Activities available to students in PE during Term 1.
Follow @CothamPE on Twitter for all the latest news and updates from the Cotham School PE department
It would be great if parents/carers could let the school/PE department know of any students achievements outside of school please. It is sometimes only at subject evenings that we find out what students are doing outside of school! Email us: lts@cotham.bristol.sch.uk
PERFORMING ARTS UPDATE
Music Tuition Update
If there are any students who have still not had contact from BPM or an instrumental teacher regarding tuition this term, please contact Mr Campbell and he will look into this for you.
VISUAL ARTS UPDATE
ARTiculation
Last week's story about ARTiculation had a broken link which has now been fixed. Click the link below to see the photos and video. This Thursday a small group of our Year 12 and Year 13 Art and Photography students attended the ARTiculation Discovery Day at Spike Island. The students developed their understanding and engagement with art through personal observation, discussion and research, culminating in some fantastic presentations. Click here to view photos and video.
Christmas Card Competition
The Visual Arts Department is running a competition to design the school Christmas Card. The competition is open to all years and the winner will be selected for the final card design. House points to be awarded for runners up. Deadline 10 November 2017. View poster here
Community News
Classical Bristol
Click here to view the October newsletter.
Southmead Adventure Playground
Please click here to view the programme of activities for the October half term and Halloween.
Be part of the Bristol Clean Streets Campaign.
Building on the success of the Great Bristol Spring Clean, the Autumn Litter Blitz will be taking place 16 – 29 October 2017.
This event, organised by Bristol Clean Streets encourages you to get together with family, friends and neighbours during this period and make a difference in your local community by doing a litter pick big or small, or something else to spruce up your area.
Bristol Waste Company have all the things you will need to do one safely. They can loan you litter pickers, bags, high visibility jackets and will even arrange to collect the waste you collect for free. Please note that Litter picking kits are loaned on a first come first served basis.
For more information Email hello@bristolwastecompany.co.uk Visit www.bristolwastecompany.co.uk/litterpick
Or call 0117 304 9022
Bristol Energy offer raising funds for Young Bristol
Click here to read about supporting Young Bristol and creating even more opportunities for young people across the city
Useful quick links
Key Dates
Please click here to view the Key Dates by year group for the 2017-18 academic year. You will be notified of any significant changes/additions, but please can we ask that you check the dates for your year group regularly as they are subject to change.
WisePay
WisePay is the Online Payment Service at Cotham School which allows you to pay for trips and visits as well as to add credit to your child's Cashless Catering account. click here to access your account now. If you have any queries about your account please contact the support team by email to wisepay@cotham.bristol.sch.uk
School Uniform
Please click here to view the compulsory uniform requirements of Cotham School, along with visual examples of uniform and details of our uniform suppliers.
Cotham School Virtual Learning Environment (VLE) - Weebly
Click here to access the Cotham School VLE. On this VLE you will find links to the sites for each department at Cotham School. These contain useful information and documents for the subject area
Free School Meals
https://www.myfreeschoolmeals.com/ to check if your child is eligible for Free School Meals or to apply.