Weekly Mailing - Friday 3 November 2017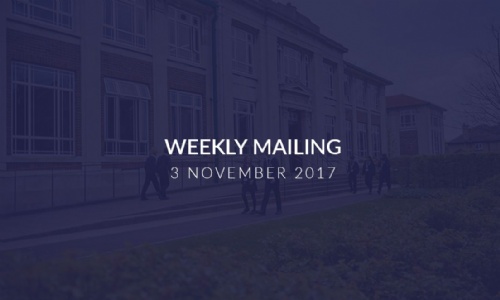 Dear Parents / Carers

Please find below my usual information, letters and updates on events that have taken place this week.

With best wishes for the weekend

Ms Jo Butler
Headteacher

Next week (Week commencing Monday 6 November) is a Week A
Important Information for Parents/Carers
Essential Staff Training - Early School closure on Friday 8 December 2017
School will close at 2.05pm for students on Friday 8 December 2017. This is to allow staff to undertake essential training.
Fundraising for Somalia
On the 14 October, there was a terrorist bombing in Mogadishu, Somalia. 358 people have lost their lives a further 228 have life changing injuries in what was the deadliest attack in the country's history. We will be raising money and remembering all those who have been affected by this deadly attack next week and throughout this term. Students can make a donation and pin a ribbon to remembrance boards that will be in the hub from Wednesday - Friday.
School to Home Communication
Please download the MyEd app to see information about your child and message the school for free. You can view attendance, absence, timetables, achievements and key dates etc. See more information here and download for both Android and Apple devices.
Parent Governor Elections being held this term
Would you like to be more involved in your child's education? Why not consider becoming a school Governor. Cotham School currently has one vacancy on the Governing Body and elections are being held this term. Click here to read about the selection and appointment process.

Key Stage 3 (KS3) Information
​​​Year 7 School Camp
A reminder that £50 deposits for Year 7 camp are due now. Link to letter here
Year 7 - Family Consultation Day
Family Consultation Day for Year 7 only, takes place on Thursday 23 November.
We ask that all parents and carers book a 15 minute appointment with their child's tutor between 8.30am - 5.00pm to take advantage of this valuable opportunity to discuss how your children have settled into life at Cotham. During your appointment you will be able to to discuss your child's engagement and well-being, participation in the wider life of the school, and to set targets for the remainder of the year.
Your child's Learning Coordinator Mrs Moore will also be available to talk to. Mrs Reed, our Attendance Officer, will also be on hand to discuss any concerns you may have regarding attendance.
To book your appointment and for more information please click here.
If you encounter any difficulties with booking your appointments please contact the Leadership PA's by email to LPA@cotham.bristol.sch.uk or tel: 01179198053
Assessment Calendars for KS3
We have created Assessment Calendars which contain details of the class assessments that will take place in each of Years 7, 8 and 9 this year. These are live documents which will be updated with more details as we move through the year. The final column of each calendar contains a link which gives information about each of the assessments.
These will be included in our weekly mailing to parents in the first week of every term so that you are clear about class assessments taking place in the term.

Click here to see Year 7
Click here to see Year 8
Click here to see Year 9
Key Stage 4 (KS4) Information
YEAR 10
We want to congratulate our Year 10 students on their start to the year and their GCSEs. Please click here to see the current KS4 Year 10 Curriculum Booklet. This describes each of the courses in detail, and offers useful advice about essential reading and assessment as well as essential revision guides that all students are encouraged to purchase.

Also attached here is a Year 10 Assessment Calendar detailing the dates of 'in class' assessments that will take place over the year. Our curriculum areas have also included links with short summaries of the content being assessed in these class assessments to allow parents to support our students with their studies. This is a live link and will be updated with details of assessments that are due to take place after term 2.
The latter half of the Assessment Calendar details Controlled Assessment deadlines that exist in Business Studies, Dance, Drama and iMedia during Year 10.
The Year 10 Independent Learning and Homework timetable is also attached here.

There will be a Welcome to GCSEs event for Year 10 parents with representatives from English, Maths, Science, French, German, Geography and History describing how to support students with their studies in Year 10. This will take place in Term 3 and the date will be confirmed soon.
Maths Test
The Year 10 test will be on Wednesday 8 November for all classes. It will cover chapters 1 to 4 on the revision list given out at the start of the year. The test will be held during the normal lesson. Students should bring their usual equipment plus a protractor and compasses but please note that calculators are not permitted.
Work Experience Opportunities
Circomedia
After a successful pilot run last year, Circomedia will be offering a placement for up to eight young people in late June / early July of next year. The aim for the Work Experience week is to give Year 10 learners a taste of working in the creative arts industry. Of course there will the opportunity to try out some circus but the placement is designed to be much broader than that, with the chance to learn from Circomedia's technical team, marketing manager and head of fundraising and development.

Since there are only eight places on offer, there is a simple application process. Application forms can be obtained from Ben Tansey, please email ben@circomedia.com

All applications will be considered and successful applicants will be informed by the end of March 2018.

WS Atkins - Engineering Consultants
Week 1: 25/06/2018 – 29/06/2018
Week 2: 09/07/2018 – 13/07/2018

Click here to download the Application form which should be sent with an accompanying CV to BristolYear10WEX@atkinsglobal.com.

Bristol Old Vic
2-6 July 2018
During this week the group will:
Gain an insight into the everyday running of a leading regional theatre
Learn about the diverse range of jobs available in the theatre
Take part in a variety of workshops led by different departments such as Box Office, Producing, Marketing and Engagement
Meet a range of other young people interested in theatre
Complete the Bronze Arts Award
Placements will be allocated via an application form and an interview. Click here to download the application form, which should be sent by email to getinvolved@bristololdvic.org.uk no later than 5pm Monday 8 January 2018.

The National Composites Centre
The NCC is offering an exciting week long work experience to inspire students to become an engineer of the future. The aim of the work experience is to help students to make the right career decisions. During the week students will get an insight into the NCC's 4 capabilities: Design and Simulation, Materials and Processes, Advanced Composite Manufacturing and Digital Manufacturing, Automation and Tooling and a day with one of our main customers.
The dates for work experience are for the week commencing 2 July - 6 July 2018. The application process will be open from Thursday 5 October – Sunday 31 December. Applications will be reviewed after the closing date and they aim to respond to all students by Friday 16 February 2018. To apply please contact laura.glynn@nccuk.com or click here to visit the NCC website.
YEAR 11
Thank you to those parents that attended our Year 11 Revision Evening on Wednesday 18 October. During the meeting representatives from English, Maths, Science, French, German, Geography and History were there to describe how to support students with revision throughout Year 11 and in advance of their mock exams which commence on 13 November. The presentation used on the evening can be found here.
Year 11 Mock Exams
Mock exams for Year 11 will take place from Monday 13 November until Tuesday 21 November. All exams will take place in the Sports Hall unless otherwise stated. Students must be in full and correct school uniform and have their lanyard with them at all times.
Students should ensure that they are in school for 8.35am every day. Students taking morning exams and afternoon exams should go straight to the exam hall (they do not need to see their tutor).

A copy of the mock exam timetable can be seen here. All students will be given a copy of their own individual timetable showing their seating plan, which they must carry with them at all times. Some students will have exam clashes but their timetable will confirm which exam they should attend. Any exam missed as a result of a clash or absence will be completed during the afternoon of Tuesday 21 November. It is important that every student ensures that they are in school to complete these mock exams.

Exam rules are strict and we want the mock exam period to replicate the period of GCSE exams as closely as possible. Students are not permitted to take mobile phones into the exam hall. We are unable to guarantee the security of students mobile phones whilst they are in exams and advise all students to leave their phones at home.
Extra Maths Sessions
Extra sessions began this week for students currently taking foundation tier maths but aspiring to take higher tier. These sessions will run on Thursdays after school in A201 for invited students in set 3. Speak to Mr Udall (udalld@cotham.bristol.sch.uk) if you would like more information about tier entries.
Forthcoming Post-16 Open Events
St Brendan's 6th Form College - Wednesday 15 November 5.00-8.00pm
City of Bristol College - College Green Centre - Saturday 18 November 10.00am-1.00pm
Careers News
Year 9 IGD workshop on Employability Skills
On Wednesday 1 November, a group of 30 Year 9 students enjoyed a 2-hour workshop run by professional volunteers from the food and grocery industry on the theme of "Identifying my skills and strengths". All the students were visibly engaged and interested throughout the session as they learnt about different job roles, including a financial controller, an operations manager, a managing director and a quality inspector. Through a range of activities students reflected on their own personal qualities. Our visitors told them about their own jobs, what they liked about them and how they had got into this type of work. At the end, they offered students good advice based on their own experience, such as "Seize every opportunity in front of you" and to "Really think about what you enjoy". Click here to view pictures.

A big thank you to the volunteers for giving up their time and wise words - Ms Chester and Ms Allender
Local Apprenticeship Opportunities
Big companies, including Rolls Royce, Aon, Atkins and KPMG, are now beginning to advertise their apprenticeship and school leaver opportunities, for entry in September 2018. Some of these are suitable for 16 year olds with GCSEs, whilst others need A-Levels (or BTEC Level 3) for entry.
Links to details about such opportunities can now be found on the school website here.
Burges Salmon are inviting students and their parents to hear about their legal apprenticeships on Thursday 9 November, 7.00-9.00 pm at their offices near Temple Meads Station. Sign up here to attend.
Even if your son/daughter is progressing into the sixth-form or going to college next September, researching possibilities now can help provide a focus for Post-16 studies, as students are increasingly considering Higher level apprenticeships as an alternative way to achieve degree level qualifications. Advanced level apprenticeships are open to students with good GCSE results.
Post-16 News
This week in Post-16
30 Cotham students have received places on the prestigious Access to Bristol programme. This scheme allows students to attend a series of lectures at the University of Bristol, leading to a reduced offer to study, tuition support and a bursary for students from low income households.
Barnabas Fullbrook has received a place on the On Track to Bath programme, the equivalent scheme at the University of Bath.
Year 12 enjoyed a presentation by the National Citizen Service this week. We hope many of them will consider joining this excellent enrichment programme. More information here
Find out more
To find out more about what is going on at the North Bristol Post 16 Centre, please click here to visit the website.
House News
Gamma
Gamma has had a fantastic first week back to school, holding Spookfest on Tuesday lunchtime. Students could purchase toffee/chocolate apples and cakes with all proceeds going to Gamma charity - Above and Beyond. We managed to sell out in one break time which was amazing! At lunch we held an apple bobbing contest which saw multiple students successfully win themselves an apple whilst getting a little bit wet! Overall we raised £162.00 for local Bristol hospitals which we are very proud of.
Special thanks to the Gamma leadership - Danny, Charlie, Haddy and Mossy in Year 11 for all of their hard work in organising Spookfest.
Gamma are looking forward to continuing their festive events and will be organising a candy cane delivery service to help raise money for Above and Beyond's 'National Elf Service day.'
Sigma
Tutor Challenge
Tutor groups filled smartie tubes with loose change and in total we collected an amazing £170.71 for our Charity - The Rainbow Centre for Children. Congratulations to 7BAK who collected the most!
October Sigma Superstar
Congratulations to Abdishakur Abdillahi 8SL who is our October Sigma Superstar.
Abdi has shown kindness and is considerate to his peers. He has fantastic manners and is always polite. A true superstar. We are very proud to have Abdi in Sigma.
Subject Area News
MODERN FOREIGN LANGUAGES (MFL) UPDATE
French visitors
At the end of October we had a visit from a group of students and teachers from the Agricultural College of Auch in South West France who were visiting Bristol as part of a project exploring graffiti.

Our Year 12 French group spent 2 hours with their French counterparts discussing everything from local festivals to Youtube channels. The French students gave presentations in English on their school and region and sang us a song, then our students did Cotham proud by presenting brilliantly in French to the (intimidatingly large!) group on sport, music and graffiti.

The French teachers were so impressed that we are now hoping to set up an exchange programme between our two schools. We are VERY proud of our French A level students for being so enthusiastic and welcoming and we look forward to future bilingual adventures! Click here for more.

We would also like to thank Tallullah (Year 9) for hosting the daughter of one of the visiting french teachers for the week. Click here to view photo.
Spanish - Day of the Dead celebration
In Mexico, the start of November sees the celebration of El dia de los Muertos or the Day of the Dead when traditionally the dead are remembered with positivity and celebration. This includes making pan de muerto, a typical sweet bread which is eaten at this time of year, sugar skulls and papel picado which are colourful cut out paper garlands.

With this in mind, Year 9 and 11 Spanish students were given the challenge of making some papel picado & paper skulls in class and baking some Pan de Muerto to share, with amazing and delicious results!!! Click here for photos.

A big GRACIAS to Marianne and Sean in Year 11 and Jana, Gregory and Erin in Year 9.
Bristol - Bordeaux Exchange
Attention Year 9 and 10 French Students!
Are you interested in visiting Bordeaux? Bordeaux is lively, vibrant city in the South West of France which is twinned with Bristol. This is an excellent opportunity to meet new people, visit new places and improve your French. Click here for more information.

If you are interested contact your French teacher or speak to Mr Morton in the MFL office.
Applications to take part in this exchange must be complete by the 15 November. Don't miss out!
PE/SPORTS UPDATE
Please click here to view all of our recent results and the upcoming fixtures for the week ahead.
Please click here for information about the Extra-Curricular Activities available to students in PE during Term 2
Follow @CothamPE on Twitter for all the latest news and updates from the Cotham School PE department
It would be great if parents/carers could let the school/PE department know of any students achievements outside of school please. It is sometimes only at subject evenings that we find out what students are doing outside of school! Email us: lts@cotham.bristol.sch.uk
Visual Arts Update
Artwork of the Week
Arts WOW this week goes to Jaele Clarke 8ID, who has created an artist biography page featuring a beautifully detailed and colorful acrylic painting replicating one of Thomas Saliot's paintings. Click here to view.
Christmas Card Competition
The Visual Arts Department is running a competition to design the school Christmas Card. The competition is open to all years and the winner will be selected for the final card design. House points to be awarded for runners up. Deadline 10 November 2017. View poster here
Community News
The '2K Running Challenge' for children aged 4-14
On 5 November Bristol hosts the Run 2K Challenge for children and young people. This is organised by Bristol European City of Sport 2017 supported by Junior Parkrun and is an excellent opportunity for young people to get involved in a healthy, weekend activity with family, friends and fellow students. Please click here to view a letter from Marvin Rees, Mayor of Bristol explaining the challenge and how to take part. Or visit the website here.
About the 2K Running Challenge
The Junior 2K Running Challenge is a healthy and active fun-run for children aged 4-14 happening each Sunday in November – 5, 12, 19, and 26. The 2K runs are held at three locations in Bristol and managed by the popular parkrun UK network. Children are encouraged to register to run for one of our three special Challenge Clubs – North Bristol, South Bristol and Central & East Bristol. Each Club can build a total. Children can also run in their area's colour and earn a limited edition wristband (while stocks last). Parents and families can register on behalf of the child. Once registered, participants can run or walk the distance or simply help at each event - and still contribute to their club's total.
Bristol's three junior parkruns are:
Bristol's accessible junior parkruns are: Eastville Park and Windmill Hill
And the best thing about it? You can walk, jog, skip, gallop, run 2k on your own, with a friend or with a parent.
Creative Youth Network - Volunteer opportunities
Creative Youth Network are looking for young volunteers aged 16 - 25 to work on a Christmas show at The Station this December.
We are looking for young people that are interested in stage management, sound and lighting engineers and stewards. Each role will provide you with a fun experience to shadow professionals and work on the show whilst gaining skills and developing your CV. No experience is required.
If interested please contact Emily Bull, Creative Producer on emily.bull@creativeyouthnetwork.org.uk or by calling 0117 947 7948 by Friday 10 November.
Bristol Energy offer raising funds for Young Bristol
Click here to read about supporting Young Bristol and creating even more opportunities for young people across the city
Useful quick links
Key Dates
Please click here to view the Key Dates by year group for the 2017-18 academic year. You will be notified of any significant changes/additions, but please can we ask that you check the dates for your year group regularly as they are subject to change.
WisePay
WisePay is the Online Payment Service at Cotham School which allows you to pay for trips and visits as well as to add credit to your child's Cashless Catering account. click here to access your account now. If you have any queries about your account please contact the support team by email to wisepay@cotham.bristol.sch.uk
School Uniform
Please click here to view the compulsory uniform requirements of Cotham School, along with visual examples of uniform and details of our uniform suppliers.
Cotham School Virtual Learning Environment (VLE) - Weebly
Click here to access the Cotham School VLE. On this VLE you will find links to the sites for each department at Cotham School. These contain useful information and documents for the subject area
Free School Meals
https://www.myfreeschoolmeals.com/ to check if your child is eligible for Free School Meals or to apply.

Click here to Contact Us