Weekly Mailing - Friday 10 November 2017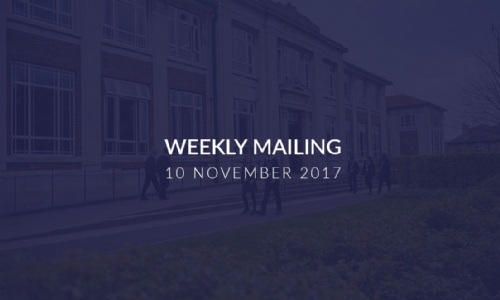 Dear Parents / Carers

Please find below this week's important information for Parents/Carers and Students as well as updates on School events, activities and opportunities for your reference. Please note the addition of a 'Useful Quick Links' section at the bottom to assist you in finding further sources of information.

With best wishes for the weekend

Ms Jo Butler
Headteacher

Next week (Week commencing Monday 13 November) is a Week B
Important Information for Parents/Carers
Essential Staff Training - Early School closure on Friday 8 December 2017
School will close at 2.05pm for students on Friday 8 December 2017. This is to allow staff to undertake essential training.
Positive student Mental Health and Wellbeing
At Cotham School, we take student mental health and well-being very seriously. In addition to assemblies and workshops on this topic, we offer students a variety of ongoing options to help them achieve better mental health:
Lunchtimes every day: Headspace in room A110 with Mr Saunders - a quiet space to reflect and meditate
Friday lunchtime: Yoga in the Main Hall with Ms Gallien (so well attended this week that we didn't have enough yoga mats!) Sessions focus on body awareness and relaxation through breathing and movement and then laughter!
Friday lunchtime (in the three weeks leading up to each year group's exam week): Mindfulness techniques in room A106 with Ms Leong and Ms Allen
In addition, two mindfulness apps that may be good for students are:
Headspace (initially free then subscription)
We are also in the process of creating a new section of the school website dedicated to supporting the positive Mental Health and Wellbeing of all of our students. More info on this to follow soon….
Parent Governor Elections being held this term
Would you like to be more involved in your child's education? Why not consider becoming a school Governor. Cotham School currently has one vacancy on the Governing Body and elections are being held this term. Click here to read about the selection and appointment process.
Inclement Weather "Snow Days"
Please click here to read about Information and Procedures in the event of Emergency Closure due to adverse weather.
Key Stage 3 (KS3) Information
YEAR 7
Family Consultation Day
Family Consultation Day for Year 7 only, takes place on Thursday 23 November.
We ask that all parents and carers book a 15 minute appointment with their child's tutor between 8.30am - 5.00pm to take advantage of this valuable opportunity to discuss how your children have settled into life at Cotham. During your appointment you will be able to discuss your child's engagement and well-being, participation in the wider life of the school, and to set targets for the remainder of the year.
Your child's Learning Coordinator Mrs Moore will be available to talk to and Mrs Reed, our Attendance Officer, will also be on hand to discuss any concerns you may have regarding attendance.

Please note: all Year 7 Students are to attend school as usual on Family Consultation Day.

Parent/Carers should come into the School via the Main Reception (Old Building) in Cotham Lawn Road. It will not be possible to access the school via the rear (Cotham Road) entrance.
Please arrive at least 5 minutes prior to your Appointment, your Son/Daughter will meet you in Main Reception and take you to their Tutor Room

Parking at the School
Unfortunately there is no parking available on school site for non permit holders. The roads around Cotham are all metered with a maximum stay of three hours, at a cost of a £1 per hour. If your visit is short you can park on a meter, free of charge for 30 minutes, but you must still obtain a ticket from the machine.

Parking in an unmetered area
You may be able to find a space outside the metered area (in Redland) but please be advised that these spaces get taken up very quickly in the mornings. Please allow yourself adequate time to find a space and walk in if this is what you choose to do.

To book your appointment and for more information please click here.
If you encounter any difficulties with booking your appointments please contact the Leadership PA's by email to LPA@cotham.bristol.sch.uk or tel: 01179198053
Assessment Calendars for KS3
We have created Assessment Calendars which contain details of the class assessments that will take place in each of Years 7, 8 and 9 this year. These are live documents which will be updated with more details as we move through the year. The final column of each calendar contains a link which gives information about each of the assessments.
These will be included in our weekly mailing to parents in the first week of every term so that you are clear about class assessments taking place in the term.

Click here to see Year 7
Click here to see Year 8
Click here to see Year 9
YEAR 8
Maths Assessments will take place in lessons next week. For the German side of year group tests are on Wednesday 15 and for the French side of the year group tests are on Thursday 16. Students will need to ensure they bring all of their equipment with them, including their calculator. Students can come along to Maths Homework Club on Monday and Wednesday in A209 after school for help with their revision

Please click here to view the revision list for these assessments.
Key Stage 4 (KS4) Information
YEAR 10
Parents Evening - Thursday 30 November
You are warmly invited to Year 10 Parents Evening on Thursday 30 November from 5.00-7.30pm.
Booking for this event is now open via the Parents Evening System (PES). You can access it by clicking here.

If you encounter any difficulties with booking your appointments please contact the Leadership PA's by email to LPA@cotham.bristol.sch.uk or tel: 01179198053
Work Experience (WEX) Opportunity
Arup is an independent firm of designers, planners, engineers, consultants and technical specialists, working across every aspect of today's built environment. The Arup Bristol office is currently looking for year 10 students who would be interested in a 1 week Summer placement. The dates for this have not yet been confirmed so applicants are asked to indicate their availability on the application form.
If you would like to apply, please complete the application form in full and return it to HR, Arup, 63 St Thomas Street, Bristol, BS1 6JZ. Alternatively, the form could be e-mailed to Westhr@arup.com.
The closing date for applications is Friday 16 February 2018 (applications will not be considered after this date)
Forthcoming Post-16 Open Events
St Brendan's 6th Form College - Wednesday 15 November, 5.00-8.00pm
City of Bristol College - College Green Centre - Saturday 18 November, 10.00am-1.00pm
Bristol Technology & Engineering Academy - Thursday 23 November, 6.30-8.30pm - please register interest for this event via their website here
YEAR 11
Thank you to those parents that attended our Year 11 Revision Evening on Wednesday 18 October. During the meeting representatives from English, Maths, Science, French, German, Geography and History were there to describe how to support students with revision throughout Year 11 and in advance of their mock exams which commence on 13 November. The presentation used on the evening can be found here.
Year 11 Mock Exams
Mock exams for Year 11 will take place from Monday 13 November until Tuesday 21 November. All exams will take place in the Sports Hall unless otherwise stated. Students must be in full and correct school uniform and have their lanyard with them at all times.
Students should ensure that they are in school for 8.35am every day. Students taking morning exams and afternoon exams should go straight to the exam hall (they do not need to see their tutor).
A copy of the mock exam timetable can be seen here. All students will be given a copy of their own individual timetable showing their seating plan, which they must carry with them at all times. Some students will have exam clashes but their timetable will confirm which exam they should attend. Any exam missed as a result of a clash or absence will be completed during the afternoon of Tuesday 21 November. It is important that every student ensures that they are in school to complete these mock exams.
Exam rules are strict and we want the mock exam period to replicate the period of GCSE exams as closely as possible. Students are not permitted to take mobile phones into the exam hall. We are unable to guarantee the security of students mobile phones whilst they are in exams and advise all students to leave their phones at home.
Extra Maths Sessions
Extra sessions began this week for students currently taking foundation tier maths but aspiring to take higher tier. These sessions will run on Thursdays after school in A201 for invited students in set 3. Speak to Mr Udall (udalld@cotham.bristol.sch.uk) if you would like more information about tier entries.
Forthcoming Post-16 Open Events
St Brendan's 6th Form College - Wed. 15 Nov., 5.00-8.00pm
City of Bristol College - College Green Centre - Sat. 18 Nov., 10.00am-1.00pm
Subject Area News
Modern Foreign Languages (MFL) Update
Bristol - Bordeaux Exchange
Attention Year 9 and 10 French Students!
Are you interested in visiting Bordeaux? Bordeaux is lively, vibrant city in the South West of France which is twinned with Bristol. This is an excellent opportunity to meet new people, visit new places and improve your French. Click here for more information.
If you are interested contact your French teacher or speak to Mr Morton in the MFL office.
Applications to take part in this exchange must be complete by the 15 November. Don't miss out!
PE/Sports Update
Please click here to view all of our recent results and the upcoming fixtures for the week ahead.
Please click here for information about the Extra-Curricular Activities available to students in Term 2.
Follow @CothamPE on Twitter for all the latest news and updates from the Cotham School PE department
It would be great if parents/carers could let the school/PE department know of any students achievements outside of school please. It is sometimes only at subject evenings that we find out what students are doing outside of school! Email us: lts@cotham.bristol.sch.uk
Careers News
Year 9 IGD workshop on Employability Skills
On Wednesday 1 November, a group of 30 Year 9 students enjoyed a 2-hour workshop run by professional volunteers from the food and grocery industry on the theme of "Identifying my skills and strengths". All the students were visibly engaged and interested throughout the session as they learnt about different job roles, including a financial controller, an operations manager, a managing director and a quality inspector. Through a range of activities students reflected on their own personal qualities. Our visitors told them about their own jobs, what they liked about them and how they had got into this type of work. At the end, they offered students good advice based on their own experience, such as "Seize every opportunity in front of you" and to "Really think about what you enjoy". Click here to view pictures.

A big thank you to the volunteers for giving up their time and wise words - Ms Chester and Ms Allender
Local Apprenticeship Opportunities
Big companies, including Rolls Royce, Aon, Atkins and KPMG, are now beginning to advertise their apprenticeship and school leaver opportunities, for entry in September 2018. Some of these are suitable for 16 year olds with GCSEs, whilst others need A-Levels (or BTEC Level 3) for entry.
Links to details about such opportunities can now be found on the school website here.
Burges Salmon are inviting students and their parents to hear about their legal apprenticeships on Thursday 9 November, 7.00-9.00 pm at their offices near Temple Meads Station. Sign up here to attend.
Even if your son/daughter is progressing into the sixth-form or going to college next September, researching possibilities now can help provide a focus for Post-16 studies, as students are increasingly considering Higher level apprenticeships as an alternative way to achieve degree level qualifications. Advanced level apprenticeships are open to students with good GCSE results.
Focus on Science Careers event - Tuesday 14 November
Bristol Cathedral School have invited all Year 11,12,13 students who are interested in pursuing a career in Science to their specialist careers event on Tuesday 14 November from 5.30-8.00pm. You can hear expert talks by guest speakers and meet representatives from universities, colleges and employers. Parents/Carers and teachers welcome. Please register to attend here. (Only those with a specific interest in Science should attend)
Post-16 News
This week in Post-16:
30 Cotham students have received places on the prestigious Access to Bristol programme. This scheme allows students to attend a series of lectures at the University of Bristol, leading to a reduced offer to study, tuition support and a bursary for students from low income households.
Barnabas Fullbrook has received a place on the On Track to Bath programme, the equivalent scheme at the University of Bath.
Year 12 enjoyed a presentation by the National Citizen Service this week. We hope many of them will consider joining this excellent enrichment programme. More information here
Find out more
To find out more about what is going on at the North Bristol Post 16 Centre, please click here to visit the website.
House News
Fundraising and remembrance
As many of you may be aware, the capital of Somalia was hit by the worst terrorist attack in recent history with over 500 casualties. Somalia is the homeland of many of our students and/or their parents. Many will have relatives and friends affected by this terrible event. Bristol, as a city with a large Somali population, is mobilising support and we need to do our bit.
Students can make a donation and pin a ribbon to remembrance boards that will be in the hub for another week. Please help us remember the victims and raise as much money as we can as a whole school house team, raising funds for the Mogadishu Appeal.
Thank you
The House Team
House Bake Off
Attention students!......If you are a champion baker and interested in representing your House in Cotham's very own Bake Off, please give your name to your tutor.
One student from each year group will be picked to represent their House. 5 students from each House will Bake Off against each other. This will be a technical challenge and all the ingredients will be supplied. You will be given further instructions on the day!
The event will take place on Friday 24 November during Periods 1-3
May the Best Baker Win.
Click here to view the poster.
Community News
Bristol City Council - Consultation
Overall, the cost of the council providing essential services and further cuts in funding will leave BCC with a gap in finances of £108m over the next five years.
This follows seven years of cuts in government funding. To bridge this gap BCC are proposing an increase in Council Tax, an increase in Social Care Precept, and £35m of savings in 2018/19 with further savings in subsequent years. BCC have also refreshed their Corporate Strategy, which sets out the vision and priorities for 2018-2023.
BCC would like to hear your views. Please click here to have your say on the following:
Council Tax for next year (2018/19)
Social Care Precept - an additional charge on top of Council Tax to help fund adult social care and protect vulnerable people
Our Savings Proposals for 2018/19 and subsequent years
Our Corporate Strategy commitments
You can request alternative formats of these documents by contacting the consultation team on consultation@bristol.gov.uk or by calling 0117 922 2848.
Click here to access the 'Tough Times, High Hopes' information booklet for more information about the Bristol City Council Corporate Strategy and Budget Consultation.
The '2K Running Challenge' for children aged 4-14
On 5 November Bristol hosts the Run 2K Challenge for children and young people. This is organised by Bristol European City of Sport 2017 supported by Junior Parkrun and is an excellent opportunity for young people to get involved in a healthy, weekend activity with family, friends and fellow students. Please click here to view a letter from Marvin Rees, Mayor of Bristol explaining the challenge and how to take part. Or visit the website here.
About the 2K Running Challenge
The Junior 2K Running Challenge is a healthy and active fun-run for children aged 4-14 happening each Sunday in November – 5, 12, 19, and 26. The 2K runs are held at three locations in Bristol and managed by the popular parkrun UK network. Children are encouraged to register to run for one of our three special Challenge Clubs – North Bristol, South Bristol and Central & East Bristol. Each Club can build a total. Children can also run in their area's colour and earn a limited edition wristband (while stocks last). Parents and families can register on behalf of the child. Once registered, participants can run or walk the distance or simply help at each event - and still contribute to their club's total.
Bristol's three junior parkruns are:
Bristol's accessible junior parkruns are: Eastville Park and Windmill Hill
And the best thing about it? You can walk, jog, skip, gallop, run 2k on your own, with a friend or with a parent.
Creative Youth Network - Volunteer opportunities
Creative Youth Network are looking for young volunteers aged 16 - 25 to work on a Christmas show at The Station this December.
We are looking for young people that are interested in stage management, sound and lighting engineers and stewards. Each role will provide you with a fun experience to shadow professionals and work on the show whilst gaining skills and developing your CV. No experience is required.
If interested please contact Emily Bull, Creative Producer on emily.bull@creativeyouthnetwork.org.uk or by calling 0117 947 7948 by Friday 10 November.
Useful quick links
Key Dates
Please click here to view the Key Dates by year group for the 2017-18 academic year. You will be notified of any significant changes/additions, but please can we ask that you check the dates for your year group regularly as they are subject to change.
Parent's Evening Booking System (PES)
Please click here to access the online appointment booking system for Parents Evening's/Family Consultation Day. If you encounter any difficulties with booking your appointments please contact the Leadership PA's by email to LPA@cotham.bristol.sch.uk or tel: 01179198053
Assessment Calendars for KS3
Click here to see Year 7
Click here to see Year 8
Click here to see Year 9
WisePay
WisePay is the Online Payment Service at Cotham School which allows you to pay for trips and visits as well as to add credit to your child's Cashless Catering account. click here to access your account now. If you have any queries about your account please contact the support team by email to wisepay@cotham.bristol.sch.uk
School Uniform
Please click here to view the compulsory uniform requirements of Cotham School, along with visual examples of uniform and details of our uniform suppliers.
Cotham School Virtual Learning Environment (VLE) - Weebly
Click here to access the Cotham School VLE. On this VLE you will find links to the sites for each department at Cotham School. These contain useful information and documents for the subject area
Free School Meals
https://www.myfreeschoolmeals.com/ to check if your child is eligible for Free School Meals or to apply.

Click here to Contact Us