Weekly Mailing - Friday 17 November 2017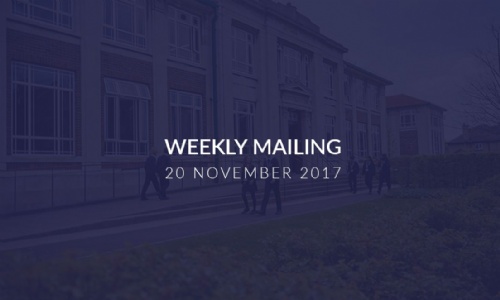 Dear Parents / Carers

Please find below this week's important information for Parents/Carers and Students as well as updates on School events, activities and opportunities for your reference. Please note the addition of a 'Useful Quick Links' section at the bottom to assist you in finding further sources of information.

With best wishes for the weekend

Ms Jo Butler
Headteacher

Next week (Week commencing Monday 20 November) is a Week A
Congratulations
English Speaking Union Public Speaking Competition
On Tuesday evening Cotham hosted the first heat of the English Speaking Union Public Speaking Competition and entered two teams of students. These were made up of Aineias Arango, Luke Velarde Banks and Charlotte Omiotek in Team 1 and Amelie Mears, Alex Ross and Fenn Elliott in Team 2. It was a wonderful evening and the audience enjoyed speeches of an incredibly high standard from Cotham, Clifton College and QEH. I am delighted to say that Cotham held their own against stiff competition with a range of passionate and insightful speeches, questions and summaries. All the students were a credit to the school and spent many weeks hard at work in preparation which very much paid off. Aineias Arango was awarded 'Best Speaker' of the evening and he, Luke and Charlotte will be moving on to the second heat of the competition in January. A huge thank you to Ms Clement for all of her hard work in preparing our speakers.
Important Information for Parents/Carers
Update on School expansion
First I want to thank all of you for showing your support with the planning application for the expansion at the School. I can confirm that the planning application was approved and permission granted at the Planning Committee meeting held on 8 November.
The new building will provide the School with 12 additional classrooms, a further dining hall and a suite of meeting rooms. ​This space will be invaluable for absorbing the increased students but also to help ease some of our current capacity issues with limited classroom space.
Work on the new building is to start imminently with the building contractors due to move onto site on Monday 4 December. They will be using our current car park as their compound and will be totally separate from the rest of the School.
I am sure that you will all be as excited as we are to see the finished building and start to use it in September 2018.
Essential Staff Training - Early School closure on Friday 8 December 2017
School will close at 2.05pm for students on Friday 8 December 2017. This is to allow staff to undertake essential training.
School Uniform - Trousers
Please can we remind all Parents/Carers about the following compulsory uniform requirements to be adhered to when purchasing school trousers for your child. ALL trousers must be tailored, loose, black parallel trousers, with no external raised seams, pockets or rivets, no logos or brands, not jean or tracksuit style. No leggings or tight fashion trousers. Please click here to view visual examples of acceptable school trousers.
Please click here to view the full compulsory uniform requirements of Cotham School, along with visual examples of uniform and details of our uniform suppliers.
Stoke Lodge Playing Fields Update
A Judicial Review into the Council's decision to dismiss an independent inspector's advice not to register our playing fields as a Town and Village Green is taking place over two days next week. It is not expected that the outcome will not be known for some time but as soon as we have an update we will let you all know.
Results of the Design the School Christmas Card Competition
Thank you to all the students who took part in the competition it was so hard to make a shortlist as they were all so brilliant! However we have chosen two winners and five runners up as follows:
And the winners are…….
Douyoun Kwon 8ABI - Click here to view Douyoun's design
Esme Pykett 8NCA - Click here to view Esme's design
Highly Commended goes to:-
Alex Cox, 7SD,
Ruairidh Farrow-White 8DD
Jaele Clarke 8ID
Prerena Nerlige Prashanth 8ID
Josh Smith 9AWS
A collage of the runners up can be seen here

Students will receive Amazon Vouchers and points for their House.
Parent Governor Elections being held this term
We have received more than one nomination for the vacancy on the Governing Body therefore we will be holding an election. Further details to follow next week.
Rail Reps Trip to Swindon
Last Friday, our Rail Reps, at the invitation of GWR and the Severnside Community Rail Partnership, had a really enjoyable visit to the GWR Head Offices in Swindon. The reps travelled First Class on a high speed train, met GWR Representatives and had lunch. This is a continuation of the close working relationship we have with GWR and of course the offer of subsidised travel for our students on the train to and from school.
If you wish to buy a discounted Season Ticket there is still time, click here for further information.
STEM Ambassadors
Cotham School is very proud to be working with STEM Ambassadors which increases students' awareness of the range of possibilities opened up by studying STEM subjects. Evidence shows that engaging with STEM Ambassadors helps young people to achieve their full potential in STEM subjects as well as inspiring them to explore STEM careers. Click here to see the Certificate.
Key Stage 3 (KS3) Information
Year 7 - Family Consultation Day
Family Consultation Day for Year 7 only, takes place on Thursday 23 November.
Please note: all Year 7 Students are to attend school as usual on Family Consultation Day.
Parent/Carers should come into the School via the Main Reception (Old Building) in Cotham Lawn Road. It will not be possible to access the school via the rear (Cotham Road) entrance.
Please arrive at least 5 minutes prior to your Appointment, your Son/Daughter will meet you in Main Reception and take you to their Tutor Room
Parking at the School
Unfortunately there is no parking available on school site for non permit holders. The roads around Cotham are all metered with a maximum stay of three hours, at a cost of a £1 per hour. If your visit is short you can park on a meter, free of charge for 30 minutes, but you must still obtain a ticket from the machine.
Parking in an unmetered area
You may be able to find a space outside the metered area (in Redland) but please be advised that these spaces get taken up very quickly in the mornings. Please allow yourself adequate time to find a space and walk in if this is what you choose to do.
To book your appointment and for more information please click here.
If you encounter any difficulties with booking your appointments please contact the Leadership PAs by email to LPA@cotham.bristol.sch.uk or tel: 01179198053
Key Stage 4 (KS4) Information
YEAR 10
Parents Evening - Thursday 30 November
Booking for this event is now open via the Parents Evening System (PES). You can access it by clicking here.
Apologies to Parents/Carers for any confusion caused by the issues arising from duplicate appointments with your child's Science teachers this week. The issue should now be fully resolved.
If you encounter any difficulties with booking your appointments please contact the Leadership PAs by email to LPA@cotham.bristol.sch.uk or tel: 01179198053
YEAR 11
Forthcoming Post-16 Open Events:
City of Bristol College - College Green Centre - Saturday 18 November 10.00am-1.00pm
Bristol Technology & Engineering Academy - Thursday 23 November 6.30-8.30pm - please register interest via their website: http://www.bteacademy.co.uk/default.asp
South Glos. & Stroud (SGS) College - all sites - Saturday 25 November 10.00am-1.00pm
Year 11 Mock Exams
Mock exams for Year 11 will take place from Monday 13 November until Tuesday 21 November. All exams will take place in the Sports Hall unless otherwise stated. Students must be in full and correct school uniform and have their lanyard with them at all times.
Students should ensure that they are in school for 8.35am every day. Students taking morning exams and afternoon exams should go straight to the exam hall (they do not need to see their tutor).
A copy of the mock exam timetable can be seen here. All students will be given a copy of their own individual timetable showing their seating plan, which they must carry with them at all times. Some students will have exam clashes but their timetable will confirm which exam they should attend. Any exam missed as a result of a clash or absence will be completed during the afternoon of Tuesday 21 November. It is important that every student ensures that they are in school to complete these mock exams.
Exam rules are strict and we want the mock exam period to replicate the period of GCSE exams as closely as possible. Students are not permitted to take mobile phones into the exam hall. We are unable to guarantee the security of students mobile phones whilst they are in exams and advise all students to leave their phones at home.
​​​Subject Area News
VISUAL ARTS UPDATE
Artwork of the Week
Art WOW this week goes to Lili Stüwe with her Georgia O'Keeffe inspired acrylic painting using fantastic blending and tone skills.
PE/Sports Update
Please click here to view all of our recent results and the upcoming fixtures for the week ahead.
Please click here for information about the Extra-Curricular Activities available to students in Term 2.
Follow @CothamPE on Twitter for all the latest news and updates from the Cotham School PE department
It would be great if parents/carers could let the school/PE department know of any students achievements outside of school please. It is sometimes only at subject evenings that we find out what students are doing in their own time. Email us: lts@cotham.bristol.sch.uk
Performing Arts Update
Shakespeare School Festival performance at the Tobacco Factory
A group of talented performers in Year 9 have been working hard to prepare for their performance of A Midsummer Night's Dream as part of the National Shakespeare Schools Festival.
We will be performing at the prestigious Tobacco Factory Theatre on the evening of Thursday 23 November. Tickets are available from the box office: 0117 9020344.
Anyone who wishes to see the show but cannot make it on Thursday is welcome to come and watch a performance in the Drama Studio at 4pm on Tuesday 21 November. No tickets required, all welcome!
Careers News
Lots of apprenticeship opportunities!
Wessex Water are holding an Open Day about their local technical and office-based apprenticeships on Sat 25 Nov, 9.30am-2.00pm. More info here & link to book.
On Site Bristol are holding an Open Evening about their construction apprenticeships on Thurs. 30 Nov. from 5.00-7.30pm at the Create Centre in Hotwells. No need to book.
M&S are advertising Retail Management apprenticeships for school leavers, available nationally. Click here for more info.
RSM have opportunities for would-be accountants with Level 3 qualifications in Bristol. Click here for more info.
CGI - one of the biggest IT firms in the world - are offering degree level apprenticeships. Click here for more info.
Finally, click here for an easy way to explore local apprenticeships and filter them by level. You can explore them by sector here.
Post-16 News
This week in Post-16:
This Wednesday was Y12 Family Consultation Day. Students and Parents/Carers met with tutors to talk through the first set of student progress data. The day was very successful and lots of productive conversations took place. Thank you to everyone who attended
Find out more
To find out more about what is going on at the North Bristol Post 16 Centre, please click here to visit the website.
Community News
Bath School of Acting
Click here for more information about the Masterclasses BSA have available during November.
Bristol City Council - Consultation
Overall, the cost of the council providing essential services and further cuts in funding will leave BCC with a gap in finances of £108m over the next five years.
This follows seven years of cuts in government funding. To bridge this gap BCC are proposing an increase in Council Tax, an increase in Social Care Precept, and £35m of savings in 2018/19 with further savings in subsequent years. BCC have also refreshed their Corporate Strategy, which sets out the vision and priorities for 2018-2023.
BCC would like to hear your views. Please click here to have your say on the following:
Council Tax for next year (2018/19)
Social Care Precept - an additional charge on top of Council Tax to help fund adult social care and protect vulnerable people
Our Savings Proposals for 2018/19 and subsequent years
Our Corporate Strategy commitments
You can request alternative formats of these documents by contacting the consultation team on consultation@bristol.gov.uk or by calling 0117 922 2848.

Click here to access the 'Tough Times, High Hopes' information booklet for more information about the Bristol City Council Corporate Strategy and Budget Consultation.
The '2K Running Challenge' for children aged 4-14
On 5 November Bristol hosts the Run 2K Challenge for children and young people. This is organised by Bristol European City of Sport 2017 supported by Junior Parkrun and is an excellent opportunity for young people to get involved in a healthy, weekend activity with family, friends and fellow students. Please click here to view a letter from Marvin Rees, Mayor of Bristol explaining the challenge and how to take part. Or visit the website here.
About the 2K Running Challenge
The Junior 2K Running Challenge is a healthy and active fun-run for children aged 4-14 happening each Sunday in November – 5, 12, 19, and 26. The 2K runs are held at three locations in Bristol and managed by the popular parkrun UK network. Children are encouraged to register to run for one of our three special Challenge Clubs – North Bristol, South Bristol and Central & East Bristol. Each Club can build a total. Children can also run in their area's colour and earn a limited edition wristband (while stocks last). Parents and families can register on behalf of the child. Once registered, participants can run or walk the distance or simply help at each event - and still contribute to their club's total.
Bristol's three junior parkruns are:
Bristol's accessible junior parkruns are: Eastville Park and Windmill Hill
And the best thing about it? You can walk, jog, skip, gallop, run 2k on your own, with a friend or with a parent.
Creative Youth Network - Volunteer opportunities
Creative Youth Network are looking for young volunteers aged 16 - 25 to work on a Christmas show at The Station this December.
We are looking for young people that are interested in stage management, sound and lighting engineers and stewards. Each role will provide you with a fun experience to shadow professionals and work on the show whilst gaining skills and developing your CV. No experience is required.
If interested please contact Emily Bull, Creative Producer on emily.bull@creativeyouthnetwork.org.uk or by calling 0117 947 7948 by Friday 10 November.
Useful quick links
Key Dates
Please click here to view the Key Dates by year group for the 2017-18 academic year. You will be notified of any significant changes/additions, but please can we ask that you check the dates for your year group regularly as they are subject to change.
Parent's Evening Booking System (PES)
Please click here to access the online appointment booking system for Parents Evening's/Family Consultation Day. Please note this is only available if an event is due. We will email you to let you know when booking opens. If you encounter any difficulties with booking your appointments please contact the Leadership PA's by email to LPA@cotham.bristol.sch.uk or tel: 01179198053
Assessment Calendars for KS3
Click here to see Year 7
Click here to see Year 8
Click here to see Year 9
WisePay
WisePay is the Online Payment Service at Cotham School which allows you to pay for trips and visits as well as to add credit to your child's Cashless Catering account. Click here to access your account now. If you have any queries about your account please contact the support team by email to wisepay@cotham.bristol.sch.uk
School Uniform
Please click here to view the compulsory uniform requirements of Cotham School, along with visual examples of uniform and details of our uniform suppliers.
Cotham School Virtual Learning Environment (VLE) - Weebly
Click here to access the Cotham School VLE. On this VLE you will find links to the sites for each department at Cotham School. These contain useful information and documents for the subject area
Free School Meals
www.myfreeschoolmeals.com to check if your child is eligible for Free School Meals or to apply.
Click here to Contact Us