Weekly Mailing - Friday 24 November 2017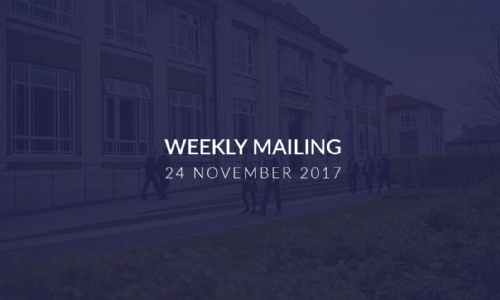 Dear Parents / Carers
Please find below this week's important information for Parents/Carers and Students as well as updates on School events, activities and opportunities for your reference.
With best wishes for the weekend
Ms Jo Butler
Headteacher
Next week (Week commencing Monday 27 November) is a Week B
Congratulations
Shakespeare Schools Festival - Fantastic Performance!
The Year 9 cast of 'A Midsummer Night's Dream' gave a superb performance at The Tobacco Factory on Thursday night as part of the Shakespeare Schools Festival.
Their performance was praised by the festival organisers as "A piece with big energy, big pace and big character". In addition, the actors were repeatedly praised for their "brilliant behaviour" and "way they worked respectfully together as a team". Well done to all - we are very proud of you.
Parents who wish to browse or purchase the professional photographs taken on the night can contact Mrs Ashcroft for details of how to access these by email to: ashcrofth@cotham.bristol.sch.uk
Abdi's impressive year in Athletics continues!
In the combined under 17's and under 20's Men's race at the Gwent Cross Country League in Brecon, Abdi swept past more senior rivals to secure a stunning win. Well done Abdi. Click here to view this week's Evening Post article.
Important Information for Parents/Carers
Essential Staff Training - Early School closure on Friday 8 December 2017
School will close at 2.05pm for students on Friday 8 December 2017. This is to allow staff to undertake essential training.
Parent Governor Election
The Parent Governor Election is being run electronically this term. You will be receiving an email with instructions on how to cast your vote. Priority 1 contacts for whom we do not hold an e-mail address will receive a hard copy letter and voting slip, sent home via the student.
Candidates are:-
Nye Harries and Lucy Hunt. Candidates' profiles are on the back of the voting slip to help you make a decision.
Somali Parents Coffee Morning - Monday 4 December 2017 at 9.30am
We look forward to welcoming our Somali Parents to a coffee morning on Monday 4 December 2017. Our EAL Co-Ordinator will talk about the excellent group she is leading in raising the achievement of Somali students through a number of initiatives including targeted mentoring, homework club and a reward system for all students involved in the project. We will have an interpreter on hand too. Please arrive at the main reception by 9.30am.
Parent/Carer Questionnaire
We strive to ensure that the educational experience of all students at Cotham School is outstanding and we really value your feedback in helping us to achieve this. If you have not already done so, please can we ask you to take a moment to complete the questionnaire here to help us.
Rucksack Club
Students were treated to a lovely walk last Sunday when Mr Emery and Mr Helliwell took the Rucksack club for a walk across the Quantocks. The beautiful Autumn weather allowed students to see the stunning colours and wildlife in the countryside. Click here to view the photos from the day.
Lift Keys
There are occasions when students need to use the lift in school and are provided with a lift key. Unfortunately not all students remember to return the keys and the school is incurring a cost each time it has to replace a key. From January 2018 we will ask students to pay a £3.00 deposit for a lift key which will be refunded on return of the key. We hope you will understand the reasoning behind the request for a deposit.
Key Stage 3 (KS3) Information
YEAR 7
Family Consultation Day
Thank you to all the those Parents/Carers who attended appointments with the Year 7 form tutors on Thursday 23 November. We were pleased to see so many of you on the day. The meetings were a chance to discuss how our Year 7's have settled in, to talk through any concerns, and to plan how home & school can work together to give students the best possible start at Cotham.
Many thanks to everyone who took a moment to complete our questionnaire on the day. This is a valuable opportunity for you to provide feedback to the school. It is still possible for you to complete the questionnaire online by clicking here.
No Pens Day
On Wednesday 22 November we held a No Pens Day for KS3 students. This event aimed to encourage students to focus improving their speaking and listening skills.
Students re-enacted the feudal system in history; solved maths problems by discussing them with their partners; invented probing questions to demand of characters they'd read about in English and did lots more besides. Click here to view some pictures.
Key Stage 4 (KS4) Information
YEAR 10
Parents Evening - Thursday 30 November
Our Year 10 Parents Evening will take place on Thursday 30 November. Parents will have an opportunity to discuss their child's progress with their subject teachers. The evening will start at 4.30pm.
Booking for this event is via the Parents Evening System (PES). You can access it by clicking here. We look forward to seeing you all there.
If you encounter any difficulties with booking your appointments please contact the Leadership PAs by email to LPA@cotham.bristol.sch.uk or tel: 0117 919 8053
Year 10 Mock Exams
Click here to access the end of Year 10 mock exam papers and markschemes.
Click here to access the Cotham School Virtual Learning Environment .
YEAR 11
Year 11 finished their mock exams this week. The mock exam process was a tiring experience for them but will nevertheless help to prepare all of our students for their actual exams next summer. A further mock exam week will take place in February.
Students will start to receive feedback from their teachers and will be given an opportunity to review their exam papers, understand their mistakes and how to correct them. They will be encouraged to identify topic areas that they need to review in order to improve their raw mark score. It is important that all students do this in preparation for their summer exams. Please spend some time talking to your child about their mock exams and encourage them to plan their revision around these topic areas.
Year 11 Academic Monitoring Reports will be sent to parents in the last week of term. These reports will include students mock exam grade, current grade, predicted grade and target grade.
Subject Area News
VISUAL ARTS UPDATE
Artwork of the Week this week goes to Alina Mouhaidli 8ID, who has created a fabulous clay sculpture based on natural forms and inspired by ceramist Alice Ballard. Click here to view.
PE/SPORTS UPDATE
Please click here to view all of our recent results and the upcoming fixtures for the week ahead.
Please click here for information about the Extra-Curricular Activities available to students in Term 2.
Follow @CothamPE on Twitter for all the latest news and updates from the Cotham School PE department
Keep us posted..
It would be great if parents/carers could let the school/PE department know of any students achievements outside of school please. It is sometimes only at subject evenings that we find out what students are doing in their own time. Email us: lts@cotham.bristol.sch.uk
PERFORMING ARTS UPDATE
Winter Dance Evening 2017 - Thursday 7 December 7pm.
Tickets are on sale via wisepay for this year's Winter Dance Evening, come along and see GCSE Dances and extra-curricular performances from students across the school. Click here to view the poster.
Calling Y7 dancers! Would you like to perform in this year's Winter Dance Evening on 7 December at 7pm? If so, meet Mrs Taylor in the dance studio on Tuesday 28 November at 1.20 to find out more. Click here for poster.
Careers News
Apprenticeship opportunities
Lots of good apprenticeships are being advertised now - including some degree apprenticeships - from top companies like Airbus, BBC, CGI, M&S, and Burges Salmon. Click here for more details and further links.
Renishaw
Renishaw are holding an Open Evening for Year 11,12 and 13 students potentially looking for a career path in Engineering, Design, Technology, Computing, Maths or Science. This event takes place on Wednesday 13 December 2017 - 6.30pm – 8.00pm
To find out more information about our Renishaw Apprenticeship opportunities - please register for this event here or visit the Renishaw website here. It is highly recommended that students register as early as possible as spaces will go quickly.
Bright Sparks - Burgess Salmon Work Experience Programme
Launched in 2013 the Bright Sparks bespoke programme was developed to allow school students from a variety of backgrounds to gain skills and experience by participating in workshops and group projects, presenting to business people as well as experiencing life in a busy law firm. Each summer the programme provides 24 placements, 12 students per week, aimed at Year 10 to Year 12.
Dates are as follows:
Week 1: 18-22 June 2018
Week 2: 2-6 July 2018
Students will be required to apply on-line via the Burgess Salmon website. The application form will be available early December and will close on Sunday 28 January 2018.
House News
House Christmas Tree Competition
Each house will have its own Tree in the Hub. Students will decorate their tree in house colours.
Please support your house and bring in house colour decorations. These can be made or bought.
The Best decorated tree wins!
Santa Dash Friday 8 December
This is a fun house event for students and staff. Please wear full Santa suits! Prizes and House points will be awarded. Click here for more info.
The Bake Off
Today 20 students battled it out in The House Bake Off. They entered the room at 9am and were given 1hour and 45 minutes to make, bake and present their technical challenge.
Their challenge was to bake a Victoria Sandwich and they were given ingredients and a brief to follow. All 20 students baked to a high standard and at 10.45 they stopped baking and the cakes were judged.
The judges were Dave Martin - Alumni and Abbie Parsons - Bristol Ladies Rugby Player and England International Academy player.
The cakes were judged on taste, texture, colour and appearance. It was a tough decision but eventually after a lot of cake eating and a long discussion the results were in.
The Winner of The House Bake Off was....... Luca Pritchard 11JLL Sigma House
In second place was ... Masha Evans 9KBO Omega House
In third place was Jeremy Cross 10 DU Omega House
Winners were awarded Amazon Vouchers. Congratulations to all the Bakers who worked so hard. All participants were awarded a wooden spoon that was engraved with 'House Bake Off 2017' and their House Colour ribbon. A special thank you to Mr Shutter who filmed the Bake Off and took photos. Click here to view
Team Sigma
Yr7 BSA Ilhaan Ali
Yr8 ID Kai Sudbury
Yr9 AF Jana Al Masri
Yr10 MAH Louis Hawkins
Yr11JLL Luca Pritchard
Team Gamma
Bene Balash
Charles lambert
Greg Cony
Lily Booth
Shadiamond Brown
Team Omega
Takara Harris 7JBA
Imogen Attwood-Williams 8GM
Masha Evans 9KBO
Jeremy Cross from DU
Silas Grocottcain LAL
Team Delta
Y7: Iola Budden
78: Ilaf Mohamed
Y9: Tallula Harris
Y10: Deondre Gray
Y11: Harley Harris
Sigma Update
November Sigma Superstar is.....Waqar Younis 11JLL
Waqar has been nominated by Mrs Brock and Mr Sadler for Sigma Superstar. Waqar has significantly improved his attitude to learning and has made massive improvement . He is staying behind for after school catch-up sessions and is always polite and has good manners. We are very proud to have Waqar in Sigma House.
Sigma Festive Drinks and Fun in the Hub on Friday 1st December
Cakes and Festive drinks 50p. Festive Photo Booth. Click here to view the poster.
All funds raised will support The Rainbow Centre for Children
Omega Update
Octobers Omega Legend is…….Jaden Harcom-Tabbiruka 8GM
In assembly this week Omega house welcomed visitors from the Jessie May foundation, a charity that we as a house have chosen to support this year for the work they do with young children in Bristol. As a result of our fundraising efforts last term (the penny pick up challenge and the donut eating competition) we were able to present the visitors with a cheque for £323 that students had raised. We also set the Cotham Manners challenge for this term, more info to follow on this soon.
We hope you all have a great start to Advent.
Gamma Update
Gamma House Champion goes to…...Bryn Coates-Cook (8ABI).
Bryn is a kind, helpful and hardworking student who is valued within Cotham by students and teachers alike. Well Done Bryn!
Gamma were pleased to welcome Lydia McGivern into our House assembly this week to talk to students about our new charity- Above and Beyond. Lydia is a representative from the charity which works with local Bristol hospitals to go above and beyond what the NHS can provide. Gamma are looking to sponsor a project within the Children's Hospital that will be funded by our total money raised at the end of this year.
Our next fundraising event will be a candy cane delivery service which will run in the hub on the last week of term, we encourage students to wish each other a happy holidays by sending a sweet to a friend within the school.
Delta Update
Delta House Dazzler…..
This month the Delta House Dazzler award goes to a student who shines brightly each and every day. He is a polite, hardworking and kind student who consistently demonstrates the Delta House values. He is a person who is keen to learn and never gives up. He is thoughtful, enthusiastic and I count myself lucky to be one of his teachers. Zakariya Ibrahim, you are the Delta House Dazzler for November 2017. Congratulations to Zakariya!
Laura Brain from Off The Record came in to our House Assembly on Monday to discuss the work of OTR and what our students can do to help raise money for the house charity. The house have already raised more than £100 from the Chocolottery and are looking to raise as much money as possible this year. Laura shared the following information with the house so we are aware of what the money we raise will go towards.
£10 buys an emergency session for a young person in crisis
£50 buys six sessions of counselling for a young person struggling with self-harm
£100 buys three stress management workshops for thirty young people.
Delta House Heroes
Congratulations to the following students who are our current Delta House Heroes. These students are currently the highest house point earners in their respective tutor groups:
Liam Moore (7KM)
Hannah Robbins (7PPR)
Itziar Diez Manzanas (8DD)
Fin Wylie (8EM)
Muna Abdi (9AWS)
Tom Brazier (9TS)
Archie Rose Perks (10CCY)
Istahil Abdi (10SBA)
Rochelle Fraser (11RBI)
Ibrahim Odowa (11RH)
Politeness and Pizza!
The Cotham Manners Challenge is well and truly on for Delta students. Click here to view the poster. I want us to go to town and demonstrate to everybody that we are the kindest and most polite house. When you go through a door, you hold it open for the next person. If somebody looks like they are struggling to carry things, you offer them a helping hand. Make an effort to say hello to other staff and students - even if you don't know them. I would like all of Delta to make a special effort to acknowledge everybody in our school community. Many of you do this already because you are lovely, polite people but sometimes it helps us all to have a bit of a gentle reminder.
I am on the lookout to recognise the tutor group who can achieve the most 'Cotham Manners' points with a pizza treat on the last day of term. Click here to view how it stands at the moment.
Community News
Classical Bristol
As the winter nights draw in, Classical Bristol brings you another month's worth of heart-warming music. Click here to view the newsletter for the festive season.
Bristol City Council Parks Consultation
On Monday 6 November 2017, Bristol City Council launched a city-wide consultation on the future of Bristol's parks and green spaces. By April 2019 the council will need to save at least £2.868million from its budget for day to day parks' services.
Bristol City Council would like to encourage as many people as possible to take part in this consultation. You can take part by completing an online survey on the council's Consultation Hub here. The parks consultation will be running for 12 weeks until midnight on 29 January 2018.
Useful quick links
Key Dates
Please click here to view the Key Dates by year group for the 2017-18 academic year. You will be notified of any significant changes/additions, but please can we ask that you check the dates for your year group regularly as they are subject to change.
Parent's Evening Booking System (PES)
Please click here to access the online appointment booking system for Parents Evening's/Family Consultation Day. Please note this is only available if an event is due. We will email you to let you know when booking opens. If you encounter any difficulties with booking your appointments please contact the Leadership PAs by email to LPA@cotham.bristol.sch.uk or tel: 01179198053
Assessment Calendars for KS3
Click here to see Year 7
Click here to see Year 8
Click here to see Year 9
WisePay
WisePay is the Online Payment Service at Cotham School which allows you to pay for trips and visits as well as to add credit to your child's Cashless Catering account. Click here to access your account now. If you have any queries about your account please contact the support team by email to wisepay@cotham.bristol.sch.uk
School Uniform
Please click here to view the compulsory uniform requirements of Cotham School, along with visual examples of uniform and details of our uniform suppliers.
Cotham School Virtual Learning Environment (VLE) - Weebly
Click here to access the Cotham School VLE. On this VLE you will find links to the sites for each department at Cotham School. These contain useful information and documents for the subject area
Free School Meals
https://www.myfreeschoolmeals.com/ to check if your child is eligible for Free School Meals or to apply.
Click here to Contact Us