Weekly Mailing - Friday 8 December 2017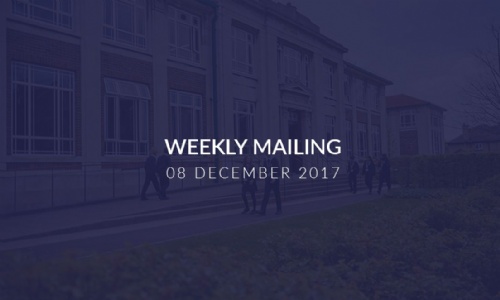 Dear Parents / Carers
I would like to thank staff and students for all their hard work over the last two terms. It has been a hugely busy time here at Cotham and I hope you all enjoy a very well deserved break, This will be the final weekly communication for 2017.
I wish you all a relaxing seasonal break and a very Happy New Year from all at Cotham.
Jo Butler
Headteacher
Next week (Week commencing Monday 11 December) is a Week B
Congratulations
Congratulations to Max Bragonier in 8ID who has just been awarded a high merit in his grade 4 guitar exam. He worked really hard for it so congratulations are in order.
Congratulations to Reuben West for his swimming achievement. He competed in two individual races at the finals on Thursday 23 November at Horfield Leisure Centre. Both were at the intermediate level, he came 5th in the 50m breaststroke and managed a Bronze medal in the 50m backstroke. Well done Reuben.
Important Information for Parents/Carers
School expansion
Further to my update in the weekly mailing on 17 November, we have been informed that the scheduled commencement of the building works which were due to start on Monday 4 December 2017 has been put on hold by the Council. We will keep you updated when we have a new confirmed start date.
Parent Governor Election
The Parent Governor Election is now in process. You will have received either an electronic or hard copy voting slip. VOTING ENDS AT 2PM ON MONDAY 11 DECEMBER 2017. Please make sure you have registered your vote. Candidates are:- Nye Harries and Lucy Hunt and you can view their profiles here.
Last Day of Term on Friday 15 December
This will be a non-school uniform day for students, who should bring their £1 to school in the morning to be collected for charity. There will be a whole-school House assembly for Years 7 to 11 where House Trophies will be presented. Students will then be dismissed from school at 12.30pm.
Late start for students at the beginning of next term Tuesday 2 January 2018
To allow staff time for essential staff training on Tuesday 2 January 2018, students should arrive at school from 9.50am for a 10.00am start. Students should go straight to lesson 2 when they will be registered.
Absences from school
If your child is not going to be in school for any reason, or is leaving during the school day for an appointment you must call the Absence line on 0117 919 8019.
Yoga for Teens
Our Cover supervisor Mme Anne Gallien is running yoga relaxation for students from 3.15pm to 4pm every Tuesday and Friday lunchtime from 1.10pm to 1.50pm in the Main Hall. See the flyer here.
Safeguarding and Child Protection
If you have any concerns about Safeguarding or Child Protection please contact one of the Safeguarding team listed here.
Emotional Health and Wellbeing Online Directory
In June this year, NHS Bristol Clinical Commissioning Group (CCG) launched a newly developed online directory of local and national services and resources. This is for children and young people, their families as well as a wide range of professionals. The aim is to have a single, searchable source of information of different services as well as NHS commissioned providers such as CAMHS, Off The Record and www.kooth.com. It is being regularly updated to ensure that information is kept up-to-date. The directory is on the CCG website.
MMR Vaccine - Public Health England (PHE) advice
Public Health England (PHE) has issued advice on the MMR vaccination after outbreaks of measles were confirmed in 3 areas of England. Click here to read more.
Uniform
Harris's School Uniform suppliers will NOT be in school on Thursday 14 December. They will be back in school on Thursday 5 January from 2.30pm to 4pm in Main Reception.
Second-hand Uniform will be available to purchase in Main Reception on the first Friday of the new term, Friday 5 January, from 2.30pm to 4pm. If you have any good quality used uniform you wish to donate, particularly larger sizes, you can bring (washed) items in to Main Reception during school hours.
Lift Keys
There are occasions when students need to use the lift in school and are provided with a lift key. Unfortunately not all students remember to return the keys and the school is incurring a cost each time it has to replace a key. From January 2018 we will ask students to pay a £3 deposit for a lift key which will be refunded on return of the key. We hope you will understand the reasoning behind the request for a deposit.
Farewells and Welcomes
At the end of this term we say farewell to the following members of staff:-
Ms Littlejohn, CTL for Technology who is retiring after 18 years service at Cotham.
Ms Curran,Director North Bristol Post-16 Centre who is moving on to pastures new after 7 years at Cotham
Ms Marsh - Teacher of History who is moving to teach in a new school after 6 years at Cotham
Ms Fox Teacher of Art who is leaving Cotham after 5 years to concentrate on her new business
Ms Dixon CTL for Visual Arts who is moving back to Essex
We wish them well in their new ventures.
In the New Year, we welcome the following staff:-
Ms Howes, KS Co-ordinator for Visual Arts
Mr Legg, Teacher of History
Mr Reeves, HLTA
Ms Davidson, Teacher of Art
The following staff take on new roles in the New Year as follows:-
Ms Bitterlin - Acting CTL for Visual Arts
Ms Kemp - Student Services Leader
Ms Meek - Post-16 Senior Tutor
Ms Walker, HLTA joined Cotham Staff on 4 December 2017
Holiday Homework for Years 7, 8, 9 and 10
Holiday homework will be set for all year groups over the December holiday period.
Years 7, 8 and 9 students will be set homework in English, Maths, Science, MFL and Humanities.
Year 10 students will be set homework in each of their examining subjects.
Teachers will set details of the homework onto google classroom and ensure that students are given an opportunity to record details in their planners during the week commencing 11 December. A link to the Holiday Homework documents can be found:
Key Stage 3 (KS3) News
Key Stage 3 Information morning
Thank you to all those parents and carers that attended the KS3 Information session, we were delighted that so many parents were able to attend. For those that were not able to attend we have scheduled another session in Term 3 which will take place on Tuesday 20 Feb 2018, 6.00-7.00pm.
The link to the KS3 info presentation can be found here.
Year 9
Parents and Carers of all Year 9 students should have received an email from the school this afternoon regarding a preliminary survey of Option Preferences intended to give us some insight into how we might set up option blocks and best use our resources in the year ahead. If you have any questions or if you have not received the email please contact Miss Allender, Learning Coordinator for Year 9.
Parents/carers will find useful information to help them support their Y9 children with their GCSE Option Choices on the Careerpilot website here
Key Stage 4 (KS4) News
YEAR 10
Talk the Talk Workshop
On Monday, selected Year 10 students participated in a Talk the Talk workshop to learn strategies for confident public speaking. It was amazing to see how much progress they made throughout the day and to listen to their talks which they delivered with passion and engagement.
They received their well-earned certificates in assembly and special mention goes to Abir Jama, who was named as having given the best talk, and Aimee Parker-Sedgemore named as the most improved speaker.
Jo Oxenham
(Literacy Coordinator)
Year 10 WEX opportunity
Bristol Museums is offering Year 10 students Work Experience. Click here for more information. Please speak to or email Mrs Arnold as soon as possible if you would like to register your interest.
YEAR 11
Year 11 students will have started to receive their mock exams from their teachers. Teachers will have spent a considerable time giving feedback to students about areas that they need to improve on before the next round of mock exams in February. Students will have also had the opportunity to review their mock exam papers and identify their own mistakes and set targets for themselves.
Our school challenge is for all students to ensure that they can add 20 Raw Marks to their mock exam scores before the next round of mock exams in February. Twenty raw marks will often be enough to ensure that a student is able to move to the grade above their current grade.
Please speak to your child about their recent mock exams, their results, their areas of strength and weakness, and the areas (or topics) that they need to work on to do better next time. We want all students to take advantage of the December break and to create a plan which allows them to demonstrate that they have acquired the subject knowledge and skills to add these raw marks before they return in January.
The Holiday homework document also details any additional homework that students are expected to complete over the December break. This can be found here. The document also contains a link to a folder containing all Year 11 November mock exams and markschemes. There is value in students re-completing these in order to demonstrate that they have overcome their areas of weakness.
Year 11 Academic Monitoring reports will be issued to parents and carers before the end of term. These will contain your child's Current Grade, their Mock Exam Grade, their Predicted GCSE Grade and their Target Grade. Please encourage your child to prioritise their revision on those subjects where they are furthest away from their Target Grade.
Thank you to parents for all their work in supporting Year 11 students through a very challenging year of GCSE reform. Your support is invaluable and greatly appreciated. We look forward to working with you further over the next 6 months to ensure that our students achieve the very best Grades in Summer 2018.
Post 16 News
Year 12 enjoyed a visit from Barnardos this week to explore healthy relationships and consent. They learned a lot and asked some very sensible questions.
Ten out of twelve Year 13 Oxbridge applicants have received interviews. They travelled to St Mary Redcliffe School recently for mock interviews.
Subject Area News
VISUAL ARTS UPDATE
Artwork of the Week this week goes to Ethan Toncini 7JBA, with his wonderful drawing exploring the formal elements. Click here to view.
We took the Year 10 photographers[6 to the Harbourside on Wednesday to do a shoot for their new 'reflections' project. The students did a fantastic job at capturing reflections in the water and glass and got some great ideas for the start of their projects.
PE/SPORTS UPDATE
Please click here to view all of our recent results and the upcoming fixtures for the week ahead.
Please click here for information about the Extra-Curricular Activities available to students in Term 2.
Follow @CothamPE on Twitter for all the latest news and updates from the Cotham School PE department
Keep us posted
It would be great if parents/carers could let the school/PE department know of any students achievements outside of school please. It is sometimes only at subject evenings that we find out what students are doing in their own time. Email us: lts@cotham.bristol.sch.uk
PERFORMING ARTS UPDATE
Winter Dance Evening 2017
Many thanks to everyone who joined us on the evening of Thursday 7 December to celebrate the fantastic work of dance students at Cotham. Dancers from all year groups performed to a packed house. Huge congratulations to all of the dancers who took part, you made us very proud!
TECHNOLOGY/IT UPDATE
In the summer term, two of our STEM/IT teachers, Mr Watts and Mr Lawrence ran the finale of the Cotham Arcade Project with local schools, we are really pleased to have been sent this link from Scot at the Royal Academy with Cotham starring as the header image.
Careers News
For those who are interested in studying at a university abroad, this is a useful guide from Which? University: https://university.which.co.uk/teachers/introduce-higher-education-options/the-complete-guide-to-studying-abroad
Interested in the business & finance sector? PwC have good work experience opportunities for sixth-formers next summer: https://www.pwc.co.uk/careers/school-jobs/jobs/work-experience.html
Nuffield Research Placements offer Year 12 students who are studying at least one Science, Technology, Engineering or Maths (STEM) A-Level the chance to do a 4-6 week placement in industry or university next summer. More details here: http://www.nuffieldfoundation.org/nuffield-research-placements
GKN Aerospace has announced 3 engineering apprenticeship opportunities in Bristol (Filton), including an Aerospace Engineer Degree Apprenticeship. If interested, go to their website: https://careers.gkn.com/vacancies/vacancy-search-results.aspx, type Apprentice in Keyword box and select United Kingdom from Location options to see them.
Law Information Days: Burges Salmon is offering two days to provide students with an interest in law an insight into a career in the legal profession:
For GCSE students: Tues. 13 Feb. 2018
For A-Level / Level 3 students: Thurs. 15 Feb. 2018
The days run from 10.15am-3.00pm during the half-term holidays.
They are always oversubscribed, so if interested, students should apply as soon as possible by emailing Corporate.resp@burges-salmon.com and include their Name, School, Year Group, Date they wish to attend.
House News
Santa Dash
On Friday 8 December we hosted our first annual Santa Dash to get everybody in the Christmas spirit. It was a close race (with more than a little attempted cheating!) but Sigma House triumphed and were awarded House points. Selection boxes were presented to the 1st, 2nd and 3rd place winners. Click here to view the photos
Christmas Tree competition
Each House has been tasked with decorating their own tree in House colours and the outcome has been pretty spectacular! The winning house will be announced next week and will be awarded House Points.
Click here to view the photos
Sigma Festive update
This term has been very busy for The Sigma Team. We have been fundraising for our Charity, The Rainbow Centre for Children and we are delighted to have raised over £800 with our cake sales, The Smartie Tube Tutor Challenge, Christmas Hats and raffle and the non-school uniform day.
Thank you to the brilliant Sigma Prefects Ishba Mahmood, Frankie Bonaddio, Mathilda Edmunds and Anas Mohamed who have worked so hard this term organising the fundraising events.
Congratulations to the following students who are our Sigma High Flyers with the most Cotham Manners House Points: Jasmin Nunn 7 BAK, Hassan Habib 8SL, Sabrina Sharif 9ACL, Amelia Allen 10MAH, Patrick Humphreys 11JLL.
The Houses held their first Inter House Bake Off competition. Sigma would like to congratulate Luca Pritchard in 11JLL who was this year's winner!
In January we will be setting a new Tutor Challenge in line with our House responsibility – The Environment. We would like Sigma students to bring in Christmas cards/ greeting cards so we can recycle them for The Woodland Trust. This will go towards points for the Woodland Trust, Green Tree Schools Award Scheme. We currently have our Bronze Award and working towards our Silver.The tutor group who brings in the most by weight will be the winners.
Next year our team of Sigma Tutor Reps and Prefects will be working towards new projects that will support the school environment.
Tutor groups have been voting for their representative for the School Student Council. Tutor Reps were invited to stand for election in their year groups.
Congratulations to the following students, they will represent Sigma on the Student Council: Year 7 Jasmin Nunn 7BAK, Year 8 Rosa Evans 8SL, Year 9 Harry Giles 9ACL, Year 10 Aineias Arango 10 MAH, Year 11 Sophie Morgan 11JLL
We would like to thank everyone for supporting us and wish you all a happy holiday.
The Sigma team
Community News
Do you know a Young Hero?
Bristol Young Heroes Awards is an initiative which recognises the valuable contribution that Bristol's Young People make to the City. Particularly those who have overcome difficult circumstances, made a difference in the lives of others or achieved great things. If this sounds like a young person you know aged between 11 and 19 you can nominate them in one or more categories including Caring Hero and Learning Hero. Nominate here: http://www.communityofpurpose.com/heroes/ If you have any questions or queries please do not hesitate to contact Holly Maurice on holly.maurice@communityofpurpose.com
Launch of distrACT App
A new app to help people who are considering self-harm or having suicidal thoughts is now available in Bristol. The distrACT app is designed to give easy, quick and discreet access to general health information and advice about self-harm. Nationally there are around 200,000 hospital emergency department cases of self-harm reported every year. The number of people who self-harm in Bristol alone is around 25,000. It is the highest predictor of suicide, with self-harm patients 35 times more likely to end their own lives. Through distrACT, people will find reliable answers to their questions in plain language – anywhere, anytime, in private.
Useful quick links
Key Dates
Please click here to view the Key Dates by year group for the 2017-18 academic year. You will be notified of any significant changes/additions, but please can we ask that you check the dates for your year group regularly as they are subject to change.
Parents' Evening Booking System (PES)
Please click here to access the online appointment booking system for Parents Evenings/Family Consultation Day. Please note this is only available if an event is due. We will email you to let you know when booking opens. If you encounter any difficulties with booking your appointments please contact the Leadership PAs by email to LPA@cotham.bristol.sch.uk or tel: 01179198053
Assessment Calendars for KS3
We have created Assessment Calendars which contain details of the class assessments that will take place in each subject. The final column contains a link which gives information about each of the assessments.
WisePay
WisePay is the Online Payment Service at Cotham School which allows you to pay for trips and visits as well as to add credit to your child's Cashless Catering account. Click here to access your account now. If you have any queries about your account please contact the support team by email to wisepay@cotham.bristol.sch.uk
School Uniform
Please click here to view the compulsory uniform requirements of Cotham School, along with visual examples of uniform and details of our uniform suppliers.
Cotham School Virtual Learning Environment (VLE) - Weebly
Click here to access the Cotham School VLE. On this VLE you will find links to the sites for each department at Cotham School. These contain useful information and documents for the subject area
Free School Meals
https://www.cloudforedu.org.uk/ofsm/sims to check if your child is eligible for Free School Meals or to apply.