Weekly Mailing - Friday 5 Jan 2018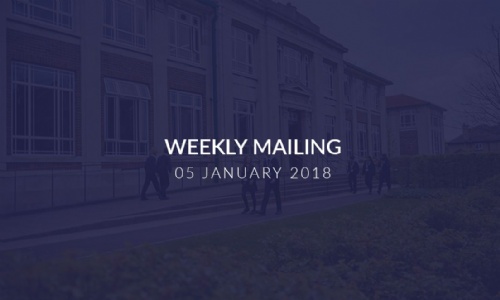 Dear Parents / Carers
Please find below this week's important information for Parents/Carers and Students as well as updates on School events, activities and opportunities for your reference.
Jo Butler
Headteacher
Next week (Week commencing Monday 8 January) is a Week B
Congratulations
Congratulations to Olivia Dunne (8EM) who has successfully passed her Grade 4 LAMDA acting qualification with a Distinction!
Important Information for Parents/Carers
Absences from school
If your child is not going to be in school for any reason, or is leaving during the school day for an appointment you must call the Absence line on 0117 919 8019.
Safeguarding and Child Protection
If you have any concerns about Safeguarding or Child Protection please contact one of the Safeguarding team listed here.
Off the Record - Pop up Shop
Visitors from the Off the Record counselling service are coming in to school during lunch time on Thursday 11 January to hold a Pop Up Shop for students in the Hub. The aim of the visit is to let students and staff know about the services that Off the Record offers to young people in Bristol.
Yoga for Teens
Our Cover supervisor Mme Anne Gallien is running yoga relaxation for students from 3.15pm to 4pm every Tuesday, and Friday lunchtime from 1.10pm to 1.50pm in the Main Hall. See the flyer here.
Lift Keys
If a student needs a lift key they should pay their £3.00 deposit to the Finance Office who will issue a receipt which they take to Reception to collect a lift key. On return of the lift key students will receive the £3.00 deposit back.
Key Stage 3 (KS3) News
Key Stage 3 Information Morning
Thank you to all those parents and carers who attended the KS3 Information session, we were delighted that so many parents were able to attend. For those who were not able to attend we have scheduled another session in Term 3 which will take place on Tuesday 20 February 2018, 6.00-7.00pm.
The link to the KS3 information presentation can be found here.
SEND Students: Parents' and Carers' Information Evening: Wednesday 17 January at 6.00pm - 7.00pm.
Parents/Carers are invited to attend an information session on Wednesday 17 January 6pm - 7pm which is aimed at preparing SEND Students in KS3 (Years 7, 8 and 9) for examinations. At the event we will be looking at how we can better support the needs of all our students with Special Educational Needs and Disabilities, to prepare for examinations. It will be an opportunity for you to share your experiences with other parents and carers. The meeting will be held prior to the Year 9 Options Evening.
YEAR 8
Mindfulness workshops for Year 8 students
Mindfulness workshops for Year 8 students are being offered every Friday lunchtime 1.30pm in Room A106 to support students with positive mental health leading up to their exams.
YEAR 9
Options Information Evening 5.30pm – 7.30pm on Wednesday 17 January.
We warmly invite you to the Year 9 Options Information Evening. There will be presentations by members of the Leadership team in the main hall at 5.45pm and 6.45pm and the Information, Advice and Guidance Advisor, Mrs Chester, will also be present to offer advice on possible Post 16 education and careers options. Students will have seen the same presentation during assembly that day.
The focus of the rest of the presentation will be the 2018-20 Key Stage 4 Curriculum and an outline of the procedure and the timeline for finalising options. There will also be an opportunity to take individual questions at the end of each presentation. We have invited subject staff and Year 10 students currently following the courses to attend. The Options Booklet will be distributed at this event.
The Year 9 Parents Evening - Wednesday 24 January - 4.30pm- 7.00pm
At the evening you will be able to discuss your child's progress and suitability for particular subjects at Key Stage 4. Appointments for Parents Evening can be made using the online booking system (PES) accessed via the school website. Subject teachers are available from 4.30pm until 7.00pm. Students should attend the Parents Evening with you.
In addition, Ms. Quirke (Assistant Headteacher) and Mrs Bajic-Raymond (Senior Deputy Headteacher) will be running an Options Surgery to help with any further queries on Tuesday 30 January from 6.00 pm to 7.00 pm.
We look forward to seeing you at these events.

Key Stage 4 (KS4) News
YEAR 10
Parents and Carers Information Session
We will be holding an Information session for parents and carers of Year 10 students on Tuesday 30 January from 8.45 am to 9.45am am in the Main Hall There will be staff representatives from English, Maths, Science, French, German, Geography and History in attendance who will describe how to support students with their studies in Key Stage 4.
If you would like to attend please click here to register your interest. If two or more parents/ carers are attending, please add the names of each individually so that we can accurately monitor numbers as we have limited capacity. Please enter school via reception at 8.45am so that the session can start promptly at 9.00am.
Work Experience Week (WEX) - 2 - 6 July 2018
All Year 10 students are expected to do work experience. Information and WEX forms can be found on the School Website here.
The Learn about Work website has over 4,000 companies that have offered work experience in the past. (However this does not guarantee they are currently able to offer placements.) Please also encourage your child to use other ways to apply, search Google, email local companies, walk in and ask about placements, use family/friends. Please remind them to check their emails regularly for replies from companies they have contacted. It may take several applications before they find a placement, please encourage them to keep applying.
Deadline dates for returning forms are:
Outside Bristol - Friday 9 February
Bristol area - Friday 6 April
Bristol Old Vic - applications close on Monday 8 January
Burges Salmon Bright Sparks Programme - applications close on Sunday 28 January.
Airbus - applications close Friday 12 January. Please see Mrs Arnold regarding available dates.
GKN Aerospace are now still taking applications. Click here for more info.
YEAR 11
Modern Foreign Languages (MfL) Speaking Exams
MfL GCSE Speaking exams will take place at Charnwood House over the next two weeks. Students must check with their class teacher to find out the time of their exam. It is essential that students arrive 15 minutes before their allocated exam time to prepare.
Subject Area News
VISUAL ARTS UPDATE
Artwork of the Week
This week's Art WoW goes to Nicoletta Klopotek-Glowczewska 10MAH with her beautiful moon-shaped clay sculpture which explores natural forms. Click here to view.
Year 11 London Trip
There is an exciting opportunity for all Year 11 Visual Arts students to go to London on Friday 9 February to visit the Tate Modern and see an exhibition by the esteemed painter, Modigliani. They will also be able to experience the Tate's wonderful permanent collection. The deadline for payment is Friday 19 January. Please return slips and full payment by the deadline to ensure a place on the trip.
PE/SPORTS UPDATE
Please click here for information about the Extra-Curricular Activities available to students in Term 3.
Follow @CothamPE on Twitter for all the latest news and updates from the Cotham School PE department
Keep us posted
It would be great if parents/carers could let the school/PE department know of any students achievements outside of school please. It is sometimes only at subject evenings that we find out what students are doing in their own time. Email us: lts@cotham.bristol.sch.uk
PERFORMING ARTS UPDATE
Cotham School Winter Concert
The Cotham Winter Concert takes place on in the Dance Studio on Thursday 11 January 2018. Doors open at 6pm. This event is a celebration of music with performances by pupils from across the school. Come along to hear music from the steel pan bands, jazz band, choirs as well as duets and soloists. Tickets are now available on WisePay - £5(full) / £3(conc). There will be limited ticket availability on the door so please book in advance.
Performing Arts Productions at Cotham School
Many parents and carers will have enjoyed the incredible productions that we produce at Cotham School and the school prides itself on the quality of its performing arts productions, which are always of a very high standard and form such an important part of the wider experience and wider education of our students.
As you will appreciate the work involved and the resources required from the Performing Arts team in organising and producing whole school productions is immense and demanding. Workload and managing competing demands on their time have influenced the decision to not organise a whole school production in February of this year. However, there will be drama productions organised for the summer term involving students from across the school.
We continue to offer many and varied experiences for students to get involved in performing arts, including dance companies for Years 7, 8, 9 and 10, Pulse Dance Company, Year 7 drama club, Shakespeare in Schools drama festival, Young Directors (Years 12 and 13), Cue Bristol Drama Company, Winter and Summer music concerts, Cotham Chorus, Cotham Rookies and Band Academy.
Through these activities students will have opportunities to perform and we hope to encourage as many students as possible to be involved in whole school productions through their involvement in extracurricular activities.
Careers News
College Open Days - Spring 2018
If your child wants to go to college and has not applied yet, please try to get to an open day first - they can found on the school website here: https://www.cotham.bristol.sch.uk/page/?title=Open+days&pid=118
Explore Law event
A taster workshop to give Year 10, 11 and 12 students an insight into several different areas of law on Wed 14 March from 4.00pm- 6.45pm at the University of Law, Temple Circus House, Temple Way, Bristol, BS1 6HG. Places are filling up, but students can book a place individually using the following link: http://cc.law.ac.uk/Personal/Events/book?et=1
Rolls Royce
Rolls Royce have extended the application period for their post-GCSE Practical & Technical apprenticeships in Bristol (for September 2018 intake) to Friday 26 January. More details here:
Practical - http://careers.rolls-royce.co.uk/united-kingdom/apprentices-and-school-leavers#where-are-you-now/gcses-and-equivalent/the-practical-option
Technical - http://careers.rolls-royce.co.uk/united-kingdom/apprentices-and-school-leavers#where-are-you-now/gcses-and-equivalent/the-technical-option
Airbus Information Evening
Information about degree level apprenticeships (which include a BEng in Aerospace Engineering) at Airbus in Filton (BS34 7PA) on Thursday 1 February. from 17.00-19.00.
Students need to be studying A-Level Maths & Physics to apply for these. Year 12/13 students can find out more & book a place at www.airbusapprenticeships.eventbrite.co.uk
House News
Sigma Tutor Challenge - In line with our House responsibility – The Environment.
Please can students bring in Christmas cards/ greeting cards so we can recycle them. This will go towards points for the Woodland Trust, Green Tree Schools Award Scheme. We currently have our Bronze Award and are working towards our Silver.
The tutor group who brings in the most by weight will be the winners.
Community News
Parents Plus Adolescent Programme (P-PAP)
Parenting 10-17 year olds can be tough! Click here for details of a free parenting course being held by Parents Plus.
Useful quick links
Key Dates
Please click here to view the Key Dates by year group for the 2017-18 academic year. You will be notified of any significant changes/additions, but please can we ask that you check the dates for your year group regularly as they are subject to change.
Parents' Evening Booking System (PES)
Please click here to access the online appointment booking system for Parents Evenings/Family Consultation Day. Please note this is only available if an event is due. We will email you to let you know when booking opens. If you encounter any difficulties with booking your appointments please contact the Leadership PAs by email to LPA@cotham.bristol.sch.uk or tel: 01179198053
Assessment Calendars for KS3
We have created Assessment Calendars which contain details of the class assessments that will take place in each subject. The final column contains a link which gives information about each of the assessments.
Click here to see Year 7
Click here to see Year 8
Click here to see Year 9
Click here to see Year 10
WisePay
WisePay is the Online Payment Service at Cotham School which allows you to pay for trips and visits as well as to add credit to your child's Cashless Catering account. Click here to access your account now. If you have any queries about your account please contact the support team by email to wisepay@cotham.bristol.sch.uk
School Uniform
Please click here to view the compulsory uniform requirements of Cotham School, along with visual examples of uniform and details of our uniform suppliers.
Cotham School Virtual Learning Environment (VLE) - Weebly
Click here to access the Cotham School VLE. On this VLE you will find links to the sites for each department at Cotham School. These contain useful information and documents for the subject area
Free School Meals
https://www.cloudforedu.org.uk/ofsm/sims to check if your child is eligible for Free School Meals or to apply.
Click here to Contact Us