Weekly Mailing -  Friday 12 January 2018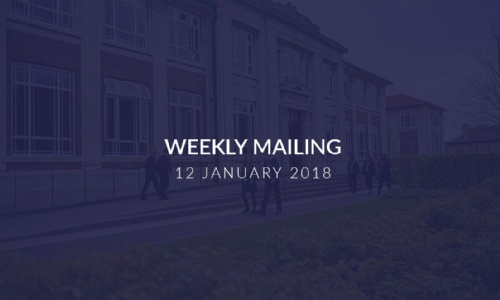 Dear Parents / Carers
Please find below this week's important information for Parents/Carers and Students as well as updates on School events, activities and opportunities for your reference.
Jo Butler
Headteacher
Next week (Week commencing Monday 15 January) is a Week A
Congratulations
Tom Adby (8EM) has gained his UK Track Accreditation (Indoor Velodrome) on his Full Race Licence from British Cycling and a good start to the year, winning 3 out of 4 races on the first day back at school after Christmas. Congratulations Tom! Click here for image.
Alaya Brown (7BSA) has achieved grades 8 -1 in Gymnastics with only two ticks left to complete to move on to Bronze, Silver and Gold. Alaya trains alongside her younger sister at Hawks Gymnastics. Congratulations Alaya and we look forward to hearing more about your achievements in the future.
Post 16
Congratulations to the following students who have secured offers at Oxbridge:
Corin Elliot: Mathematics at Cambridge
Gabriel Osborne: History at Cambridge
Theo Davies: Philosophy, Politics and Economics at Oxford
Barney Johnson: Human Sciences at Oxford.
Louis Egerton Legum: Biological Sciences at Oxford
A huge well done from everyone at Cotham School. We wish you the very best of luck with your studies.
Important Information for Parents/Carers
Mike Jefferies
It was with sadness that we have learnt that Mike Jeffries who taught English at Cotham for a long time (up to the 1990s at least), died over the Christmas period. Mike was a very popular teacher with both students and staff. His funeral will take place on Friday 19 January, 1.30pm at Canford.
Word of the week
Each week at Cotham we promote a Word of the Week. This is to help students expand the range of vocabulary they use. Please find the word for the week ahead by clicking here.
Attendance and Punctuality
It is vitally important that students attend school regularly, on time and ready to learn, to get the most out of their school day. As well as doing our bit at Cotham to ensure that our students attend school regularly, Bristol Local Authority, who are currently 146th out of 150 local authorities for attendance, have identified school attendance as "a critical issue [for the children of Bristol schools] from a learning and safeguarding perspective" (Sue Rogers, Director of Education).
Click here to access some leaflets and posters that you may wish to use to support you in a conversation with your child about their attendance and punctuality to school, if your child refuses to come to school regularly.
Mobile Phones
May we remind parents, carers and students that:
Phones must not be used for any purpose during the school day even during breaks and lunchtimes except at the discretion of the classroom teacher to support learning
Phones must always be switched off (not on silent mode) and kept in a bag
Phones must not be taken into examinations
If a student breaches these rules the phone will be confiscated and given in to the main office. It will be returned the following day but a parent or carer will need to collect it from reception, no earlier than the end of the school day.
Thank you for your support.
Meeting the needs of adopted and permanently placed children
Click here to read the Department for Education's Guide
Key Stage 3 (KS3) News
Key Stage 3 Information Morning
Thank you to all those parents and carers who attended the KS3 Information session, we were delighted that so many parents were able to attend. For those who were not able to attend we have scheduled another session in Term 3 which will take place on Tuesday 20 February 2018, 6.00-7.00pm.
The link to the KS3 information presentation can be found here.
SEND Students: Parents' and Carers' Information Evening
Wednesday 17 January at 6.00pm - 7.00pm.
Parents/Carers are invited to attend an information session on Wednesday 17 January 6pm - 7pm which is aimed at preparing SEND Students in KS3 (Years 7, 8 and 9) for examinations. At the event we will be looking at how we can better support the needs of all our students with Special Educational Needs and Disabilities, to prepare for examinations. It will be an opportunity for you to share your experiences with other parents and carers. The meeting will be held prior to the Year 9 Options Evening.
YEAR 8
Year 8 Exams
Year 8 Exams commence on Monday 29 January and continue until Friday 9 February. Students will be assessed in each of their subjects. Details of each assessment, the content being assessed, and useful sources of revision are here. This information will be shared with all students today. The exams represent a good opportunity for students to get used to the demands of reformed GCSEs. Please encourage your child to complete revision over the next two weeks in advance of their exams. A timetable showing the dates and times of each exam will be shared with parents next week.
Mindfulness workshops for Year 8 students
Mindfulness workshops for Year 8 students are being offered every Friday lunchtime 1.30pm in Room A106 to support students with positive mental health leading up to their exams.
YEAR 9
Options Information Evening 5.30pm – 7.30pm on Wednesday 17 January.
We warmly invite you to the Year 9 Options Information Evening. There will be presentations by members of the Leadership team in the main hall at 5.45pm and 6.45pm and the Information, Advice and Guidance Advisor, Mrs Chester, will also be present to offer advice on possible Post 16 education and careers options. Students will have seen the same presentation during assembly that day.
The focus of the rest of the presentation will be the 2018-20 Key Stage 4 Curriculum and an outline of the procedure and the timeline for finalising options. There will also be an opportunity to take individual questions at the end of each presentation. We have invited subject staff and Year 10 students currently following the courses to attend. The Options Booklet will be distributed at this event.
The Year 9 Parents' Evening - Wednesday 24 January - 4.30pm- 7.00pm
At the evening you will be able to discuss your child's progress and suitability for particular subjects at Key Stage 4. Appointments for Parents Evening can be made using the online booking system (PES) accessed via the school website. Subject teachers are available from 4.30pm until 7.00pm. Students should attend the Parents Evening with you.
In addition, Ms Quirke (Assistant Headteacher) and Mrs Bajic-Raymond (Senior Deputy Headteacher) will be running an Options Surgery to help with any queries, on Tuesday 30 January from 6.00 pm to 7.00 pm.
The Real Game - Thursday 18 January
As part of the school's careers and work-related programme and to support the GCSE decisions that Year 9 students are making over the next few weeks, the whole year group will be playing the Real Game during Periods 1-4 on Thursday 18 January. The Real Game provides students with opportunities to explore different aspects of the world beyond education in a safe and enjoyable way. As part of the game, students are given a random job role and tasks which help them develop valuable career research and employability skills.
Coming soon: Raising Aspirations Event - Tuesday 6 February
All Year 9 students will be going on a trip to UWE Exhibition Centre on Tues 6 February where they will take part in a variety of activities involving sixth-forms, colleges, universities, training and apprenticeship providers and employers. The event will open their eyes to the wide range of options available to them at 16 and 18, introduce them to new careers and help them to see the relevance of their choices for GCSE Options. More details nearer the time.
Key Stage 4 (KS4) News
YEAR 10
Parents and Carers Information Session
We will be holding an Information session for parents and carers of Year 10 students on the morning of Tuesday 30 January from 8.45 am to 9.45am am in the Main Hall There will be staff representatives from English, Maths, Science, French, German, Geography and History in attendance who will describe how to support students with their studies in Key Stage 4.
If you would like to attend please click here to register your interest. If two or more parents/ carers are attending, please add the names of each individually so that we can accurately monitor numbers as we have limited capacity. Please enter school via reception at 8.45am so that the session can start promptly at 9.00am.
Work Experience Week (WEX) - 2 - 6 July 2018
All Year 10 students are expected to do work experience. Information and WEX forms can be found on the School website here.
The Learn about Work website has over 4,000 companies that have offered work experience in the past. (However this does not guarantee they are currently able to offer placements.) Please also encourage your child to use other ways to apply, search Google, email local companies, walk in and ask about placements, use family/friends. Please remind them to check their emails regularly for replies from companies they have contacted. It may take several applications before they find a placement, please encourage them to keep applying.
Deadline dates for returning forms are:
Outside Bristol - Friday 9 February
Bristol area - Friday 6 April
Bristol Old Vic - applications close on Monday 8 January
Burges Salmon Bright Sparks Programme - applications close on Sunday 28 January.
Airbus - applications close Friday 12 January. Please see Mrs Arnold regarding available dates.
GKN Aerospace are now still taking applications. Click here for more info.
​​​Subject Area News
VISUAL ARTS UPDATE
Artwork of the Week
This week's Art WoW goes to Charlie Rose with his incredibly interesting cube photograph which explores locations surrounding his identity. Click here to view.
Year 11 London Trip
There is an exciting opportunity for all Year 11 Visual Arts students to go to London on Friday 9 February to visit the Tate Modern and see an exhibition by the esteemed painter, Modigliani. They will also be able to experience the Tate's wonderful permanent collection. The deadline for payment is Friday 19 January. Please return slips and full payment by the deadline to ensure a place on the trip.
PE/SPORTS UPDATEpdate
Please click here to view all of our recent results and the upcoming fixtures for the week ahead.
Please click here for information about the Extra-Curricular Activities available to students in Term 3.
Follow @CothamPE on Twitter for all the latest news and updates from the Cotham School PE department
Keep us posted..
It would be great if parents/carers could let the school/PE department know of any students achievements outside of school please. It is sometimes only at subject evenings that we find out what students are doing in their own time. Email us: lts@cotham.bristol.sch.uk
Careers News-
College Open Days - Spring 2018
If your child wants to go to college and has not applied yet, please try to get to an open day first - they can found on the school website here: https://www.cotham.bristol.sch.uk/page/?title=Open+days&pid=118
Careers Fair - Wednesday 24 January at Ashton Park School (BS3 2JL)
This event is a great way to get more familiar with different sectors and the huge range of opportunities available in Bristol. There will be over 70 exhibitors from industry, HE and FE organisations, apprenticeship providers, individual companies and the uniformed services giving students an overview and insight into a variety of career pathways. There will be mini presentations on a variety of sectors including: Engineering, Construction, Business & Finance, Health & Social Care, ICT, Media, Law and Hospitality. The event takes place 5.15 - 7.30pm.
Community News
Learning City Campaign
To coincide with National Storytelling Week, Bristol Learning City will be running a new campaign: #ThisChangedMyLife from 27 January to 2 February to encourage Bristol citizens to share a learning experience that has changed their life. With personal development and new beginnings on the minds of many at the start of the New Year, we hope that by sharing positive stories we can all encourage someone else to learn something new. Examples could range from learning that takes place in a formal setting such as at school, to sharing skills with friends and neighbours.
We encourage you to get involved with the campaign and share your learning experiences. A toolkit has been produced with further information and resources.
Anxiety workshop
On Friday 9 February there will be a private workshop held at Muller House for parents/carers on how to manage and prevent anxiety in children. This is being run by Catherine Coulter, founder of the Bristol Child Parent Support.
Bristol Child Parent Support can help parents who may be worried about their child. They can support with children who experience anxiety, low mood, sleep dysregulation, parental conflict, depression, parental separation and other concerns. Please see the website for up-to-date information on workshops and the costs involved.
Useful quick links
Key Dates
Please click here to view the Key Dates by year group for the 2017-18 academic year. You will be notified of any significant changes/additions, but please can we ask that you check the dates for your year group regularly as they are subject to change.
Parents' Evening Booking System (PES)
Please click here to access the online appointment booking system for Parents Evenings/Family Consultation Day. Please note this is only available if an event is due. We will email you to let you know when booking opens. If you encounter any difficulties with booking your appointments please contact the Leadership PAs by email to LPA@cotham.bristol.sch.uk or tel: 01179198053
Assessment Calendars for KS3
We have created Assessment Calendars which contain details of the class assessments that will take place in each subject. The final column contains a link which gives information about each of the assessments.
Click here to see Year 7
Click here to see Year 8
Click here to see Year 9
Click here to see Year 10
WisePay
WisePay is the Online Payment Service at Cotham School which allows you to pay for trips and visits as well as to add credit to your child's Cashless Catering account. Click here to access your account now. If you have any queries about your account please contact the support team by email to wisepay@cotham.bristol.sch.uk
School Uniform
Please click here to view the compulsory uniform requirements of Cotham School, along with visual examples of uniform and details of our uniform suppliers.
Cotham School Virtual Learning Environment (VLE) - Weebly
Click here to access the Cotham School VLE. On this VLE you will find links to the sites for each department at Cotham School. These contain useful information and documents for the subject area
Free School Meals
https://www.cloudforedu.org.uk/ofsm/sims to check if your child is eligible for Free School Meals or to apply.
Click here to Contact Us