Weekly Mailing - Friday 19 January 2018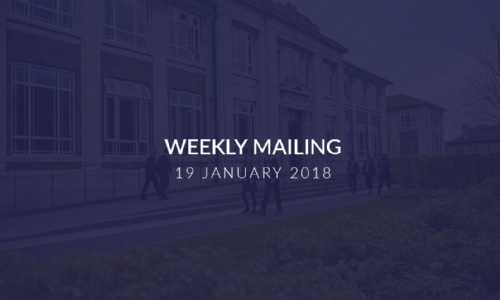 Dear Parents / Carers
Please find below this week's important information for Parents/Carers and Students as well as updates on School events, activities and opportunities for your reference.
Jo Butler
Headteacher
Next week (Week commencing Monday 22 January) is a Week B
Important Information for Parents/Carers
Reporting Absence
If your child is absent from school FOR ANY REASON you must call the absence line on 0117 919 8019. This includes leaving school early or arriving late due to medical appointments, music exams etc. It is really important that we know when your child is not in school.
Trips Attendance Policy
Following on from last week's newsletter which highlighted Bristol Local Authority's focus on improving school attendance across the city, this week's mailing reiterates and clarifies a key aspect of our Attendance policy.
As you know we have the following condition within our Attendance Policy (which can be found on the school website):
"School Visits - A student's attendance should be 94% or above in order to participate in school visit/activities. The Students' attendance history will be taken into account over the previous 3 terms."
To clarify, this condition exists for two reasons:
the impact on a student's learning, having missed so much time already;
the idea that we are aiming to teach our young people to develop resilience and attend school even if they feel a little bit under the weather, in order to prepare them for working life.
However, this condition does not apply in the following situations:
for any compulsory educational trips that are part of the curriculum - all students attend these regardless of their attendance figure, so this policy applies to non-compulsory trips only;
if learning is not impacted by a trip i.e. if their whole year group were attending a trip, then the policy does not apply;
in cases of chronic illness and a known medical condition which are looked at individually to ensure that we are complying with the Equalities Act 2010 and our public sector Equalities duty.
If you believe that your child's circumstance does fit into one of the three situations above, then please do contact your child's tutor or Learning Coordinator in the first instance so that we can discuss this further.
Word of the week
Each week at Cotham we promote a Word of the Week. This is to help students expand the range of vocabulary they use. Please find the word for the week ahead by clicking here.
Mobile Phones
May we remind parents, carers and students that:
Phones must not be used for any purpose during the school day even during breaks and lunchtimes except at the discretion of the classroom teacher to support learning
Phones must always be switched off (not on silent mode) and kept in a bag
Phones must not be taken into examinations
If a student breaches these rules the phone will be confiscated and given in to the main office. It will be returned the following day but a parent or carer will need to collect it from reception, no earlier than the end of the school day.
Thank you for your support.
Key Stage 3 (KS3) News
Key Stage 3 Information Morning
Thank you to all those parents and carers who attended the KS3 Information session, we were delighted that so many parents were able to attend. For those who were not able to attend we have scheduled another session in Term 3 which will take place on Tuesday 20 February 2018, 6.00-7.00pm.
The link to the KS3 information presentation can be found here.
YEAR 8
Year 8 Exams
Year 8 Exams commence on Monday 29 January and continue until Friday 9 February. The exams represent a good opportunity for students to get used to the demands of reformed GCSEs. Your child will be busy working at home in preparation for them. Please encourage your child to complete revision over the next two weeks in advance of their exams. A timetable showing the dates and times of each exam can be found here.
Students will be assessed in each of their subjects. Details of each assessment, the content being assessed, and useful sources of revision are here.
The library is open each afternoon until 4.30pm for those who wish to revise there after school. The exam timetable is included here-organised by class or tutor group depending on how they're taught. I wish all students the best of luck. Mrs Wood (Learning Coordinator for Year 8)
Mindfulness workshops for Year 8 students
Mindfulness workshops for Year 8 students are being offered every Friday lunchtime 1.30pm in Room A106 to support students with positive mental health leading up to their exams.
YEAR 9
Options Information Evening
Thank you to those of you who attended the Options evening on the 17 January, if you were unable to attend, the presentation can be found here. If you weren't able to attend the information evening and haven't received the printed copy of the options booklet, this will be given to your child next week.
The Options Preference form has now been sent to your child's Google classroom.
Please have a discussion with your child to help support in making good choices and ensure it is completed by 7 February 2018.
Year 9 Parents' Evening - Wednesday 24 January - 4.30pm- 7.00pm
During the evening you will be able to discuss your child's progress and suitability for particular subjects at Key Stage 4. Appointments for Parents Evening can be made using the online booking system (PES) accessed via the school website. Subject teachers are available from 4.30pm until 7.00pm. Students should attend the Parents Evening with you.
In addition, Ms Quirke (Assistant Headteacher) and Mrs Bajic-Raymond (Senior Deputy Headteacher) will be running an Options Surgery to help with any queries, on Tuesday 30 January from 6.00 pm to 7.00 pm.
Coming soon: Raising Aspirations Event - Tuesday 6 February
All Year 9 students will be going on a trip to UWE Exhibition Centre on Tues 6 February where they will take part in a variety of activities involving sixth-forms, colleges, universities, training and apprenticeship providers and employers. The event will open their eyes to the wide range of options available to them at 16 and 18, introduce them to new careers and help them to see the relevance of their choices for GCSE Options.
Key Stage 4 (KS4) News
YEAR 10
Parents and Carers Information Session
We will be holding an Information session for parents and carers of Year 10 students on the morning of Tuesday 30 January from 8.45 am to 9.45am am in the Main Hall There will be staff representatives from English, Maths, Science, French, German, Geography and History in attendance who will describe how to support students with their studies in Key Stage 4.
If you would like to attend please click here to register your interest. If two or more parents/ carers are attending, please add the names of each individually so that we can accurately monitor numbers as we have limited capacity. Please enter school via reception at 8.45am so that the session can start promptly at 9.00am.
Subject Area News
VISUAL ARTS UPDATE
Click here to view this weeks Artwork of the Week.
PE/SPORTS UPDATE
Please click here to view all of our recent results and the upcoming fixtures for the week ahead.
Please click here for information about the Extra-Curricular Activities available to students in Term 3.
Follow @CothamPE on Twitter for all the latest news and updates from the Cotham School PE department
Keep us posted..
It would be great if parents/carers could let the school/PE department know of any students achievements outside of school please. It is sometimes only at subject evenings that we find out what students are doing in their own time. Email us: lpa@cotham.bristol.sch.uk
House News
Sigma News
In our House assembly we welcomed Chelsea Harding from our house charity, The Rainbow Centre for Children. Chelsea came in to explain how the money we have raised so far this academic year will help the charity. We were pleased to announce that together we raised the fantastic total of £927.28. House Captain Anas and Prefects Frankie and Ishba handed over the cheque. Click here to view photo
Thank you to everyone who has supported our fundraising events. Our next fundraising events will be…
Valentine Cookie Sale on Friday 9 February
Easter Cake sale: date to be confirmed.
Please Support Sigma - RECYCLE TO RAISE MONEY - we will be asking students and staff to bring in old clothes, shoes, bags and belts for us to recycle. We will have a collecting station in the Hub where you can bring your items.
Bristol Textile Recyclers will come in and weigh the bags of recycled items we have collected. We will then be paid by the Kilo and the money we raise will go to our House Charity.
All the items are then taken away and recycled by Bristol Textile Recyclers.
As a House we will be supporting "No Plastic in School"
We have had our own House reusable water bottle made. The bottles are BPA Free and dishwasher safe up to 55'c. We will be selling them for £2.50 and £1 from every sale will go to our house charity. They can be purchased on wise pay - You'll find them in the Wise Pay Shop under Student Supplies. Click here to see the Sigma water bottle.
This will help reduce the amount of plastic that is thrown away each day in school.
Congratulations to our Sigma High Flyers
These students have been nominated by their tutor group for showing themselves to be charitable.
| | | | |
| --- | --- | --- | --- |
| 7BAK | Oscar De Havilland | 9ACL | Josh McKeown Davies |
| 7BSA | Lola Gurwitz | 10MAH | Kelsie White |
| 8ID | Ali Hussain | 10RMO | Paris Farnon |
| 8SL | Gabriel Evans | 11JLL | Patrick Humphreys |
| 9AF | Arnav Shrestha | 11RG | Aroon Karim |
Congratulations also went to
Alaya Brown (7BSA) who has achieved grades 8 -1 in Gymnastics
Max Bragonier in 8ID who has been awarded a high merit in his grade 4 guitar exam
Hana Al Masri 7BSA who created a fantastic Christmas tree from Recycled egg boxes.
All students were awarded a Sigma reusable drink bottle.
Congratulations to 10RMO they were the winners of the Recycle greetings cards Tutor Challenge.
Congratulations to 8ID they were the winners of the Sigma Golden ticket, they will receive their treat next week.
Delta News
Cotham Manners
In our House Assembly this week we revisited Cotham Manners and shared the brilliant video that 10SBA and 8EM students put together to highlight what is and is not the 'Delta Way' of doing things. As we progress throughout this term Delta students are expected to continue be kind, be polite and lend a helping hand to somebody who might need it.
Social Media Project - Get Involved
In our House Assembly Kate Marston, a PhD student from Cardiff University came in to launch and invite Delta House students to be Co-Researchers in a project around exploring student relationships with social media in a creative way. It was encouraging to see many students sign up straight away and we are looking forward to working with Kate on this exciting project during Friday lunchtimes.
Delta House Heroes
The following students should be congratulated for being nominated by their tutors for consistently demonstrating the Delta House values of being kind, hardworking and being the best version of themselves. What was particularly lovely about this round of Delta House Heroes was how difficult it was for tutors to be able to pick just one student. This was very encouraging to hear and shows just how awesome Delta students are. Huge well done and thank you to:
| | |
| --- | --- |
| Joe Graham (7KM) | Isabelle Peck (9TS) |
| Ria Kaur (7PPR) | Aisha Awad (10CCY) |
| Ahmad Kabi (8DD) | Finn Perera (10SBA) |
| Fin Wylie (8EM) | Sebastian Bilan (11RBI) |
| Kashygha Wray (9AWS) | Amira Ibrahim (11RH) |
Doing our bit for our house charity, Off The Record
Over the next couple of weeks there are a couple of fundraising activities happening in Delta. The first is the 'Tutor-tube challenge!' Students (... and tutors!) can eat the Mini Eggs then fill the tube up with spare change – there will be a prize for the first tutor group to fill it up! Secondly there is the 'Guess the number of lollipops in the tub' 30p per try or 50p for two. Delta students will be visiting tutor groups to invite students to place their guesses and they will also be on hand in the hub during break-times.
Our House Priority
Delta House student representatives will be focusing on what we can do to help develop behaviour and rewards in our school. Tutor Reps will have a meeting with Miss McDonagh in G208 on Wednesday 24 January P5 in G208.
Careers News
Bristol Engineering & Technology Apprenticeship Fair - Wednesday 24 January, 12.00-18.00 at We the Curious (was At-Bristol), BS1 5DB
Y11-13 students who are interested in engineering or technology apprenticeships should find this event useful.
For more information and to register, go to the Eventbrite website here
Careers Fair - Wednesday 24 January at Ashton Park School (BS3 2JL)
This event is a great way to get more familiar with different sectors and the huge range of opportunities available in Bristol. There will be over 70 exhibitors from industry, HE and FE organisations, apprenticeship providers, individual companies and the uniformed services giving students an overview and insight into a variety of career pathways. There will be mini presentations on a variety of sectors including: Engineering, Construction, Business & Finance, Health & Social Care, ICT, Media, Law and Hospitality. The event takes place from 5.15 - 7.30pm.
Community News
Anxiety workshop
On Friday 9 February there will be a private workshop held at Muller House for parents/carers on how to manage and prevent anxiety in children. This is being run by Catherine Coulter, founder of the Bristol Child Parent Support.
Bristol Child Parent Support can help parents who may be worried about their child. They can support with children who experience anxiety, low mood, sleep dysregulation, parental conflict, depression, parental separation and other concerns. Please see the website for up-to-date information on workshops and the costs involved.
Useful quick links
Key Dates
Please click here to view the Key Dates by year group for the 2017-18 academic year. You will be notified of any significant changes/additions, but please can we ask that you check the dates for your year group regularly as they are subject to change.
Parents' Evening Booking System (PES)
Please click here to access the online appointment booking system for Parents Evenings/Family Consultation Day. Please note this is only available if an event is due. We will email you to let you know when booking opens. If you encounter any difficulties with booking your appointments please contact the Leadership PAs by email to LPA@cotham.bristol.sch.uk or tel: 01179198053
Assessment Calendars for KS3
We have created Assessment Calendars which contain details of the class assessments that will take place in each subject. The final column contains a link which gives information about each of the assessments.
Click here to see Year 7
Click here to see Year 8
Click here to see Year 9
Click here to see Year 10
WisePay
WisePay is the Online Payment Service at Cotham School which allows you to pay for trips and visits as well as to add credit to your child's Cashless Catering account. Click here to access your account now. If you have any queries about your account please contact the support team by email to wisepay@cotham.bristol.sch.uk
School Uniform
Please click here to view the compulsory uniform requirements of Cotham School, along with visual examples of uniform and details of our uniform suppliers.
Cotham School Virtual Learning Environment (VLE) - Weebly
Click here to access the Cotham School VLE. On this VLE you will find links to the sites for each department at Cotham School. These contain useful information and documents for the subject area
Free School Meals
https://www.cloudforedu.org.uk/ofsm/sims to check if your child is eligible for Free School Meals or to apply.
Click here to Contact Us