Weekly Mailing - Friday 26 January 2018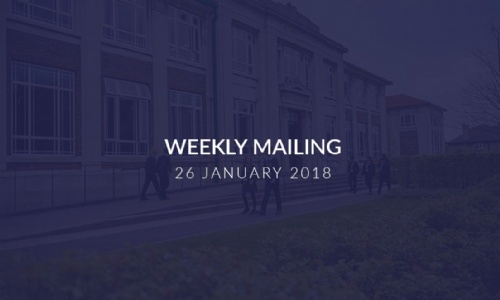 Dear Parents / Carers
Please find below this week's important information for Parents/Carers and Students as well as updates on School events, activities and opportunities for your reference.
Jo Butler
Headteacher
Next week (Week commencing Monday 29 January) is a Week A
Congratulations
Congratulations to Ellisa Zananiri in 9TS who recently took her Grade 3 piano exam and passed with Distinction (93%).
Important Information for Parents/Carers
Word of the week
Each week at Cotham we promote a Word of the Week. This is to help students expand the range of vocabulary they use. Please find the word for the week ahead by clicking here.
Uniform
Please note that with immediate effect Harris's will not be coming into school on Thursday afternoons to sell uniform. Uniform can still be purchased from them online at www.harrissports.co.uk and delivered to school on Tuesdays, Wednesdays and Thursdays. Plus we have a second supplier called Famous Branches who have a shop on Henleaze High Street and who also take online orders at www.famousbranches.com
Harris's will resume their weekly visits in the Summer and Autumn terms when demand for new uniform is higher.
Second hand uniform
Good quality used school uniform can be purchased directly from the school on the first Friday of every new term and at parents' evenings. This is run by parents on a voluntary basis, for which we are very grateful. If ever you can help with the sale of uniform, please let us know and we will put you in touch with the organiser.
Well done and a huge thank you to all the parents and carers who have given up their free time to sell second hand uniform at recent school events. It makes a huge difference to the school, and it is so nice that you all offer your support in this way. So far sales have raised £386. We have spent £138.95 of it on new uniform/shoes to help support students in need.
Key Stage 3 (KS3) News
Key Stage 3 Information Morning
We were delighted that so many parents were able to attend our recent information morning. For those who were not able to attend we have scheduled another session in Term 4 which will take place on Tuesday 20 February 2018, 6.00-7.00pm.
The link to the KS3 Information Session presentation can be found here.
YEAR 8
Year 8 Exams
Year 8 Exams commence on Monday 29 January and continue until Friday 9 February. These exams represent a good opportunity for students to get used to the demands of reformed GCSEs. Your child will be busy working at home in preparation for them. Please encourage your child to complete revision in advance of their exams. A timetable showing the dates and times of each exam can be found here.
Students will be assessed in each of their subjects. Details of each assessment, the content being assessed, and useful sources of revision are here.
The library is open each afternoon until 4.30pm for those who wish to revise there after school.
Mindfulness workshops for Year 8 students
Mindfulness workshops for Year 8 students are being offered every Friday lunchtime 1.30pm in Room A106 to support students with positive mental health leading up to their exams.
YEAR 9
Year 9 spent a morning on 18 January playing the Real Game, which gave them a taster of what it is like to be a young adult in the working world, doing a particular job and having to pay typical bills and live within their financial means. The following quotes, taken from their evaluation sheets at the end, give some idea of what they took from the activity:
I learnt…..
"...... that there's more maths involved in life than I thought"

"...... how hard it is to manage money in the real world"

"...... you have to pay a lot of tax"

"...... about jobs I didn't know existed"

"...... some jobs work more hours than I thought and some jobs get less pay than I thought"

"...... for almost every job you need qualifications"

"...... life is not as easy as it looks"

"...... a lot of stuff for my future life"
Other comments included "it was fun, interesting and informative", "it gave us an insight into life as an adult", "I think it was a good eye-opener!"
Year 9 Raising Aspirations event - Tuesday 6 February - UWE Exhibition Centre
Parents and carers should have received a letter about this event (see attached), at which Year 9 students will take part in a variety of activities involving sixth-forms, colleges, universities, training and apprenticeship providers and employers.
Please ensure your child has completed the preferences poll for their Employer choices by next Monday 29 January. Most students will have done this in tutor time this week, but if not, they can find it on Year 9 Google classroom here. This information is needed for inclusion in their personalised programme for the event. Thank you.
Key Stage 4 (KS4) News
YEAR 10
Parents and Carers Information Session
We will be holding an Information session for parents and carers of Year 10 students on the morning of Tuesday 30 January from 8.45 am to 9.45am am in the Main Hall There will be staff representatives from English, Maths, Science, French, German, Geography and History in attendance who will describe how parents and carers can support their child with their studies in Key Stage 4.
If you would like to attend please click here to register your interest. If two or more parents/ carers are attending, please add the names of each individually so that we can accurately monitor numbers as we have limited capacity. Please enter school via reception at 8.45am so that the session can start promptly at 9.00am.
Work Experience
We have been offered valuable placements for Work Experience from local employers
Rife Magazine, they are based at the Watershed. This would suit a student who had an interest in media/journalism. Please ask students to see Mrs Arnold if they are interested.
Premier Inn at Lewins Mead Bristol are offering one placement.
Coop High Kingsdown are offering two placements- Retail.
Racks in Clifton are offering one placement, this will be in the catering dept prepping food and cooking.
Cotham school, a placement in the Canteen, cooking and preparing food.
Taylor are offering two placements with their engineering dept.Woodow (Civil Engineering Company) Bristol
DHL Severn Beach site are offering a WEX programme that will give overview to life in logistics.
Salvation Army are offering retail placements in their Charity shops.
Students need to see Mrs Arnold if they are interested in any of the above placements.
Brunel's SS Great Britain are offering an amazing placement. During the week students will have the opportunity to explore what working for a museum and Bristol's number 1 tourist attraction is really like. They will have the opportunity to take part in workshops with our marketing, visitor experience and conservation teams. The students will be working on a group project which will also benefit the SS Great Britain, with the opportunity to present their ideas to staff at the end of the week. Please click here to find out more.
YEAR 11
Year 11 Mock Exams on Monday 19 February until Tuesday 27 February.
Mock exams for Year 11 will commence on Monday 19 February until Tuesday 27 February. All exams will take place in the Sports Hall unless otherwise stated. Students must be in full and correct school uniform and have their lanyard with them at all times. They ensure that they are in school for 8.35am every day. Students taking morning exams and afternoon exams should go straight to the exam hall (they do not need to see their tutor).
A copy of the mock exam timetable can be seen here. All students will be given a copy of their own individual timetable showing their seating plan, which they must carry with them at all times. Some students will have exam clashes but their timetable will confirm which exam they should attend. Any exam missed as a result of a clash or absence will be completed during Wednesday 28 and Thursday 29 February. It is important that every student ensures that they are in school to complete these mock exams.
Exam rules are strict and we want the mock exam period to replicate the period of GCSE exams as closely as possible. Students are not permitted to take mobile phones into the exam hall. We are unable to guarantee the security of students mobile phones whilst they are in exams and advise all students to leave their phones at home.
November mock exam papers and markschemes- Revising for Mock Exams
Teachers will be working with students and preparing them for their exams but all students should be revising independently at home in preparation for both the mock exams and the summer exam season. If you are worried that your child is not revising enough at home then the following may be helpful resources:
November mock exam papers and markschemes and exemplar solutions can be accessed here. These is value in students re-completing these and demonstrating that they can recall knowledge previously assessed, and act on feedback already given to them to improve their original raw mark.
GCSE Food Preparation and Nutrition
Year 11 students had the opportunity to visit the Better Food Company in St Werburghs to find out about the company's founding principles as well as to find out further information on organic food. This important learning covers requirements for the examination in June as well as supporting NEA2 (Non Examined Assessment). The NEA2 accounts for 35% of the final grade and students need to produce three high skill dishes and accompaniments with showcase regional produce.
Students learnt about the benefits of buying local produce, that money spent in the local economy tends to stay in circulation locally and drives up profits of local businesses, which promotes local business and lifts the spiral of prosperity upwards. It rewards local entrepreneurs by giving them a secure marketplace. Students then had a chance to look at the range of produce for sale and to consider what types of produce they could use in their final choice of dishes.
We would like to thank Lucy Gatward the Marketing Manager at The Better Food Company.
We are keen to have the support of any local food producers within the South West who feel able to support our GCSE assessment. This can be through the supply of local ingredients, a visit or talk. Please contact us if you can support.
Please follow us on twitter @Cothamfood
Subject Area News
VISUAL ARTS UPDATE
Artwork of the Week
PERFORMING ARTS UPDATE
Cotham Rookies is back!
Cotham Rookies is a free junior orchestra for ALL string, brass and woodwind players. Anyone is welcome to come along regardless of experience. We meet in the music department every Wednesday lunchtime from 1.15pm, in the recital room E201, to practise and perform film, popular and classical music.
Cue Bristol Youth Theatre Sharing Evening
Cue Bristol Youth Theatre Group invite family and friends to an informal evening to share some of their work on Monday 29 January in the Dance Studio from 6.30pm. Tickets are £2 on the door. Approximate finish time is 8.15pm. Everyone welcome.
PE/SPORTS UPDATE
Please click here to view all of our recent results and the upcoming fixtures for the week ahead.
Please click here for information about the Extra-Curricular Activities available to students in Term 3.
Follow @CothamPE on Twitter for all the latest news and updates from the Cotham School PE department
Beaufort Junior Badminton Club
For any students who are interested in developing their badminton skills, Beaufort Badminton Club run a junior session every Monday 6pm-7pm in oursportshall. Please see here for more information.
Extra-Curricular Clubs
After school clubs have started and it is great to see so many students turn up and participate. Just a reminder that for all after school clubs, students must wear appropriate clothing and footwear for the activity. For boys football students must wear football boots and not trainers/astros as practice and matches will be on grass pitches (unless the match is played on an astro and we will inform the students to wear astros/trainers). Shin pads must also be worn.
Post-16 News
TIGER (Teaching Individuals Gender Equality and Respect) have been continuing their weekly workshops at lunchtime in Charnwood. These have been very well attended both by Post 16 and year 11 students and are open to all.
Lots of planning has taken place to prepare for Healthy Relationships Week (05 February 18 - 09 February 18). The RESPECT ambassadors have met with Mrs Kempt to discuss the assemblies and tutor-time activities for that week.
The UNIFROG team have been in to introduce their website which supports UCAS and future career planning. This was introduced to Year 12 students as part of their Core Programme lesson.
Upgrade workshops have been continuing this week - the theme was Cornell Note Taking and making revision cards. These workshops are weekly sessions held in Upgrade and all are welcome.
The Year 13s are buzzing with excitement as their UCAS offers have been flooding in!
House News
WANTED: Pillowcases for a brilliant inter-house challenge
We need your help! We are hosting an exciting inter-house challenge on Monday 5 March and are on the lookout for pillowcases. They do not need to be new but they need to be in good condition and clean, patterned or plain. Any trimmings for fabrics such as lace, ribbons or buttons would be warmly received too If you have some pillowcases or trimmings that you can donate, please bring them to Mrs Adams, Mrs Arnold or Miss McDonagh. We are sure you will be impressed by what the students will do! Thank you for your support.
DELTA
Click here for the latest Delta Download
OMEGA
Click here for the latest Omega update
SIGMA
Click here for the latest Sigmaupdate
GAMMA
Click here for the latest Gamma update
Careers News
GKN Aerospace Apprentice Information Evening
GKN Aerospace are holding an information evening for students who are interested in their engineering apprenticeships on Thursday 1 February from 4.00pm -7.00pm at BAWA, 589 Southmead Road, BS34 7RG. There is no need to book.
Careersnearhere
Click here to access this website which contains numerous local apprenticeship opportunities and career-related events, which is kept up-to-date constantly.
Community News
Bristol Engineers offered return ticket to work after a career break
The drive to encourage more West Country engineers to return to work after career breaks has been given a major boost thanks to international engineering company Babcock. Click here for more details
The Bristol Inaugural Black History Quiz - Saturday 10 February 2018
The evening promises to be a fun night in which Bristol teams will compete to win £100 plus a winners' cup. The event is being put on by RA Cultural Consultancy & Tours and LJR Pyramid in collaboration with Ujima Radio. The event takes place at Kuumba Project, St. Pauls, Bristol from 6.30pm to 9pm. You can either enter a team of up to 5 persons for £24 or individuals can enter for £8 and will be organised into a team upon arrival. For more information please contact Liz or Larna at ljrpyramid1@outlook.com
Great Bristol Spring Clean
Bristol Waste Company and Bristol City Council will be supporting groups to take part in the Great Bristol Spring Clean; part of a national weekend of litter picks organised by Keep Britain Tidy. So many groups wanted to take part last year that we are extending the event locally to cover the whole week, from Friday 2 March – Sunday 11 March.
Events like this are a great way to get involved in helping to make your community a cleaner, greener and more welcoming place. They also support the Mayor's Bristol Clean Streets campaign to make Bristol measurably cleaner by 2020.
Bristol Waste Company have hundreds of litter picking kits to loan out, so if you are interested in organising a litter pick or would like to join a local group then get in touch by calling 0117 304 9022, by emailing hello@bristolwastecompany.co.uk.
More information is available on the website
Useful quick links
Keep us posted
It would be great if parents/carers could let the school know of any students achievements outside of school please. It is sometimes only at parents' evenings that we find out what students are doing in their own time. Email us: lpa@cotham.bristol.sch.uk
Key Dates
Please click here to view the Key Dates by year group for the 2017-18 academic year. You will be notified of any significant changes/additions, but please can we ask that you check the dates for your year group regularly as they are subject to change.
Parents' Evening Booking System (PES)
Please click here to access the online appointment booking system for Parents Evenings/Family Consultation Day. Please note this is only available if an event is due. We will email you to let you know when booking opens. If you encounter any difficulties with booking your appointments please contact the Leadership PAs by email to LPA@cotham.bristol.sch.uk or tel: 01179198053
Assessment Calendars for KS3
We have created Assessment Calendars which contain details of the class assessments that will take place in each subject. The final column contains a link which gives information about each of the assessments.
Click here to see Year 7
Click here to see Year 8
Click here to see Year 9
Click here to see Year 10
WisePay
WisePay is the Online Payment Service at Cotham School which allows you to pay for trips and visits as well as to add credit to your child's Cashless Catering account. Click here to access your account now. If you have any queries about your account please contact the support team by email to wisepay@cotham.bristol.sch.uk
School Uniform
Please click here to view the compulsory uniform requirements of Cotham School, along with visual examples of uniform and details of our uniform suppliers.
GCSEpod
Click here to access GCSEpod which contains lots of revision resources for most GCSEs. Students self register through the website using their name and school details.
SAM Learning
Click here to access SAM learning which contains revision exercises and self marking quizzes with automatic progress tracking and reporting. Please use the Centre ID: BS6CS. Student usernames and passwords are their birthday formatted as DDMMYY, followed by their Initials.
Diagnostic Questions
Click here to access. This site contains self marking quizzes with lots of templates including some from a range of exam boards. It's easy to make your own questions in Microsoft PowerPoint too. Students sign up with their school Google account using the G+ button to automatically create a school account
Free School Meals
https://www.cloudforedu.org.uk/ofsm/sims to check if your child is eligible for Free School Meals or to apply.
Contact Us
Click here to Contact Us