Weekly Mailing - Friday 02 Feb 2018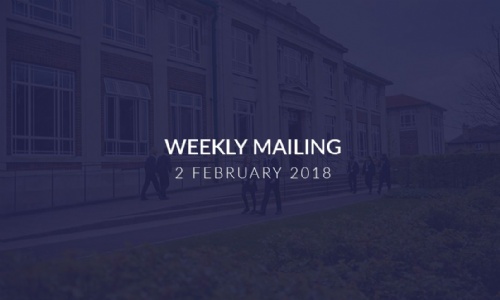 Dear Parents / Carers

Please find below this week's important information for Parents/Carers and Students as well as updates on School events, activities and opportunities for your reference.

Jo Butler
Headteacher

Next week (Week commencing Monday 5 February) is a Week B
Congratulations
Rachael Adams (7JBA) came second in the U12 Girl's Foil in the South West of England Fencing Championships last weekend. She has been selected to compete in the British Youth Fencing Championships to be held in Sheffield in May. Well done Rachael!

Important Information for Parents/Carers
Word of the week
Each week at Cotham we promote a Word of the Week. This is to help students expand the range of vocabulary they use. Please find the word for the week ahead by clicking here.
Catering
We will be celebrating Chinese New year on Monday 19 February by offering a Chinese themed lunch menu in the school canteen.
Cotham School is supporting Safer Internet Day 2018
Coordinated in the UK by the UK Safer Internet Centre, Safer Internet Day will take place on Tuesday 6 February 2018 with the theme 'Create, Connect and Share Respect: A better internet starts with you'.
Will Gardner, Director of the UK Safer Internet Centre and CEO of Childnet, said: "Safer Internet Day is an opportunity for everyone across the UK and globally to unite for a better internet. Whether you are a young person, parent, carer, school or organisation, we can all take positive actions to make the internet a better place. Hundreds of schools and organisations have pledged their support for Safer Internet Day and it is this collaboration that helps ensure Safer Internet Day has such a positive impact, reaching 42% of UK children in 2017 and growing year on year."
Please click here to find resources to support you in discussing internet safety with your child at home.
Key Stage 3 (KS3) News
Key Stage 3 Information Morning
We were delighted that so many parents were able to attend our recent information morning. For those who were not able to attend we have scheduled another session in Term 4 which will take place on Tuesday 20 February 2018, 6.00-7.00pm.

The link to the KS3 Information Session presentation can be found here.
YEAR 8
Year 8 Exams
Year 8 Exams commence on Monday 29 January and continue until Friday 9 February. These exams represent a good opportunity for students to get used to the demands of reformed GCSEs. Your child will be busy working at home in preparation for them. Please encourage your child to complete revision in advance of their exams. A timetable showing the dates and times of each exam can be found here.
Students will be assessed in each of their subjects. Details of each assessment, the content being assessed, and useful sources of revision are here.
The library is open each afternoon until 4.30pm for those who wish to revise there after school.
Mindfulness workshops for Year 8 students
Mindfulness workshops for Year 8 students are being offered every Friday lunchtime 1.30pm in Room A106 to support students with positive mental health during their exams.
YEAR 9
Raising Aspirations event - Tuesday 6 February
As previously advised, all Year 9 students will be going to a careers event at UWE Exhibition & Conference Centre next Tuesday 6 February. Thank you to parents who have contributed towards the cost of coach hire. If you have not already done so, you are invited to contribute £4 using Wisepay.
Key points to note:
Please ensure that your child has breakfast at the start of the day
Students should be smartly dressed in Cotham uniform and wearing their ID badges
They must bring their own pen, a packed lunch, a bottle of water and perhaps a small snack. Students who receive free school meals will be provided with a packed lunch
Students must be in the Sports Hall by 8.30am ready to board the coaches
We will be back at school by 3.05pm at the latest.
Key Stage 4 (KS4) News
YEAR 10
Parents and Carers Information Session
Thank you to those parents who were able to attend the Information session for parents and carers of Year 10 students on Tuesday 30 January. Representatives from English, Maths, Science, French, German, Geography and History attended and described how to support students with their studies in Key Stage 4.
A copy of the presentation used in the session can be accessed here.
Academic Monitoring Reports for Year 10 students were issued this week. Please ask your child for their report.
Year 10 Reports
Please be aware that all Year 10 students will have been given their Academic Monitoring Reports students this week. Please do ask your child to see their report and discuss it with them.
Work Experience Opportunities
Please can you ensure that any completed WEX agreement forms for placements that are outside Bristol are returned to Mrs Arnold no later than Friday 9 February.
Bristol Museums
A wonderful opportunity for students. Deadline date for applications is 12 February. Click here for application form and further information.
Rife Magazine
The student will have the opportunity to work as a 'online content creator' for Rife magazine – Bristol's youth led online platform. www.rifemagazine.co.uk. They will learn about: Creative ideas generation, identifying and developing stories, writing and media production and devising social media strategies
Rife are looking for a student who:
Is curious and has a passion for something or lots of things (it could be anything)
Has a willingness to collaborate
Has an interest in media and/or journalism

Any student interested in this opportunity needs to write (max 200 words) or do a short vlog (max 2 minutes) where they introduce themselves and give one idea for a story for Rife magazine. This should be given to Mrs Arnold. Deadline date for application is Friday 9 February.
Brunel's SS Great Britain
Bristol's famous SS Great Britain are offering an amazing placement. During the week students will have the opportunity to explore what working for a museum and Bristol's number 1 tourist attraction is really like. They will have the opportunity to take part in workshops with marketing, visitor experience and conservation teams. The students will be working on a group project which will also benefit the SS Great Britain, with the opportunity to present their ideas to staff at the end of the week. Please click here for the application form and here for the parents' consent form.
YEAR 11
Year 11 Mock Exams
Mock exams for Year 11 will commence on Monday 19 February until Tuesday 27 February. All exams will take place in the Sports Hall unless otherwise stated. Students must be in full and correct school uniform and have their lanyard with them at all times. Students should ensure that they are in school for 8.35am every day. Students taking morning exams and afternoon exams should go straight to the exam hall (they do not need to see their tutor).

A copy of the mock exam timetable can be seen here. All students will be given a copy of their own individual timetable next week. This will show their seating number. They must carry this with them at all times. Some students will have exam clashes but their individual timetable will confirm which exam they should attend. Any exam missed as a result of a clash or absence will be completed during Wednesday 28th and Thursday 29th February. It is important that every student ensures that they are in school to complete these mock exams.

Exam rules are strict and we want the mock exam period to replicate the period of GCSE exams as closely as possible. Students are not permitted to take mobile phones into the exam hall. We are unable to guarantee the security of student's mobile phones whilst they are in exams and advise all students to leave their phones at home.
Revising for Mock Exams
Teachers will be working with students and preparing them for their exams but all students should be revising independently at home in preparation for both the mock exams and the summer exam season. If you are worried that your child is not revising enough at home then the following resources may be helpful:
Support your child in preparing a summer exam preparation schedule so that they complete revision tasks - a template revision schedule can be found here
Ensure that all homework assignments are completed
Ensure your child has revision guides that can help to support their learning - a list of these is enclosed and attached here along with details of useful revision websites for each subject
Read and discuss the Examination Command Words document attached here with your child
See the Top Tips for Parents sheet attached here which contains useful reminders about 'what to do' and 'what not to do'
Year 11 November mock exam papers and mark schemes and exemplar solutions can be accessed here. There is value in students re-completing these and demonstrating that they can recall knowledge previously assessed, and act on feedback already given to them to improve their original raw mark.
GCSEpod and SAMLearning contain lots of valuable online revision activities for most subjects (log on details for these sites can be found at the end of this mailing under useful links).
Modern Foreign Languages - Letter to all students
Please click here to view.
Open Days
If your child has not already sorted a place in sixth-form or college for next September, the following open days may be worth attending:
City of Bristol College - Advanced Engineering Centre - Tuesday 6 February5pm - 7.30pm
St Brendan's Sixth Form College - Thursday 8 February5pm - 8pm - the final open event of this academic year
Subject Area News
VISUAL ARTS UPDATE
Artwork of the Week
Art WOW this week goes to Isla Brand 8ABI with her fabulously colourful designs for her 'Day of the Dead' final piece. Click here to view.
Tate Modern Trip - Friday 9 February
A reminder to all Year 11 students attending the Tate Modern trip next Friday 9 February - please be at the bus bays outside the student entrance at 7.45am sharp. All students need to be in full school uniform, have a packed lunch and also bring a pen/pencil and sketchbook.
PERFORMING ARTS UPDATE
Drama Work of the Week
Drama WoW this week goes to Jaele Clarke (8ID) and Ruairidh Farrow-White (8DD) for their set designs for the play 'Blue Remembered Hills'. Click here to view.
PE/SPORTS UPDATE
Annual Ski Trip Easter 2019 to Andorra
We are now advertising the Cotham annual Ski Trip, taking place during the Easter holiday, Saturday 6 - Saturday 13 April 2019. The trip is open to students who are currently in Years 7 - 9. Click here to view the Letter. Interested students can see Mr Collin in the PE department for more information.
Please click here for information about the Extra-Curricular Activities available to students in Term 3.
Follow @CothamPE on Twitter for all the latest news and updates from the Cotham School PE department
​​​​​​Post-16 News
The RESPECT Ambassadors have started their Healthy Relationship assemblies this week, presenting to Years 9, 11 and 12. They will present to Years 7, 8 and 10 next week as part of Healthy Relationships Week.
The Year 13 Health and Social Care BTEC students held a drop-in information lunch in Charnwood Canteen about sexual health with support from Mrs Brock.
Year 12s have been invited to attend the Oxbridge Conference on Monday 19 March - letters and consent forms to follow shortly.
Year 13s have been invited to attend workshops run by UWE's Future Quest. The workshops will take place during lesson 5 (Enrichment time) in February and March and aim to aid transition to University. These workshops will be a great opportunity to ask questions about University life.
The UCAS conference is coming up - Wednesday 11 April - for Year 12s. Letters to follow.
A reminder that Year 13 parents evening is next Thursday 8 February 4.30 -7pm. Please encourage your son/daughter to make appointments with their teachers.
House News
WANTED: Pillowcases for a brilliant inter-house challenge
We need your help! We are hosting an exciting inter-house challenge on Monday 5 March and are on the lookout for pillowcases. They do not need to be new but they need to be in good condition and clean, patterned or plain. Any trimmings for fabrics such as lace, ribbons or buttons would be warmly received too. If you have some pillowcases or trimmings that you can donate, please bring them to Mrs Adams, Mrs Arnold or Miss McDonagh. We are sure you will be impressed by what the students will do! Thank you for your support.
SIGMA
Valentine Cookie Sale
Friday 9 February in the Hub at Break time. Cookies 50p-£1
Support Sigma House Charity, The Rainbow Centre for Children
Click here to view the poster.
Recycling to raise money
We would like students to bring in old clothes, bags, shoes and belts. They will then be recycled by Bristol Textile Recyclers. We will be paid for the items that we collect and the money will go to the Sigma house charity. All items are then taken away and recycled. Please support us, we have a storage area so we can start collecting now.
Sigma will be supporting "No Plastic in School" and working with the canteen to stop selling plastic bottles of water and other drinks.
We have had our own Sigma House reusable water bottle made. The bottles are BPA Free and dishwasher safe up to 55c. They are £2.50. They can be purchased via Wisepay - You'll find them in the Wisepay Shop under Student Supplies.
This will help reduce the amount of plastic that is thrown away each day in school and encourage students to drink more water.
Community News
Colston's Primary Memories Project
Colston's primary school have got a Memories project on the go for the children in relation to their 70th anniversary. They are researching and putting together a timeline and are trying to reconnect with alumni, pupils and staff and even parents and governors etc, to feed in their memories and potentially come into the school and talk to the children about their time at Colston's Primary.
See more information here:
http://www.colstonsprimary.co.uk/about-us/timeline-70th-birthday
Fostering Fortnight
Fostering Fortnight is a national celebration and awareness raising event that takes place May 14-27. There will be many activities, events and press interest during the fortnight. For more information please click here.
Useful quick links
Keep us posted
It would be great if parents/carers could let the school know of any student` achievements outside of school please. It is sometimes only at parents' evenings that we find out what students are doing in their own time. Email us: lpa@cotham.bristol.sch.uk
Key Dates
Please click here to view the Key Dates by year group for the 2017-18 academic year. You will be notified of any significant changes/additions, but please can we ask that you check the dates for your year group regularly as they are subject to change.
Parents' Evening Booking System (PES)
Please click here to access the online appointment booking system for Parents Evenings/Family Consultation Day. Please note this is only available if an event is due. We will email you to let you know when booking opens. If you encounter any difficulties with booking your appointments please contact the Leadership PAs by email to LPA@cotham.bristol.sch.uk or tel: 01179198053
Assessment Calendars for KS3
We have created Assessment Calendars which contain details of the class assessments that will take place in each subject. The final column contains a link which gives information about each of the assessments.
WisePay
WisePay is the Online Payment Service at Cotham School which allows you to pay for trips and visits as well as to add credit to your child's Cashless Catering account. Click here to access your account now. If you have any queries about your account please contact the support team by email to wisepay@cotham.bristol.sch.uk
School Uniform
Please click here to view the compulsory uniform requirements of Cotham School, along with visual examples of uniform and details of our uniform suppliers.
GCSEpod
Click here to access GCSEpod which contains lots of revision resources for most GCSEs. Students self register through the website using their name and school details.
SAM Learning
Click here to access SAM learning which contains revision exercises and self marking quizzes with automatic progress tracking and reporting. Please use the Centre ID: BS6CS. Student usernames and passwords are their birthday formatted as DDMMYY, followed by their Initials.
Diagnostic Questions
Click here to access. This site contains self marking quizzes with lots of templates including some from a range of exam boards. It's easy to make your own questions in Microsoft PowerPoint too. Students sign up with their school Google account using the G+ button to automatically create a school account
Free School Meals
https://www.cloudforedu.org.uk/ofsm/sims to check if your child is eligible for Free School Meals or to apply.
Click here to Contact Us