Weekly Mailing -  Friday 09 February 2018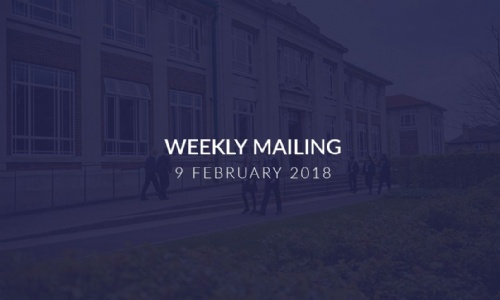 Dear Parents / Carers
Please find below this week's important information for Parents/Carers and Students as well as updates on School events, activities and opportunities for your reference.
Jo Butler
Headteacher
Next week (Week commencing Monday 12 February) is HALF TERM and school is closed to ALL students until the following week (Week commencing Monday 19 February) which will be a WEEK A.
Congratulations
Work Experience at the 'Ecole Francaise de Bristol'
Melissa Ross (10DF) has been offered a place to do work experience at the 'Ecole Francaise de Bristol'. This is a fantastic opportunity usually offered to bilingual students. Melissa has shown her excellence in the interview conducted only in French. Well done Melissa!
Important Information for Parents/Carers
Word of the week
Each week at Cotham we promote a Word of the Week. This is to help students expand the range of vocabulary they use. Please find the word for the week ahead by clicking here.
World Book Day - Thursday 1 March
World Book Day will soon be here! This year's theme is Share a Story. As well as dressing-up as book characters, lots of staff will be wearing large badges sharing what their favourite story was when they were younger. Amongst the staff, the most popular storyteller is Roald Dahl. We will have a board in The Hub for students to share their favourite story. Could Roald Dahl be the students' favourite too?
Additionally, there will be a character hunt whereby students find and name the characters displayed around the school. In year group assemblies, teachers are volunteering to read passages of their choice.
Students, too, are encouraged to dress as a book character and, if they do so, to give £1 for Book Aid International, a charity which donates books in Sub-Saharan Africa.
Gamma House are having a second hand book donation and sale event. If students have spare books in reasonable condition they would like to donate they can drop them into the library anytime after half term. On Tuesday 27 and Wednesday 28 February and Thursday 1 March the book sale will be held in the hub with all proceeds going to local Bristol based charity, Above and Beyond.
Young people and adults across Britain have nominated the books that have rocked their worlds,creating the ultimate list of 50 books. Writes of Passage: 50 books that will change your life can be found at http://www.worldbookday.com/writes-of-passage
Yoga tribe for teens
Free Relaxation and Yoga - self care sessions for mental health on Friday lunchtime in the Main hall from 1.10 to 1.45 and Tuesdays from 3.15 to 4 with Miss Gallien. All welcome!
Catering
We will be celebrating Chinese New Year on Monday 19 February by offering a Chinese themed lunch menu in the school canteen. The menu will include; Curried sweetcorn soup with prawn crackers; Szechuan Chicken; Spring rolls with sweet chilli sauce dip; Egg fried rice; vegetable chow mein and coconut & lime cake.
Lost Property
This will be available for parents/carers to look through all day on the first Thursday after the half term break - Thursday 22 February 2018, from 8am until 4pm. Please enter via the main entrance on Cotham Lawn Road (old building). The items will be put out in the Conference Room just off the main reception area. Anything not claimed in the first week of term will be collected by a textile company and the money donated to charity.
Second Hand Uniform
Good quality second hand uniform will be available to buy at a cost of £1 per item on Friday 23rd February 2018 - the first Friday of the new term, from 2.30pm to 4pm. Please enter via the main entrance on Cotham Lawn Road (old building).
Safer Internet Day 2018
Last week and this week students have been learning about online safety in assembly or tutor time. Please click here to find resources to support you in discussing internet safety with your child at home.
Key Stage 3 (KS3) News
Key Stage 3 Information Evening Tuesday 20 February 2018, 6.00-7.00pm.
For those who were unable to attend our recent Information morning we have scheduled another session in Term 4 which will take place on Tuesday 20 February 2018, 6.00-7.00pm.
The link to the KS3 Information Session presentation can be found here.
YEAR 9
Aspirations were raised!
All Year 9 students spent a very useful day at the Raising Aspirations event last Tuesday, meeting local university students, hearing about what sixth-forms and colleges offer and learning what apprenticeships are about. They took part in an employability skills session run by the Civil Service and activities delivered by a range of employers, including the NHS, Airbus, HSBC, Boomsatsuma Film and Burges Salmon.
Staff at the event praised our students' behaviour and we had a number of compliments from contributors who commented on their enthusiasm, interest and engagement, so students deserve a big Well Done! We hope this event will have given them ideas for their own future choices and careers.
Key Stage 4 (KS4) News
YEAR 10
Parents and Carers Information Session
Thank you to those parents that were able to attend the Information session for parents and carers of Year 10 students on Tuesday 30 January. Representatives from English, Maths, Science, French, German, Geography and History attended and described how to support students with their studies in Key Stage 4.
A copy of the presentation used in the session can be accessed here.
Maths Tests on Wednesday 7 March
Year 10 maths tests will take place on Wednesday 7 March during the timetabled lesson. There will be a 1-hour non-calculator paper that will cover chapters 1 to 9 of the textbook. The revision list can be accessed here.
Work Experience opportunity
The University of Bristol, Faculty of Engineering is offering the opportunity for some talented and fantastic Year 10 pupils to take part in Work Experience Week at the end of June. The week will involve seminars, hands-on challenges and exploration of the latest research and state-of-the-art labs to help students get a powerful understanding of life at university. The students will also be given the opportunity to talk to current engineering students about what university life is like, what they can study and what kind of jobs might interest them after university.
The University is looking for students who want to make a difference in the world, who are interested in technology and how it will affect our future and who are thinking about studying A-Level Mathematics after GCSEs.
Any students interested in this exciting opportunity should complete this form.
YEAR 11
Year 11 Mock Exams- Monday 19 February until Tuesday 27 February.
Mock exams for Year 11 will commence on Monday19 February until Tuesday 27 February. All exams will take place in the Sports Hall unless otherwise stated. Students must be in full and correct school uniform and have their lanyard with them at all times. Students should ensure that they are in school for 8.35am every day. Students taking morning exams and afternoon exams should go straight to the exam hall (they do not need to see their tutor).
A copy of the mock exam timetable can be seen here. All students have been given a copy of their own individual timetable. This will show their seating number. They must carry this with them at all times. Some students will have exam clashes but their individual timetable will confirm which exam they should attend. Any exam missed as a result of a clash or absence will be completed during Wednesday 28th and Thursday 29th February. It is important that every student ensures that they are in school to complete these mock exams.
Exam rules are strict and we want the mock exam period to replicate the period of GCSE exams as closely as possible. Students are not permitted to take mobile phones into the exam hall. We are unable to guarantee the security of students mobile phones whilst they are in exams and advise all students to leave their phones at home.
Revising for Mock Exams
Teachers will be working with students and preparing them for their exams but all students should be revising independently at home in preparation for both the mock exams and the summer exam season. If you are worried that your child is not revising enough at home then the following may be helpful:
Support your child in preparing a summer exam preparation schedule so that they complete revision tasks - a template revision schedule can be found here
Ensure that all homework assignments are completed
Ensure your child has revision guides that can help to support their learning - a list of these is enclosed and attached here along with details of useful revision websites for each subject
Read and discuss the Examination Command Words document attached here with your child
See the Top Tips for Parents sheet attached here which contains useful reminders about 'what to do' and 'what not to do'
The Year 11 November mock exam papers and markschemes and exemplar solutions can be accessed here. There is value in students re-completing these and demonstrating that they can recall knowledge previously assessed, and act on feedback already given to them to improve their original raw mark. Our school challenge was for all students to increase their November mock exam result by 10 or 15 or 20 marks.
GCSEpod and SAMLearning contain lots of valuable online revision activities for most subjects (log on details for these sites can be found at the end of this mailing under useful links).
​​​Subject Area News
VISUAL ARTS UPDATE
Artwork of the Week
Art WOW this week goes to Year 11 Artist, Jacob Ladeinde (11RH) for his final identity project piece, Jacob has created a super colourful painting using both acrylic paint and pencil to explore different textures and techniques Click here to view.
PERFORMING ARTS UPDATE
Music Tuition
We have been experiencing some problems with attendance so far this year. If your Son/Daughter is receiving extra Music Tuition they must read the Noticeboard in the Performing Arts Corridor each week to check their lesson time and note the time in their planners. We are unable to offer any discount/refund for any lessons missed.
Drama Work of the Week
Congratulations to Fin Wylie, Huxley Leigh and Katilyn Sookoo, all in 8EM for their brilliant masks. This term year 8 have been creating ensemble performances and were required to create a mask for the characters to wear. Click here to view.
PE/SPORTS UPDATE
Annual Ski Trip Easter 2019 to Andorra
We are now advertising the Cotham annual Ski Trip, taking place during the Easter holiday, Saturday 6 - Saturday 13 April 2019. The trip is open to students who are currently in Years 7 - 9. Click here to view the Letter. Interested students can see Mr Collin in the PE department for more information.
Please click here for information about the Extra-Curricular Activities available to students in Term 3.
Follow @CothamPE on Twitter for all the latest news and updates from the Cotham School PE department
Post-16 News
Healthy Relationships Week this week - the Year 13s had an assembly on the different types of abuse and who they should speak to if they are worried about their own or a friend's relationship.
1625 Independent People came in for Year 12 Core Programme to speak about homelessness in young people and how the charity can help young people in Bristol.
TIGER continued their workshops on gender equality - with a focus on healthy relationships
There will be an information evening on Thursday 1st March 5 - 6pm about the Disabled Student Allowance (DSA) for Year 13 students who are starting university in September 2018. All are welcome - email invitations have been sent out.
Upgrade Workshops continued this week: Focussing on Mocks and Mock retakes which will be after half term.
If you were unable to attend Year 13 parents evening last night please contact your son/daughter's teachers either by email or telephoning the NBP16 Centre on 0117 9198100.
House News
WANTED: Pillowcases for a brilliant inter-house challenge
We need your help! We are hosting an exciting inter-house challenge on Monday 5 March and are on the lookout for pillowcases. They do not need to be new but they need to be in good condition and clean, patterned or plain. Any trimmings for fabrics such as lace, ribbons or buttons would be warmly received too. If you have some pillowcases or trimmings that you can donate, please bring them to Mrs Adams, Mrs Arnold or Miss McDonagh. We are sure you will be impressed by what the students will do! Thank you for your support.
Pancake Flipping Competition
On Thursday lunchtime we held a pancake flipping competition in the HUB. Entry was free and the challenge was to do the most flips in 30 seconds. The winner was Charlie Rose in Year 11 with an impressive 39 flips and an intact pancake. All competitors got house points, and everyone had a flippin good time! Click here for images.
SIGMA
Valentine Cookie Sale
We raised an amazing £183 for our Charity The Rainbow Centre for Children!
Special thank you to the Sigma team, Anas, Frankie, Mathilda and Ishba who worked hard organising the event. Ishba and Mathilda stayed after school and made over 100 shortbread heart cookies for the sale. Thank you to Erin White 9AF who made a batch of lovely chocolate chip cookies for the sale.
Thank you to The School Canteen, Sainsbury's and Coop who kindly supported Sigma and donated cookies for our sale. Click here to view images.
Recycling to raise money
We would like students to bring in old clothes, bags, shoes and belts. They will then be recycled by Bristol Textile Recyclers. We will be paid for the items that we collect and the money will go to the Sigma house charity. All items are then taken away and recycled. Please support us, we have a storage area so we can start collecting now.
Sigma will be supporting "No Plastic in School" and working with the canteen to stop selling plastic bottles of water and other drinks.
We have had our own Sigma House reusable water bottle made. The bottles are BPA Free and dishwasher safe up to 55c. They are £2.50. They can be purchased via Wisepay - You'll find them in the Wisepay Shop under Student Supplies.
This will help reduce the amount of plastic that is thrown away each day in school and encourage students to drink more water.
SEND News
Bristol Support Group
Supportive Parents is a charity providing information and support to parents, children and young people with any type of Special Educational Needs and Disability (SEND). They offer a monthly support group which gives an opportunity for sharing experiences/concerns and find out more about SEND support. They also welcome interested professionals. Click here for more information.
The Bristol Toolkit
Findability is Bristol's Local Offer website. It is full of information for children and young people with special educational needs and/or a disability (up to 25), and their families. Click here to access the website or here for the information booklet.
Community News
Term Date Consultation
Bristol City Council is consulting on school term and holiday dates for 2019/2020. Parents and carers are invited to review the proposed dates and comment. The consultation will close 16th March 2018.
Please click here to view full details.
Host families needed
EF International Language Centres, a language school based in Queen Square, Bristol are currently looking for new host families to welcome students who will study English in the UK, and are reaching out to schools across Bristol to find the right, caring hosts. Click here for more info.
Child Genius is back!!
Do you know an exceptional child? Click here to find out about an exciting TV opportunity.
Useful quick links
Keep us posted
It would be great if parents/carers could let the school know of any student` achievements outside of school please. It is sometimes only at parents' evenings that we find out what students are doing in their own time. Email us: lpa@cotham.bristol.sch.uk
Key Dates
Please click here to view the Key Dates by year group for the 2017-18 academic year. You will be notified of any significant changes/additions, but please can we ask that you check the dates for your year group regularly as they are subject to change.
Parents' Evening Booking System (PES)
Please click here to access the online appointment booking system for Parents Evenings/Family Consultation Day. Please note this is only available if an event is due. We will email you to let you know when booking opens. If you encounter any difficulties with booking your appointments please contact the Leadership PAs by email to LPA@cotham.bristol.sch.uk or tel: 01179198053
Assessment Calendars for KS3
We have created Assessment Calendars which contain details of the class assessments that will take place in each subject. The final column contains a link which gives information about each of the assessments.
WisePay
WisePay is the Online Payment Service at Cotham School which allows you to pay for trips and visits as well as to add credit to your child's Cashless Catering account. Click here to access your account now. If you have any queries about your account please contact the support team by email to wisepay@cotham.bristol.sch.uk
School Uniform
Please click here to view the compulsory uniform requirements of Cotham School, along with visual examples of uniform and details of our uniform suppliers.
GCSEpod
Click here to access GCSEpod which contains lots of revision resources for most GCSEs. Students self register through the website using their name and school details.
SAM Learning
Click here to access SAM learning which contains revision exercises and self marking quizzes with automatic progress tracking and reporting. Please use the Centre ID: BS6CS. Student usernames and passwords are their birthday formatted as DDMMYY, followed by their Initials.
Diagnostic Questions
Click here to access. This site contains self marking quizzes with lots of templates including some from a range of exam boards. It's easy to make your own questions in Microsoft PowerPoint too. Students sign up with their school Google account using the G+ button to automatically create a school account
Free School Meals
https://www.cloudforedu.org.uk/ofsm/sims to check if your child is eligible for Free School Meals or to apply.
Click here to Contact Us