Weekly Mailing - Friday 23 February 2018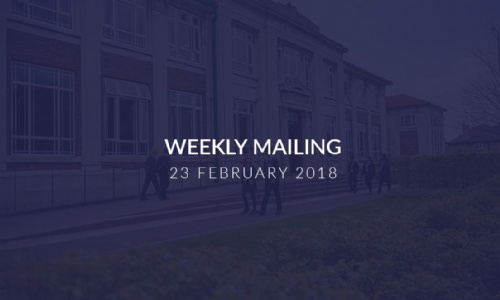 Dear Parents / Carers
Please find below this week's important information for Parents/Carers and Students as well as updates on School events, activities and opportunities for your reference.
Jo Butler
Headteacher
Next week (Week commencing Monday 26 February) is WEEK B.
Congratulations
International Mother Languages Day Project
A big thank you to Mrs Prosser and the students who were involved in the International Mother Languages Day Project. It has been lovely to listen to students welcoming us in their first languages over the school tannoy system over the past week. Mrs Prosser and the students have spent a lot of time recording these messages which are part of the whole school's exciting oracy project. We have had lots of fantastic comments from staff and students who have really enjoyed this experience of hearing a range of Cotham languages. We feel very lucky to have such a rich cultural diversity at the school.
ARTiculation Prize
Earlier this week, Rhiannon Davies 12SWH, took part in the ARTiculation Prize Regional Heat at the Holburne Museum in Bath. The ARTiculation Prize is The Roche Court Educational Trust's national public speaking competition which aims to champion the appreciation and discussion of art for young people aged 16 - 18. Students are invited to deliver a 10 minute presentation on a work of art in front of an audience which is then judged by the adjudicator.
We are so pleased to announce that Rhiannon won joint 3rd prize at the event with her talk on Ai Weiwei's 'A Ton of Tea'. We are immensely proud of Rhiannon's achievement. Well done! Click here to view the press release.
Important Information for Parents/Carers
Safeguarding matters
This week, in light of recent media coverage around the #MeToo and #TimesUp campaigns, we have been focusing on the issue of sexual harassment and misogyny, in assemblies and in staff training. This is part of our ongoing work to ensure that students maintain healthy and respectful relationships with each other and a culture of tolerance. This also builds upon earlier work with students on the topics of consent and gender equality.
Public Health England urges vigilance about spotting signs of scarlet fever
Public Health England (PHE) is advising parents to be aware of the signs and symptoms of scarlet fever following a substantial increase in reported cases across England in 2017 to 2018. Click here for more information.
Uniform Focus
This Term we will be carrying out a focus on students' uniform as standards have been slipping.
As a reminder, click here for visual examples of the uniform and details of our suppliers.
Free School Meals
From Monday 19 February, students receiving Free School Meals can receive free cereal and milk every morning in our Breakfast Club from 8.10 - 8.30am. Students will need their lanyards to swipe their cards at the tills in the canteen in the usual way but the money for the cereal and milk will not be taken off their daily free school meal allowance.
Stoke Lodge Planning Application
There is still time to make comment on the Stoke Lodge Planning Application, please click here to access the Bristol City Council website.
Parent Engagement Group
If you would like to connect with other Cotham Parents/Carers to discuss how you can support the school then please do consider joining the Cotham Parent Discussion Group on Facebook.
Current discussion topics include the great campaign by Sigma House to get water fountains in school so students can refill water bottles and avoid single-use plastic waste. You will also find details of an informal parent meet up taking place on Tuesday 27 February.
World Book Day - Thursday 1 March
This year's theme is Share a Story. Students are encouraged to dress as book characters (£1 for International Book Aid - a charity which donates books in Sub-Saharan Africa.)
Additionally, there will be a character hunt whereby students find and name the characters displayed around the school. In year group assemblies, teachers are volunteering to read passages of their choice.
Word of the week
Each week at Cotham we promote a Word of the Week. This is to help students expand the range of vocabulary they use. Please find the word for the week ahead by clicking here.
Key Stage 3 (KS3) News
YEAR 7
Adventure Week (Camp) and Activities Week, 2 - 6 July
Camp
A reminder that the 3rd instalment (£62.00) is due by 28 February.
If there are any other students not yet signed up who would like to go, please let your tutor or Ms Moore know as soon as possible. (moorem@cotham.bristol.sch.uk) The Centre may be able to make a few more places available, but we need final numbers soon.
Activities Week
Students not attending camp will take part in an Activities Week. They will join the residential group at camp at Croft Farm Water Park in Gloucestershire for one day, taking part in outdoor activities with trained instructors.
On the other days students will be based in Bristol, taking part in local visits and school based workshops.
Parents are asked for a £25.00 contribution towards the cost of the activities week. A letter will go out next week with full details of the week and how to pay via WisePay.
YEAR 9
Aspirations were raised!
Click here to see some photos from the trip.
Key Stage 4 (KS4) News
YEAR 11
GCSE PE Students
The deadline for the GCSE PE practical video evidence and written coursework is Friday 16 March. Thank you to those parents/carers who have already submitted evidence of their child participating in a competitive match. You can find the practical performance video guide by clicking this link. This was shared with you previously and is available on Google Classroom along with the criteria for all the sports. To share video evidence, the best format is via Youtube by creating an account, uploading the footage making sure you click 'unlisted' and not public or private please. If you have any questions, please do not hesitate to contact me via email to Collinj@cotham.bristol.sch.uk
Yr. 11 Prom
Please click link here to see information on the Yr. 11 Prom. Hard copy letters have been distributed to students via Tutor Groups today.
Subject Area News
VISUAL ARTS UPDATE
Year 11 Tate Modern Trip
On 9 February, we took the Year 11 artists and photographers to visit the Tate Modern in London. They had the chance to see an incredible diversity of both modern and contemporary artwork including an exhibition by Modigliani and also the Turbine Hall installation created by Danish art collective, Superflex. It was a fantastic way to finish the term and gave the students some great inspiration for their new projects.
Artwork of the Week
Art WOW this week goes to Heva Ali, 12AQ for her incredibly skilled acrylic painting. Click here to view.
PE/SPORTS UPDATE
Please click here to view all of our recent results and the upcoming fixtures for the week ahead.
Please click here for information about the Extra-Curricular Activities available to students in Term 3.
Follow @CothamPE on Twitter for all the latest news and updates from the Cotham School PE department
MODERN FOREIGN LANGUAGES (MFL) UPDATE
The MFL department are offering GCSE students additional support with their French and German, offering opportunities to practice and improve their language skills working with our Languages assistants. Click here for more information.
Post-16 News
The Wellbeing drop in sessions started this week which are available for any student every Thursday lunchtime in G104 to borrow resources, speak to other students and have a cup of tea and refreshments - please do come along.
The Yr 13s going to university attended a workshop run by UWE students on budgeting for university run by Future Quest.
King Fok gave a tremendous assembly on Chinese New Year: The Year of the Dog to the Yr 12s - thank you King.
A reminder that there is a Disabled Student Allowance (DSA) information evening on Thursday 1 March, 5pm to 6pm in G001 at Charnwood House. This will include essential information on students with SEND e.g. 25% extra time, laptop entitlement, coloured paper etc. All are welcome.
Community News
Social mobility and widening participation in Higher Education
Professors from Brunel University, with support funding from the HSBC Education Trust, have produced a short book titled 'Nurture, Parents, it is in your hands' . The book provides guidance for Parents/Carers on various aspects of children's education.
The booklet is divided into two sections. Part A provides information specifically for Parents/Carers. Part B provides practical help for young people and for parents and schools to share with them.
The contents include:
Part A
Chapter 1 Nurturing your children's unique talents by Professor Valsa Koshy
Chapter 2 Parent Power: What does research tell us about parental involvement in children's education? by Carole Portman Smith, Director of the Urban Scholars programme
Chapter 3 Planning for university by Lesley Mortimer, University Widening Participation Officer
Chapter 4 Why should students go to university? by John Cunningham
Part B: Practical advice for students
Chapter 5 Writing a personal statement
Chapter 6 Brunel University undergraduate student's advice
Chapter 7 A day in the life of a student at University
Chapter 8 Developing employability skills
Chapter 9 Writing a CV
Chapter 10 Interview Tips
You can access the PDF version of the book here
Classical Bristol
Click here to view the latest newsletter.
Useful quick links
Keep us posted
It would be great if parents/carers could let the school know of any student` achievements outside of school please. It is sometimes only at parents' evenings that we find out what students are doing in their own time. Email us: lpa@cotham.bristol.sch.uk
Key Dates
Please click here to view the Key Dates by year group for the 2017-18 academic year. You will be notified of any significant changes/additions, but please can we ask that you check the dates for your year group regularly as they are subject to change.
Parents' Evening Booking System (PES)
Please click here to access the online appointment booking system for Parents Evenings/Family Consultation Day. Please note this is only available if an event is due. We will email you to let you know when booking opens. If you encounter any difficulties with booking your appointments please contact the Leadership PAs by email to LPA@cotham.bristol.sch.uk or tel: 0117 919 8053
Assessment Calendars for KS3
We have created Assessment Calendars which contain details of the class assessments that will take place in each subject. The final column contains a link which gives information about each of the assessments.
Click here to see Year 7
Click here to see Year 8
Click here to see Year 9
Click here to see Year 10
WisePay
WisePay is the Online Payment Service at Cotham School which allows you to pay for trips and visits as well as to add credit to your child's Cashless Catering account. Click here to access your account now. If you have any queries about your account please contact the support team by email to wisepay@cotham.bristol.sch.uk
School Uniform
Please click here to view the compulsory uniform requirements of Cotham School, along with visual examples of uniform and details of our uniform suppliers.
GCSEpod
Click here to access GCSEpod which contains lots of revision resources for most GCSEs. Students self register through the website using their name and school details.
SAM Learning
Click here to access SAM learning which contains revision exercises and self marking quizzes with automatic progress tracking and reporting. Please use the Centre ID: BS6CS. Student usernames and passwords are their birthday formatted as DDMMYY, followed by their Initials.
Diagnostic Questions
Click here to access. This site contains self marking quizzes with lots of templates including some from a range of exam boards. It's easy to make your own questions in Microsoft PowerPoint too. Students sign up with their school Google account using the G+ button to automatically create a school account
Free School Meals
https://www.cloudforedu.org.uk/ofsm/sims to check if your child is eligible for Free School Meals or to apply.
Click here to Contact Us