Weekly Mailing 20 January 2017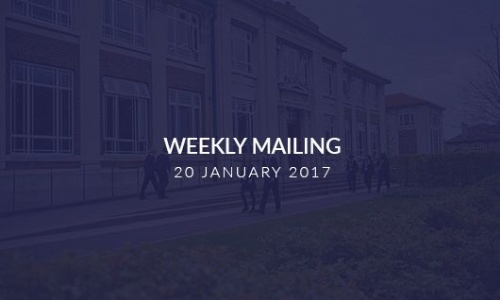 Please find my usual update on events that have taken place this week and to let you know about some of those that will take place in the near future.

Jo
SCHOOL NEWS
Multi Academy Trust (MAT) update on behalf of Cotham School Governing Body
Following the recent MAT consultation, the Prima Learning Trust has now ceased to exist as an entity having been dissolved by its trustees. The Governing Body have entered a period of reflection and are still considering how best to become a MAT with other like-minded schools, using Co-operative articles of association. We will update you as soon as we have any further developments to report.
Stoke Lodge Playing Fields Update
Thank you to all parents and carers who have supported the School by writing to local politicians and others to lobby them for their support in relation to the recent decision to give our playing fields Town and Village Green Status. We are still considering how best to proceed on this issue and will update you as soon as we have any further developments to report.
Information for all Year Groups
Next week (Week commencing Monday 23 January) is a WEEK B
Homework and Independent Learning Tasks
Students in all year groups can expect to receive 2 pieces of homework or independent learning tasks to complete per evening. A copy of the homework timetable for each year group can be found here. The completion of homework is an integral part of a student's learning and offers them them the opportunity to consolidate and practise the skills introduced during their lessons. All students are provided with a homework planner in which to record their homework as it is set. We ask all parents and carers to support their child's progress by providing an environment in which to complete their homework, by asking them about their homework, and by regularly checking their child's planner to support them in completing their homework.

In addition to using their school planners, students will also have their homeworks set and assigned to them using Google Classroom. Google Classroom replaced FROG as our means of setting homework online at the start of the academic year. A link to google classroom can be found on the school website under Useful Links and also here. All students can log into google classroom using their school email and know how to do so. Google classroom will provide a fuller description of the homework set for them by their teacher. Students will also automatically receive an email from their teacher as homework assignments are set for them.

We hope to be able to make google classroom available for parents soon, but in the meantime, parents can ask their child to log into the site to see details of the homeworks being set.
Cotham Parents' Cultural Group meeting
Our first meeting will take place on Monday 8 February 2017
Venue: Cotham School Library
Time: 6-7pm
Refreshments will be provided. Please confirm your attendance by email to: kellym@cotham.bristol.sch.uk
Severnside Community Rail Season Ticket only £10 to cover Terms 4, 5 and 6
Ms Butler and Cotham School Rail Rep students Zaki Abudeip Year 8, Amira Clarke Year 10 and King Fok Year 11 attended a session at Bristol Temple Meads Station on 16 January. This was at the invitation of the Severnside Community Rail Partnership and GWR to work with the school on an initiative to ensure everyone has a safe and pleasant journey when travelling on the Severn Beach line trains which serve the school. Following this meeting GWR and the Severnside Community Rail Partnership are offering our students in Years 7 - 11 a rail season ticket for just £10 to cover the whole of terms 4, 5 and 6. This is a fantastic saving and we would encourage parents/carers to take advantage of the discounted rail travel. Click here to find out how to apply for the season ticket.

KEY STAGE 3 (KS3) INFORMATION
YEAR 7
Year 7 Parents' Evening - PLEASE NOTE CHANGE OF DATE
The Year 7 Parents' Evening has changed from Thursday 2 February to Thursday 2 March.
Immunisations for Young People
The NHS has provided us with 'Frequently asked questions' booklets for Year 7 parents, regarding immunisations (HPV, Td/IPV and MenACWY) given to young people during their secondary education. This will be distributed to Year 7 parents at the upcoming parents evening on Thursday 2 March. For more information please click here to visit the NHS information site. Please talk to your GP or practice nurse for advice.
YEAR 8
Exams Monday 30 January - Friday 10 February 2017
Year 8 exams will take place during normal lesson time during this period. Please refer to the attached document here which details exam content and suggested revision activities.
YEAR 9
Options Evening
Thank you to all parents who attended the Year 9 Options Evening on Wednesday 18 January.
The Option Booklet along with a wide variety of curriculum resources from the evening are available for you to access at home by clicking here. A reminder that the Options form must be completed and returned to tutors by Wednesday 8 February.
Year 9 Parents Evening - Thursday 26 January - 5.00pm - 7.30pm
At this event you will be able to meet with subject teachers to discuss your child's progress and suitability for particular subjects at Key Stage 4. Subject teachers are available from 5.00pm until 7.30pm. Appointments can be made using the online booking system (PES) accessed via the school website or by clicking here. Students should attend the Parents Evening with you.
Options Surgery - Tuesday 31 January - 6.00 - 7.00pm
In addition, Mr Reed (Assistant Headteacher) and Mrs Bajic-Raymond (Senior Deputy Headteacher) will be running an Options Surgery to help with any further queries on Tuesday 31 January from 6.00pm to 7.00pm. More details for follow.
Year 9 students with Special Educational Needs (SEN)
We are asking Parents/Carers of students with Special Educational Needs in Year 9, to complete the Cotham School Learning Support Parent/Carer survey at the Year 9 Parents' Evening.
Individual copies of this survey will be issued when you sign in at the start of the Parents' evening. This quick survey has been designed to help the school plan further improvements to Learning Support over the coming year.
We would appreciate it if you could take a few minutes out of your evening to complete the survey, then return it via the red collection box situated in the school foyer.
If you would like an appointment with Mr Warnock (SENCo) to further discuss your child's needs, please contact the SEN Administrator, Mrs K. Peck (peckk@cotham.bristol.sch.uk).
Raising Aspirations Event - Wednesday 25 January - final information to note
All year 9 students are going on a trip to UWE Exhibition Centre where they will take part in a variety of activities involving sixth-forms, colleges, universities, training and apprenticeship providers and employers.
We hope this will open their eyes to the wide range of options available to them at 16 and 18, introduce them to new careers and help them to see the relevance of their choices for GCSE Options.
A letter was sent to you last term with details about this event, but please note especially:
Students must be in the Sports Hall by 8.30am at the latest on Wednesday 25 January to register, in full school uniform and wearing a lanyard. A contribution of £4 towards transport is requested, payable on Wisepay. Students should bring a packed lunch and a drink (these will only be provided for students who normally have free school meals) and a pen. The coaches should be back at school between 2.45pm - 3.05pm and students will be dismissed from the coach laybys. Please contact Ms Chester or Ms Beynon if you have any queries.

KEY STAGE 4/5 (KS4/5) INFORMATION
YEAR 10
Work Experience (WEX) 3 - 7 July
All students need to ensure that they return completed WEX forms to Mrs Arnold.
If your child has not yet applied for a placement, please do encourage them to do so as soon as possible. Forms and WEX info can be found on the school website in parent and student area or by clicking here.
Work Experience at the University of Bristol - School of Earth Sciences 3 - 7 July 2017
The University of Bristol are still ​inviting applications now for Year 10 students from local schools to participate in their 2017 work experience programme. Further details including the application process have been posted on the University website. Applications closing 31 January
Burges Salmon - Click here for more information - Applications closing 29 January
Rolls Royce - Click here for more information
GKN - Click here for more information. Applicants will also need to submit a CV. Please ask your child to speak to Mrs Arnold if they would like advice on this.
Access to Music - Please ask your child to speak to Mrs Arnold for further information if they are interested in this opportunity
YEAR 11
February Mock Exams
Year 11 Mock exams will take place from Monday 27 February until Tuesday 7 March. Individual student timetables will be issued to students soon.
GCSE exam timetable
Please click here to view the timetable. This is 'provisional' at this stage and therefore subject to some changes by the Exam Boards. The GCSE exam period will finish on 28 June. Students will receive their individual timetable week commencing 20 February.
Forthcoming Open Events:
BTEA (Bristol Technology & Engineering Academy) near Bristol Parkway Station - Wednesday 25 Jan, 6.30-8.00pm
South Glos. and Stroud College - all sites - Saturday 28 Jan, 10.00am-1.00pm
Access to Music College (Hengrove) - Wednesday 1 February, 6.00pm and 7.00pm (book place online)
Careers Fair:
On Wednesday 25 January, from 5.15pm-7.30pm at Ashton Park School.
Over 70 exhibitors from industry, HE and FE organisations, apprenticeship providers, individual companies and the uniformed services will give students an overview and insight into various career pathways. There will be mini presentations on a variety of topics including: Apprenticeships, Engineering, Construction, Business and Finance, Health & Social Care, ICT & Media and Hospitality.
Year 10/11/12
Do you know any students who are thinking of studying Medicine?
Dr Marie Locke GP is running a workshop at Wyedean School and Sixth Form Centre on Saturday 11 and Sunday 12 March 2017 for medical school hopefuls. It is aimed at students in Year 10, 11 and 12 who are thinking of studying medicine and will cover everything from personal statements and work experience to interviews and ethical discussions. Please click here for more information.
DEPARTMENT UPDATES
PE/Sports Update
Please click here to view all of this week's results, along with information about all of the Fixtures for the week ahead.
Performing Arts Update
Macbeth - Whole School Show - Tickets now on Sale!
Macbeth will be showing on 22, 23 and 24 February in the Main Hall at 7.30pm. Click here for more information. Tickets are available now on Wisepay. (£7/£5 Conc.)
Drama Work of the Week - Click here to view
Extra Curricular Activities
To view the timetables of extra curricular activities available to your child at Cotham please click on the links below:
Arts Award
Year 9 Silver Arts Award candidates are making fantastic progress and have now completed their Unit One Personal Arts Challenge. Candidates have put a huge amount of effort into their challenges and have really pushed themselves in this extra-curricular club. They have produced some amazing work: a patchwork quilt, a book of stories from around the world, a song, a pair of shorts, a piece of graffiti art, embroidered jeans, stage makeup and much more. Click here to watch a great piece of animation by Emile Eden Beaver
TRIPS AND VISITS
Ski Trip 2018
We are planning the annual Cotham School ski trip for 2018. Recent years have seen us travel to ski resorts in Bulgaria, Italy and Spain; the 2018 trip will be to the resort of Prato Nevoso in Italy and will take place during the Easter holiday Saturday 24 March - Sunday 31 March 2018 (9 days 6 nights). Please click here for more information.
CAREERS NEWS
Employer events and apprenticeship opportunities
Airbus is holding an Apprenticeship Information Evening on Wednesday 1 February from 5.00pm-7.00pm at their Filton site. They invite Maths and Physics A-Level students to come along and find out how they could study debt-free for a BEng in Aerospace Engineering with an Airbus Sponsored Degree Apprenticeship. Register your interest here: www.airbus.eventbrite.co.uk

Bishop Fleming are holding an Insight Evening for students who would like to find out more about accountancy on Wednesday 1 February 5.30pm-7.00pm at their Queen Square office. Students and their parents can meet some of the Bishop Fleming team and find out what accountants do as well as the routes to become a qualified accountant. Spaces are limited so please confirm your attendance by emailing jobs@bishopfleming.co.uk

Burges Salmon are running Law Information Days as follows during our half-term break:
For GCSE students: Tuesday 14 February
For A-Level and Level 3 students: Thursday 16 February
If your son/daughter is interested in attending, please email their name, year group and school to corporate.resp@burges-salmon.com as soon as possible.

Western Power Distribution are offering hands-on craft apprenticeships - see https://www.westernpower.co.uk/Careers/Apprenticeships.aspx for details - closing date is 10 February

On-Site Bristol's applications for construction apprenticeships are now open - see https://www.onsitebristol.co.uk for details.
CO-OP NEWS
Please click here to view this week's newsletter from the Co-operative College
COMMUNITY NEWS
Bristol Plays Music wins 'Outstanding Attitude' Award
Please click here to view the January Newsletter for Bristol Plays Music
Channel 4 LEGO Building Competition
We have been approached by TV production company Tuesday's Child Television to ask whether anyone may be interested in taking part in a new programme it is producing for Channel 4 - a competition to find Britain's best LEGO builders.
The programme makers, who are working in close conjunction with the LEGO Group, are looking for creative people from all backgrounds and of all ages who either already have a passion for LEGO building or would be interested in turning their skills and talent to the art of LEGO building - basically anyone who can create amazing art out of LEGO bricks.
If you would like to learn more about the programme then please email: build@tuesdayschild.tv or click here for more information.
The Crystal Maze is back!
Do you want to face the ultimate team challenge? Could you and your team be victorious in The Crystal Dome? OR will you be locked in... THE CRYSTAL MAZE?
Fizz TV are now seeking teams of five contestants to take part in Channel 4's brand new series of THE CRYSTAL MAZE! We're going to be filming in BRISTOL and the flyer is available to view here If you think you've got what it takes to play this LEGENDARY game show... Get in touch with Fizz TV today! Click here to apply.
My Big Week
The BBC is currently looking for individuals and families who have an important life event/ transition/ responsibility/ decision or milestone on the horizon, to take part in a new observational documentary series. Click here for more information.
Food Alert
Parents should be aware that a number of products of animal origin (predominantly frozen fish and chicken) supplied by MDA Products Ltd have been repackaged in an unapproved premises. See the full report including a list of affected produce here.
Good News!
Congratulations to Delilah Grocott Cain who has auditioned and been accepted to The Place (London Contemporary Dance School) and Northern School of Contemporary Dance to study for a Degree in Dance whilst professionally training. These are two of the most prestigious Dance Conservatoires in the country and demand is high so this is a superb achievement.

Many congratulations also to the four Year 13 students who have secured offers at Oxford and Cambridge universities this year:
Carlos Rodriguez (Music, Cambridge)
Laura Eacott (Geography, Cambridge)
Barney Johnson (Medicine, Oxford)
Betty Barber (French and Spanish, Oxford)
Twelve students were interviewed and feedback has been very positive for all of them. Well done to a brilliant cohort!

Rose Dayan (Y12) has been invited to the second round of interviews for the Rotary World Affairs Seminar in the USA. Rose is applying to the Rotary Club to fund her trip to this prestigious international event. Good luck Rose!
RECENT LETTERS HOME
| Topic (week ending 20/01/2017) | For the attention of: |
| --- | --- |
| | Years 7, 8 and 9 |

All files are in PDF format. You need Adobe Reader to open these files. You can download Adobe Reader for free from adobe.com/reader