Weekly Mailing - Friday 20 April 2018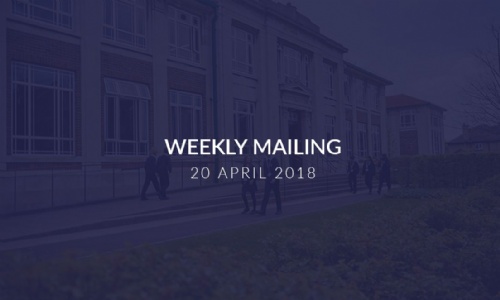 Dear Parents / Carers
Thank you for all your messages of support this week during the visit from Ofsted and for your participation in the Parent View survey. The inspection is still 'live' until the report is ready for publication. Therefore, I am prevented by Ofsted from saying anything about the inspection until the report is finalised. This will be some weeks away.
However, I would like to take this opportunity to say that the inspection team were, without exception, extremely complementary about every interaction they had with our students. They were a real credit to themselves and us and I am very proud of them.
Many thanks also to everyone who took the time to respond to the request for feedback regarding the format of our Weekly Mailing. We welcome your input and as a result of this consultation it has been decided that we will revert to the original Email format. Any further Weekly Mailing related correspondence should be directed to lpa@cotham.bristol.sch.uk
Please find below this week's important information for Parents/Carers and Students as well as updates on School events, activities and opportunities for your reference.
Best wishes for the weekend,
Jo Butler
Headteacher
Upcoming Events
w/c 23 Apr Week B - Year 7 Exams all week
Friday 27 April - School Tour 11.15am
Important Information for Parents/Carers
Early School Closure on Friday 27 April 2018
Advance notice that the school will close early to students on Friday 27 April 2018. Students will be dismissed at 1.05pm. This early closure is to allow for essential staff training.
Celebrate and Connect - An evening to enjoy Cultural Diversity at Cotham School
Following the success of the cultural diversity social evening last year, we would like to organise another event this year in order to celebrate our school's diversity.
Come and help us plan the next 'Cultural Diversity' event at Cotham (date and venue tbc). If you would like to be part of the planning group please email kellym@cotham.bristol.sch.uk or click here to view the flyer.
Word of the week
Each week at Cotham we promote a Word of the Week. This is to help students expand the range of vocabulary they use. Please find the word for the week ahead by clicking here.
Congratulations
Bristol School's Football
Congratulations to The following list of students won a very closely contested Bristol School's Football Semi Final against Bristol Met 2-1, having been a goal down with 8 minutes to play. Goals came from Marley Dibble and Michael Illade. Leon Hartl, Rahel Jafar, Michael Illade, Ollie Merry, Ben Landry, Samson Coshia, Alfie Lewis, Marley Dibble, Dee Grey, Asher Campbell, Lyle Renwick, Hud Hassan, Yayha Jama
The Great Big Dance Off
Year 9 and Year 10 dancers performed at the schools only competition The Great Big Dance Off at St George's on Tuesday. The students had an amazing afternoon of dancing and watching other schools compete. KS4 dancers gained an astounding 273/300 and the KS3 dancers have progressed to the National Finals in Cheltenham in July. Huge congratulations to all involved, we are very proud of their approach and achievement! Click here for images.
Key Stage 3 (KS3) News
YEAR 7
Year 7 Exams and Revision
Year 7 exams will take place during the period Monday 16 April to Friday 27 April 2018.
Students will be assessed in each of their subjects. Details of each assessment, the content being assessed, and sources of revision are here.
A useful Revision Timetable template can be found here.
A timetable showing the dates and times of each exam can be found here .
Students will be set Holiday Homework in each of English, Maths, Science, French or German and Humanities. Each of the homework tasks has been designed to support them with their revision. These can be found here.
The exams represent a good opportunity for students to get used to the demands of reformed GCSEs.
Your child will be busy working at home in preparation for them. Please encourage your child to complete revision in advance of their exams.
The library is open each afternoon until 4.30pm for those students who wish to revise there after school.
YEAR 8
Year 8 Enterprise Day – Tuesday 1 May 2018
On Tuesday 1 May, all Year 8 students will be off timetable for an Enterprise Day where they will be working together in teams to create ideas for a new restaurant and presenting their proposals to a panel of judges who will decide which bid to accept. As well as developing skills that are essential, along with qualifications, for getting a good job in the future, students will learn about some of the roles people have in the working world and the importance of financial planning. The Enterprise Day forms part of Cotham School's commitment to preparing students for the world of work and is in line with national recommendations concerning careers education and work-related learning.
Parents Evening
It was great to have so many Parents/Carers in attendance for this event on 19 April. If you did not complete the Parent questionnaire on the evening and would still like to offer some feedback please click here to access the questionnaire online.
Key Stage 4 (KS4) News
Year 11 Prom Friday 22 June 2018
There are still some outstanding signed forms. Parent/carers and students are required to provide emergency contact details and sign the forms before students will be allowed to attend the Prom. Forms should be returned to Form Rep who will pass to Reception. A reminder that if you are paying by instalments next instalment is due by 13 May 2018.
​​​Post-16 News
The Disabled Student Allowance (DSA) meeting is Thursday 26 April 5 - 6pm in Charnwood House. Contact Associates are coming in to discuss support for students with SEND/mental health conditions/medical conditions or disability who are planning to go to university this year. All are welcome.
Year 12 enjoyed a valuable UCAS convention last week where they picked up lots of information on different universities and courses - please tell your son/daughter to speak to Mrs Kempt if they have any questions about UCAS or courses.
Year 12 and Year 13 have had assemblies on coping with exam anxiety and stress and have been given lots of useful websites to support them. Please let your son/daughter know that there is lots of support available and they should come and speak to Mrs Kempt for more information.
Year 12 exams are week beginning 30 April - all students with exam clashes will be issued with another timetable soon.
The Wellbeing Library is available in Mrs Kempt's office and there are new stands outside Mrs Potter's office with lots of resources to support students - students can come and help themselves or speak to Mrs Kempt if they would like to borrow a self-help book.
Subject Area News
PE/Sports Update
Please click here to view all of our recent results and the upcoming fixtures for the week ahead.
Please click here for information about the Extra-Curricular Activities available to students in Term 5.
Follow @CothamPE on Twitter for all the latest news and updates from the Cotham School PE department
Careers News
Top Tip about Apprenticeships
Hidden promotion opportunities:
Many lower graded apprenticeships are actually a stepping stone to a much higher career level. They may be Level 3 (Advanced) apprenticeships, but when you read the details you may find that companies are offering successful applicants the chance to progress through to Level 4 (Higher) apprenticeships and beyond, into management on early career programmes.
For example: a recent paralegal apprenticeship seemed to only offer a Level 3 qualification over 2 years, but the company were actually expecting apprentices to stay on and complete the (Level 7) degree apprenticeship to become a fully qualified Solicitor.
So don't dismiss an apprenticeship on the basis of level. If it's in the right sector, take a look at where it might lead!
House News
Delta Update
Click here to find out about the latest activities in Delta house, including charity Donut sales and an update on the Prefect interviews.
Sigma Update
Click here to catch up with everything that Sigma House have been doing so far this term.
Community News
National Autistic Society (NAS) AGM - Wednesday 25 April
Cotham School will be hosting the NAS AGM and you are all warmly invited to attend to learn more about was NAS have been doing over the past 12 months. After official business has concluded, please stay and enjoy a cake decorating lesson! All welcome. Click here to view the flyer.
Classical Bristol
Click here to access the April newsletter
Useful quick links
Keep us posted
It would be great if parents/carers could let the school know of any student achievements outside of school please. It is sometimes only at parents' evenings that we find out what students are doing in their own time. Email us: lpa@cotham.bristol.sch.uk
Key Dates
Please click here to view the Key Dates by year group for the 2017-18 academic year. You will be notified of any significant changes/additions, but please can we ask that you check the dates for your year group regularly as they are subject to change.
Parents' Evening Booking System (PES)
Please click here to access the online appointment booking system for Parents Evenings/Family Consultation Day. Please note this is only available if an event is due. We will email you to let you know when booking opens. If you encounter any difficulties with booking your appointments please contact the Leadership PAs by email to LPA@cotham.bristol.sch.uk or tel: 0117 919 8053
Assessment Calendars for KS3
We have created Assessment Calendars which contain details of the class assessments that will take place in each subject. The final column contains a link which gives information about each of the assessments.
Click here to see Year 7
Click here to see Year 8
Click here to see Year 9
Click here to see Year 10
WisePay
WisePay is the Online Payment Service at Cotham School which allows you to pay for trips and visits as well as to add credit to your child's Cashless Catering account. Click here to access your account now. If you have any queries about your account please contact the support team by email to wisepay@cotham.bristol.sch.uk
School Uniform
Please click here to view the compulsory uniform requirements of Cotham School, along with visual examples of uniform and details of our uniform suppliers.
GCSEpod
Click here to access GCSEpod which contains lots of revision resources for most GCSEs. Students self register through the website using their name and school details.
SAM Learning
Click here to access SAM learning which contains revision exercises and self marking quizzes with automatic progress tracking and reporting. Please use the Centre ID: BS6CS. Student usernames and passwords are their birthday formatted as DDMMYY, followed by their Initials.
Diagnostic Questions
Click here to access. This site contains self marking quizzes with lots of templates including some from a range of exam boards. It's easy to make your own questions in Microsoft PowerPoint too. Students sign up with their school Google account using the G+ button to automatically create a school account
Free School Meals
https://www.cloudforedu.org.uk/ofsm/sims to check if your child is eligible for Free School Meals or to apply.
Click here to Contact Us