Weekly Mailing - Friday 27 April 2018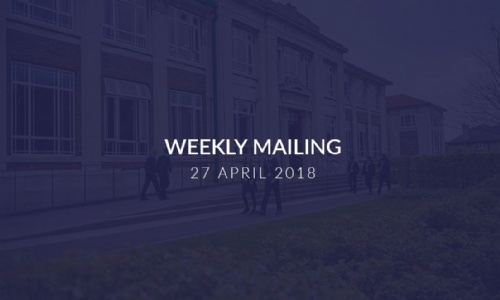 Dear Parents / Carers

Please find below this week's important information for Parents/Carers and Students as well as updates on School events, activities and opportunities for your reference.

Best wishes for the weekend,

Jo Butler
Headteacher
Upcoming events
w/c 30 Apr Week A - Y12 Mock Exams all week
Weds 2 May - Y9 Girls HPV Vaccinations
Important Information for Parents/Carers
HPV Booster Jabs
Year 8 / 9 girls will receive their HPV booster vaccinations on Wednesday 2 May 2018
Word of the week
Each week at Cotham we promote a Word of the Week. This is to help students expand the range of vocabulary they use. Please find the word for the week ahead by clicking here.
Celebrate and Connect - An evening to enjoy Cultural Diversity at Cotham School
Following the success of the cultural diversity social evening last year, we would like to organise another event this year in order to celebrate our school's diversity.

Come and help us plan the next 'Cultural Diversity' event at Cotham (date and venue tbc). If you would like to be part of the planning group please email kellym@cotham.bristol.sch.uk or click here to view the flyer.
Key Stage 3 (KS3) News
German Play
Year 7 and 8 German students will have the opportunity to watch a play in German during lesson 1 on Friday 4 May. This amazing experience includes excellent acting by native speakers and interaction with the students. There is no charge for this event, however if any parents/carers would like to make a contribution to help us cover costs they can do so via their wisepay account.
YEAR 8
Year 8 Enterprise Day – Tuesday 1 May 2018
On Tuesday 1 May, all Year 8 students will be off timetable for an Enterprise Day where they will be working together in teams to create ideas for a new restaurant and presenting their proposals to a panel of judges who will decide which bid to accept. As well as developing skills that are essential, along with qualifications, for getting a good job in the future, students will learn about some of the roles people have in the working world and the importance of financial planning. The Enterprise Day forms part of Cotham School's commitment to preparing students for the world of work and is in line with national recommendations concerning careers education and work-related learning.

Key Stage 4 (KS4) News
Year 11 Prom Friday 22 June 2018
There are still some outstanding signed forms. Parent/carers and students are required to provide emergency contact details and sign the forms before students will be allowed to attend the Prom. Forms should be returned to Form Rep who will pass to Reception. A reminder that if you are paying by instalments next instalment is due by 13 May 2018.
​​​Post-16 News
Disabled Student Allowance (DSA) meeting was held last night where Contact Associates came to explain the process to all our students with SEND/Mental Health needs and disabilities for support at university.
We had a brilliant and inspiring talk from Bart Glee who came to talk to the year 12s about overcoming his disability and encouraging perseverance and resilience as part of the Core Programme.
Year 12 mock exams start on Monday 30th April - Upgrade will continue but will be re-roomed - notices will be around Charnwood
Year 13 lessons will continue as normal.
There are no year 12 lessons next week (30th April - 4th May) apart from BTEC lessons - all students who do not have an exam in their scheduled BTEC lesson MUST attend these lessons.
The Wellbeing self help library is available for all students - please ask your son/daughter to see Mrs Kempt - there are lots of great resources available
Wellbeing drop in continues on a Thursday lunchtime in G104 - all students are welcome.
The school counsellor is available for drop in sessions on a Thursday lunchtime for 1:1 support. She is also in on a Wednesday - students should see Mrs Kempt for more details.
We wish the Year 12 students lots of luck for their exams next week

Subject Area News
PE/Sports Update
Please click here to view all of our recent results and the upcoming fixtures for the week ahead.
Please click here for information about the Extra-Curricular Activities available to students in Term 5.
Follow @CothamPE on Twitter for all the latest news and updates from the Cotham School PE department
Visual Arts Update
This week's Artwork of the week is Lula-June Allwood with her fantastic Millie Marotta inspired drawing of a cat. Click here to view.
Modern Foreign Languages (MFL) Update
Cotham - Tres Cantos - Spanish Cultural Exchange April 16-20 2018
April saw the return visit, involving 17 Post 16 Centre students, of the Spanish Cultural Exchange to Bristol.
After visiting Madrid in February for 5 days of sunshine, we collected our Spanish exchange partners at midnight on Weds 16 April in the freezing British rain! Click here for more.
Community News
Venturer Competition
Share your ideas and win great prizes. Click here for more.
Useful quick links
Keep us posted
It would be great if parents/carers could let the school know of any student achievements outside of school please. It is sometimes only at parents' evenings that we find out what students are doing in their own time. Email us: lpa@cotham.bristol.sch.uk
Key Dates
Please click here to view the Key Dates by year group for the 2017-18 academic year. You will be notified of any significant changes/additions, but please can we ask that you check the dates for your year group regularly as they are subject to change.
Parents' Evening Booking System (PES)
Please click here to access the online appointment booking system for Parents Evenings/Family Consultation Day. Please note this is only available if an event is due. We will email you to let you know when booking opens. If you encounter any difficulties with booking your appointments please contact the Leadership PAs by email to LPA@cotham.bristol.sch.uk or tel: 0117 919 8053
Assessment Calendars for KS3
We have created Assessment Calendars which contain details of the class assessments that will take place in each subject. The final column contains a link which gives information about each of the assessments.
Click here to see Year 7
Click here to see Year 8
Click here to see Year 9
Click here to see Year 10
WisePay
WisePay is the Online Payment Service at Cotham School which allows you to pay for trips and visits as well as to add credit to your child's Cashless Catering account. Click here to access your account now. If you have any queries about your account please contact the support team by email to wisepay@cotham.bristol.sch.uk
School Uniform
Please click here to view the compulsory uniform requirements of Cotham School, along with visual examples of uniform and details of our uniform suppliers.
GCSEpod
Click here to access GCSEpod which contains lots of revision resources for most GCSEs. Students self register through the website using their name and school details.
SAM Learning
Click here to access SAM learning which contains revision exercises and self marking quizzes with automatic progress tracking and reporting. Please use the Centre ID: BS6CS. Student usernames and passwords are their birthday formatted as DDMMYY, followed by their Initials.
Diagnostic Questions
Click here to access. This site contains self marking quizzes with lots of templates including some from a range of exam boards. It's easy to make your own questions in Microsoft PowerPoint too. Students sign up with their school Google account using the G+ button to automatically create a school account
Free School Meals
https://www.cloudforedu.org.uk/ofsm/sims to check if your child is eligible for Free School Meals or to apply.

Click here to Contact Us