Weekly Mailing - 4 May 2018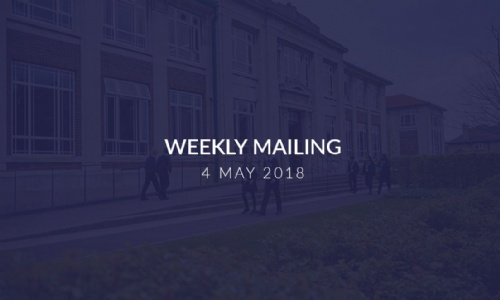 Please find below this week's important information for Parents/Carers and Students as well as updates on School events, activities and opportunities for your reference.
Best wishes for the weekend
Jo Butler
Headteacher
Upcoming events
w/c 7 May
Week B

Mon 7 May

Bank Holiday

Fri 11 May

Y9 Report issued
Congratulations
Congratulations to Olivia Dunne 8EM who has passed her grade 5 LAMDA exam with distinction.

Well done to Oliver Kirkham (9AWS) who passed Grade 2 on the French Horn at Easter, just 2 marks short of a merit!

Alaya Brown (7BSA) has been successfully cast in an all female production at the Bristol Old Vic this summer called 'Make More Noise'. It is a celebration of feminism as a mark of 100 years since women were given the right to vote. They noted that they had been particularly impressed by her creativity, hard work and team work skills. The show will be performed the first weekend of August. Good luck Alaya!

Will Lee-Harvey in Year 10 has been selected for Weston-Super-Mare Academy Football Team, representing them in the Gothia Cup, an international tournament in Sweden! The Gothia Cup is the world's largest and most international Youth tournament. Each year around 1600 teams from 80 nations take part and they play 4500 games on 110 fields. Well done Will and good luck!

Important Information for Parents/Carers

Social media app awareness
Described as an 'honesty' app, Sarahah is an anonymous messaging app. Once a user registers, they can share a chat conversation, link or publish it publicly on the web, and anyone with that link can respond directly to the user with anonymous messages. The recipient has no way of knowing who the sender is.
The app originally created to give employees a platform to give anonymous feedback to their employers has become popular with young people. It has come to our attention that this App is being used among some of our younger students to post anonymous unkind messages. We would like to draw your attention to this as parents/carers for discussion with your child.
Be Water Aware
We were recently sent a letter from the Mineral Products Association to alert our students to the dangers of Quarry swimming during the summer months. Please click here for further information.
Word of the week
Each week at Cotham we promote a Word of the Week. This is to help students expand the range of vocabulary they use. Please find the word for the week ahead by clicking here.
Talk like an Expert
We are launching 'Talk Like an Expert' on Tuesday 8 May. This is an initiative to support students in improving their talk in class, encouraging them to use the more formal, academic language required to talk, and indeed to write, well in school. Teachers will be asking students to re-frame their responses so that they "Talk Like a Scientist/Historian/Mathematician" etc. - Mrs Oxenham (Literacy Coordinator).
Celebrate and Connect - An evening to enjoy Cultural Diversity at Cotham School
Following the success of the cultural diversity social evening last year, we would like to organise another event this year on Thursday 19 July, to celebrate our school's diversity.

Come and help us plan the event on Wednesday 6 June in the School Library at 6pm. If you would like to be part of the planning group please email kellym@cotham.bristol.sch.uk or click here to view the flyer.
Key Stage 3 (KS3) News
YEAR 8
Year 8 Enterprise Day – Tuesday 1 May 2018
On Tuesday 1 May, all Year 8 students were off timetable for an Enterprise Day, during which they worked in teams to come up with ideas for a new restaurant. Using skills learnt in the Year 7 Skills programme, to which they added financial planning, marketing and menu creation, they rose to the challenge and came up with a wide range of imaginative bids. Click here to view images.
In the afternoon, the winning proposal from each tutor group was presented to a panel of judges composed of businesswoman Jackie Matthews, Governor Delroy Hibbert and our own Business Manager, Suzanne Priest. Mrs Matthews gave feedback on her observations from the morning, noting mature team-working, creativity and thoughtfulness, which showed in the range of diets provided for and proposals for fair wages and profit-sharing with charities, whilst Mrs Priest gave feedback on the business side of the winning proposals.
Congratulations go to Abdi Ibrahim, Hatty Pellegrino, Katilyn Sookoo and Fin Wylie from 8EM who won the financial backing of Mrs Matthews for their Italian restaurant Little Venice.
We hope that some of our Year 8 students will be inspired to become successful entrepreneurs in the future!

Key Stage 4 (KS4) News

Year 11 Prom Friday 22 June 2018
There are still some outstanding signed forms. These have been emailed out this week. Parent/carers and students are required to provide emergency contact details and sign the forms before students will be allowed to attend the Prom. Forms should be returned to Form Rep who will pass to Reception. A reminder that if you are paying by instalments next instalment is due by Sunday 13 May 2018.

​​​Post-16 News

Year 12 students had their mock exams last week and all behaved impeccably - thank you.

The Core Programme for Year 12 next Wednesday is a launch of the new Creative Youth Network Programme which provides a variety of services for young people across Bristol. There will also be a session on Mindfulness and Wellbeing.

A reminder that there is a STEM (Science, Technology, Engineering and Medicine) workshop, run by Feeding Britain's Future on Wednesday 23 May 2018. The event runs from 11.05am - 1.05pm and is open to all students - please ask your son/daughter to contact Mrs Kempt for more information.

A reminder that there is a mock exam on Friday 11 May for all BTEC Business Studies students who had a clash with their other subject. Students will sit their mock in Charnwood at 08.45am - we will notify students of the room as soon as possible. Again please see Mrs Kempt for further information.

For our Year 13 students the last day of lessons is Friday 25 May. The Leavers Assembly will take place during Period 3 and 4 in the Main School Hall.

Subject Area News

PE/Sports Update
Please click here to view all of our recent results and the upcoming fixtures for the week ahead.
Please click here for information about the Extra-Curricular Activities available to students in Term 5.
Follow @CothamPE on Twitter for all the latest news and updates from the Cotham School PE department
Visual Arts Update
This week's Artwork of the Week goes to Joe Underwood, Year 10, with his amazing geometric lino prints using layering and coloured inks. Click here to view.
A huge well done to all GCSE and A-Level students who completed their Art, Photography and Textiles exams in the past couple of weeks. It was fantastic to see such inspiring, exciting and diverse work created by all the students so big congratulations to all of you!'
Modern Foreign Languages (MFL) Update
On Friday 4 May Year 7 and 8 German students had the opportunity to watch a play delivered 100% in German. Students really enjoyed the humour and slapstick comedy, and it proved to be a really motivating learning experience. There was excellent participation from students throughout. Fantastisch!
Careers News
Apprenticeships
Click here to access information on the school website about some new apprenticeships plus a link to a helpful guide to writing a winning apprenticeship application.
Some apprenticeships which were scheduled to close at the end of April have extended their deadlines, so check out their new closing dates if your son/daughter is interested in them.
House News
Gamma Update
We have been saying farewell to our current Prefects and House Captain and welcoming new ones, we name our Gamma House Champion for the month and exciting news on the launch of a new student newspaper! Please click here to find out more.
Sigma Update
Congratulations to our April Sigma Superstar Harry Giles (9ACL). Harry always has a smile for everyone, he is polite and has a positive approach to work both in the class and to supporting Sigma. We are very proud to have Harry in Sigma House.
Our overall total we have raised for our House charity - The Rainbow Centre for Children is an amazing £2,212!!
We have also been saying goodbye to our amazing Prefects and have now appointed four new Sigma Prefects. Click here to read more
Delta Download
Our House Assembly this week was jam packed full of exciting news about events, rewards, charity activities and prefect news. Click here to view the latest download from Delta House.
Useful quick links
Keep us posted
It would be great if parents/carers could let the school know of any student achievements outside of school please. It is sometimes only at parents' evenings that we find out what students are doing in their own time. Email us: lpa@cotham.bristol.sch.uk
Key Dates
Please click here to view the Key Dates by year group for the 2017-18 academic year. You will be notified of any significant changes/additions, but please can we ask that you check the dates for your year group regularly as they are subject to change.
Parents' Evening Booking System (PES)
Please click here to access the online appointment booking system for Parents Evenings/Family Consultation Day. Please note this is only available if an event is due. We will email you to let you know when booking opens. If you encounter any difficulties with booking your appointments please contact the Leadership PAs by email to LPA@cotham.bristol.sch.uk or tel: 0117 919 8053
Assessment Calendars for KS3
We have created Assessment Calendars which contain details of the class assessments that will take place in each subject. The final column contains a link which gives information about each of the assessments.

Click here to see Year 7
Click here to see Year 8
Click here to see Year 9
Click here to see Year 10
WisePay
WisePay is the Online Payment Service at Cotham School which allows you to pay for trips and visits as well as to add credit to your child's Cashless Catering account. Click here to access your account now. If you have any queries about your account please contact the support team by email to wisepay@cotham.bristol.sch.uk
School Uniform
Please click here to view the compulsory uniform requirements of Cotham School, along with visual examples of uniform and details of our uniform suppliers.
GCSEpod
Click here to access GCSEpod which contains lots of revision resources for most GCSEs. Students self register through the website using their name and school details.
SAM Learning
Click here to access SAM learning which contains revision exercises and self marking quizzes with automatic progress tracking and reporting. Please use the Centre ID: BS6CS. Student usernames and passwords are their birthday formatted as DDMMYY, followed by their Initials.
Diagnostic Questions
Click here to access. This site contains self marking quizzes with lots of templates including some from a range of exam boards. It's easy to make your own questions in Microsoft PowerPoint too. Students sign up with their school Google account using the G+ button to automatically create a school account
Free School Meals
https://www.cloudforedu.org.uk/ofsm/sims to check if your child is eligible for Free School Meals or to apply.

Click here to Contact Us