Weekly Mailing - 11 May 2018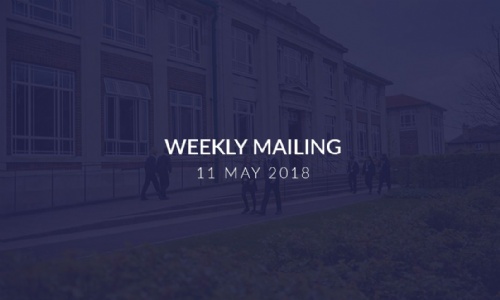 Dear Parents / Carers
Please find below this week's important information for Parents/Carers and Students as well as updates on School events, activities and opportunities for your reference.
Best wishes for the weekend
Jo Butler
Headteacher
Upcoming Events
w/c 14 May Week A - Mental Health Awareness Week
Tues 15 May - Y7 Future Brunel Selection Day
Thurs 17 May - Y11 Leaving
Congratulations
Reuben West competed at the South West Regional Long Course Champs last weekend. He managed to qualify for 7 individual events. There were two events he did particularly well in, they were 50m backstroke where he placed 13/46 and 50m freestyle where he placed 5th in the heats and then 6th in the final with a time of 26.13. Well done Reuben!!
Congratulations to Blanche Beeston 8GC who won her first ever rowing regatta event at Evesham, in the WJ13 double scull class in 3 rounds, competing for City of Bristol Rowing Club.
Miss Pirie would like to share the wonderful talent of one of her tutees Max Briggs in 7MPI. He made a fantastic figure for his friend Leon for his birthday. The detail is amazing; he's even attached the sword to the figure with a magnet! What a star!​ Click here to view
Important Information for Parents/Carers
Nose Piercings
We would like to take this opportunity to remind parents, carers and students that nose studs are not permitted under our school uniform rules.
To enable us to be fair and consistent any student wearing a nose stud to school will be asked to remove it immediately however newly pierced it is. Thank you for your support on this matter.
Mental Health Awareness Week 2018
This coming week is Mental Health Awareness Week. We will be raising the awareness of this in assemblies and tutor times next week, thinking about why taking care of your mental health is so important and ways in which we can do this. In particular, we will be focusing on mental health issues that are most prevalent in our school community - depression, exam anxiety, social media anxiety, and introducing the concept of self-care.
Attached to this mailing is the link to the assembly presentation that students will receive to kickstart this week of important discussion around mental health.
Celebrate and Connect - An evening to enjoy Cultural Diversity at Cotham School
Following the success of the cultural diversity social evening last year, we would like to organise another event this year on Thursday 19 July, to celebrate our school's diversity.
Come and help us plan the event on Wednesday 6 June in the School Library at 6pm. If you would like to be part of the planning group please email kellym@cotham.bristol.sch.uk or click here to view the flyer.
Key Stage 4 (KS4) News
Year 11
Year 11 Prom Friday 22 June 2018
There are still some outstanding signed forms. Parent/carers and students are required to provide emergency contact details and sign the forms before students will be allowed to attend the Prom. Forms should be returned to Form Rep who will pass to Reception. A reminder that if you are paying by instalments next instalment is due by 13 May 2018.
College Open Days - Summer 2018
if your son/daughter still needs to apply to college (perhaps as a back-up plan for an apprenticeship) the next open days are as follows:
City of Bristol College - College Green - Thursday 17 May, 5.00-7.30pm
South Glos. & Stroud College - all sites - Saturday 9 June, 10.00am-1.00pm
St Brendan's 6th Form College - Saturday 9 June, 11.00am-3.00pm
Year 11 GCSE Exams
GCSE Exams are now underway.
Year 11 will start to sit the majority of their GCSE exams from Friday 11 May.
If you are worried that your child is not revising enough at home then the following may be helpful resources:
Year 11 November mock exam papers and markschemes and exemplar solutions can be accessed here.
February Mock Exams and markschemes can be accessed here. There is value in students re-completing these and demonstrating that they can recall knowledge previously assessed, and act on feedback already given to them to improve their original raw mark.
Support your child in preparing a summer exam preparation schedule so that they complete revision tasks - a template revision schedule can be found here
Ensure your child has revision guides that can help to support their learning - a list of these is enclosed can be found here along with details of useful revision websites for each subject
Examination Command Words document here - examples of command words that students need to be confident with
See the Top Tips for Parents sheet here which contains useful reminders about 'what to do' and 'what not to do'
GCSEpod and SAMLearning contain lots of valuable online revision activities for most subjects (log on details for these sites can be found at the end of this mailing under useful links).
Final assembly and study arrangements
The Leavers' Assembly finishes at 12.30pm on Thursday 17 May and Year 11 will leave the school site at this time. Lunch will not be available on site for Year 11. A small number of students will sit their Computer Science exam at 1.45.
From Friday 18 May to Friday 25 May, all teachers will continue to teach their classes in any subject for which the examination has not been completed. We would strongly encourage your child to attend as many of these as lessons as possible.
If you and your child believe that they would benefit more from completing independent revision at home and will not attend school, please contact the school using either the online School Absence form or the absence line 0117 919 8019. If we do not receive notification that your child is not going to be in school on one of these days then normal absence procedures will apply.
From 4 June, there will be additional examination preparation sessions available; we will write to you again before Friday 25 May to confirm which session(s) your child should attend.
When not in school, all students should be revising carefully at home. If your child is unable to work at home, they may choose to study in the school library. In order to do this they must collect a Library pass from student reception each time they come onto site. Students must abide by Library rules and work on their own in silence.
For safety reasons students must sign in and out at the student entrance when they come onto the school site. When on site pupils must wear school uniform and follow normal school rules.
Library books
All library books must be returned by Friday 29 June at the latest. Students have been asked to return library books as they finish with them during the examination period. Students must take books to the library and not drop off at reception. If there are any queries over books pupils must contact Ms Southall the librarian at daviess@cotham.bristol.sch.uk. Invoices for outstanding books will be issued from Monday 2 July.
GCSE examination timetables
Pupils have been issued with their own personal final examination timetable showing their own GCSE exams and examination board rules. No further paper timetable will be issued and it is important to keep this information safe. Please ask your child for this information if you have not seen it. An electronic version of their timetable will be added to the Year 11 Google classroom page so that students can obtain another copy.
A full GCSE timetable can be viewed here.
A copy of Examination Rules can be found here.
Student ID cards will be needed to gain access to the school and to confirm identity with exam invigilators. Students must be in full school uniform for each of their exams. Please remind your child to bring all necessary equipment to examinations, including a functioning calculator.
Please do not allow your child to bring mobile phones or any other electronic device to examinations. If it is essential to bring a phone it must be switched off and left in your child's bag. The school takes no responsibility for loss or damage to any electronic device brought into school. There are telephones available in school for use in case of emergency after examinations. Pupils are strongly advised to leave phones at home on examination days
Examination results
Results will be available from 10am to 12noon on Thursday 23 August from Charnwood. Results can only be given to pupils. Permission for someone else to collect results must be supplied in writing before the end of term (20 July) and proof of identification provided on the day.
All uncollected results will be posted home. Results will not be issued by telephone or email. North Bristol Post-16 team and Connexions will be available on results day for advice and guidance on post-16 courses.
​​​Post-16 News
This week has been "Wellbeing Week" with a focus on Post 16 Student Mental Health. We had Creative Youth Network come in to speak to the Year 12s in Core Programme about the wellbeing services they offer followed by a mindfulness session run by one of our Academic Mentors.
The Wellbeing drop in lunchtime session continues on a Thursday lunchtime in G104 - all are very welcome. This week we focussed on CBT techniques.
The school counsellor has a drop in service on a Monday and Thursday lunchtime in main school and regular sessions can be arranged via Mrs Kempt - please come and see her
Unfortunately there have been several bike thefts from the RGS sheds this week - please ensure that your son/daughter secures their bike to a post with a strong, secure lock.
Year 13 leavers assembly is on Friday 25 May.
Subject Area News
PE/Sports Update
Please click here to view all of our recent results and the upcoming fixtures for the week ahead.
Please click here for information about the Extra-Curricular Activities available to students in Term 5.
Follow @CothamPE on Twitter for all the latest news and updates from the Cotham School PE department
Visual Arts Update
This week's Artwork of the Week goes to Eva Brennan, 9SME, with her wonderful mixed-media page inspired by cubism. Click here to view.
Modern Foreign Languages (MFL) Update
Meeting our Swiss Penpals - Thursday 26 April
Year 10 students who have been writing letters to swiss students for some months were finally able to meet their Penpals in person last week and and show them the sights of central Bristol in glorious sunshine. Click here to view the article written by Aineias Arango, 10MAH and Amelie and Alex, 10DF
Onatti theatre
On Friday 4 May Year 7 and 8 German students had the opportunity to watch a play delivered 100% in German. Students really enjoyed the humour and slapstick comedy, and it proved to be a really motivating learning experience. There was excellent participation from students throughout. Click here to view images and a short video of the event.
House News
Sigma Update
Cycle your way to support the Sigma Environment Project.
For one week 14 - 18 May, we will have a bike in the Hub.
Please come along at break and lunch time to see who can cycle the furthest in 1 minute (50p for one minute).
Prizes for those who can stay top of the leaderboard! All money raised will go towards installing a Water Bottle Fountain
Community News
Foster Care Fortnight
This year's Foster Care Fortnight runs from 14 to 27 May. It is the UK's biggest foster care awareness raising campaign, delivered by the fostering charity, The Fostering Network. Bristol City Council's Fostering and Adoption Service is organising a range of events during the fortnight. Click here to find out more.
Invitation to Somali Parents
Bristol City Council would like to invite Somali Parents to an informal meeting on Monday 21 May 4-5:30pm at City Academy Bristol, Russell Town Avenue, Redfield, BS5 9JH. The meeting is a chance to hear about what schools and academies in Bristol are doing to support your children's education and improve their academic outcomes. Click here for more information
Trailblazer Conference - Saturday 22 September
QEH are hosting a conference featuring a series of trailblazing speakers - women who have led the way in their field. The headline speaker is Anita Corbin whose work with Sunday TImes and the Observer Magazine has taken her on assignment all over the globe. Also speaking will be the former Captain of the World Cup winning Women's England Rugby Team Maggie Alphonsi MBE, The Deputy Leader of the Green Party Amelia Womack and Derek Thomas MP. There will be a series of sessions on the day designed to tackle specific issues facing girls today, including 'Building Resilience', 'Developing Your Leadership Style' and 'Creating Eye-catching Applications'.
All girls aged between 14 and 18 are invited to attend. To register a place please email events@qehbristol.co.uk or visit the website here.
Useful quick links
Keep us posted
It would be great if parents/carers could let the school know of any student achievements outside of school please. It is sometimes only at parents' evenings that we find out what students are doing in their own time. Email us: lpa@cotham.bristol.sch.uk
Key Dates
Please click here to view the Key Dates by year group for the 2017-18 academic year. You will be notified of any significant changes/additions, but please can we ask that you check the dates for your year group regularly as they are subject to change.
Parents' Evening Booking System (PES)
Please click here to access the online appointment booking system for Parents Evenings/Family Consultation Day. Please note this is only available if an event is due. We will email you to let you know when booking opens. If you encounter any difficulties with booking your appointments please contact the admin team by email to adminoffice@cotham.bristol.sch.uk or tel: 0117 919 8053
Assessment Calendars for KS3
We have created Assessment Calendars which contain details of the class assessments that will take place in each subject. The final column contains a link which gives information about each of the assessments.

Click here to see Year 7
Click here to see Year 8
Click here to see Year 9
Click here to see Year 10
WisePay
WisePay is the Online Payment Service at Cotham School which allows you to pay for trips and visits as well as to add credit to your child's Cashless Catering account. Click here to access your account now. If you have any queries about your account please contact the support team by email to wisepay@cotham.bristol.sch.uk
School Uniform
Please click here to view the compulsory uniform requirements of Cotham School, along with visual examples of uniform and details of our uniform suppliers.
GCSEpod
Click here to access GCSEpod which contains lots of revision resources for most GCSEs. Students self register through the website using their name and school details.
SAM Learning
Click here to access SAM learning which contains revision exercises and self marking quizzes with automatic progress tracking and reporting. Please use the Centre ID: BS6CS. Student usernames and passwords are their birthday formatted as DDMMYY, followed by their Initials.
Diagnostic Questions
Click here to access. This site contains self marking quizzes with lots of templates including some from a range of exam boards. It's easy to make your own questions in Microsoft PowerPoint too. Students sign up with their school Google account using the G+ button to automatically create a school account
Free School Meals
https://www.cloudforedu.org.uk/ofsm/sims to check if your child is eligible for Free School Meals or to apply.
Click here to Contact Us