Weekly Mailing - 18 May 2018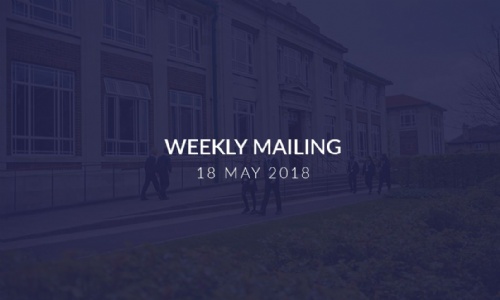 Dear Parents / Carers

Please find below this week's important information for Parents/Carers and Students as well as updates on School events, activities and opportunities for your reference.

Best wishes for the weekend

Jo Butler
Headteacher
Upcoming events
w/c 21 May
Week B

Friday 25 May

Last day of Term 5
Y13 Leaving
Congratulations
Congratulations to Marianne Cross (11RA) who was one of two Bristol young musicians selected to take part in a National Youth Orchestra Inspire Event at the Barbican on 4 May. Marianne, who is lead violin with Bristol Schools Chamber Orchestra, joined 164 other teenagers from England, Scotland and Los Angeles. The orchestra had a day's rehearsal in East London, followed by an open rehearsal on stage at the Barbican with the renowned Venezuelan conductor, Gustavo Dudamel.
The event was the launch of "Tuning into Change," a youth manifesto for the arts. Details of the event can be found here (and you might spot Marianne on the left of the first photograph).

Important Information for Parents/Carers
Ramadan
I am aware that the month of Ramadan has now started and I want to take this opportunity to wish you a Ramadhan al-mubarak. I know this will be a very special time for many of you and your children. As you are aware the fasts this year will be very long and can be difficult for some children. I know that you will have thought carefully about whether your child fasts and the school will be respectful of your decisions. At school we very much appreciate that Ramadan is an extremely important month for Muslims and we wish to work with parents and carers to ensure that we support children's experience.
As I know you will be aware, Muslims are encouraged not to use Ramadan as an opportunity to avoid aspects of normal life but rather to cope with normal life under a different set of guidelines. Therefore, we will also be delivering our curriculum in its entirety to all Cotham students according to our usual format and will not be making any exceptions or exemptions to this.
Once again I wish you all a happy and productive month and wish you well in all your devotions.
Mental Health Awareness Week
For Mental Health awareness week, we continued with yoga relaxation and self-care tips such as self massage on Fridays at lunchtime in the main hall. See the poster here
Ms Gallien (Cover Supervisor) has been practicing yoga in each lesson with breathing. We stop and drop what we are doing and for a minute we focus on our breathing for students to be more aware of their bodies and inner world. Hand on heart and on tummy. We end the session with 'thank you', 'I am good enough' and 'I am beautiful'. Yoga Tribe for Teens Poster.
In last week's mailing we shared information about assemblies that occurred during Mental Health Awareness Week and the link to the presentation was not working. You can view the presentation here.
Word of the week
Each week at Cotham we promote a Word of the Week. This is to help students expand the range of vocabulary they use. Please find the word for the week ahead by clicking here.
Celebrate and Connect supper
To celebrate the cultural diversity at Cotham School, we are running a Celebrate & Connect supper on Thursday 19 July. Ms Kelly and Ms Prosser will be visiting all Year 7 and Year 8 classes to give out a paper copy of the flyer which you can see here. House points will be given for all completed replies, whether you attend or not. We'd love to see you there.
Head lice
We have received some reports of head lice returning to school. Please see the information here and check your child's hair regularly for head lice and take any necessary steps promptly. Please can we also draw your attention to some recent advice from the Medicines and Healthcare products Regulatory Agency on the use of head lice products.
Second Hand Uniform
The next second hand uniform sale will be held in Main Reception on Friday 8 June from 2.30pm - 4.00pm, all the money raised goes towards School Funds.
If you have items of school uniform that are no longer required we are always very happy to receive donations at Main Reception, Cotham Lawn Road. Our opening hours are Mon-Thurs 8am - 4:30pm and Friday 8am -3.30pm.
Key Stage 3 (KS3) News)
Maths Assessment Dates
Year 7 End of year exams
Week beginning 18 June
A-side of year group (Tuesday P4 paper 1 and Wednesday P5 paper 2)
B-side of year group (Tuesday P2 paper 1 and Friday P2 paper 2)
Year 8
Formative assessment on Chapters 10-14 of their textbooks, this is taking place on Monday 21 May for both sides of the year.
Year 8 End of year exams
Week beginning 25 June
A- side of the year group (Mon P3 paper 1 and Tuesday P2 paper 2)
B- side of the year group (Tue P2 paper 1 and Wednesday P5 paper 2)
Year 9 End of year exams
Week beginning 5th June. Teachers have informed students exactly when these are within the week.
Key Stage 4 (KS4) News
Year 11
Cotham says 'au revoir' to Year 11 and welcomes them back on Friday 18 May for their French exam
Year 11 had their Celebration Leavers Assembly on Thursday 17 May after having started their GCSE exams this week. Half of the year group then returned on Friday 18 for their French written exam.

From Friday 18 May to Friday 25 May, all teachers will continue to teach their lessons. We strongly encourage your child to attend as many of these as possible. These lessons will provide students with an opportunity to ask for any last minute support with difficult topics.

If you and your child believe that they would benefit more from completing independent revision at home and will not attend school, please contact the school using either the School Absence form (see the parents and carers section of the school website) or the absence line 0117 919 8019. If we do not receive notification that your child is not going to be in school on one of these days then normal absence procedures will apply.

From 4 June, there will be additional examination preparation sessions available.
These will occur for the following subject areas on the following days:

Date Subject Period Students
Mon 4 June Psychology 3 and 4 All welcome
Mon 4 June English Language 5 Invite only
Tue 5 June Geography 3 and 4 Invite only
Tue 5 June Music GCSE 3 All welcome
Wed 6 June Maths 3 and 4 Invite only
Thur 7 June English Language 3 and 4 Invite only
Thur 7 June History 3, 4 and 5 Invite only
Fri 8 June Geography 3 and 4 Invite only
Fri 8 June Biology 3 and 4 Invite only
Mon 11 June Maths 3 and 4 Invite only
Tue 12 June Chemistry 3 and 4 Invite only
Tue 12 June Food 3 and 4 All welcome
Tue 12 June Child Dev 5 All welcome
Wed 13 June Resistant Mat 3 and 4 All welcome
Thur 14 June Physics 3 and 4 Invite only
Fri 15 June German 3 and 4 All welcome
Mon 18 June Graphics 3 and 4 All welcome
Tue 19 June Dance 3 and 4 All welcome
Wed 20 June German 3 and 4 All welcome

We will write to you again before Friday 25 May to confirm which session(s) your child should attend. We will also email all students with details of the sessions that they are invited to. This information will also be posted on 'Year 11' google classroom. Please encourage your child to continue to check google classroom during the exam season.
When not in school, all students should be revising carefully at home. If your child is unable to work at home, they may choose to study in the school library. In order to do this they must collect a Library pass from student reception each time they come onto site.

We expect all students to be in normal school uniform and have their lanyard with them whenever they are in school.

If you are worried that your child is not revising enough at home then the following may be helpful resources:
Year 11 November mock exam papers and markschemes and exemplar solutions can be accessed here.
February Mock Exams and markschemes can be accessed here. There is value in students re-completing these and demonstrating that they can recall knowledge previously assessed, and act on feedback already given to them to improve their original raw mark.
Support your child in preparing a summer exam preparation schedule so that they complete revision tasks - a template revision schedule can be found here
Ensure your child has revision guides that can help to support their learning - a list of these can be found here along with details of useful revision websites for each subject.
Examination Command Words document here - examples of command words that students need to be using with confidence.
See the Top Tips for Parents sheet attached here which contains useful reminders about 'what to do' and 'what not to do'.
GCSEpod and SAMLearning contain lots of valuable online revision activities for most subjects (log on details for these sites can be found at the end of this mailing under useful links).
GCSE examination timetables
Pupils have been issued with their own personal final examination timetable showing their own GCSE exams and examination board rules. No further paper timetable will be issued and it is important to keep this information safe. An electronic version of their timetable has also been added to the Year 11 Google classroom page so that students can obtain another copy.
A full GCSE timetable can be viewed here.
A copy of Examination Rules can be found here.
NEW revision resource for Design Technology Year 11- senecalearning.com
The World's First Accelerated Learning System is completely free for all your GCSEs. Our ground-breaking research proved that our system will make you learn 2x faster than your friends, for your GCSEs. We also work with top neuroscientists to continuously improve our system. Unleash your hidden genius using the power of memory palaces.
​​​Post-16 News
Year 12 mock results will be issued to students from next Monday 21 May
Year 12 students have been informed what they need to do if they achieve a U grade - there will be an opportunity to resit the exam after half term.
Year 12: Please ensure that your son/daughter has spoken to their tutor regarding any absence.
Next week's Core Programme - lesson 3 on Wednesday 23 May is an exciting and useful workshop on CV writing, tips for interviews and making great first impressions to employers as well as useful careers advice.
This is being run by Feeding Britain's Future and to fully cover all these areas will be a 2 hour session
Year 13 leavers assembly is lesson 3 and 4 next Friday 25 May which is their last day - lessons 1 and 2 will be as normal.
Year 13 - A reminder that students must return their books and resources to the library by the end of June.
Subject Area News
PE/Sports Update
Please click here to view all of our recent results and the upcoming fixtures for the week ahead.
Please click here for information about the Extra-Curricular Activities available to students in Term 5.
Follow @CothamPE on Twitter for all the latest news and updates from the Cotham School PE department
Visual Arts Update
Aardman School Competition
We have our own Feathers Mcgraw Model to represent Cotham School at the Aardman School's exhibition at the Mall in Cribbs Causeway. Please see the poster here for competition details and get designing this half term. The winning design will be made into a reality using their chosen medium by the winner and runners up. Art Club will relaunch on Fridays at lunch after half term if you need any help.
Artwork of the week
This weeks Art WOW goes to Ben Brunt 10DU and Sophie Jones 10AWO with their fantastic colourful lino prints which they have edited and layered in Photoshop. Click here to view.
Performing Arts Update
Drama Work of the week goes to Ellis New (8EM) for his sculpture of Shakespeare, pictured alongside Amina Birdi's (8EM) model of the Globe Theatre.
We look forward to seeing more great work in the future! This term year 8 are studying Shakespeare's plays, exploring extracts from Macbeth, King Lear, A Midsummer Night's Dream and Romeo and Juliet.
HOuse News
Omega Update
This term we have said a sad farewell to our 4 current prefects, Lexi, Zia, Larry and Dee. They have all worked really hard this last year to support Omega house, they have performed duties, collected money, represented their house and helped to run and plan assemblies they will be greatly missed.
We are however delighted to have also welcomed four new prefects that will be with us for the year, Theo, Alex, Patrick and Milly.
This term Omega house has closed the gap with house points and has managed to add significantly to our fundraising efforts with a coin collection and a staff/prefect sponging. This involved the old prefects of Omega and Gamma house lining up while students and staff paid 20p to exact heartfelt revenge in the form of wet sponges of icy water. Several members of staff were particularly enthusiastic! Click here for images.
Next term we will be changing our focus to that of the Aid Box Community charity that is based very near the school with the intention of improving their building and helping to re-paint their shop.
Sigma Update
Name the Tree Tutor Challenge
We had a great selection of names put forward for Name the Tree. The House Reps voted and we have decided on a winner and three runners up.

The winner is "D" mitree congratulations to Will Duggan 7BSA
Runners up: 8SL - Tree-anna, 10MAH - Groot, Sigma House Reps - Oud

Next week we will invite Will and a representative from each of the runners up to put their name plaque on their chosen tree.
Community News
As a part of the Bristol City Council plan to improve reading in the city, the Mayor is keen to ensure that every child that needs one can have a volunteer, reading one-to-one with them in their school. We estimate that in order to do this we need to recruit around 300 volunteers as soon as possible. Helping a child that is falling behind with their reading has the potential to change lives! We don't want to see anyone left behind and we can all help to prevent this. For more information about this opportunity and to find out about the next training day please follow this link: https://candobristol.co.uk/projects/reading_in_schools.
If you're a tweeter/facebooker or any other type of social media expert, the shortened version is https://bit.ly/2ri2Ow6....Please share this as widely as you can!!
We've also just started using a new social action 'platform' called 'Can do Bristol', you can use it to ask for help (volunteers, materials, money) and also search it for opportunities to make a difference. The address is www.candobristol.co.uk.
Useful quick links
Keep us posted
It would be great if parents/carers could let the school know of any student achievements outside of school please. It is sometimes only at parents' evenings that we find out what students are doing in their own time. Email us: adminoffice@cotham.bristol.sch.uk
Key Dates
Please click here to view the Key Dates by year group for the 2017-18 academic year. You will be notified of any significant changes/additions, but please can we ask that you check the dates for your year group regularly as they are subject to change.
Parents' Evening Booking System (PES)
Please click here to access the online appointment booking system for Parents Evenings/Family Consultation Day. Please note this is only available if an event is due. We will email you to let you know when booking opens. If you encounter any difficulties with booking your appointments please contact the admin team by email to adminoffice@cotham.bristol.sch.uk or tel: 0117 919 8000
Assessment Calendars for KS3
We have created Assessment Calendars which contain details of the class assessments that will take place in each subject. The final column contains a link which gives information about each of the assessments.

Click here to see Year 7
Click here to see Year 8
Click here to see Year 9
Click here to see Year 10
WisePay
WisePay is the Online Payment Service at Cotham School which allows you to pay for trips and visits as well as to add credit to your child's Cashless Catering account. Click here to access your account now. If you have any queries about your account please contact the support team by email to wisepay@cotham.bristol.sch.uk
School Uniform
Please click here to view the compulsory uniform requirements of Cotham School, along with visual examples of uniform and details of our uniform suppliers.
GCSEpod
Click here to access GCSEpod which contains lots of revision resources for most GCSEs. Students self register through the website using their name and school details.
SAM Learning
Click here to access SAM learning which contains revision exercises and self marking quizzes with automatic progress tracking and reporting. Please use the Centre ID: BS6CS. Student usernames and passwords are their birthday formatted as DDMMYY, followed by their Initials.
Diagnostic Questions
Click here to access. This site contains self marking quizzes with lots of templates including some from a range of exam boards. It's easy to make your own questions in Microsoft PowerPoint too. Students sign up with their school Google account using the G+ button to automatically create a school account
Free School Meals
https://www.cloudforedu.org.uk/ofsm/sims to check if your child is eligible for Free School Meals or to apply.
Click here to Contact Us