Weekly Mailing - Friday 25 May 2018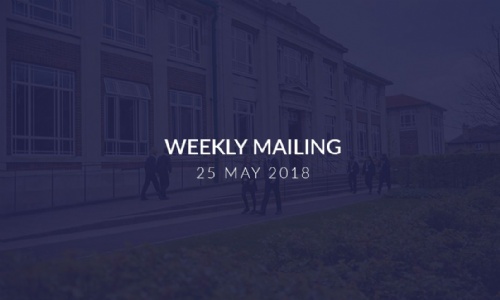 Dear Parents / Carers
An extremely busy term and as such rather a lot of information to share with you all this week! Please also find below my usual information, letters and updates on events that have taken place this week.
Please accept my very best wishes for a restful bank holiday break/ week away from school.
Ms Jo Butler
Headteacher
Upcoming Events
w/c 28 May

MAY HALF TERM

w/c 4 June

Week A

Yr. 8 German visit to Blackforest

Monday 4 June

INSET DAY - School closed to all students

Tuesday 5 June

First day of Term 6
Co-op Forum Meeting 7.00p.m.
Congratulations
Year 8 Does Countdown
This week, the Year 8 tutor groups took part in a maths competition based on the Countdown television program. Each group entered a team of two representatives with the rest of the year group watching and answering questions between rounds. The winning group was 8ABI represented by Edward Bullock and Bryn Coates-Cook. 8ID represented by Ilyaas Abdi and Prerana Nerlige Prashanth and 8EM Mike Ye and Jennifer Crew- Emery shared second place. Well done to all who took part.
Junior Maths Challenge Results
Our most able mathematicians in Year 7 and 8 recently took part in the Junior Maths Challenge. This event allows students to compete against the best mathematicians across the nation. About 300,000 students take part. The results are our best ever by quite some distance and show the depth of talent that exists in both these year groups. All students who took part should be proud of their results. However special mention is given to Jacob Thornand Darong Huang in Year 8 who qualified for the British Maths Olympiad putting them in the top 1200 students in the Country. Amina Birdi ,Mike Ye, Ezra Penny, Liang Hu, Gabriel Evans (Year 8) and Elliot Catlay, Hamdi Jama , Joe Graham (Year 7) qualified for the Pink Kangaroo round (this was an Australian competition originally) putting them in the top 8000 Certificate Winners
(Both year groups answered the same questions). Click here to see all of our student results.
Talk to us
If you would like to tell us about any student achievements outside of school or to promote a community event etc via our weekly mailing please do not hesitate to contact us with details
Important Information for Parents/Carers
New Student Reception
Our new Student Reception has been fully operational since Tuesday 1 May 2018. The Student Reception is accessed from the Cotham Road side of the building.
Students are already familiar using this as the entry/exit route from school but the new student reception is now also the first point of call with the school for Parents/Carers.
If you have any student queries, items to be dropped off or are picking up/dropping off students from medical/other appointments then this will be the access/entry point from school.
The Student Reception will be open from 8.30a.m. to 3.30p.m. Monday to Thursday and from 8.30 a.m. to 3.00pm on Fridays.
Any pre-arranged appointments with members of staff will still be managed by the "Visitors Reception" on the Cotham Lawn Road side of the building which will be open 8.00a.m. to 4.00p.m. Monday to Thursday and 8.00a.m. to 3.30p.m. on Friday. Thank you in advance for your cooperation.
GDPR
One of the biggest changes to EU data privacy law, the General Data Protection Regulation (GDPR) comes into effect today, 25 May 2018.
We have updated our Privacy Notices to reflect upcoming changes in data protection law. Click here to read our Privacy Notices.
Safeguarding Update
Please click here to visit the Mental Health and Wellbeing page of our school website where you will find a comprehensive report of the Mental Health and Wellbeing provision at the school, and links to some helpful resources.
Click here to access the Bristol Safeguarding Children's Board leaflet to support Parents/Carers in keeping children safe when using clubs, activities and tutors outside of school.
Word of the week
Each week at Cotham we promote a Word of the Week. This is to help students expand the range of vocabulary they use. Please find the word for the week ahead by clicking here.
Second Hand Uniform
The next second hand uniform sale will be held in Main Reception on Friday 8 June from 2.30pm - 4.00pm, all the money raised goes towards School Funds.
If you have items of school uniform that are no longer required we are always very happy to receive donations at Main Reception, Cotham Lawn Road. Our opening hours are Mon-Thurs 8am - 4:30pm and Friday 8am -3.30pm.
Ebola in the Democratic Republic of Congo
There has been a recent new outbreak of Ebola in the Democratic Republic of Congo. If you or another family member are intending to travel to either the DRC, or the Central African Republic in the next half-term or in the summer holidays then please could you inform the school. You can do this by emailing hardwickg@cotham.bristol.sch.uk
Key Stage 3 (KS3) News)
Maths Assessment Dates
Year 7 End of year exams
Week beginning 18 June
A-side of year group (Tuesday P4 paper 1 and Wednesday P5 paper 2)
B-side of year group (Tuesday P2 paper 1 and Friday P2 paper 2)
Year 8
Formative assessment on Chapters 10-14 of their textbooks, this is taking place on Monday 21 May for both sides of the year
Year 8 End of year exams
Week beginning 25 June
A- side of the year group (Mon P3 paper 1 and Tuesday P2 paper 2)
B- side of the year group (Tue P2 paper 1 and Wednesday P5 paper 2)
Year 9 End of year exams
Week beginning 5th June. Teachers have informed students exactly when these are within the week.
Key Stage 4 (KS4) New
Year 10
End of Year Exams- Monday 18 June- Friday 29 June
End of year exams for Year 10 students will commence on Monday 18 June and continue until Friday 29 June. The results that they achieve will be sent to you in your child's Academic Monitoring report at the end of Term 6. Your child's end of year Academic Monitoring report will contain their Current GCSE Grade, their Exam Grade, and their teachers Predicted Grade. Teachers will use your child's performance in these exams to arrive at a Predicted Grade.
Your child will be asked for their Predicted Grades when they apply to Post 16 Institutions. Institutions will consider these Predicted Grades carefully before making an offer of study to your child. The next 'mock' exam for students will not take place until January 2019 and so it is important that your child's Predicted Grades are strong enough to allow them to apply for the courses that they want to study next year. It is therefore vital that your child prepares carefully and thoroughly for these end of year exams.
A copy of the exam timetable can be viewed here.
A copy of the content being assessed in each of their exams can be viewed here.
Students will be given a copy of their own timetable when we return after the May holiday. Where an exam clash exists, their own timetable will tell them on which day they will complete their exams. We rely on students carrying their timetables with them at all times during exam season and being prompt to their exams. Please discuss the exam timetable with them and check that they know where they need to go for the exam and that they are fully equipped.
The following resources will be helpful in supporting your child with their revision:
Support your child in preparing an exam preparation schedule so that they complete revision tasks - a template revision schedule can be found here.
Ensure your child has revision guides that can help to support their learning - a list of these is here along with details of useful revision websites for each subject.
Examination Command Words document here - examples of command words that students need to be confident using.
GCSEpod and SAMLearning contain lots of valuable online revision activities for most subjects (log on details for these sites can be found at the end of this mailing under useful links).
Women in STEM Conference
On Friday 18 May, 9 girls from Year 10 attended a conference at Redmaids High School with a focus on the amazing range of careers that exist in Science, Technology, Engineering & Maths (STEM). It began with a really inspiring keynote talk from Dr Emily Grossman, whose accomplishments included a Double First from Cambridge University, a PhD in cancer research and a career as an actress and singer before she became an acclaimed science communicator. She talked a lot about how a lack of confidence hinders women in all careers, not just STEM. Students then went to workshops on how wearable technology can support people with chronic health conditions, how the NHS uses statistics to save lives, and how cryptography and encryption can help solve crimes. After lunch there was a dramatic performance of Ada.Ada.Ada - about Ada Lovelace who wrote the world's first computer algorithm in 1843. The conference was very interesting and thought-provoking and helped students realise how modern careers are truly interdisciplinary. Please click here for photos.
Year 11
We have been so impressed with the attitude and commitment of our Year 11 students during GCSE exams. The reform to GCSEs has brought many challenges to students across the United Kingdom but our students have stepped up to these and demonstrated that they are defined not by the challenges they face, but by the challenges that they overcome.
We are incredibly proud of our students and wish them every success in their exams this summer.
From 4 June, there will be additional examination preparation sessions available.
These will occur for the following subject areas on the following days:
Date Subject Period Students
Mon 4 June Psychology 3 and 4 All welcome
Mon 4 June English Language 5 Invite only
Tue 5 June Geography 3 and 4 Invite only
Tue 5 June Music GCSE 3 All welcome
Wed 6 June Maths 3 and 4 Invite only
Thur 7 June English Language 3 and 4 Invite only
Thur 7 June History 3, 4 and 5 Invite only
Fri 8 June Geography 3 and 4 Invite only
Fri 8 June Biology 3 and 4 Invite only
Mon 11 June Maths 3 and 4 Invite only
Tue 12 June Chemistry 3 and 4 Invite only
Tue 12 June Food 3 and 4 All welcome
Tue 12 June Child Dev 5 All welcome
Wed 13 June RM 3 and 4 All welcome
Thur 14 June Physics 3 and 4 Invite only
Fri 15 June German 3 and 4 All welcome
Mon 18 June Graphics 3 and 4 All welcome
Tue 19 June Dance 3 and 4 All welcome
Wed 20 June German 3 and 4 All welcome
A letter confirming these sessions and letting you know if your child is invited to one of the 'invite only' sessions will be sent via post on the last day of term.
This information (with student names for invite only sessions) has also be posted on 'Year 11' Google classroom. Please encourage your child to continue to check Google classroom during the exam season.
During the exam period the library will remain open for students to complete revision; they need to collect a Library pass from student reception as they arrive in school.
All students should be in normal school uniform and have their lanyard with them (for exam identification) whenever they are in school.
If you are worried that your child is not revising enough at home then the following may be helpful resources:
Year 11 November mock exam papers and markschemes and exemplar solutions can be accessed here.
February Mock Exams and markschemes can be accessed here. There is value in students re-completing these and demonstrating that they can recall knowledge previously assessed, and act on feedback already given to them to improve their original raw mark.
Support your child in preparing a summer exam preparation schedule so that they complete revision tasks - a template revision schedule can be found here
Ensure your child has revision guides that can help to support their learning - a list of these can be found here along with details of useful revision websites for each subject.
Examination Command Words document here - examples of command words that students need to be using with confidence.
See the Top Tips for Parents sheet attached here which contains useful reminders about 'what to do' and 'what not to do'.
GCSEpod and SAMLearning contain lots of valuable online revision activities for most subjects (log on details for these sites can be found at the end of this mailing under useful links).
Please continue to encourage your child to revise over the May term holiday even if the weather is glorious!
GCSE examination timetables
Pupils have been issued with their own personal final examination timetable showing their own GCSE exams and examination board rules. No further paper timetable will be issued and it is important to keep this information safe. An electronic version of their timetable has also been added to the Year 11 Google classroom page so that students can obtain another copy.
A full GCSE timetable can be viewed here.
A copy of Examination Rules can be found here.
National Citizens Service
Click here to view a letter from the NCS about their Summer 2018 programme.
​​​Post-16 News
Year 13s last day of school was Friday 25 May and we had a very emotional leavers assembly- we wish them all the very best of luck for the future. A reminder to all Year 13 students to return locker keys and library books to claim back deposit.
Year 12 Core Programme was a brilliant session run by Feeding Britain's Future where they held an interactive workshop around CV writing, job applications and how to make a great impression as well as having the opportunity to speak to professionals in the Food Technology field about their careers.
A reminder that there is ongoing support for all students regarding their Mental Health. We have a school counsellor, wellbeing drop in sessions, mindfulness workshops and a bank of resources kept in Mrs Kempt's office. Please remind your son/daughter that there is always support available and someone to talk to.
The Year 13 End of Year Art Show begins Friday 8 June and finishes 13 June and will be taking place at Centrespace - more details to follow - please come and look at the amazing work our Year 13's have created.
A reminder to ensure that all student absence has been rectified - students should complete blue forms and ask you to sign them before returning the forms to student reception at MAIN SCHOOL not Charnwood.
A reminder that the first day back after half term is an INSET day - the school will be closed to all students and no lessons will take place due to staff training.
Careers News
Access To Music run creative courses in gaming, music and media. They have an Open Day on Wednesday 30 May and a Taster Day on Friday 1 June. For more information and to book a place click here.
Still looking for an apprenticeship to start this summer/autumn? Click here to view a spreadsheet showing all the live apprenticeships in Bristol this week. Further details of each vacancy can be found by inputting its Reference Number here. Some have had no applicants, so students wanting an apprenticeship to start after Y11, Y12 or Y13 still stand a good chance of getting one. Ms Chester and Mrs Kempt can advise on how to make a good application.
Rolls Royce is inviting Year 12 students and their parents to an Open Evening on Thursday 5 July at their main site in Filton to find out about their range of apprenticeships and school-leaver opportunities. Students should be studying at least 1 STEM subject and be heading for minimum grade Cs in A-Levels or equivalent. For more information and to sign up click here.
Creative Futures Project: Creative Youth Network are offering 5 young people aged 16-25 the chance to take part in a 6-month paid project to set themselves up as a freelancer, make and show their own work and get mentoring. More details here: https://www.creativeyouthnetwork.org.uk/Pages/Category/creative-futures
Subject Area News
PE/Sports Update
Please click here to view all of our recent results and the upcoming fixtures for the week ahead.
Follow @CothamPE on Twitter for all the latest news and updates from the Cotham School PE department
Visual Arts Update
Aardman School Competition
We have our own Feathers Mcgraw Model to represent Cotham School at the Aardman School's exhibition at the Mall in Cribbs Causeway. Please see the poster here for competition details and get designing this half term. The winning design will be made into a reality using their chosen medium by the winner and runners up. Art Club will relaunch on Fridays at lunch after half term if you need any help.
Performing Arts Update
Drama Work of the week goes to Maddy Spilling & Holly Puttick, both in 8GC, for their joint project on Shakespeare and Hamlet. Click here to view. Fun fact: Hamlet is the longest Shakespearean play with 4,042 lines and 29,551 words! Next term, Year 8 will be exploring storytelling through devised performances.
Modern Foreign Languages (MFL) Update
Year 12 French - New Cultural Exchange Visit to Auch, South West France
16-20 May 2018
On Weds 16 May, 8 students from Year 12 took part in our first visit to Auch in France for 5 days of total immersion in French language and culture. Click here for more.
Modern Technology and Visual Arts: Food Science
Bristol Young Cook Semi Finals
This week we hosted the Bristol Young Cook Semi Finals. Aminia Birdi 8EM, Edward Bullock 8ABI, Freddy Aitken 8NCA, William Derrick 8NCA and Sumayya Omar 8DD, Arran Kinnear 8GM Veggie Broth with Pearl Barley wild garlic and dumplings with a healthy pavlova were all selected by the organisers as Semi Finalists.
Students were asked to make a two dishes one sweet and one savoury which incorporated vegetables and fruit but also considered how to reduce overall sugar content as part of the Bristol Sugar Smart Campaign. Amina made Black Bean Enchiladas and Orange Polenta Cake, Edward made Broth with Tofu and Pak Choi and Rhubarb Fool, Freddy made Mozzarella and Tomato Pizza with Rhubarb Panacotta, William made Curried Root Vegetable and Chickpea Wraps and Apple and Berry Crumble. The judges were very impressed by all students involved and commented on their use of fresh ingredients and local foods, combined with their enthusiasm for cooking. We are very proud of all the students involved for representing the school in such a professional manner. We would like to thank parents for their continued support in this competition and for supporting the practising of these dishes at home.
Amina, Freddy and Arran have been selected to represent the school at the Final at the Square Food Foundation on Thursday 14 June, we would like to wish them the very best of luck!
The students were being filmed and interviewed as they cooked so it was a very similar format to Master Chef. Please view the pictures here. As soon as the final film is ready we will include it in the weekly mailing.
Fruit Machine Task
Year 10 GCSE Food students have been invited to take part in an exciting opportunity as part the Bristol Food Connections Festival 2018 Students will partake in an 'Apprentice' style Challenge to purchase produce from Bristol Fruit and Vegetable Market with an aim to process this into fruit and vegetable products to up-sell at a City Centre market. We will have an early visit to the Fruit and Vegetable market at 7 am to purchase our produce ahead of selling this at the Harbourside on Thursday 14 June at 11.30am. We would invite any parents and carers who are available to visit our market stall and purchase the prepared food items. Several other schools are involved and we would appreciate the support. In due course students will have prepared their marketing materials and we look forward to sharing this with you.
House News
Gamma House Update
Exciting news as the Cotham Newspaper is launching next term. The following students have been working hard to make this a success and will be responsible for managing the project. More news (pun intended) to follow in upcoming weekly mailings:
Isaac Hawkins 9TS (Managing Editor)
Charlotte Omiotek 9SME (Copy editor and political correspondent)
Oskar Allerbrand 9TS (Graphics Editor and Entertainment correspondent)
Aimee Parker-Sedgemore 10SBA (Chief photographer)
Lola Eden Beaver 7PPR (Social affairs and campaign manager)
Hannah Robbins 7PPR (House correspondent and photographer)
Ellisa Zananiri 9TS (Chief journalist)
Zach Mason 9AF (Distribution manager and assistant copy-editor)
Isabelle Peck 9TS (Opinion Editor)
Sigma House Update
Fundraising
Sigma are having an Ice lolly Sale Friday 8 June in the Hub - all 50p.
Meat Free Monday
We will also be supporting 'Meat Free Monday' on Monday June.
Sigma House Reps; Lola Gurvitz, Adam Davey Takolia, Christine Wierzbicki and Jana Al Masri ​​have been working together with Mrs Haskins Cotton the Catering Manager to put together a menu for this event. Click here to view menus. They have also worked together on the promotional side and have designed posters and a menu. As part of our role in the school we would like Meat Free Monday to raise awareness of the environmental impact of eating meat, and to encourage people to help slow climate change, preserve precious natural resources and improve their health by having at least one meat free day every week. One day a week can make the world of difference.
May Sigma Superstar
This months Sigma superstar is Anna Alvarez Stodulkova 8ID. Anna is always very positive, polite, kind and friendly with everyone. She also works very hard in lessons. Anna did really well during the Year 8 Enterprising day.
Tree naming ceremony
Sigma hosted the first tree naming celebration on Wednesday 23 May. Will Duggan 7BSA along with his winning name "D" mitree chose his tree and a plaque was attached. A representative from the runners up - 8SL Gabriel Evans , 10MAH Paulo Antonio and Sigma Rep Jana Al Masri also had a plaque attached to their chosen tree. We were also joined by Ms Gallien and Cecilia Scott-Mazzella and Blaze Peacock Y7KM who named their tree Jérémie in November. Click here for images.
Sigma Cycle Challenge
This event was great fun! Chilli Hughes 11LAL finished in 1st place closely followed by Paulo Antonio. Congratulations to everyone who took part. Click here for images. All money raised from the cycle challenge and Ice Lolly sales will go towards the Sigma Water Project. We are working towards installing a water bottle drink fountain.
Delta Download
BAFTA Award Winning Student inspiring others
The school was contacted to inform us that Karrot Entertainment have completed the animation for Being Ourselves, the national competition that Amelia Spooner won with her selfie drawing. BAFTA showed the film for the first time this week to nearly 500 children in a school in Croydon as part of the BAFTA Kids Roadshow with Place2Be. The children loved it and burst into spontaneous applause. It also generated some really great conversations around the subject and they loved the mix of drawings and comments by the winners.
Place2Be (a leading national children's mental health charity), have just moved into new offices and are going to frame Amelia's winning drawing and have it on display in their hallway!
We are super proud of Amelia as her drawing is helping to raise awareness and create a conversation around children's mental health. Huge congratulations again Amelia!
Delta Dazzler
This student always demonstrates a positive attitude and embodies exactly what 'Cotham Manners' looks like. He is smiley and enthusiastic and we are lucky to have him in Delta House. Adrian Pricop of 7PPR, you are the Delta Dazzler for May 2018! Huge well done to Adrian.
Delta House Hero
Huxley Leigh is a Delta House Hero for consistently demonstrating the Delta House values in everything he does. He is kind, hardworking and always tries his best. He gets involved and makes a positive difference to our school community. He also shows great generosity and spirit. Huge well done and Thank you Hux!
Delta House Reps
Delta House Reps have been meeting recently to focus on two key areas. Fundraising and our school rewards and behaviour system. The reps have continued to collate ideas for suggestions that can help develop our rewards system in particular. In term 6, we hope to visit / make connections with other schools to find out about how their rewards system works so that we can help create a reward system that works for all students in all years.
Fundraising
Going donuts for Delta take 3! Due to the success of our previous donut sales, we will be hosting another one in term 6 (date to be confirmed) - all money raised will go to our House Charity, Off The Record.
Teachers undertaking the ice bucket challenge!
The reps and prefects have been asking members of staff if they would be prepared to subject themselves to a mighty freeze all in the aid of raising money for our house charity! Surprisingly we already have quite a few who have said they will do it! Keep your eyes peeled for the thermometer that will be appearing on the screens around school. In order for the teachers to be subjected to the ice bucket challenge, students will have to reach the different milestones on the thermometer. If people donate they will receive a raffle ticket and if their raffle ticket is drawn they will get to tip the bucket of ice on the teacher!
Prefects
Thank you to Istahil, Siobhan, Harry and Falah for the way in which they have undertaken and commenced their prefect responsibilities in an exemplary manner.
Community News
Young Bristol
YB will be celebrating their 90th birthday on 24 May at Sea Mills Boys and Girls club and you are all invited! Click here for more.
Horfield Festival of Children's Literature
Horfield Church of England Primary School is hosting the first ever Bristol's Festival of Children's Literature this summer, on Saturday 14 July. As UKLA Literacy School of the Year 2017-18 Horfield are keen to give something back to the Bristol community through a celebration of children's literature. The UKLA website has tickets priced relatively low (for a literature festival) to ensure accessibility to all Bristol children.
SEND a Welcome events
Consultation Meeting; Thursday 24 May 9:30am Boston Tea Party
Becky Bliss, Commissioning Manager, is meeting with SENDaWelcome to hear local views on Bristol City Council's short break service. Please come along and share your views and experiences on Thursday 24 May at 9:30am at Boston Tea Party, Gloucester Road. Please confirm your attendance by emailing sendawelcome@gmail.com , thank you. You do not need to currently access short breaks to be part of the consultation. You can arrange to speak/ meet with Becky separately by contacting her directly on 0117 922 2679 or via email becky.bliss@bristol.gov.uk
Kings Lawn Tennis Club
Tuesday 29 May
2pm-3pm coaching, 3-3:30pm biscuits and free time on court
Summer Saturday session:
12 - 1PM COACHING followed by biscuits!
Saturday 9 June
**We will also be running sessions every Tuesday 2-3.30pm in the summer holidays!! Look out for details!**
For all sessions please book online! (search Junior Coaching)
Please contact Elly if you have any queries or concerns (07581 237260 or ellytennis.Kings@hotmail.com) or visit the website.
Baby Bites
Amy from Baby Bites will be running chocolate workshops for kids on Wednesday 30 May at the Flamingo Centre in Westbury. The classes are open to everyone, and are not specifically for families with kids with SEND, but ALL children are very welcome and we really hope you come along if you enjoy cooking!
There are 2 classes:
10am-12pm for 5-10 year olds
2-4pm for 11-15 year olds
All classes £15/child. Booking can be made online via the Flamingo Centre www.theflamingocentre.co.uk (there's a link for half term workshops at the top of the page)
General
Due to building work Amy isn't running classes from her home for a few months, but she is able to come to people's homes to deliver pre-school classes in the week days (term time) – if you have a group of 3 or more friends. Contact Amy: amy.phipps@babybites.co.uk
Golden Hill Community Garden
Half term adventure day- Thursday 31 May 11am-3pm
We'll be cooking, playing, pizza rolling and munching, building, singing, making, relaxing in hammocks and all the general garden fun. Get in touch to book your spot! E:ghcgarden@gmail.com
Sunday Club
Dates for the summer - Sunday June 3, Sunday July 1, Sunday 5 August 2pm-4pm
The Sunday Club is back! It is (currently) only funded up until September so come and make the most of this fab and friendly session in the sunshine garden! So far there has always been space on these days so it has been okay to turn up on the day but it really helps Clare if she knows how many to expect so send her a quick text or email, she's cc'ed in above or she's on 07904 733482
AND FINALLY...save the date!
SENDaWelcome Summer Social, Sunday 24 June 2pm- 4pm - St Michael's Church Hall, Gloucester Road.
Come along with family and friends... We have some great supporters of our initiative coming including the sensory truck, Scrapstore, Circomedia and Baby Bites! We are seeking a keen face-painting volunteer and volunteers in general to help out on the day so please contact us if you can help- many thanks!
Useful quick links
Keep us posted
It would be great if parents/carers could let the school know of any student achievements outside of school please. It is sometimes only at parents' evenings that we find out what students are doing in their own time. Email us: adminoffice@cotham.bristol.sch.uk
Key Dates
Please click here to view the Key Dates by year group for the 2017-18 academic year. You will be notified of any significant changes/additions, but please can we ask that you check the dates for your year group regularly as they are subject to change.
Parents' Evening Booking System (PES)
Please click here to access the online appointment booking system for Parents Evenings/Family Consultation Day. Please note this is only available if an event is due. We will email you to let you know when booking opens. If you encounter any difficulties with booking your appointments please contact the admin team by email to adminoffice@cotham.bristol.sch.uk or tel: 0117 919 8000
Assessment Calendars for KS3
We have created Assessment Calendars which contain details of the class assessments that will take place in each subject. The final column contains a link which gives information about each of the assessments.
Click here to see Year 7
Click here to see Year 8
Click here to see Year 9
Click here to see Year 10
WisePay
WisePay is the Online Payment Service at Cotham School which allows you to pay for trips and visits as well as to add credit to your child's Cashless Catering account. Click here to access your account now. If you have any queries about your account please contact the support team by email to wisepay@cotham.bristol.sch.uk
School Uniform
Please click here to view the compulsory uniform requirements of Cotham School, along with visual examples of uniform and details of our uniform suppliers.
GCSEpod
Click here to access GCSEpod which contains lots of revision resources for most GCSEs. Students self register through the website using their name and school details.
SAM Learning
Click here to access SAM learning which contains revision exercises and self marking quizzes with automatic progress tracking and reporting. Please use the Centre ID: BS6CS. Student usernames and passwords are their birthday formatted as DDMMYY, followed by their Initials.
Diagnostic Questions
Click here to access. This site contains self marking quizzes with lots of templates including some from a range of exam boards. It's easy to make your own questions in Microsoft PowerPoint too. Students sign up with their school Google account using the G+ button to automatically create a school account
Free School Meals
https://www.cloudforedu.org.uk/ofsm/sims to check if your child is eligible for Free School Meals or to apply.
Click here to Contact Us