Weekly Mailing - Friday 15 June 2018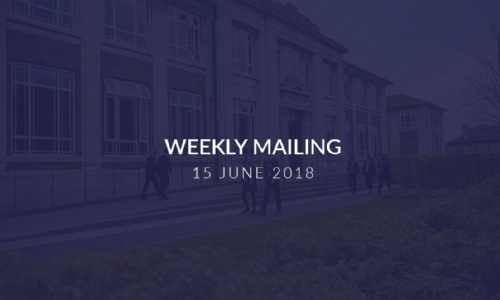 Dear Parents / Carers
Please find below my usual information, letters and updates on events that have taken place this week. You will notice that some of the Key Stage information is repeated again this week. Feedback from parents has indicated that it is useful to receive this crucial information each week during the exam period.
Ms Jo Butler
Headteacher
Upcoming Events
w/c 18 June
Week A

Yr. 10 Mock Exams

Fri 22 June

Yr. 11 Prom
Y12 Art Trip Venice
Congratulations
Year 8 Trip to the Black Forest, 4 -7 June 2018
Last Monday, 34 Year 8 students flew to Germany to explore some of the Black Forest's main attractions. They stayed in a youth Hostel in the beautiful region of Todtnauberg. Highlights included a bobsled run down a mountain, testing the crazy slides in the swim centre Badeparadies, a mini walk at Lake Titisee, meeting a wide range of animals at Mundenhof Tierpark and completing a 10 Euro Challenge at Freibrug Market. Students also experienced a cable car ride on one of the largest mountains in the region, with a walk up to the viewing platform at Schauinsland. To add to the fun, they met some German pupils staying at the hostel, took part in a football match against them and were invited to their disco at the hostel. The visit was rounded off by a trip to Europe's largest theme park, Europa-Park, where staff and students alike braved the high rollercoasters and other rides.
Click here to view images from the trip.

Thank you to Ms Allender, Mr Nunn and Mr Emery for giving up your free-time to accompany us and to Year 8 for being a great and enthusiastic group to travel with - Mrs Bingham.
Lots of Congratulations from Food Science this week!
Year 8 Young Cook Heats
Congratulations to Freddy Aitken, Amina Birdi, Arran Kinner Year 8 who represented the school at the Young Cook Awards the students were cooking their final dishes at the Square Food Foundation with judges present. The students worked exceptionally hard to plan, cost and prepare nutritional information for their final dishes. thank you also to parents for supporting this event by enabling students to practise their dishes at home. Freddy made homemade pizza with panacotta, Aminia made Black Bean Enchiladas with Orange Polenta Cake, Arran made Veggie Broth with Pearl Barley and garlic dumplings and Healthy Meringue. Click here for images
Yr 10 Fruit Machine Selling Task
Year 10 students ran a stall at the Harbourside Market as part of an event with Bristol Food Connections. The preparations started the day before visiting the Fruit Market at 7am to haggle and purchase our stock. Students had decided to sell three salads, a Caribbean Coleslaw, Watermelon and Feta Salad, Fruit Salad with Raspberry Coulis, the competition was tight as we were competing against Bedminster Down, Henbury who all had different innovative ideas. Market trading was busy as it was the peak lunchtime session. We know that we sold most of our stock but we are not yet fully aware of our total profit. The week will culminate in a boardroom final when the winner of the Fruit Machine Task will be revealed. Students were fantastic and showed that they can haggle, plan and market their event and encourage potential customers tho their stall. We are very proud of Lily Booth, Diego Lovatt Garcia, Mykhell Roberts, Ihlam Mohamed ,Izara Grier they all were up very early and worked very hard to ensure the event was a success. Click here for images.
Year 8 and 9 Game Changer Master Class
A workshop ran to raise awareness and introduce students to Game Meat such as Pheasant. The sessions are a masterclass delivered by Bod Griffiths of Vale House Kitchen, Timsbury. All pheasants were supplied by the Game Changer initiative
The aim of the workshop is for students to understand 'provenance' and how game is reared, prepared and cooked. To have tasted Game, tried out some recipes and are familiar with its taste, value and uses. To take home a positive message about Game to the family shopper/cook, including its nutritional benefits and uses in a modern balanced diet. Students loved the sessions, Bod was a great ambassador for the scheme and commented how polite and enthusiastic our students are. Students loved the dish made, a pheasant breast bruschetta with horseradish mayo. Bod will be coming into school again and we hope to run further events of this kind in the coming months. Click here for images.
Talk to us
If you would like to tell us about any student achievements outside of school or to promote a community event etc via our weekly mailing please do not hesitate to contact us with details
Important Information for Parents/Carers
Student and Visitor Receptions
Just a reminder about the difference between the Student and Visitor Receptions.
Student Reception is accessed from the Cotham Road side of the building and is the main entry/exit route for students. It is also the reception to be used by parents/carers for any student queries, items to be dropped of or if parents are picking up/dropping off students for medical/other appointments.
Student Reception is open from 8.30am to 3.30pm Monday to Thursday and from 8.30 a.m. to 3.00pm on Fridays. Please note that on Fridays only students are permitted to collect confiscated mobile phones during lunchtime as the Students Reception will be closed before the final bell at the end of the day.
Visitor Reception on the Cotham Lawn Road side of the building is to be used for any parents with pre-arranged appointments with members of staff and also by visitors to the school.
Visitor Reception is open from 8.00am to 4.00pm Monday to Thursday and 8.00am to 3.30pm on Fridays.
Online Safety Newsletter
Please click here to view the June edition of an Online Safety Newsletter aimed at secondary school age children. This edition focuses on YouTube.
Uniform
The summer break is fast approaching and many of you will be considering purchasing new items of school uniform for your child for the next academic year. Please check our uniform requirements carefully before you do so. In particular:
School Shoes - Trainer style shoes are not acceptable. Please click here to view visual examples of the school's only acceptable footwear.
School coats - Plain coats only without intrusive logos or brands. No denim, leather or bomber style jackets. No hoodies.
School Bags - Students need a substantial school bag big enough to contain PE/Dance kit, exercise books, textbooks, a pencil case, planner and other equipment. Small strap bags, handbags and fashion bags are not permitted.
Click here to view the full uniform requirements for Cotham School.
Bristol Parent Carers 2018 Participation Day – The New World of SEN
Bristol Parent Carers works with Bristol City Council, NHS Bristol and other parent organisations to improve services for our children and ourselves. On Tuesday 26 June 2018 at the Trinity Centre, Trinity Road The 2018 Participation Day event will be looking at the way SEN support works in schools, the new model for social care in Bristol and workshops on the SEN strategy and Short Breaks Schemes. Please click here for more information.
Word of the week
Each week at Cotham we promote a Word of the Week. This is to help students expand the range of vocabulary they use. Please find the word for the week ahead by clicking here.
Celebrate and Connect Supper - Thursday 19 July 2018
Cotham School would like to invite all parents to our Celebrate and Connect supper on Thursday 19 July. The event will take place from 7pm to 9.30 pm. This will be a fantastic opportunity for parents and teachers to meet one another and celebrate the amazing diversity of our school.
Currently 41 different languages are spoken in Cotham and we have students representing every continent.
Please join us, bring a dish to share and make some new friends.
Mrs Marlene Kelly
Learning Mentor/Ethnic Minority Achievement Coordinator
Key Stage 3 (KS3) News)
Maths Assessment Dates
Year 7 End of year exams
Week beginning 18 June
A-side of Year group (Tuesday P4 paper 1 and Wednesday P5 paper 2)
B-side of Year group (Tuesday P2 paper 1 and Friday P2 paper 2)
Year 8 End of year exams
Week beginning 25 June
A- side of the Year group (Mon P3 paper 1 and Tuesday P2 paper 2)
B- side of the Year group (Tue P2 paper 1 and Wednesday P5 paper 2)
Year 9 Science Exam
All Year 9 students will sit a science exam on Thursday 21 June at 1.45.
All students are expected to be revising for this exam to achieve as highly as they can.
The exam will include content from topics B1, B2, B3 / C1, C2, C3 / P1, P2, P3.
All students have a login to the online textbook on the kerboodle website (password resets available from class teachers). Class teachers will also put more revision materials onto Google Classrooms to help with revision.
Results will be used to determine science groups for next year. This includes which students will be offered to study Separate Sciences GCSE (formally called Triple Science). The remainder of students will all study Combined Science (formally called Double Science).
Revision sessions will run on Tuesdays after school 3.15-4.15 (5, 12 and 19 June) in C202. Everyone is recommended to attend.
We would like to wish all KS3 students the very best for their exams this term.
Key Stage 4 (KS4) News
Year 10
End of Year Exams- Monday 18 June - Friday 29 June
End of year exams for Year 10 students will commence on Monday 18 June and continue until Friday 29 June. The results that they achieve will be sent to you in your child's Academic Monitoring report at the end of Term 6. Your child's end of year Academic Monitoring report will contain their Current GCSE Grade, their Exam Grade, and their teachers Predicted Grade. Teachers will use your child's performance in these exams to arrive at a Predicted Grade.

Your child will be asked for their Predicted Grades when they apply to Post 16 Institutions. Institutions will consider these Predicted Grades carefully before making an offer of study to your child. The next 'mock' exam for students will not take place until January 2019 and so it is important that your child's Predicted Grades are strong enough to allow them to apply for the courses that they want to study next year. It is therefore vital that your child prepares carefully and thoroughly for these end of year exams.

A copy of the exam timetable can be viewed here.
A copy of the content being assessed in each of their exams can be viewed here.

Students will have been given a copy of their own timetable this week. Where an exam clash exists, their own timetable will tell them on which day they will complete their exams. We rely on students carrying their timetables with them at all times during exam season and being prompt to their exams. Please discuss the exam timetable with them and check that they know where they need to go for the exam and that they are fully equipped.

The following resources will be helpful in supporting your child with their revision:

Support your child in preparing an exam preparation schedule so that they complete revision tasks - a template revision schedule can be found here.

Ensure your child has revision guides that can help to support their learning - a list of these is here along with details of useful revision websites for each subject.

Examination Command Words document here - examples of command words that students need to be confident using.

GCSEpod and SAMLearning contain lots of valuable online revision activities for most subjects (log on details for these sites can be found at the end of this mailing under useful links).
Year 11
The additional examination preparation sessions have now begun and will continue to occur for the following subject areas on the following days.

Attendance to these sessions has not been as positive as we would have expected. Please discuss these with your child and encourage them to attend if they have been invited (we wrote to all parents prior to the half term and the info has also been posted on Year 11 google classroom).

Date Subject Period Students
Mon 18 June Graphics 3 and 4 All welcome
Tue 19 June Dance 3 and 4 All welcome
Wed 20 June German 3 and 4 All welcome

During the exam period the library will remain open for students to complete revision; they need to collect a Library pass from student reception as they arrive in school.

All students should be in normal school uniform and have their lanyard with them (for exam identification) whenever they are in school.

If you are worried that your child is not revising enough at home then the following may be helpful resources:

Year 11 November mock exam papers and markschemes and exemplar solutions can be accessed here.
February Mock Exams and markschemes can be accessed here. There is value in students re-completing these and demonstrating that they can recall knowledge previously assessed, and act on feedback already given to them to improve their original raw mark.

Support your child in preparing a summer exam preparation schedule so that they complete revision tasks - a template revision schedule can be found here

Ensure your child has revision guides that can help to support their learning - a list of these can be found here along with details of useful revision websites for each subject.

Examination Command Words document here - examples of command words that students need to be using with confidence.

See the Top Tips for Parents sheet attached here which contains useful reminders about 'what to do' and 'what not to do'.

GCSEpod and SAMLearning contain lots of valuable online revision activities for most subjects (log on details for these sites can be found at the end of this mailing under useful links).

Please continue to encourage your child to revise over the May term holiday even if the weather is glorious!
GCSE examination timetables
Students have been issued with their own personal final examination timetable showing their own GCSE exams and examination board rules. No further paper timetable will be issued and it is important to keep this information safe. An electronic version of their timetable has also been added to the Year 11 Google classroom page so that students can obtain another copy if necessary.

A full GCSE timetable can be viewed here.
A copy of Examination Rules can be found here.
Yr. 11 Prom - Friday 22 June 2018
For those attending the Prom next Friday you will have received the information letter as attached
​Post-16 News
A Level exams finish on Monday 25 June - please ensure that your son/daughter has returned any library books and locker keys before the end of term. Year 13 leavers - please ensure that your son/daughter has informed Mrs Kempt what they are doing next year - there is a careers/apprenticeship/jobs meeting with the careers adviser on Tuesday 26 June at 11.05am in G002. All students who have no clear plan should attend - please ensure they are still checking their emails regularly.
Year 12 Futures 18 careers and wellbeing week is on Thursday 5 and Friday 6 July . Your son/daughter will soon have an email with the schedule and choice of workshop options sent out. If your son/daughter would like to see the careers adviser please ask them to email: chesterk@cotham.bristol.sch.uk
Year 12 - your son/daughter should have received their predicted grades - please ask them to see their tutor asap if they do not have them.
If your son/daughter is struggling with their mental wellbeing and would like some support please ask them to see Mrs Kempt. The Wellbeing lunchtime drop in continues on a Thursday lunchtime in G208 and the school counsellor is available for drop ins on a Monday and Thursday lunchtime. If they would like some 1:1 counselling please ask them to see Mrs Kempt.
Careers News
Rolls-Royce - Apprentice Open Evening
Thursday 5 July 2018 18.00pm - 20.00pm
GCSE and A-Level (or equivalent) entry Apprenticeships: Engineering, Operations and Business Programmes

Location: Rolls-Royce Bristol, Horizon Hall (Whittle Conference), Gate 7, Gipsy Patch Lane, Filton, Patchway, Bristol, BS34 7QE (for sat nav please use BS34 6QA).
The Institution of Engineering and Technology(IET)
in collaboration with businesses across the UK, IET are hosting 'Engineering Open House Days' to show young people and their parents/guardians what it's like to work as an engineer by offering special, behind-the-scenes access to demonstrate how creative, exciting and innovative a career in engineering could be.
As part of this, Renishaw is delighted to be opening the doors of our Innovation Centre during the school holidays to students and their parents. The event is taking place on the morning of Friday 3rd August between 09:00 and 12:00 and there will be a range of activities to cater for children aged from 7 upwards and we will also be offering information about our careers opportunities available for young people.
Visitors will get a chance to:
Talk to some of our graduates and apprentices at our careers stand
Have a tour around our product demonstration area
Try our energy bike
Make a homopolar motor
Find out about 3D printing parts for BLOODHOUND SSC
And much more!
Please note that registration is required for this event and it is only suitable for children aged over 7; all adults must be accompanied by a child.
Please register attendance on the Eventbrite page: https://renishawietopenhouse.eventbrite.co.uk
Subject Area News
PE/Sports Update
Please click here to view all of our recent results and the upcoming fixtures for the week ahead.
Please click here for a list of all of the PE/Sports Extra-Curricular activities available to students in Term 6
Follow @CothamPE on Twitter for all the latest news and updates from the Cotham School PE department
Visual Arts Update
Thank you to all family, friends and staff that attended the P16 End of Show. It was a fantastic exhibition that highlighted the hard work and talent of our P16 students across a range of creative disciplines. We wish all our Sixth Formers the very best of luck with their future careers and hope that the creative skills they have developed will be a strong foundation for whichever path they choose to take.
Aardman Competition
We were overwhelmed with the amount of entries for the design competition; thank you all for your submissions! I am pleased to announce that Salu De Oliviera is our winner in Year 8 and Jess Lucas and Orla Bates in Year 7 our two runners up. Your designs are the Works of the Week. The team of three will start making Salu's design on Friday at Art Club. Feathers will be presented at The Mall at Cribbs Causeway during the summer and return to Cotham as a permanent mascot.
Performing Arts Update
Former Cotham Student, Georgia Bate, is currently working at In Between Time and they are looking to get people involved in THE DEMOCRATIC SET.
Australian theatre company Back to Back Theatre will collaborate with individuals and groups to create the film which is made up of 15 second performance portraits made by people from across Bristol.
The project first happened in 2010 and you can see the finished version of the original here. Please click here for information flyer is attached and there is link with more info about the project:
https://www.inbetweentime.co.uk/our-work/we-are-bristol/the-democratic-set/
It looks like a really fun project to be involved in and requires no previous performing experience. Plus you would be helping out a Cotham Alumni in the process!
House News
Sigma
Footie mad!
The largest football tournament started on Thursday 14 June and Sigma House will be following every game with interest. The prefects and house reps held the draw for the tutor groups to each be assigned to a Group. By having a group it means that each tutor group will take two teams to the knockout rounds. We will have prizes along the way and one overall prize for the tutor groups that wins the World Cup. Good Luck! Click here to view poster.
Meat Free Monday
Our first Meat Free Monday was a success with lots of positive comments from both staff and students. The homemade hummus and roasted vegetable sandwich was amazing! Thank you to the school canteen for supporting us with this event. We are hoping that we will be able to continue and have more of these events.
Community News
Free SS Great Britain Event
Brunel's SS Great Britain to invite students and their families to a free family event designed to inspire them with science and engineering.
Called 'Explore Engineering' the event takes place on Tuesday 19 June (6.30pm to 8.30pm) on the historic ship the SS Great Britain and in the surrounding dockyard on Bristol's harbourside. It is a fantastic opportunity for secondary school students to meet inspiring scientists and engineers, take part in hands-on activities and explore the amazing opportunities available in these exciting industries.
In particular we would like to encourage young women to come along and find out more about science, engineering, technology and maths (STEM) and hear real-life examples of how these careers work in practice. They will have a chance to meet representatives from local STEM companies, as well as our own Ship's Conservation Engineer, Nicola Grahamslaw, who is a Chartered Mechanical Engineer.
This event is part of Bristol's Deeds Not Words programme marking 100 years since the first women were given the vote in the UK. As part of this, we are celebrating and supporting the role of women in science and engineering as currently less than 10% of professional engineers and fewer than 15% of engineering students in Britain are women.
The event also takes place in the run-up to International Women in Engineering Day on 23 June.
While the event is free, we are asking everyone interested in attending to register in advance at
www.ssgreatbritain.org/whats-on/explore-engineering
Summer Holiday Courses @ Kings LTC, BS7 8JG
Elly Shearman Coaching
Contact Elly ellytennis.Kings@hotmail.com
Or book online https://clubspark.lta.org.uk/EllyShearmanCoaching

Pick & Chose ANY combination of Days
For ALL abilities!
Running ALL Summer
9AM - 1PM, £15 per child
Ages 4 - 15 years old
With 3 days booked in one week, receive a 4th FREE day to use at time during the summer (subject to availability).
Teen Summer Sessions
Monday 30 July, Tuesday 31 July; Monday 6, Tuesday 7 August, Monday 13 Tuesday 14 August
2 - 4.30PM, £10 per Teen Ages 11 – 18

**FREE Kids Summer Party SATURDAY 21st JULY; 11.30 - 1PM EVERYONE WELCOME!!**
Useful quick links
Keep us posted
It would be great if parents/carers could let the school know of any student achievements outside of school please. It is sometimes only at parents' evenings that we find out what students are doing in their own time. Email us: adminoffice@cotham.bristol.sch.uk
Key Dates
Please click here to view the Key Dates by year group for the 2017-18 academic year. You will be notified of any significant changes/additions, but please can we ask that you check the dates for your year group regularly as they are subject to change.
Parents' Evening Booking System (PES)
Please click here to access the online appointment booking system for Parents Evenings/Family Consultation Day. Please note this is only available if an event is due. We will email you to let you know when booking opens. If you encounter any difficulties with booking your appointments please contact the admin team by email to adminoffice@cotham.bristol.sch.uk or tel: 0117 919 8000
Assessment Calendars for KS3
We have created Assessment Calendars which contain details of the class assessments that will take place in each subject. The final column contains a link which gives information about each of the assessments.

Click here to see Year 7
Click here to see Year 8
Click here to see Year 9
Click here to see Year 10
WisePay
WisePay is the Online Payment Service at Cotham School which allows you to pay for trips and visits as well as to add credit to your child's Cashless Catering account. Click here to access your account now. If you have any queries about your account please contact the support team by email to wisepay@cotham.bristol.sch.uk
School Uniform
Please click here to view the compulsory uniform requirements of Cotham School, along with visual examples of uniform and details of our uniform suppliers.
GCSEpod
Click here to access GCSEpod which contains lots of revision resources for most GCSEs. Students self register through the website using their name and school details.
SAM Learning
Click here to access SAM learning which contains revision exercises and self marking quizzes with automatic progress tracking and reporting. Please use the Centre ID: BS6CS. Student usernames and passwords are their birthday formatted as DDMMYY, followed by their Initials.
Diagnostic Questions
Click here to access. This site contains self marking quizzes with lots of templates including some from a range of exam boards. It's easy to make your own questions in Microsoft PowerPoint too. Students sign up with their school Google account using the G+ button to automatically create a school account
Free School Meals
https://www.cloudforedu.org.uk/ofsm/sims to check if your child is eligible for Free School Meals or to apply.

Click here to Contact Us