Weekly Mailing - Friday 22 June 2018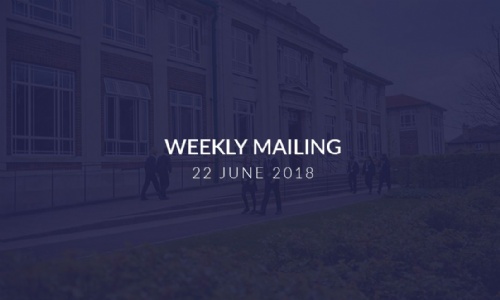 Dear Parents / Carers

As you know it has been our intention to get our students back onto our offsite playing fields at Stoke Lodge in September. Therefore, I am exceptionally disappointed to tell you that planning permission for our replacement sports pavilion on our playing fields Stoke Lodge was denied yesterday for the second time due to concerns about a possible increase in traffic because the replacement pavilion design has a 40% increase in floorspace. The increase in floorspace is simply to achieve a better facility for our students. The school does not intend to increase use of the Fields beyond that which they have been used previously.

On Monday 26 June, I and other school representatives, including governors and students, will be attending Public Rights of Way and Greens Committee at 2pm, Bristol City Hall. This is because, following the recent judgement handed down by High Court Judge Sir Wyn Williams to quash the Public Rights of Way and Greens Committee decision to grant TVG status to the land, the Committee must now reconsider that decision.

The meeting is open to the public and you are welcome to attend in an observation capacity.

Following this meeting and the decision taken by the Public Rights of Way and Greens Committee on the day, I will write again with an update and next steps to be taken by the school.

Please find below my usual information, letters and updates on events that have taken place this week.

Ms Jo Butler
Headteacher
Congratulations

German Exchange June 2018 between Cotham and the Goetheschule
We are happy to report that some of our Year 9 German students have enjoyed a very successful Exchange visit to Hannover. This is the 23rd visit to Hannover by Cotham students and we are already looking forward to hosting the Goetheschule partners for the return visit in September.
We had lots of fun in Germany and experienced many interesting activities such as, exploring Hannover, visiting the local TV and Radio studios, meeting the Mayor at the Town Hall with press coverage (please click here to view). We visited Hamlin and looked for the Pied Piper, as well as, Wolfsburg and its impressive Science Centre. Berlin was a highlight and we have learned much about the history of the city, as well as, visiting the main sights including the Reichstag and its amazing glass dome, the Berlin wall, the Brandenburg gate and the Holocaust Memorial.
The hot and beautiful weather during the week allowed for lots of swimming in the wonderful open-air swimming pools, bike rides and tasting all the delicious ice-cream on offer.
We have made many friends and discovered what it was like to experience life as a German student for 8 days.
A big thank you to Frau Heiberg and Frau Hopkins for all their hard work. Please click here to see the photos.
Lord Mayor and Lady Mayoress of Bristol Visit Cotham School
The newly appointed Lord Mayor and Lady Mayoress of Bristol came to Cotham to meet with our Student Council last week. Please click here to read a report written by the President of the Student Council.
Make More Noise
Huge congratulations to Alaya Brown Year 7. has been cast in a production at Bristol Old Vic which will be performed in August called ' Make More Noise'.
It is an all female cast celebrating 100 years since women have been given the right to vote. It will explore women's stories of suffering in a historical/social context, celebrating how far things have come alongside what still needs to be done. It will examine themes of what it feels like to be female in modern day society.
The production is being performed at The Bristol Old Vic from 2 - 4 August (4 evening performances and a Saturday matinee). Well done Alaya!
Talk to us
If you would like to tell us about any student achievements outside of school or to promote a community event etc via our weekly mailing please do not hesitate to contact us with details
Important Information for Parents/Carers
Important Medical Information
There have been a number of Measles outbreaks in the Bristol area. If you are concerned, please click here to view the NHS flier and school fact sheet.
American themed menu for Independence Day
The school canteen will be offering an American themed menu on 4 July. Please click here to view the menu.
Uniform
The summer break is fast approaching and many of you will be considering purchasing new items of school uniform for your child for the next academic year. Please check our uniform requirements carefully before you do so. In particular:
School Shoes - Trainer style shoes are not acceptable. Please click here to view visual examples of the school's only acceptable footwear.
School coats - Plain coats only without intrusive logos or brands. No denim, leather or bomber style jackets. No hoodies.
School Bags - Students need a substantial school bag big enough to contain PE/Dance kit, exercise books, textbooks, a pencil case, planner and other equipment. Small string bags, handbags and fashion bags are not permitted.
Click here to view the full uniform requirements for Cotham School.
Harris's Sports (School Uniform Suppliers) will be in School for all your uniform requirements on the following dates:
Thursday 28 June
Thursday 5 July
Thursday 12 July
Thursday 19 July

Based in Main Reception their opening hours are 2.30pm - 4.00pm
SPAN Parenting Support Group
Based at Barton Hill Settlements Children's Centre, the SPAN team offer a range of courses and programmes, both group and 1:1, supporting parents with family and community issues. They offer a range of Health, Wellbeing and Parenting workshops in a variety of areas including recognising Anxiety and Depression, Talking to Teens, Drugs and Alcohol, Domestic Abuse and Building Healthy Relationships. Specialist support is also available for Somali Parents. For more information please click here to view the leaflet.
Word of the week
Each week at Cotham we promote a Word of the Week. This is to help students expand the range of vocabulary they use. Please find the word for the week ahead by clicking here.
Celebrate and Connect Supper - Thursday 19 July 2018
Cotham School would like to invite all parents to our Celebrate and Connect supper on Thursday 19 July. The event will take place from 7.00pm to 9.30pm. This will be a fantastic opportunity for parents and teachers to meet one another and celebrate the amazing diversity of our school.
Currently 41 different languages are spoken in Cotham and we have students representing every continent.
Please join us, bring a dish to share and make some new friends. Mrs Marlene Kelly Learning Mentor/Ethnic Minority Achievement Coordinator
Cultural Diversity Film Project
On Monday 11 June A group of students in KS3/4 were involved in the production of a short film entitled 'The World of Cotham'. The aim of the project is to promote Cotham by highlighting its cultural diversity and how this enriches the school experience for our students. During the course of the filming the students were asked to discuss the wide diversity represented at Cotham, including the variety of languages spoken, their own family heritage and any traditions or celebrations that they observe. The film will be premiered at the Celebrate and Connect Supper (above) on Thursday 19 July.
Key Stage 3 (KS3) News)
Year 8
End of year exams
Week beginning 25 June
A- side of the Year group (Mon P3 paper 1 and Tuesday P2 paper 2)
B- side of the Year group (Tue P2 paper 1 and Wednesday P5 paper 2)
Play your Part Day
Year 8 will be off timetable on Wednesday June 27 to participate in 'Play Your Part Day', a school-based series of workshops organised by Avon and Somerset Police from knife crime to positive role models to gang awareness to personal safety. We hope it will be an interesting opportunity for students to learn about issues current in our cities and discuss them in a safe environment.
Key Stage 4 (KS4) News
Year 10
End of Year Exams- Monday 18 June - Friday 29 June
End of year exams for Year 10 students will commence on Monday 18 June and continue until Friday 29 June. The results that they achieve will be sent to you in your child's Academic Monitoring report at the end of Term 6. Your child's end of year Academic Monitoring report will contain their Current GCSE Grade, their Exam Grade, and their teachers Predicted Grade. Teachers will use your child's performance in these exams to arrive at a Predicted Grade.

Your child will be asked for their Predicted Grades when they apply to Post 16 Institutions. Institutions will consider these Predicted Grades carefully before making an offer of study to your child. The next 'mock' exam for students will not take place until January 2019 and so it is important that your child's Predicted Grades are strong enough to allow them to apply for the courses that they want to study next year. It is therefore vital that your child prepares carefully and thoroughly for these end of year exams.

A copy of the exam timetable can be viewed here.
A copy of the content being assessed in each of their exams can be viewed here.

Students have been given a copy of their own timetable. Where an exam clash exists, their own timetable will tell them on which day they will complete their exams. We rely on students carrying their timetables with them at all times during exam season and being prompt to their exams. Please discuss the exam timetable with them and check that they know where they need to go for the exam and that they are fully equipped.

The following resources will be helpful in supporting your child with their revision:

Support your child in preparing an exam preparation schedule so that they complete revision tasks - a template revision schedule can be found here.

Ensure your child has revision guides that can help to support their learning - a list of these is here along with details of useful revision websites for each subject.

Examination Command Words document here - examples of command words that students need to be confident using.

GCSEpod and SAMLearning contain lots of valuable online revision activities for most subjects (log on details for these sites can be found at the end of this mailing under useful links).
Year 10 Work Experience 2-6 July
Year 10 students will be on Work Experience from 2-6 July. All students have been given a copy of their job description and a WEX diary. Please ensure students make contact with their employer to find out timings and dress code for their placement. Please help them plan their journey so they arrive in time to start the day as hours may be different to school. The diary needs to be completed every day. This will go towards an achievement certificate.

Good luck to the Year 10 students who are out on work experience next week 25 -29 June at Bristol University.
Year 11
Year 11 completed their GCSE exams this week. We have been so impressed with our students during exam season and wish them success and good luck for results day.

GCSE results are available from 10am to 12noon on Thursday 23 August from Charnwood. Results can only be given to pupils. Permission for someone else to collect results must be supplied in writing before the end of term (20 July) and proof of identification provided on the day.

All uncollected results will be posted home. Results will not be issued by telephone or email. North Bristol Post-16 team and Connexions will be available on results day for advice and guidance on post-16 courses.

All library books must be returned by Friday 29 June. Students have been asked to return library books as they finish with them during the examination period. Students must take books to the library. If there are any queries over books pupils must contact Ms Southall the librarian at daviess@cotham.bristol.sch.uk. Invoices for outstanding books will be issued from Monday 2 July.
Music Qualifications
If your child plays a musical instrument as a result of private lessons outside of school, and has achieved a Grade 6 or above, please can you let us know (emails to Mr Geoghegan).
​Post-16 News
All A level exams finish on Monday 28 June. All students have been brilliant and we thank them for being punctual and professional. We look forward to celebrating with them on results day on 16 August.
It's a busy and exciting few weeks for the Year 12s focussing on careers, university, job applications and their future along with supporting their mental wellbeing.
There is an OPTIONAL core programme on Weds 27 June in G002 where Evolve are coming in to run a brilliant workshop called "I'm the one you want" about how to write an excellent personal statement for university. This is a precursor to the Futures 18 week which is the week beginning 2 July - more information to follow.
There is a careers guidance meeting for all Year 13s on Tuesday 26 June lesson 3 in G002 - all students have been invited - please ask your son/daughter to check their emails.
Year 13s - Please ensure that your son/daughter has returned all equipment and library books as soon as possible.
Parent Engagement Meeting (PEG) is on Wednesday 4 July 7 - 8pm at Charnwood House - all are very welcome - you should have had an email invitation.
Careers News
Subject Area News
PE/Sports Update
Please click here for a list of all of the PE/Sports Extra-Curricular activities available to students in Term 6
Follow @CothamPE on Twitter for all the latest news and updates from the Cotham School PE department
Performing Arts Update
Drama Work of the Week
This week Year 12 drama students performed as part of their A Level in Drama and Theatre Studies. In Year 12, students work on devised performances, this year taking influence from the work of Frantic Assembly and the play Rhinoceros by Eugène Ionesco. Along with those acting, some students provided performance support in the form of set design and costume design. All students made excellent contributions to each piece and we were impressed with the maturity and commitment shown, both on the day and through the creative process. We look forward to seeing more great plays when you return in year 13! Click here for image.
Summer Music Review 2018
The Summer Music Review is taking place on Wednesday 11 July from 6pm in Performing Arts. There will be performances from Cotham Rookies (Junior Orchestra), Cotham Jazz Band, pop/rock bands, Steel pans as well as a number of small ensembles , soloists and duets. Tickets are available to buy on WisePay and refreshments will be served by Cotham Performing Arts Network (CPAN) from 5.40pm. If you're child is performing they need to arrive in the music department no later than 5.40pm (there might be the odd last minute rehearsal!). Please email campbellb@cotham.bristol.sch.uk if you have any question regarding this event or if you have a child who might like to perform. Click here to view poster.
Community News
Back to Back Theatre Company
Former Cotham Student, Georgia Bate, is currently working at In Between Time and they are looking to get people involved in THE DEMOCRATIC SET.
Australian theatre company Back to Back Theatre will collaborate with individuals and groups to create the film which is made up of 15 second performance portraits made by people from across Bristol. Click here to find out more about the project and how you can get involved.
Life-Cycle UK - Summer Programme
In partnership with Bristol City Council Life-Cycle are offering Level 2 and 3 Bikeability courses for children aged between 9 - 15 to build cycling skills and confidence. Click here for dates and how to book.
Star in a film about the People of Bristol
Australian theatre company Back to Back Theatre will collaborate with individuals and groups to create the film which is made up of 15 second performance portraits made by people from across Bristol. Click here to find out how you can get involved.
Tipping Point - Lucky Stars
Applause store are looking for people to be in the audience for upcoming Celebrity season of the TV show, Tipping Point. Filming will be held at the Bottle Yard studios, Bristol between Monday 2 - Saturday 7 July. To find out more please click here.
Useful quick links
Keep us posted
It would be great if parents/carers could let the school know of any student achievements outside of school please. It is sometimes only at parents' evenings that we find out what students are doing in their own time. Email us: adminoffice@cotham.bristol.sch.uk
Key Dates
Please click here to view the Key Dates by year group for the 2017-18 academic year. You will be notified of any significant changes/additions, but please can we ask that you check the dates for your year group regularly as they are subject to change.
Parents' Evening Booking System (PES)
Please click here to access the online appointment booking system for Parents Evenings/Family Consultation Day. Please note this is only available if an event is due. We will email you to let you know when booking opens. If you encounter any difficulties with booking your appointments please contact the admin team by email to adminoffice@cotham.bristol.sch.uk or tel: 0117 919 8000
Assessment Calendars for KS3
We have created Assessment Calendars which contain details of the class assessments that will take place in each subject. The final column contains a link which gives information about each of the assessments.

Click here to see Year 7
Click here to see Year 8
Click here to see Year 9
Click here to see Year 10
WisePay
WisePay is the Online Payment Service at Cotham School which allows you to pay for trips and visits as well as to add credit to your child's Cashless Catering account. Click here to access your account now. If you have any queries about your account please contact the support team by email to wisepay@cotham.bristol.sch.uk
School Uniform
Please click here to view the compulsory uniform requirements of Cotham School, along with visual examples of uniform and details of our uniform suppliers.
GCSEpod
Click here to access GCSEpod which contains lots of revision resources for most GCSEs. Students self register through the website using their name and school details.
SAM Learning
Click here to access SAM learning which contains revision exercises and self marking quizzes with automatic progress tracking and reporting. Please use the Centre ID: BS6CS. Student usernames and passwords are their birthday formatted as DDMMYY, followed by their Initials.
Diagnostic Questions
Click here to access. This site contains self marking quizzes with lots of templates including some from a range of exam boards. It's easy to make your own questions in Microsoft PowerPoint too. Students sign up with their school Google account using the G+ button to automatically create a school account
Free School Meals
https://www.cloudforedu.org.uk/ofsm/sims to check if your child is eligible for Free School Meals or to apply.

Click here to Contact Us