Weekly Mailing - Friday 29 June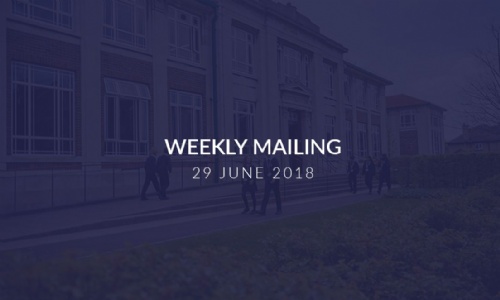 Dear Parents / Carers

As you will be aware following my announcement in last week's mailing, we were extremely disappointed to have had our planning permission for the replacement sports pavilion on our playing fields Stoke Lodge denied last week. I will write again shortly with details of the next steps to be taken by the school as we continue to endeavour to get our students back onto our offsite playing fields at Stoke Lodge

On Monday 26 June, I and other school representatives, including governors and students attended a Public Rights of Way and Greens Committee meeting at Bristol City Hall. The Committee confirmed that the land would not be granted TVG status.

I would like to thank everyone who attended the planning meetings and for the continued support of the school community. I would like in particular to thank one of our students Abdifatah Hassan, a current Year 11 student who will be moving into the North Bristol Post 16 Centre in September. Abdi is a very successful young Athlete who came to both of the hearings and he wrote a passionate statement on behalf of all of our students to support our planning application which I would like to share with you all. Please click here to view.

Please find below my usual information, letters and updates on events that have taken place this week.

Ms Jo Butler
Headteacher
Upcoming events
w/c 2 July
Week A

WEX Week
Yr. 7 Adventure Week
Yr. 8 French visit to the Opal Coast

Wed 4 July

Tour by Prospective Parents 9.15am
Yr. 9 Introduction to Post-16
Yr. 6 Parents' Evening 7.00pm for surnames A-K, 7.45pm for surnames K-Z
Yr. 12 Parental Engagement Group - Introduction to Higher Education (Cotham)
American Theme Day in canteen
Talk to us
If you would like to tell us about any student achievements outside of school or to promote a community event etc via our weekly mailing please do not hesitate to contact us at adminoffice@cotham.bristol.sch.uk with details.
Thank you
To the parents who volunteered to support "The Human Library" at the Bristol Women's Commission Girls Conference at the Cabot Institute, City Academy last Wednesday. It was so kind of busy women to give of their time to support such an important event. I know that students benefit greatly hearing other people's career paths and it certainly helps with students' aspirations for themselves and the possibilities open to them in the future.
Yr. 11 Prom
In February, the Prom Committee invited a couple of parents to help them organise this year's prom and we happily accepted as they had worked so hard to organise it to that point. The magnificent Ballroom at The Grand Hotel was booked and last Friday 178 pupils and 22 teachers turned up. The night was a brilliant success; beautifully dressed young men and women danced all night long and a lot of fun was had by all. The teachers were full of praise of this year group and the five parents who were on duty were so impressed by everyone that night.
We'd like to thank the people behind the scenes in the office for all their help and support, especially Heather (Head's PA), Fay (Reception) and Nikki (Finance). We'd also like to thank Mr Helliwell who took photos of the event.
The damages deposit was returned so it was decided that the money, after expenses, would be donated to the British Heart Foundation. Thank you Year 11. You were a credit to yourselves on Friday. Now go out and enjoy the rest of the summer which you deserve after all your hard work! Keep your eyes peeled for photos in the coming weeks. C McLoughlin and M Smalley.
Dance Celebration evening a huge success!
​With many thanks to staff, students, parents and carers who were involved in the Dance Celebration Evening on Thursday evening. In a packed, hot dance studio we witnessed some extraordinary performances from over 100 Yr. 7-10 dancers and celebrated the achievement and enthusiasm of students in dance. The performances were a result of Yrs. 7, 8 and 9 Days of Dance in which students worked for 3 hours to choreograph a dance with staff alongside curriculum work and dance clubs run by Yrs. 9 and 10 students.
Particular congratulations to our winners

Yr. 7: Misha Evans, Cleo Tunnicliffe, Fab Campus & Nela Hrabetova
Yr. 8: Carla Ferron, Frank Lowery-Person, Holly Puttick & Liang Hu
Yr. 9: Elia Gerolemou, Freya Rawlinson, Addie West Cundy & Adam Roe
Yr. 10: Sylvia Felix & Isha Rawlinson

Important Information for Parents/Carers
Free School Meals - Important update
https://www.cloudforedu.org.uk/ofsm/sims to check if your child is eligible for Free School Meals or to apply.
Junk Food ban
As you will be aware, the bringing in and consumption of junk food is completely banned at Cotham. We have become increasingly concerned about students bringing 'junk' food and drinks into school. The cheapness of large 'family size' bags of crisps, sweets, multipacks of bars/chocolate and large bottles/cartons of sugary and fizzy drinks and energy drinks has led to an increase in such items being brought into school. The impact on children's long term health is considerable. In addition the additional litter created is phenomenal and represents a huge burden on our site team.

In order to help your children please provide a packed lunch or pre- pay their cards via WISEpay and please don't give them cash! All junk food is bought on the way to or from school in large supermarkets or corner shops.

Please can we also ask you to remind students that they should be drinking plenty of water during the day. There are water fountains across the school site. This is particularly important during the current heatwave.
American themed menu for Independence Day
The school canteen will be offering an American themed menu on 4 July. Please click here to view the menu.
Uniform
The summer break is fast approaching and many of you will be considering purchasing new items of school uniform for your child for the next academic year. Please check our uniform requirements carefully before you do so. In particular:
School Shoes - Trainer style shoes are not acceptable. Please click here to view visual examples of the school's only acceptable footwear.
School coats - Plain coats only without intrusive logos or brands. No denim, leather or bomber style jackets. No hoodies.
School Bags - Students need a substantial school bag big enough to contain PE/Dance kit, exercise books, textbooks, a pencil case, planner and other equipment. Small string bags, handbags and fashion bags are not permitted.
Click here to view the full uniform requirements for Cotham School.

Harris's Sports (School Uniform Suppliers) will be in School for all your uniform requirements on the following dates:

Thursday 28 June, Thursday 5 July, Thursday 12 July, Thursday 19 July

Based in Main Reception their opening hours are 2.30pm - 4.00pm
Word of the week
Each week at Cotham we promote a Word of the Week. This is to help students expand the range of vocabulary they use. Please find the word for the week ahead by clicking here.
Celebrate and Connect Supper - Thursday 19 July 2018
Cotham School would like to invite all parents to our Celebrate and Connect supper on Thursday 19 July. The event will take place from 7.00pm to 9.30pm. This will be a fantastic opportunity for parents and teachers to meet one another and celebrate the amazing diversity of our school.
Currently 41 different languages are spoken in Cotham and we have students representing every continent.
There will also be an opportunity to see the premier of 'The World of Cotham', a short film made by a group of KS3/4 students to celebrate the cultural diversity of Cotham School. Please join us, bring a dish to share and make some new friends. Mrs Marlene Kelly Learning Mentor/Ethnic Minority Achievement Coordinator
Important Travel Update from GWR about disruption to travel from September
Please see attached important message from GWR about disruption to travel from September that may affect travel in and out of Bristol.
Online Safety Newsletter
You can view the July issue here
Key Stage 4 (KS4) News
Year 10 Work Experience 2-6 July
Please make sure you have made contact with your employer to get your hours, who to report to and your dress code.

Take your diary and use it every day on WEX.

Emergency contact mobile number, for students who are doing hours that are different to school hours and school will be closed. 07470 217017

Remember you are ambassadors for the school. Be polite, work hard, arrive on time and most of all enjoy your experience.
​Post-16 News
We welcomed the Year 11's in for their transition day to the NBP16 Centre last Wednesday which was a great success - lots of the students found it an invaluable experience - we look forward to celebrating with them on results day (23 August)

Year 12 have a busy week ahead with the Futures 18 conference on Thursday 5 and Friday 6 July. There are no timetabled lessons on these days. Year 12 have an important assembly at 8.30am on Wednesday where information on the 2 days will be given out - all Year 12s to attend.

Parent Engagement Meeting (PEG) is on Wednesday 4 July 7.00pm - 8.00pm all are welcome to attend - this will be in Charnwood House.

All students are encouraged to take out books and gather resources for the summer holidays in the next few weeks- please see Mrs Kempt or Mr Reeves if they are unsure what they need or need support.

The school counsellor has some availability for the last few weeks of term on a Wednesday - please see Mrs Kempt. There is also a counselling drop in session on a Monday and Thursday lunchtime at main school.

Wellbeing library - Mrs Kempt has a bank of useful self help books for your son/daughter to borrow - these can be borrowed over the summer holidays - please ask them to pop in to G206 to see Mrs Kempt.
Careers News
City of Bristol College is holding its last Open Day of this academic year on Saturday 30 June, 10.00am-1.00pm, on the Ashley Down site.

DAC Beachcroft is an international law business with over 2,300 people operating across the globe. They currently have local apprenticeships in HR and Business Admin available – for more details and to apply go to this link

The Success at School website https://successatschool.org/ has lots of really good advice for students - especially on the Career Paths & Advice pages. They also send out a regular email which students can sign up for, with ideas and advice about all aspects of future planning - from Results Day advice to Finding a summer job.
Bristol Jobs Fair
Bristol Jobs Fair is on Wednesday 4 July 2018@ Colston Hall, Bristol, 10am to 2pm.
The aim of the event is to find jobseekers work. There will be 30+ local employers attending this event looking for local jobseekers. Please see the poster for the event here.
Subject Area News
MFL
Click here to read students' feedback on the play "Mes chers voisins" performed by the theatre company Onatti to our Year 7 and Year 8 students.
PE/Sports Update
Cricket Result
Hard luck to the senior boys cricket team who narrowly lost their Bristol Schools Semi-Final by 5 runs. St Mary Redcliffe set a total of 66 run off their overs but unfortunately this was too much for Cotham.
Sports Week
This year we are running a sports week instead of one whole school sportsday due to increasing transport costs.

Each year group will take part in track event on a specific day (periods 1 to 4) at Coombe Dingle and will return to school by lunch. All field events will take place after school on that day except for Year 8 which will be Wednesday 18 July. The days are:

Monday 9 July - Year 10
Wednesday 11 July - Year 7
Thursday 12 July - Year 9
Friday 13 July - Year 8

Students will be required to wear a plain house coloured t-shirt, black shorts or skirt, or tracksuit bottoms, white sport socks and trainers. If you are unsure of which house your son/daughter is in and the house colour they need to wear for Sports Day, please refer to the colour of their lanyard.

Students have permission to wear their kit for the whole day but will require books and equipment for period 5 lessons.

Students will travel by bus to and from Coombe Dingle and will need to bring plenty of water and snacks for the morning. Students also need to come prepared for the weather conditions on the day (wear a cap/hat and apply sun cream for hot sunny conditions or extra clothing if its cold and wet). If you have any questions, please don't hesitate to contact Mr Collin.

Please click here for a list of all of the PE/Sports Extra-Curricular activities available to students.
Follow @CothamPE on Twitter for all the latest news and updates from the Cotham School PE department
Performing Arts
Summer Music Review 2018
The Summer Music Review is taking place on Wednesday 11 July from 6pm in Performing Arts. There will be performances from Cotham Rookies (Junior Orchestra), Cotham Jazz Band, pop/rock bands, Steel pans as well as a number of small ensembles , soloists and duets. Tickets are available to buy on WisePay and refreshments will be served by Cotham Performing Arts Network (CPAN) from 5.40pm. If your child is performing they need to arrive in the music department no later than 5.40pm (there might be the odd last minute rehearsal!). Please email campbellb@cotham.bristol.sch.uk if you have any question regarding this event or if you have a child who might like to perform. Click here to view poster.
STEAM Faculty: Year 10 Food Fruit Machine Task
Students attended the feedback session in the boardroom at Bristol Fruit Market to find out who would be the winner of this year's 'Fruit Machine Task'. The judges informed 'Alan Sugar' also known as Nick Matthews from Total Produce that the students were quick to make decisions when planning what to sell. The branding and marketing of our produce was great, the fact that students could state that it was freshly produced which was key in our sales.
Students carefully considered food hygiene during production. During the selling the judges commented on how our students were able to approach potential customers encouraging them to buy our produce. The glasses were a hit with the judges! Judges informed students that we could have sold our ready prepared salads at a higher price! Packaging and labelling of produce was considered to be outstanding as it really caught the eye.
In total we took £219.01 with a spend of £122.10 allowing profit to be made of £96.91. Mykhell Roberts, Lily Booth, Diegio Lovatt Garcia, Izara Grier, IIhlam Mohamed worked incredibly hard during this task, their professionalism and confidence was fantastic. We would like also to congratulate Bedminster Down School on being crowned winners of the task. In total the schools involved raised £262.50 which will be donated to a local food charity. The film of the task will soon be premiered at the Watershed Cinema - date to be confirmed.
Ms Brock
Visual Arts
'Work of the week" goes to Kynaat Bibi and Oskar Allerbrand with their cubism inspired acrylic paintings. Click here to view the image.

Last week, the current Year 12 artists and photographers went on a 4 day trip to the beautiful city of Venice accompanied by Visual Arts staff. The students enjoyed soaking up the Italian culture and visiting galleries such as the Peggy Guggenheim, Palazzo Grassi and the Gallerie dell'Accademia to gain inspiration for their new upcoming projects. A fantastic trip!'

Pics attached from the Venice trip here.
House News
Summer fete
On Friday 13 July Gamma, Sigma, Delta and Omega will be coming together to raise money for their House charities by holding a Summer fete at lunchtime. There will be a huge variety of stalls, games, challenges, food and much more for students to participate in. Prices will be 20p to 50p so don't forget your money!
Gamma
Gamma has been working on an inter-house project this term as part of their Teaching and Learning responsibility which has been to launch the new Cotham Newspaper. We have actually had a newspaper at Cotham since the 1930s so it is fantastic to re-introduce it to the school. The first edition of the newspaper was a roaring success with articles on politics, gaming, music, books and much more. Please have a read yourself of the newspaper here. If anyone would like to get involved next term or submit work for the newspaper then please contact newspaper@cotham.bristol.sch.uk
Sigma
Sigma have been following the FIFA World Cup.All tutor groups were given a Group to follow. We have had prizes along the way. First hat trick 9AF. First red card 7BAK and first 0-0 draw 8SL. We are now in the knockout stages and we will be looking for - first team to win on penalty shoot-out, first hat trick in knockouts, golden boot and the overall winners! Each tutor group takes two teams through to knockout stage.
Community News
SPAN Parenting Support Group
Based at Barton Hill Settlements Children's Centre, the SPAN team offer a range of courses and programmes, both group and 1:1, supporting parents with family and community issues. They offer a range of Health, Wellbeing and Parenting workshops in a variety of areas including recognising Anxiety and Depression, Talking to Teens, Drugs and Alcohol, Domestic Abuse and Building Healthy Relationships. Specialist support is also available for Somali Parents. For more information please click here to view the leaflet.
Back to Back Theatre Company
Former Cotham Student, Georgia Bate, is currently working at In Between Time and they are looking to get people involved in THE DEMOCRATIC SET.
Australian theatre company Back to Back Theatre will collaborate with individuals and groups to create the film which is made up of 15 second performance portraits made by people from across Bristol. Click here to find out more about the project and how you can get involved..
Life-Cycle UK - Summer Programme
In partnership with Bristol City Council Life-Cycle are offering Level 2 and 3 Bikeability courses for children aged between 9 - 15 to build cycling skills and confidence. Click here for dates and how to book.
Young Bristol - Celebrating 90 years
Click here to read Young Bristol's Summer Newsletter 2018 and to find out what they have been up to so far in their 90th year!
Classical Bristol (June 2018)
Please click link here to view June's edition
Bristol Old Vic - The Elephant Man
Click here for information on £10 tickets for The Elephant Man
Useful quick links
Keep us posted
It would be great if parents/carers could let the school know of any student achievements outside of school please. It is sometimes only at parents' evenings that we find out what students are doing in their own time. Email us: adminoffice@cotham.bristol.sch.uk
Key Dates
Please click here to view the Key Dates by year group for the 2017-18 academic year. You will be notified of any significant changes/additions, but please can we ask that you check the dates for your year group regularly as they are subject to change.
Parents' Evening Booking System (PES)
Please click here to access the online appointment booking system for Parents Evenings/Family Consultation Day. Please note this is only available if an event is due. We will email you to let you know when booking opens. If you encounter any difficulties with booking your appointments please contact the admin team by email to adminoffice@cotham.bristol.sch.uk or tel: 0117 919 8000
Assessment Calendars for KS3
We have created Assessment Calendars which contain details of the class assessments that will take place in each subject. The final column contains a link which gives information about each of the assessments.

Click here to see Year 7
Click here to see Year 8
Click here to see Year 9
Click here to see Year 10
WisePay
WisePay is the Online Payment Service at Cotham School which allows you to pay for trips and visits as well as to add credit to your child's Cashless Catering account. Click here to access your account now. If you have any queries about your account please contact the support team by email to wisepay@cotham.bristol.sch.uk
School Uniform
Please click here to view the compulsory uniform requirements of Cotham School, along with visual examples of uniform and details of our uniform suppliers.
GCSEpod
Click here to access GCSEpod which contains lots of revision resources for most GCSEs. Students self register through the website using their name and school details.
SAM Learning
Click here to access SAM learning which contains revision exercises and self marking quizzes with automatic progress tracking and reporting. Please use the Centre ID: BS6CS. Student usernames and passwords are their birthday formatted as DDMMYY, followed by their Initials.
Diagnostic Questions
Click here to access. This site contains self marking quizzes with lots of templates including some from a range of exam boards. It's easy to make your own questions in Microsoft PowerPoint too. Students sign up with their school Google account using the G+ button to automatically create a school account
Free School Meals
https://www.cloudforedu.org.uk/ofsm/sims to check if your child is eligible for Free School Meals or to apply.

Click here to Contact Us