Weekly Mailing - Friday 06 July 2018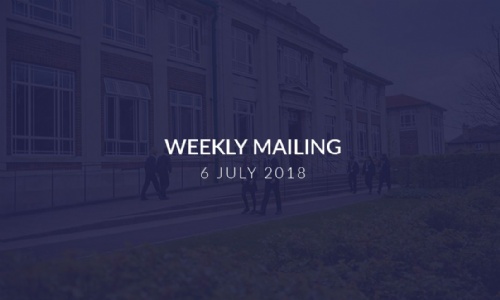 Dear Parents / Carers

Please find below my usual information, letters and updates on events that have taken place this week. This week we were delighted to invite Year 6 parents/carers to the school for a Parent's Evening as we look forward to welcoming our next intake of students into Year 7 in September. Welcome to Cotham School and to our weekly mailing which endeavours to keep you informed about all things Cotham.
With best wishes for another lovely warm weekend!

Ms Jo Butler
Headteacher
Upcoming events
w/c 9 July Week B
Yr. 10 Visual Arts Mock Exams
Yr. 12 Biology Visit to Slapton (Mon-Wed)
Mon 9 July
Tues 10 July
Yr. 6 Knowing Me Knowing You (KMKY)
Rail Reps on trip to WSM
Wed 11 July
Yr. 7 Sports Activities
Summer Music Review Concert
Art and Photography mock exams
Y8 Philosophy Experience Sessions
Thurs 12 July
Yr. 6 Knowing Me Knowing You (KMKY)
Y8 Philosophy Experience Sessions
Yr. 9 Sports Activities
Y10 Graffiti workshop
Fri 13 July
Yr. 8 Sports Activities
Y10 Art & Photography Futurequest workshop
Congratulations
Rowing Success
Congratulations to Blanche Beeston 8GC, runner up in WJ13 single scull event at Ironbridge Regatta, for City of Bristol Rowing Club.
Cricket Win
On Sunday Oliver Haskins (10WN) and his under 15 team won the Gloucestershire Vitality U15 T20 cup. They will now represent Gloucestershire in round 2 of the national stage of the competition.
Oliver has been playing cricket outside school for YMCA in u15's, u16's and their adult 3rd team.
This success follows on from his achievement as being recognised as having amongst the best bowling figures for a recent week in the Gloucestershire Cricket League with his name being engraved on the week's Best Bowler board at Gloucestershire Cricket Club. Excellent achievement Oliver!
Delta House Hero and BAFTA winner Amelia Spooner's animation
Earlier on in the year I reported the fantastic news that Amelia Spooner in 7PPR won a national competition run by BAFTA to raise awareness of children's mental health. The theme for this year was 'Being Ourselves' and for this competition students were asked to think about the one thing that makes them, them!
Amelia drew her own selfie which will help BAFTA to see what makes her special. Karrot Entertainment have now created the animation and it is with great delight that I can now share it with you here.
The animation has been shared with children up and down the nation and it is fantastic to have Amelia's work featured. Once again I would just like to say how proud we are of Amelia, huge well done! - Ms McDonagh.
Success at the Great Big Dance Off!
​On Monday a small group of Year 9 students travelled to Cheltenham to take part in the national finals of the Great Big Dance Off! It was an amazing day, rehearsing & watching performances from all over the country in many different styles in a grand and large theatre. To qualify was an impressive achievement and the dancers gave a strong and powerful performance and behaved in an immaculate manner at all times. I am very proud of their achievements and they deserve many congratulations for their perseverance, determination and quality of performance - Mrs Taylor
Bristol Commission Women's Conference
On Wednesday 27 a group of eight Year 9 students attended the 'Bristol Women's Conference Commission 2018: Our Lives Our Choice.' The conference took place at the Cabot Institute at City Academy.
The theme of the conference was to inspire and introduce the girls to explore future career opportunities.
The students were welcomed by Hannah Hier, a Youth Councillor. Sheila Hannon from the 'Show of Strength Theatre Company' spoke eloquently and passionately about the life of Sarah Guppy who was a designer, inventor and an engineer. She lived in Bristol around the same time as Isambard Kingdom Brunel and yet little is known of her contribution and her achievements.
The students said that they really enjoyed hearing from professional women about their journey towards achieving successful careers. The sharing and exchange of experiences and advice was particularly interesting and helpful to them.
Students were able to design their own badges signalling the profession they would like to follow after leaving full time education. All students said they enjoyed the event and based on this experience a similar event would be beneficial to boys of the same ag - Mrs Kelly
Talk to us
If you would like to tell us about any student achievements outside of school or to promote a community event etc via our weekly mailing please do not hesitate to contact us at adminoffice@cotham.bristol.sch.uk with details.
Important Information for Parents/Carers
End of Term Arrangements and early finish on Friday 20 July
Last day of term for students is Friday 20 July. Following the House Assembly, students will be dismissed at 10.45a.m. Free school meal students will be able to collect a lunch from the sandwich hut between 10.45a.m. and 11.00a.m. This will be a non school uniform day and all monies raised will be split between the four House Charities
Free School Meals - Important update
https://www.cloudforedu.org.uk/ofsm/sims to check if your child is eligible for Free School Meals or to apply.
Cotham Houses - Summer Fete Friday 13 July on lower tarmac area
Gamma, Sigma, Delta and Omega will be coming together to run a Summer fete with stalls, competitions, food and prizes for the whole school at lunchtime on the lower West Tarmac area. Stalls include:
Cake sale
Ice creams
Face painting
Guess the Weight
Hook a duck
Crossbar challenge
Tin Can Alley game
Photo Booth
Fishing for prizes
Shooting gallery
Ice Bucket Challenge
Count the candy
Cover the coin
Lucky socks
Prices will be 20p or 50p depending on the stall or activity, please remember to bring in money! All money raised will be split between the House charities.
Uniform - Please take note when buying uniform for September
Thank you for supporting the School with our school uniform policy. We have a very simple and unfussy school uniform at Cotham but do expect that all students wear it correctly according to our requirements. Unfortunately it has been noted that standards have recently been slipping with some students still wearing trainers and unsuitably tight trousers to school.
Click here to view the full uniform requirements for Cotham School.

Please note in particular:
School Shoes - Trainer style shoes are not acceptable. Please click here to view visual examples of the school's only acceptable footwear.
School coats - Plain coats only without intrusive logos or brands. No denim, leather or bomber style jackets. No hoodies.
School Bags - Students need a substantial school bag big enough to contain PE/Dance kit, exercise books, textbooks, a pencil case, planner and other equipment. Small string bags, handbags and fashion bags are not permitted.
No: Jewellery (except one small ring, small pair of stud earrings),
caps, make up/coloured nail varnish, coloured hair or facial piercings
Any student who comes to school in incorrect uniform in September will be sent home to change.

Uniform is available from Harris Sports and Famous Branches. Harris Sports also hold a uniform 'shop' in Main Reception at school every Thursday from 2.30 to 4.00pm to view and buy uniform.

Harris's Sports (School Uniform Suppliers) will be in School for all your uniform requirements on the following dates: Thursday 12 July, Thursday 19 July

This summer Famous Branches are launching a Loyalty Scheme which will enable customers to earn points on their purchases which can then be exchanged for money off of future purchases. Participating parents will also be able to participate in future promotions and receive information on Sales events.
As part of this launch FSB are also running a competition for new pupils starting this September 2018. One parent from each school will win a £30.00 Schooltogs voucher that can be spent in store. Just sign up to the Loyalty Scheme to be entered into the draw.
Second Hand Uniform
If you have any spare uniform that your child is no longer using that you would be able to donate to our second hand uniform sale (particularly Year 7/8/9 School sweatshirts and House polo shirts.), please can we ask you to bring it to the Main School reception as soon as possible. Many thanks in advance for your support.
Lost Property
There will be a lost property display during the last week of term. Please see next week's Weekly Mailing for dates/times and location.
Was Your Adopted Child Previously in Care and Adopted On or After 30 December 2005?
You may be aware that schools receive additional funding for children in receipt of Free School Meals which is called Pupil Premium Funding. These children are automatically identified to the school through the Local Authority. The government have recently announced that they are extending this funding to provide additional income for schools to support children who have been adopted from care. This funding will be called Pupil Premium Plus and will be £1900 per year per child.
Unfortunately, unlike Free School Meals eligibility, the school is not given information on whether or not students have ever been in care. We therefore need parents and carers to let us know that they have adopted children from care so that the school can claim the funding available for the next financial year.
This additional funding is only eligible for students who:
left care under a Residential Order on or after 14 October 1991 (under the Children Act 1989)
left care under a Special Guardianship Order on or after 30 December 2005 (under the Children Act 1989)
were adopted from care on or after 30 December 2005 (under the Adoption and Children Act 2002)
If your child fits into any of the above categories and you are willing to let the school know that this is the case, please contact either your child's Learning Coordinator giving the name and form group of the student concerned as soon as possible. You will then be contacted and asked to provide supporting evidence, i.e. the Adoption (Court) Order. In order to claim the funding for the financial year 2018-19 the school need to include information in the census return that they send to the DfE in January 2019.
Pupil Premium Plus funding is not ring-fenced, and is not for individual children. It is designed to provide specific support to raise attainment and address the wider needs of children in this vulnerable group. Children who have spent time "in care" have usually experienced grief and loss, many have had traumatic experiences in their early lives caused by abuse or neglect and this can have a lasting impact even after many years of adoption in a loving home. National statistics show that children in care face unique challenges at school and often struggle to keep up with their peers. It is vital that they are given the targeted support they need and the education they deserve to help them get on in life.
There is no obligation for you to share this information with us, but doing so will help both your child and the school benefit from this substantial additional funding. If you would like a confidential conversation about how this information will be held in school, please do not hesitate to contact Mrs Bajic- Raymond (Deputy Headteacher).
All information received will be treated in strictest confidence.
Word of the week
Each week at Cotham we promote a Word of the Week. This is to help students expand the range of vocabulary they use. Please find the word for the week ahead by clicking here.
Celebrate and Connect Supper - Thursday 19 July 2018
Cotham School would like to invite all parents to our Celebrate and Connect supper on Thursday 19 July. The event will take place from 7.00pm to 9.30pm. This will be a fantastic opportunity for parents and teachers to meet one another and celebrate the amazing diversity of our school.
Currently 41 different languages are spoken in Cotham and we have students representing every continent.
There will also be an opportunity to see the premier of 'The World of Cotham', a short film made by a group of KS3/4 students to celebrate the cultural diversity of Cotham School. Please join us, bring a dish to share and make some new friends. Mrs Marlene Kelly Learning Mentor/Ethnic Minority Achievement Coordinator
Important Travel Update from GWR about disruption to travel from September
Please see attached important message from GWR about disruption to travel from September that may affect travel in and out of Bristol.
Online Safety Newsletter
You can view the July issue here
Key Stage 3/4 (KS3/4) News
Nothing to report! After a very busy exam period we would like to congratulate all of our students for all of their hard work and exemplary conduct despite the very hot weather. We look forward to hearing your results.
​Post-16 News
Year 12 Futures 18 was a great success with some excellent speakers and visitors to the centre - hopefully all year 12 found it useful - support and guidance will continue into year 13 - please encourage your son/daughter to draft their personal statement over the summer.
Our Parent Engagement Meeting (PEG) was very well attended with a presentation on the UCAS application process and going to University - the presentation has been uploaded onto the NBP16 website and there are really useful web links to help support your son/daughter.
Any questions regarding the Student Disability Allowance please email kemptc@cotham.bristol.sch.uk - this is a pot of money available to support students with any medical, mental health or Specific Learning Difficulties (e.g. Dyslexia)
There will be an applying to UCAS mop up session in place of Core Programme at 11.05am on Wednesday 11th July for those students who were absent on Friday. There is no Core Programme for all other year 12s.
Oxbridge support - there is a lunchtime meeting on July 16th at 1.05pm for all students wanting to apply to Oxbridge - room to be confirmed. All students have been notified.
A reminder that the counsellor is still available until the end of term - please encourage your son/daughter to see Mrs Kempt if they are worried about the summer holidays and need some support put in place - we are always here to help.
Post 16 Toolkits
Supportive Parents are the local SEND information and advice service (SENDIAS) which recognise that children and young people with special educational needs and disability (SEND) have the same right to information, advice and support as their parents. They have created some resources for children and young people about a range of Post 16 topics and are in the process of re-designing their website in co-production with young people. For more information please visit http://www.supportiveparents.org.uk/sp16-25
New post 16 resources are available here: http://www.supportiveparents.org.uk/easy-reads/ and http://www.supportiveparents.org.uk/toolkits-resources
Supportive Parents can also offer a range of workshops for young people and young people including ones on annual reviews. For further information please contact mail@supportiveparents.org.uk
Subject Area News
PE/Sports Update
Please click here for a list of all of the PE/Sports Extra-Curricular activities available to students
Follow @CothamPE on Twitter for all the latest news and updates from the Cotham School PE department
Performing Arts
Summer Music Review 2018
The Summer Music Review is taking place on Wednesday 11 July in Performing Arts. There will be performances from Cotham Rookies (Junior Orchestra), Cotham Jazz Band, pop/rock bands, Steel pans as well as a number of small ensembles , soloists and duets. Tickets are available to buy on WisePay
PLEASE NOTE: In the event that England win their quarter final game this Saturday, the Summer Music Concert will start at the earlier time of 4.30pm and be finished by 6.30pm. This is in response to large numbers of students saying they cannot attend the concert because of the football match.
Should England not qualify on Saturday, the concert will kick-off as originally planned at 6pm.
If you have any questions regarding this please do not hesitate to email me campbellb@cotham.bristol.sch.uk
Pulse Youth Dance Company Auditions
Pulse Youth Dance Company, in collaboration with Rise Youth Dance, has been running from Cotham School for the past 8 years and we are looking for new dancers. If you or your child is currently in year 5-7 and has an interest or flare for dance, auditions will be held on Monday 9 July 4-5.30. Please contact pulse@cotham.bristol.sch.uk if you are interested.
Visual Arts
WOTW this week is more of a collaborative effort and goes to all Year 7s involved in creating the new Cotham graffiti wall with help from Bristol based graffiti artist, Nick Halahan. Well done to all involved and a big thank you to Nick for inspiring and engaging the students! Click here to view the image.
House News
Gamma
Gamma has been working on an inter-house project this term as part of their Teaching and Learning responsibility which has been to launch the new Cotham Newspaper. We have actually had a newspaper at Cotham since the 1930s so it is fantastic to re-introduce it to the school. The first edition of the newspaper was a roaring success with articles on politics, gaming, music, books and much more. Please have a read yourself of the newspaper here. If anyone would like to get involved next term or submit work for the newspaper then please contact newspaper@cotham.bristol.sch.uk
Community News
The West of England Centre for Inclusive Living (WECIL) is recruiting!
Are you a young disabled person aged 12 to 19?

Is making a difference to the lives of young disabled people important to you?

We're currently recruiting enthusiastic young, disabled people to join our Voluntary Youth Trustee Board. The initial commitment would be to attend a Board meeting every 3 months (after school). We will pay your travel and food expenses.

As a Youth Trustee, you'll work with other young people to help shape our organisation for the future and make sure that the voices of young disabled people are heard.

No experience is necessary. We will provide training and you will be mentored by our Senior Trustee Board, 85% of which identify as disabled.

We're committed to diversity and creating opportunities for young disabled people. As a Youth Trustee, you'll gain valuable work experience and learn about:
Business Development
Trusteeship
Team Work
Leadership
To become a Youth Trustee, please complete our online application form or contact our Volunteer Coordinator, Hannah Nuttall. We'd love to hear from you!

Email: hannah.nuttall@wecil.co.uk
Phone Number: 07973686001

Click here to view the leaflet about Inclusive Harbourside Fun with WECIL and Sense on 21 and 22 July
Support group for parents/carers of young people with SEND
Supportive Parents are Bristol's SEND Information, Advice and Support Service and they provide parents, carers and young people with free, impartial information, advice and support around SEN Support in School or anything to do with EHC plans.

Supportive Parents are holding a support group at Barnardo's offices at Junction 3. Baptist Mills Court BRISTOL BS5 0FJ on Tuesday 18 September and Tuesday 20 November from 10 a.m. 'til noon for parents and carers. It is an opportunity to ask questions and get support. They will also deliver an Annual Review workshop at New Fosseway School for parents and carers on Tuesday 23 October. This is focussed on the Preparing for Adulthood review and is for parents of students at the four special schools in the learning difficulty partnership. More annual review workshops are planned and further information will be provided once venues and dates are confirmed.

If you would like more information please contact Supportive Parents via mail@supportiveparents.org.uk or click the link here to see their Information Leaflet
Jubilee Sailing Trust and British Exploring Society Infinity Project for 16-18 year olds with SEND
Do you know a young person that would love to sail the high seas and trekking across a breathtaking landscape?

We have been approached by the Jubilee Sailing Trust and British Exploring Society to identify 14 young people aged 16-18 with a special educational need or a disability who would like to take part in a once in a lifetime opportunity to take part in a land and sea challenge in October 2018.

If you want more information or know of a young person who would like to express interest please email jeremy.stephenson@bristol.gov.uk with the young person's name, age, school and contact details. We will be arranging an information session later in the month. More information is below and on the leaflet attached.
Jubilee Sailing Trust and British Exploring Society's Infinity Project
The Infinity programme is in its pilot year. We are seeking 14 disabled and 14 non-disabled young explorers to participate in a pilot expedition in the UK this autumn. For the pilot expedition, young explorers need to be aged 16-18 (for the main expedition next year we are likely to expand to a wider age range). The young explorers will be required to contribute £150 per person (and travel costs to Dartmoor and from Southampton would also need to be funded). Otherwise, all costs are fully covered by a JST/ BES donor.

The young explorers will act as ambassadors for the full programme - but also to inform us and challenge us in the design of the final programme to make sure we've got it right. So first of all our participants need to be confident to participate in feedback - we would want them to actively benefit and grow from this kind of process.

The programme is about intensive personal development, adventure and directed learning opportunities around science, media, communications, teamwork and so on. The young explorers will need to be:
able to receive, understand and remember instruction including in relation to their safety in wild and remote locations
able to manage basic self-care and self-medication
cognitively able to benefit from the personal development and learning provided by the programme
able to progress positively as a result of supported challenge and stress provided by the programme.
We think that for young people used to managing their disability but frustrated by the limited expectations of others, or by the lack of opportunities they have to stretch themselves, this is the perfect chance to participate in a life-defining adventure while we learn from them. Our young disabled explorers can role-model the capabilities of young people generally and act as pioneers in shaping our Infinity programme for the future.
The attached document is designed for potential participants to read and gives a more in depth brief of the project and this amazing opportunity. The non-disabled explorers for the pilot will be selected from Westminster Academy, an outstanding school for disadvantaged youth in west London. We are now actively seeking partners to support the recruitment of the disabled explorers.
Design a Dream Bike
There's still time for children to 'Design a Dream Bike' for the HSBC UK Let's Ride family cycling festival taking place in Bristol city centre on Sunday 8 July, for a chance to win an iPad and other prizes

Parents can register children to ride at the event by adding them as 'Additional Riders' to their own registration. It's easy to register here for HSBC UK Let's Ride. Simply register to ride then enjoy colouring your bikes together.
Useful quick links
Keep us posted
It would be great if parents/carers could let the school know of any student achievements outside of school please. It is sometimes only at parents' evenings that we find out what students are doing in their own time. Email us: adminoffice@cotham.bristol.sch.uk
Key Dates
Please click here to view the Key Dates by year group for the 2017-18 academic year. You will be notified of any significant changes/additions, but please can we ask that you check the dates for your year group regularly as they are subject to change.
Parents' Evening Booking System (PES)
Please click here to access the online appointment booking system for Parents Evenings/Family Consultation Day. Please note this is only available if an event is due. We will email you to let you know when booking opens. If you encounter any difficulties with booking your appointments please contact the admin team by email to adminoffice@cotham.bristol.sch.uk or tel: 0117 919 8000
Assessment Calendars for KS3
We have created Assessment Calendars which contain details of the class assessments that will take place in each subject. The final column contains a link which gives information about each of the assessments.

Click here to see Year 7
Click here to see Year 8
Click here to see Year 9
Click here to see Year 10
WisePay
WisePay is the Online Payment Service at Cotham School which allows you to pay for trips and visits as well as to add credit to your child's Cashless Catering account. Click here to access your account now. If you have any queries about your account please contact the support team by email to wisepay@cotham.bristol.sch.uk
School Uniform
Please click here to view the compulsory uniform requirements of Cotham School, along with visual examples of uniform and details of our uniform suppliers.
GCSEpod
Click here to access GCSEpod which contains lots of revision resources for most GCSEs. Students self register through the website using their name and school details.
SAM Learning
Click here to access SAM learning which contains revision exercises and self marking quizzes with automatic progress tracking and reporting. Please use the Centre ID: BS6CS. Student usernames and passwords are their birthday formatted as DDMMYY, followed by their Initials.
Diagnostic Questions
Click here to access. This site contains self marking quizzes with lots of templates including some from a range of exam boards. It's easy to make your own questions in Microsoft PowerPoint too. Students sign up with their school Google account using the G+ button to automatically create a school account
Free School Meals
https://www.cloudforedu.org.uk/ofsm/sims to check if your child is eligible for Free School Meals or to apply.

Click here to Contact Us