Weekly Mailing - Friday 13 July 2018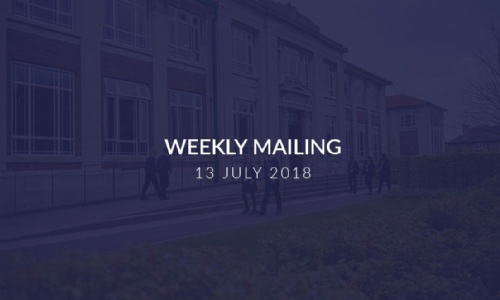 Dear Parents / Carers
Please find below my usual information, letters and updates on events that have taken place this week.
Ms Jo Butler
Headteacher
Upcoming events
| | |
| --- | --- |
| w/c 16 July | Week A |
| Tues 17 July | Y10 Art & Photography Future quest workshop |
| Fri 20 July | Last day of term - student dismissed at 10.45a.m. after House Assembly |
Congratulations
Year 9 Silver Arts Award - 100% Pass rate!
Huge congratulations to the Year 9 pupils who have passed their Silver Arts Award. The moderator commented: 'Some really brilliant portfolios and it's great to see the young people coming up with such individual ideas'. Well done!
Flute Exam
Congratulations to Esme Pykett (8NCA) who successfully passed her Grade 5 flute exam. All her hard work paid off!
West brothers' Swimming Success
Maximillian West competed in his swimming club's Summer Sprint Championship. He came away with one Bronze and one Silver medal and four Personal Bests! Well done Max!
The South West Fast5 championships took place last weekend. The Fast5 is done over one day, the accumulative times for all four strokes over 50m plus 100IM are all added together to decide who is the best all rounder in the region. Congratulations to Reuben West who earned second place.
Ms Beynon, Learning Co-Ordinator for Year 10
Double 10 years congratulations to Ms Beynon:-
For being a really outstanding Learning Co-ordinator for the past 10 years. (Thankfully Ms Beynon is not leaving us, but next year Ms Pierce will be taking over the role of Year 11 Learning Co-Ordinator)
and;
On recently receiving a Ten Tors Bronze Award in recognition of 10 years voluntary service to Ten Tors. This is a brilliant achievement in itself but also reflects an amazing commitment to our school and students.
Thank you Ms Beynon!
Maths Challenge
Off the back of the recent success for so many of our students in the Maths Challenge two students qualified for the Junior Maths Olympiad. Jacob Thorn and Darong Huang both did exceptionally well to qualify putting them in the top 25% of all students entered for the Maths Challenge. Darong was comfortably awarded a Merit on what were very challenging questions. Jacob was awarded a Gold putting him in the top 300 students nationally. This is an amazing achievement by both of them!
If you think you want to attempt some of the questions you can find them here: https://www.ukmt.org.uk/pdfs/jmo18Q.pdf - Mr Woods
Talk to us
If you would like to tell us about any student achievements outside of school or to promote a community event etc via our weekly mailing please do not hesitate to contact us at adminoffice@cotham.bristol.sch.uk with details.
Important Information for Parents/Carers
End of Term Arrangements and early finish for students on Friday 20 July at 10.45am
Last day of term for students is Friday 20 July. Following the House Assembly, students will be dismissed at 10.45a.m. Free school meal students will be able to collect a lunch from the sandwich hut between 10.45a.m. and 11.00a.m. This will be a non school uniform day and all monies raised will be split between the four House Charities
Lost Property Display
Location: Main Reception
Dates: Tuesday 17 and Wednesday 18 July 2018
Parents and Carers: can come in and look between the hours of 8.30am - 3.30pm
Students: Morning Break, Lunchtime and after school until 3.30pm
Any items not claimed will be donated to charity.
Leavers and Joiners
We say thank you and farewell to the following staff at the end of this Academic Year and wish them every success in the next stage of their lives and careers:-
Mr Warnock, Head of Inclusion and SENCO
Ms Batt, Exams Officer
Mr Campbell, Faculty Leader, Performing Arts
Ms Boggis, Art and Display Technician
Mr Woods – Assistant Faculty Leader, Maths
Ms Rupp, English Teacher
Ms Rivers, Higher Level Teaching Assistant (HLTA) for Numeracy
Ms Williams – BTEC Business Teacher
Mr Neville – Science and Initial Teacher Education Co-ordinator
Mr Reeves – Academic Mentor
Ms Price – Inclusion Co-ordinator
Mrs Prosser, HLTA for Literacy
Mr McGrath - Computer Science Teacher.
We look forward to welcoming the following new staff in September:-
Robert Denby and Joshua Fish, Teachers of Mathematics
Olivia Hunt, Geography Teacher
Julia Chapman - Special Educational Needs Co-ordinator (SENCO)
Caroline Brice - Teacher of History
Allison Crossland – Business Manager
Sarah Fear and Sara Geary - Teachers of Girls PE
Esme Caldwell, Teacher of Music
Sophie Howard – Assistant Faculty Leader for Maths
Grace Howe - Science Teacher
James Hammett - Business Studies Teacher
Annmarie Bellamy - Art and Display Technician
Dalvinder Kaur, Academic Mentor
Aurelie Andouard and Laura Green- Higher Level Teaching Assistants (HLTAs), Literacy and EAL
Rhys Millard and Emily Morgan, HLTAs Numeracy
Rebecca Tonkin, Computer Science Teacher
GWR Student Rail Ticketing Scheme
We are very pleased to announce that the Severnside Community Rail Partnership have confirmed that they are willing to continue with the Student Rail Ticketing Scheme. This partnership offers our students and families a huge saving on rail travel to and from the school on the Severnside Community Rail. An annual ticket costs £40.00 or families can buy their ticket in instalments. All the details are contained in the letter and application form here.
Rail upgrade work in the Bristol area this autumn
Please see attached letter from GWR about planned engineering work taking place in the Bristol area this autumn that may impact on train services to and from local schools. Students will be required to use a bus rail replacement to reach school at the beginning of Term 2. The practicalities of this are being discussed with the school Rail Reps and further information will follow at the start of the next academic year.
Castle Park - A Statement from Avon and Somerset Police
Castle Park has long been linked to concerning behaviours from young people and is a focal point in the city centre for gathering. The current intelligence picture identifies that within the mix of anti-social behaviour and drug incidents at the Park, there are a growing amount of incidents linked to the exploitation of young people by other young people.
It is at this time of year when the school year has finished that we see the greatest rise in incidents involving young people. The police and partner agencies will be working to highlight this concern and provide education and support to those that might need it around all areas of vulnerability. We are not asking that young people stop using the park or be forewarned of this activity as we will be present in an overt manner. However our intention is that those young people who may be considered vulnerable to exploitation are given the knowledge of what to look out for and organisations they can contact should they become aware of any form of exploitation within their social groups.
Concern about Children's gaming site called Roblox
It has been brought to our attention that safeguarding concerns have been raised across the country about the children's gaming site called Roblox. The game is aimed at 8-18 year olds, however as there are no age restrictions, this means both adults and young people can play and communicate with each other on the platform. There have been reports that some of the imagery that children can be exposed to is sexually violent and extremely disturbing. Please take a moment to read the guidance for parents provided here by the UK Safer Internet Centre.
Dangerous Drugs - Early Warning System - Ecstasy Tablets
Drug Expert Action Team at Avon and Somerset Constabulary have circulated an email (below) which highlights a recent death in Somerset which has been linked to the use of PINK SAMSUNG ECSTASY TABLETS.
These are not pills that we have seen before. It is possible that these pills will end up at NASS. It is believed that the pills contain between 200mg & 300mg of MDMA. This is 2/3 times the strength commonly found in pills.
The advice is that if you become aware of this drug in the community then to contact your local police.
Eating Disorders Conference
You are invited to attend a conference on prevention and early intervention for eating disorders in children and young people. It is taking place on Tuesday 2 October 2018, 9.30am – 3.30pm at BAWA Healthcare & Leisure, BS34 7RG.
FREE tickets are available here: http://eatingdisordersconference.eventbrite.co.uk/?s=86963222
The event is aimed at parents and carers and people working with children and young people in Bristol, North Somerset and South Gloucestershire. Improving access to treatment for eating disorders is a local and national priority; this conference aims to contribute to improving preventative measures, such as promoting positive body image, and early identification and intervention.
Speakers and workshops to include:
Dr Pooky Knightsmith - researcher, writer and speaker on eating disorders, Vice Chair of the Children and Young People's Mental Health Coalition
Dr Mark Pietroni - Director of Public Health for South Gloucestershire
Eva Musby - parent, author and speaker on eating disorders
NHS Child and Adolescent Mental Health Services
UWE Centre for Appearance Research
Workshops for professionals on early intervention and support, school prevention, building our own resilience, and sessions for parents and carers
Funding for the event has been provided by NHS Bristol, North Somerset and South Gloucestershire Clinical Commissioning Group. It is being organised by the Public Health & Wellbeing team at South Gloucestershire Council on behalf of the CCG and Bristol City, North Somerset and South Gloucestershire Councils.
Free School Meals - Important update
https://www.cloudforedu.org.uk/ofsm/sims to check if your child is eligible for Free School Meals or to apply.
Word of the week
Each week at Cotham we promote a Word of the Week. This is to help students expand the range of vocabulary they use. Please find the word for the week ahead by clicking here.
Mobile Phones
A link to the mobile phone policy is here as a reminder. We do not call parents when a mobile phone has been confiscated. If students need to contact their parents in an emergency they can ask Student Reception to make a call home on their behalf.
The Red Box Project
We have committed to being involved in part of a nationwide project to provide free sanitary wear in schools and break the taboo around menstruation. You can find out more about the project here
In September, we will have a large box in a safe and discreet space for our girls and young women to be able to help themselves to sanitary products when they need them, rather than to miss out on their education because of their period.
We are canvassing local businesses and residents to donate regularly to our box and are appealing to all our parents and carers to do the same. Any donation of a sanitary product, no matter how small, will be appreciated. Donations can be dropped off at the school Reception.
Finally, we have a Facebook page set up that is committed to this cause called 'The Red Box Project - Cotham', so please also show your support by joining our page.
Key Stage 3 (KS3) News
Holiday Homework
We want to ensure that all students reflect on their learning over the summer period and all students will be expected to complete some homework over the holiday.
Year 7 into 8 - click here
Year 8 into 9 - click here
Year 9 into 10 - click here
These documents have also been shared with students using their Year Group Google classroom page.
Key Stage 4 (KS4) News
Year 10
Academic Monitoring Reports
Academic Monitoring Reports for Year 10 will be issued next week. The report details your child's current grade in each of their subjects as well as their Year 10 Exam Grade and their Minimum Expected Grade (MEG).
The 'current grades' referred to in the monitoring report take account of their progress during the year and their success in their end of year exams. The end of year exams were an important opportunity for your child to demonstrate that they had consolidated their understanding of the course delivered to date, and to allow them to concentrate on new content in Year 11 in September.
Please ask your child for their Academic Monitoring Report next week. We will be asking students to identify those subjects in which their current grade is 2 or more grades below their Minimum Expected Grade as there will be important consolidatory work that will need to be completed in advance of their return in September.
Year 10 into 11 Holiday Homework
We expect students to be consolidating their Year 10 content over the summer period. To support this, Faculties will be setting homework for students to complete in each of their subjects.
Click here to view the Holiday Homework document for Year 10 into Year 11. This document will also be shared with students using the Year 10 Google classroom page.
Work Experience Week (WEX)
During Term 6 Year 10 students had the opportunity to spend a week on Work Experience. The week has given students the opportunity to develop employability skills and gain valuable experience. We had students placed in a variety of different sectors including retail, art and design, engineering, primary education, nurseries, animal care, charities, banking, catering, law, administration and drama. Some students had the opportunity to go to different parts of the UK and also abroad to complete their placements, this included Italy and Spain. The feedback has been fantastic by both employers and students. Some students have received part time jobs and were rewarded for the hard work and dedication they showed. Employers commented on how it was a pleasure to have Cotham students and how many worked harder than some staff! Students were organised and prepared for their week. Employers were pleased to see that many arrived early and looked smart and were ready to work. Here are just a few comments we had from employers....
'Been organised and motivated all week, turning up on time each day. He has been friendly and mixed well with the team. He has been very helpful with preparing projects and has been pro-active in finding things to support with'.
'He's been very hard working and a huge help. Really impressed with his attitude. He has been prompt and well-organised throughout the week.
'His supervisor was pleased with him, he was polite and chatty and has worked hard to get the most out of the experience. He was smartly dressed and seemed really keen to make a good impression on me and his supervisor'.
'She has been outstanding in her commitment to her work experience.
She has such a kind, calm manner with the children. She is very good at talking and playing with the children even as young as two years old.
'Used her initiative throughout her time with us and very quickly became a fantastic member of the team.
She communicated exceptionally well with all the staff in the Pre-prep and confidently asked questions when appropriate. I have said that if she ever needs a further placement we would really love to have her.
I would like to take this opportunity to wish her all the best in whatever she does and to thank her for all her hard work'.
'Amazing, worked hard used initiative researching for the eBay site and different ways to give for gift aid. Delighted and thrilled we benefited with them there. They got down to some deep work that needed doing. They were fantastic, polite and all round lovely students'.
'He's doing really well. He's had a busy week. Diligent, interested and ready to help. If he wasn't a school pupil our policy would be to pay him as an intern because he is doing real work that needs to get done'.

'She's having a fantastic time, lots of positive feedback and she's even volunteering over the summer now'.

'It has been a pleasure to collaborate with you in this Work Experience program. There is not anything like it here in Spain. For us, it has been a really wonderful experience. Not only has he learnt how our business works but also we have learnt from some of his best qualities, such as responsibility, punctuality, confidence and initiative I hope it has been helpful for him and has contributed to develop an enterprising attitude'.
Congratulations Year 10, you have been fantastic ambassadors for the school and really done us proud!
​Post-16 News
There is a meeting for all students interested in applying to Oxbridge at lunchtime on Monday 16 July in G207
Please ensure that your son/daughter has all the resources needed for the summer break and has checked the summer work with their teachers.
One of our Academic Mentors - Zak Reeves is leaving us to train to become a counsellor, we wish him the best of luck for the future and thank him for all his hard work with our students. Dalvinder Kaur will be replacing Zak.
The last day of teaching for Post 16 is Thursday 19 July - there are no Post 16 lessons on Friday 20 July.
A Level Results day is Thursday 16 August 9am - 3pm at Charnwood House.
Year 12 induction day is Tuesday 4 September
Any student wishing to apply to university must come and see Mrs Kempt asap to register.
We wish all our students a relaxing summer break and look forward to seeing them all again in September.
Subject Area News
PE/Sports Update
Please click here for a list of all of the PE/Sports Extra-Curricular activities available to students
Follow @CothamPE on Twitter for all the latest news and updates from the Cotham School PE department
Visual Arts
This weeks Artwork of the week goes to Alex Ross and Celeste Crocker with both their fantastic final pieces from the Year 10 mocks. Click here to view.
Community News
Bristol Festival of Children's Literature
Horfield Church of England Primary School is hosting the first ever Bristol's Festival of Children's Literature this summer, on Saturday 14 July. As UKLA Literacy School of the Year 2017-18 Horfield are keen to give something back to the Bristol community through a celebration of children's literature. The UKLA website has tickets priced relatively low (for a literature festival) to ensure accessibility to all Bristol children. Click here for more information.
Think Family - Families in Focus - Summer Activities Newsletter
Click here to access a list of activities for young people taking place across Bristol during the summer break.
20mph zones in Bristol
Click here to find out how you can have your say.
Useful quick links
Keep us posted
It would be great if parents/carers could let the school know of any student achievements outside of school please. It is sometimes only at parents' evenings that we find out what students are doing in their own time. Email us: adminoffice@cotham.bristol.sch.uk
Key Dates
Please click here to view the Key Dates by year group for the 2017-18 academic year. You will be notified of any significant changes/additions, but please can we ask that you check the dates for your year group regularly as they are subject to change.
Parents' Evening Booking System (PES)
Please click here to access the online appointment booking system for Parents Evenings/Family Consultation Day. Please note this is only available if an event is due. We will email you to let you know when booking opens. If you encounter any difficulties with booking your appointments please contact the admin team by email to adminoffice@cotham.bristol.sch.uk or tel: 0117 919 8000
Assessment Calendars for KS3
We have created Assessment Calendars which contain details of the class assessments that will take place in each subject. The final column contains a link which gives information about each of the assessments.
Click here to see Year 7
Click here to see Year 8
Click here to see Year 9
Click here to see Year 10
WisePay
WisePay is the Online Payment Service at Cotham School which allows you to pay for trips and visits as well as to add credit to your child's Cashless Catering account. Click here to access your account now. If you have any queries about your account please contact the support team by email to wisepay@cotham.bristol.sch.uk
School Uniform
Please click here to view the compulsory uniform requirements of Cotham School, along with visual examples of uniform and details of our uniform suppliers.
GCSEpod
Click here to access GCSEpod which contains lots of revision resources for most GCSEs. Students self register through the website using their name and school details.
SAM Learning
Click here to access SAM learning which contains revision exercises and self marking quizzes with automatic progress tracking and reporting. Please use the Centre ID: BS6CS. Student usernames and passwords are their birthday formatted as DDMMYY, followed by their Initials.
Diagnostic Questions
Click here to access. This site contains self marking quizzes with lots of templates including some from a range of exam boards. It's easy to make your own questions in Microsoft PowerPoint too. Students sign up with their school Google account using the G+ button to automatically create a school account
Free School Meals
https://www.cloudforedu.org.uk/ofsm/sims to check if your child is eligible for Free School Meals or to apply.
Click here to Contact Us