Weekly Mailing 27 January 2017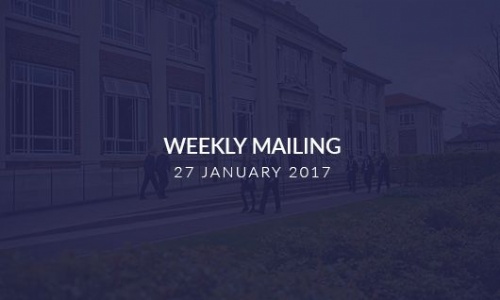 Dear Parents / Carers
Please find my usual update on events that have taken place this week and to let you know about some of those that will take place in the near future.
Ms Jo Butler
Headteacher
SCHOOL NEWS
Information for all Year Groups
Next week (Week commencing Monday 30 January) is a WEEK A
Reduced Rail Travel for Cotham Students travelling to and from school!!!
Severnside Community Rail Season Ticket only £10 to cover Terms 4, 5 and 6. Click here to find out how to apply for the season ticket. Signed Code of Conduct forms should be returned to the main school reception by Friday 3 February 2017. Members of GWR staff will be at Lawrence Hill and Stapleton Road stations on Monday 30 January 2017 distributing letters and encouraging students to take advantage of this fantastic offer.
Click here to see photos of Zaki, Amira and King "looking behind the scenes" when they visited Temple Meads station with Ms Butler last week.
Cotham Co Fund is open NOW!
Students can apply for money of between £50 and £500 to set up a project that makes our school even better!
Four Steps to applying:
Step 1. Think of a project that would make Cotham School even better and find out from your friends whether they agree.
Step 2. Work out how much your project would cost (you can ask a teacher or the Co fund to help)
Step 3. Download and fill out a grant form and get a teacher to sign it (forms available here)
Step 4. Submit your form by 20 February 2017 to cofundgrants@cotham.bristol.sch.uk
You will know whether you have a grant by 27 February 2017
There are three more deadlines during the school year if you miss this one. If you have any questions please email cofundgrants@cotham.bristol.sch.uk. For full details of the rules of the Co Fund please see the rule book on the school website. Funds must be used for projects that benefit a significant number of students and are also available to teachers or members of the Cotham Co operative Forum constituencies.
Fundraising thank you
A few weeks ago we reported that our students had raised £428.97 for The Wallace and Gromit Grand Appeal in memory of Remi, a Redland Green student who sadly passed away. This week the students received the following very touching message of thanks from Remi's family. Our thoughts are with Remi's family at this very difficult time.
Many thanks for your letter dated the 20th. January 2017. In it you outlined your wonderful fundraising and donation of £428.97 to The Wallace and Gromit Grand Appeal in memory of our son Remi. We would like to thank all the Cotham school pupils for what is a touching and generous gesture - you are a credit to yourselves and your school.

As you mentioned many of you will have known Remi either from Bishop Road primary school, football or just knocking around Bishopston. He was a kind, funny, loud, quirky and kind lad whose death has been a devastating blow to us. He had the whole of his life ahead of him but this has now been taken away in the cruellest of circumstances. Although we are currently grieving, we hope to be able to carry his spirit and love with us into the future in a positive way. We hope that you too will be able to do the same, and remember him occasionally with fondness and a smile.

Many thanks again for your donation and thinking of Remi.
Second Hand Uniform
There will be a regular sale of good quality second hand uniform at 2.30-4pm on the first Friday of each term. This will take place in the Conference Room, which is accessed via the main school reception on Cotham Lawn Road. If you have any good quality uniform that is not needed anymore, please bring it into main school reception (Monday to Friday 8am to 4pm) and it will be added to the stocks for the second hand sales. We are particularly short of larger sizes.
Cotham Parents' Cultural Group meeting
As you are all aware, Cotham School is an extraordinarily diverse school. We would like to capitalise on this diversity, by encouraging parents/carers from different cultures to have the opportunity to meet together a couple of times during the academic year.
We would appreciate your participation at this initial session to explore how this forum can best be used to encourage and help you as parents/carers to get involved with your children's education. We also hope this forum will give you the opportunity to feel an integral part of the Cotham school community.
Our first meeting will take place on Wednesday 8 February 2017.
Venue: Cotham School Library
Time: 6-7pm
Refreshments will be provided. Please confirm your attendance by email to: kellym@cotham.bristol.sch.uk
KEY STAGE 3 (KS3) INFORMATION
YEAR 7
Year 7 Parents' Evening - PLEASE NOTE CHANGE OF DATE
The Year 7 Parents' Evening has changed from Thursday 2 February to Thursday 2 March.
YEAR 8
Exams Monday 30 January - Friday 10 February 2017
Year 8 exams will take place during normal lesson time during this period. Please refer to the attached document here which details exam content and suggested revision activities.
YEAR 9
Options Surgery - Tuesday 31 January - 6.00 - 7.00pm
In addition, Mr Reed (Assistant Headteacher) and Mrs Bajic-Raymond (Senior Deputy Headteacher) will be running an Options Surgery to help with any further queries on Tuesday 31 January from 6.00pm to 7.00pm. More details for follow.
Parents/ Carers of Year 9 students with Special Educational Needs (SEN)
We are asking Parents/Carers of students with Special Educational Needs in Year 9, to complete the Cotham School Learning Support Parent/Carer survey. Individual copies of this survey should have been issued when you signed in on arrival at the Parents' evening. This quick survey has been designed to help the school plan further improvements to Learning Support over the coming year.
We would appreciate it if you could take a few minutes out of your evening to complete the survey, then return it via the red collection box situated in the school foyer. You can also fill in this onine survey.
If you would like an appointment with Mr Warnock (SENCo) to further discuss your child's needs, please contact the SEN Administrator, Mrs K. Peck peckk@cotham.bristol.sch.uk.
Science Exam
Year 9 will start their GCSE after half term. There will be an exam at the end of the year to determine which students are offered to do Separate Sciences, and which will do Combined Sciences. Click here for more information.
Raising Aspirations Event
On Wednesday 25 January over 200 Year 9 students went to this very successful event at UWE Exhibition Centre where they had the opportunity to explore future possibilities and careers. Please click here to find out more.
KEY STAGE 4/5 (KS4/5) INFORMATION
YEAR 10
Online revision resources
A number of you have asked for a quick guide to online revision resources.
A list of the top sites recommended by subject areas can be found on the school website or by clicking here.
YEAR 11
GCSE exam timetable
Please note that the GCSE Visual Arts exams have now been added to this. Click here to view the timetable. This is 'provisional' at this stage and therefore subject to some changes by the Exam Boards. The GCSE exam period will finish on 28 June. Students will receive their individual timetable week commencing 20 February.
Prom
Prom is at Ashton Court on 23rd June. The next instalment of £11.50 is due before February Half term. If you have not yet paid the £10 deposit for prom then you will need to pay £21.50 by February Half term.
SUBJECT AREA NEWS
SKILLS UPDATE
First Aid - Year 7 Students Learn Life Saving Skills
Over the past two weeks all of our year 7 students completed the 'First Aid in a Day' course with St John's Ambulance. Whilst we hope that none of our students find themselves in the position whereby they need to administer First Aid skills, we are now confident that they would know what to do and put their skills to good use. Sarah Morris from St John's Ambulance, who delivered the training, commented upon the quality and depth of questions that our students were raising and said how much of a pleasure it was to work with each of our year 7 tutor groups. Well done Year 7!
2017 One Word Challenge
As we begin a new year and aim to stick to the resolutions made, we challenged our year 7 students to participate in the one word challenge. Students were asked to pick one word that they will focus on for 2017 to help ensure that this year is even better than last year. We are delighted with the way in which students have engaged with this idea and a sample of some of the words chosen by 7EM can be found below.
Genius Hour
Year 7 recently completed their first Genius Hour project. We are proud of the creativity and independence demonstrated by our year 7s and the way in which students challenged themselves to try something that they have never done before. It was also pleasing to see the confident way in which many students delivered their presentations. The breadth of projects was vast; including investigations about architecture, rare medical conditions, sustainable living and playwriting, just to name a few!
Philosophy Club
Year 7 Philosophers, Philosophy Club is resuming on Tuesday 31st January, after school from 3:15-4:15pm in A116. Newcomers are always welcome!
PE/SPORTS UPDATE
Please click here to view all of this week's results, along with information about all of the Fixtures for the week ahead.
PERFORMING ARTS UPDATE
Cue Bristol Youth Theatre - Sharing Evening
Cue Bristol is a popular Youth Theatre group which is open to pupils from any Bristol secondary school. It runs every Monday evening here at Cotham School. Twice a year we hold an informal sharing evening to give friends and family an opportunity to see our work
This Monday, 30 January is our Winter Sharing. Groups from years 7- 11 will be performing in the Dance Studio from 6.30pm. Tickets cost £2 or £1 for concessions. Everyone is welcome - just turn up and pay on the door.
We would particularly love to see any pupils who enjoy Drama - please come along and see what we do at Cue Bristol. If your child is interested in joining, please ask them to speak to their Drama teacher or email: ashcrofth@cotham.bristol.sch.uk.
Drama - Work of the Week
This week we feature Ted Strange (8AF) and Zeeshan Hussain (8ACL) for their set designs. Click here to view the work.
Macbeth - Whole School Show – Tickets now on Sale!
Macbeth will be showing on 22, 23 and 24 February in the Main Hall at 7.30pm. Click here for more information. Tickets are available now on Wisepay. (£7/£5 Conc.)
EXTRA CURRICULAR ACTIVITIES
To view the timetables of extra curricular activities available to your child at Cotham please click on the links below:
Sports/PE
Performing Arts
All Subjects
TRIPS AND VISITS
Ski Trip 2018
We are planning the annual Cotham School ski trip for 2018. Recent years have seen us travel to ski resorts in Bulgaria, Italy and Spain; the 2018 trip will be to the resort of Prato Nevoso in Italy and will take place during the Easter holiday Saturday 24 March – Sunday 31 March 2018 (9 days 6 nights). Please click here for more information.
CAREERS NEWS
Bank of England Scholarship Programme for black or mixed African/Caribbean students
Please click here to find out more about this fantastic opportunity for financial support to study. - Deadline for applications is 26 February 2017
COMMUNITY NEWS
Shakespeare at the Tobacco Factory
The Tobacco Factory are offering Saturday morning Drama workshops. Suitable for ages 13-18. Please click here for more information.
What's happening in your local Library?
Please click here to view the February newsletter for the Bristol area
GOOD NEWS!
Big Bristol Youth Vote
This week, students from Cotham and many other Bristol secondary schools have been taking part in the "Big Bristol Youth Vote". In tutor time, they have been looking at the manifestos of 20 different candidates. They have learned how to fill in a ballot paper and these will now be collected by council officials and counted on 10 February and have decided who will best represent their views on the Bristol City Youth Council and have cast their votes.
Results will be announced in school but will also be available live on Facebook: YPBristol and Twitter: @Bristolysc. Well done and thank you to all the Student Voice Tutor Group Reps who have led this activity so brilliantly!
Project Trust
From time to time we will publicise our students' charitable endeavours, to give you the chance to find out more about the great work they are doing and to offer an opportunity to support them should you choose to do so. One Year 13 student, Abigail Hall is currently fundraising for a charity called Project Trust, please click here if you would like to learn more
RECENT LETTERS HOME
| Topic (week ending 27/01/2017) | For the attention of: |
| --- | --- |
| | Years 7, 8 and 9 |
| | Year 9 |
All files are in PDF format. You need Adobe Reader to open these files.
You can download Adobe Reader for free from adobe.com/reader