End of Year to Parents and Carers - Friday 20 July 2018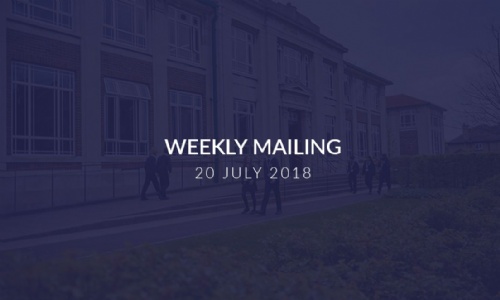 Dear Parents / Carers
Please find below my usual information, letters and updates on events that have taken place this week along with some information for the start of next academic term. This week brings me to the end of my third year as headteacher at Cotham and I have to say that with each day that goes by I become ever prouder of the achievements of our wonderful students and staff. I'd like to take this opportunity to thank you for the essential support you provide to ensure your children get the best from school and hope that you will also join with me in thanking the staff for their excellent and hard work this year.
I wish all of you, our students and their loved ones a really enjoyable and I hope, restful, summer break.
Ms Jo Butler
Headteacher
Congratulations
House Summer Fete
Sigma, Delta, Omega and Gamma came together in this Summer term to organise the first House Summer fete. Stalls included Face painting, Cakes, Ice creams, Hook a duck, Crossbar challenge, Tin Can Alley, a Photo Booth, Fishing for prizes, a Shooting gallery, Cover the coin and a Lucky socks game. Delta also held the first ever Ice bucket challenge which saw the dunking of Mr Cawse, Mr Vaughan, Mr Lloyd and Ms White! Guess the weight of Sigma's giant chocolate bar was won by Josh McKeown Davies (9ACL) and Yahya Ali (8ABI) won the crossbar challenge.
The whole day was a massive success where everybody had a great time raising lots of money to be shared between the House charities. Thank you to everyone involved.
Find out more about all the fantastic fundraising that happened at Cotham this year in the updates from each of the Heads of House in the House Update section further down…..
Fundraising skydive to support global anti-slavery charity
In about a week's time, I will be jumping out of an aeroplane and (hopefully) parachuting to the ground somewhere in a field near Swindon. This is more than slightly scary and not something I've ever done anything remotely similar to! I would really love your support in raising money through this for a brilliant global anti-slavery charity called International Justice Mission who work across the developing world to investigate cases where people are kept in slavery, free them and work with the police and courts to bring the perpetrators to justice. The victims are often from the poorest in society and many are children - trapped in factories, used for cyber sex or held in other types of modern slavery.
Please visit my Virgin Giving page and consider giving. I'll be paying for the cost of the jump so that any money given will go directly to the charity.
Many thanks - Mrs Grice
Piano Recitals
The following students took part in a Piano Recital on the evening of 18 July. All students performed a piece that they have been working on this term. From beginners to grade 5/6 students.
All performers played extremely well and did themselves, their piano teacher and the school proud.
A special thanks to Chris Craig-Jones for her dedication and time spent with all out piano pupils.
A very impressive evening of music. Well done all!
Yr 7
Bene Balash
Lula-June Allwood
Felix Payne
Oscar Payne
Rose Roberts
Orla Bates
Amelia Spooner
Milly Fear
Joe Brazier
Klio Konstantopoulou
Yr 8
Lesslee Magonyozi
Frank Lowery Pearson
Maisie Almond
Yr9
Diango Barker
Ellisa Zananiri
Lucas Holik
Y10
Y11
Talk to us
If you would like to tell us about any student achievements outside of school or to promote a community event etc via our weekly mailing please do not hesitate to contact us at adminoffice@cotham.bristol.sch.uk with details.
Important Information for Parents/Carers
Arrangements for the start of the new School Year - September 2018
Monday 3 September – INSET Day - Staff training. The school will be closed to all students
Tuesday 4 September – Induction day for Year 7 and Year 12 students. Year 7 and Year 12 only in school.
Students to arrive at 10.45 am
Wednesday 5 September – Start of term for all year groups
Year 7 and Year 12 arrive at 8.30 am
Years 8, 9,10 and 11 arrive at 10.45 am
This will be a Week A
Post 16 lessons start on Monday 10 September
This will be a Week B
Keys dates for Term 1
Thursday 6 September - Music Marketplace Event
Friday 21 September - Year 9 Girls HPV vaccinations
Tuesday 25 September - Tuesday 2 October - German Exchange students return visit to Bristol
Wednesday 3 October - Careers Event
Thursday 4 October - Key Stage 3 Parent Information Evening
Thursday 11 October - Year 11 Parents Evening
Thursday 18 October - Post 16 Open Evening (Cotham)
Tuesday 23 October - Music Recital Evening
Thursday 25 October - Post 16 Open Evening (Redland Green)
Thursday 25 October - Last day of Term 1 for students
Friday 26 October - INSET DAY
Further information regarding individual events will be circulated at the beginning of next term
Welcome to our new Year 7 - September 2018
Year 6 students from Bristol primary schools have been visiting Cotham during June and July for their Induction, and Knowing Me, Knowing You days. They joined together for a range of Science, Maths, Art, Sport and team building activities. We have been impressed by their energy and enthusiasm and the Year 7 staff team are now looking forward to September when we will be welcoming the students into our nine Year 7 tutor groups here at Cotham.
Year 7 Important dates and times for September
Tuesday 4 September - Year 7 students arrive at 10.45 at Cotham Road student entrance.
Wednesday 5 September - Year 7 students arrive at 8.30
School ends at 3.05
Please ensure that your child is in full school uniform including proper school shoes.
A reminder of tutor groups and House colours
Delta (Blue) - 7DS and 7RBI
Sigma (Green) - 7JLL and 7EH
Omega (Red) - 7KBK and 7OH
Gamma (White - Black stripe on polo shirt) - 7RA, 7JPG and 7CBR.
Students also need to bring
A sturdy school bag/rucksack
Bottle of water and a snack for breaktime
Lunch - either packed lunch or money to buy a school meal. If your child normally receives free school meals, please make sure that the information for this is up to date.
Pencil case with pens, pencils, rubber, sharpener, ruler, colouring pencils and glue stick.
Please ensure that your child is absolutely clear about their travel arrangements to/from school.
If you have any queries about Year 7 transition please contact the Year 7 Learning Co-ordinator, Mrs Wilkie: wilkiea@cotham.bristol.sch.uk
Careers Fair
We are planning a Creative, Digital & High-Tech Careers Fair on Wednesday 3 October from 4.30-7.30pm to inform and inspire students about careers in these sectors, which are strong and growing in Bristol, and showcase the opportunities available to young people, including work experience, FE & HE courses, apprenticeships and school leaver schemes.
If you work in any of these sectors and would like to contribute, please contact Kerry Chester, Careers Leader, by email to chesterk@cotham.bristol.sch.uk and she will get back to you with more details.
To explore possibilities for Post-16, Post-18 and beyond these locally-produced websites are very useful: https://www.careersnearhere.com/ and https://www.careerpilot.org.uk/
Wellfest 2018 - 17 August 11-5pm
This wellbeing event led by Off The Record aims to help young people navigate the stresses, pressures and expectations of education and celebrate the achievements of wider life in preparation for results day whatever its outcome may be. Click here to view the poster.
GWR Student Rail Ticketing Scheme
We are very pleased to announce that the Severnside Community Rail Partnership have confirmed that they are willing to continue with the Student Rail Ticketing Scheme. This partnership offers our students and families a huge saving on rail travel to and from the school on the Severnside Community Rail. An annual ticket costs £40.00 or families can buy their ticket in instalments. All the details are contained in the letter and application form here.
Rail upgrade work in the Bristol area this autumn
Please see attached letter from GWR about planned engineering work taking place in the Bristol area this autumn that may impact on train services to and from local schools. Students will be required to use a bus rail replacement to reach school at the beginning of Term 2. The practicalities of this are being discussed with the school Rail Reps and further information will follow at the start of the next academic year.
Free School Meals - Important update
https://www.cloudforedu.org.uk/ofsm/sims to check if your child is eligible for Free School Meals or to apply.
Mobile Phones
A link to the mobile phone policy is here as a reminder. We do not call parents when a mobile phone has been confiscated. If students need to contact their parents in an emergency they can ask Student Reception to make a call home on their behalf.
Facebook Groups hosted by Parents and Carers
2018 entry Cotham Parents & Carers is a Facebook group set up and run for parents and carers, by parents and carers to provide a platform to talk to each other, share useful information and support the school. Past year groups have found it useful to arrange meet-ups before the new school year begins and ask questions that can help with the transition to secondary school.
These Social Media pages are run by parents and carers themselves and not the school; therefore any comments shared are not official school communication and are not endorsed by the school.
Knitted poppies for Remembrance day
Calling all knitters... we would like to collect as many knitted red poppies as possible for Remembrance day. Our aim is to stitch them all together to display around the pillars in the hub. If you would like to support us, please click here to download the pattern. Please feel free to knit your own poppy if you have a pattern!
Key Stage 3 (KS3) News
Year 7
Activities Week - July 2-6 2018
138 Year 7 students spent an amazing week on camp at Croft Farm Water Park near Gloucester from 2 - 6 July. Students took part in a wide range of land and water based activities, including archery, climbing and abseiling, orienteering, archery, team challenges, sailing, raft building, canoeing and stand up paddle-boarding.
Many students found some of the activities daunting at first, but rose to the challenge, and visibly grew in confidence as they had a go and often surprised themselves. During the week they also had to work on getting organised, getting on with roommates and remembering sunscreen and water bottles!
The sun shone brightly all week, we had a brilliant time, and particularly enjoyed cooling off in the lake during the water based sessions!
A big thank you to Mrs Coney our Trip Leader and to all the staff who worked so hard all week, especially Miss Gordon & Miss Psalmon who completed teaching placements at Cotham earlier in the year and returned to join us at camp. We hope to share photos after the summer break, when our photo permissions have been updated in line with new data protection regulations.
The remaining Year 7 students who did not go to Camp for the full week also had a fun filled activities week which included:
Talk Talk public speaking workshops.
The leaders of these workshops were impressed with how students threw themselves into a daunting task and gave it their all.
Graffiti sessions
Students worked with a local graffiti artist on creating graffiti clocks using vinyl records as the base and then building up a design using paint pens and stencils. The finished products look great and students were encouraged to give them to their family as presents.
Mural
Students also worked with a local artist to plan and create a large scale Mural on the building site fence. The idea behind the mural was 'Cotham Identity' . Students chose to depict this by using different flags of lots of the nationalities that make up the diverse population of our school to spell out COTHAM. They then added a Bristol flavour to it by adding hot air balloons painted in the colours of flags flying over land and sea to reach Cotham. Click here to view some photos
Day trips to Camp
Students enjoyed a day at camp where they participated in a range of activities including abseiling, climbing and canoeing and raft building. Many students overcame fears of heights and water to get fully involved - Well done all!
Wallace and Gromit day
Students worked in tutor groups to plan a route round Bristol to take in as many Wallace, Gromit and Feather's Macaw sculptures as possible. They also visited The Cube Cinema where they watched Wallace and Gromit classics.
We ended the week with a celebration assembly where students who had been nominated by staff for their positive attitude and spirit were celebrated and acknowledged.
Year 9
This term Year 9 were visited by 86 year old Janine Webber for an extended assembly. Janine is a Holocaust survivor and visits schools and other places to talk about her experience of being a Jew in Poland during and after World War Two. The pupils were spellbound by her harrowing story, before asking many interesting questions afterwards. Staff members also took the opportunity to hear this incredible woman talk. Year 9 were a credit to the school, my thanks to them, and to Miss Almey and Miss Allender for helping me to arrange this visit. I doubt anyone who witnessed it will ever forget it - Mr R. Williams
Holiday Homework
We want to ensure that all students reflect on their learning over the summer period and all students will be expected to complete some homework over the holiday.
Year 7 into 8 - click here
Year 8 into 9 - click here
Year 9 into 10 - click here
These documents have also been shared with students using their Year Group Google classroom page.
Key Stage 4 (KS4) News
Year 10
Academic Monitoring Reports
Academic Monitoring Reports for Year 10 were issued this week. The report details your child's current grade in each of their subjects as well as their Year 10 Exam Grade, their Predicted Grade, and their Minimum Expected Grade (MEG).
The 'current grades' referred to in the monitoring report take account of their progress during the year and their success in their end of year exams. The end of year exams were an important opportunity for your child to demonstrate that they had consolidated their understanding of the course delivered to date, and to allow them to concentrate on new content in Year 11 in September.
Please ask your child for their Academic Monitoring this week. We will be asking students to identify those subjects in which their current grade is 2 or more grades below their Minimum Expected Grade as there will be important consolidatory work that will need to be completed in advance of their return in September.
Year 10 into 11 Holiday Homework
We expect students to be consolidating their Year 10 content over the summer period. To support this, Faculties will be setting homework for students to complete in each of their subjects.
Click here to view the Holiday Homework document for Year 10 into Year 11. This document will also be shared with students using the Year 10 Google classroom page.
Year 11
GCSE and BTEC Results Collection
Results are available from 9.30am to 12 noon on Thursday 23 August from Charnwood. Results can only be given to students. Permission for someone else to collect results must be supplied in writing before the end of term (20 July) and proof of identification provided on the day.
All uncollected results will be posted home. Results will not be issued by telephone or email. North Bristol Post-16 team and Connexions will be available on results day for advice and guidance on post-16 courses.
If students have applied to the NBP16 Centre, it is important that they check their emails for important information regarding enrolment on Thursday 23 August.
On GCSE Results Day, our Careers Advisor, Ms Chester, will be available in Charnwood House to advise students who need to change their Post-16 plans.
Post 16 News
This term at North Bristol Post 16 Centre
Please click the links below to find out more about what has been going on at each Learning Community this term:
Post 16 Bursary
A bursary covering study costs is available to all students who meet the criteria, and/or who's household income is below £30,000. We have been pleased to be able to grant the bursary to a large number of students already this year, but if you feel you may qualify and have not yet applied please go to Post-16 reception to pick up a form. Students who have received the bursary this year will need to re-apply for the next academic year (forms are available here).
Preparation for next steps
If students are planning on going to university this year, they should have registered on the UCAS website during Futures 18 and have begun drafting personal statements. Students can refer to the UCAS Google folder for guidance on on completing the UCAS application form and personal statement; this has been shared with them via their school email. Our early applicants (Oxbridge, medicine, veterinary science and dentistry) should have informed Mrs Kempt / Ms Potter already of their intention. They should make sure that they are aware of deadlines for any admissions tests, and that they have made arrangements to take them.
Summer Work / Extended Project
Students should be taking a well deserved break during the holidays, but in addition have been issued summer work by departments to help them to prepare for Year 13. In particular students who have signed up for the extended project qualification (EPQ) should be aiming to complete the majority of their research and planning before the end of the holidays. This course is supported by a Google Classroom in which students can find guidance and instructions.
Key Dates for Term One:
16 August: A Level results day (Year 12 AS and BTEC results available for collection after 1pm). On Our Careers Advisor, Ms Chester, will be available in Charnwood House to advise students who need to change their Post-18 plans.
5 September (10.45am): Year 13 induction assembly (Cotham based students)
10 September: Post-16 teaching begins
We wish all of our students a restful summer break.
Subject Area News
PE/Sports
Well done to all students that have attended clubs and taken part in sporting fixtures this academic year. Over the year we have seen a number of individual and team success in athletics, cross country, cricket, basketball, football, sportshall athletics, rounders and swimming.
Sports Awards Evening
Thank you everyone attended our celebration evening last week. It was lovely to see so many students and parents/carers supporting each other and celebrating team and individual achievements at Cotham School.
Attached is list of all the awards presented during the evening and congratulations to the winners. Click here to view the full list of winners for 2018.
PE kit & Jewellery
As a whole, students PE kit has been excellent this year and we would like to continue from September. Please use the summer break to make sure any items of missing kit are replaced (see school website for information).
Also, if you are thinking of getting your child's ears pierced, you will need to do this right at the start of the summer holidays as all jewellery must be removed for PE and sporting fixtures.
Extra-Curricular
Sporting clubs and fixtures will be shared at the start of next term and will commence the week beginning 10 September.
Performing Arts
It has been a busy final term in Performing Arts!
The Dance Celebration Evening was a huge success with students from across the school performing solos, duets and ensemble pieces. The Year 9 Dance Company performed in the national finals of The Great Big Dance Off in Cheltenham and achieved a respectable 8th Place.
There have been 2 music concerts, The Summer Review and a Piano Recital. The audience at both events were entertained by fantastic performances from students from across the school.
Finally I'd like to thank you all for your support over the past 12 years, as I will be leaving at the end of this term. It has been a pleasure teaching music at Cotham School and I look forward to hearing of future achievements by Cotham students! Mr B Campbell
Technologies and Visual Arts - STEAM
Year 7 - Millie Marotta Competition
Thank you for all the fantastic illustrations you did in the style of Millie Marotta. We were blown away by the creativity, complexity and planning that went into the patterns and typography of your work. We are pleased to announce the winner of the Millie Marotta competition is Matilda Hall (7MPI) and the runners up are Rufus Buchan (7JBA) and Stella Hutchins (7BSA). Click here to view.
Feathers McGraw
Salu De Oliviera's (Year 8) Bristol inspired design has been made a reality with the excellent help of Orla Bates and Jess Lucas (Year 7). Additional flags have been added at the bottom as a jigsaw to represent our Cotham community. Look out for him at Cribbs Causeway this summer holiday. Thank you to all other students that have picked a paint brush to lend a hand. Click here to view
Key Stage 4 and 5 Visual Artists
Please pay for your Art/Photography packs on Wisepay by September 1st to kick the start next academic year.
Students
Get creative this summer with your camera or sketchbook and record the world around you as you see it!
Parents
If you are having a summer clear out, please send any of the following to the Art Department via main reception as we can put it all to good use!
Camera equipment: Cameras (both digital SLR and compact) and Lenses,
Still life objects: Man made and Natural forms. Eg. Skulls, masks, shells, preserved objects like bug collections, old instruments, bike/engine parts.
Modern Foreign Languages
4 days Tour in Haut-De-France
Many thanks to Angela Lin (8ABI) for her write up of our recent trip to the Opal Coast. Click here to view.
Humanities
This term Year 9 were visited by 86 year old Janine Webber for an extended assembly. Janine is a Holocaust survivor and visits schools and other places to talk about her experience of being a Jew in Poland during and after World War Two. The pupils were spellbound by her harrowing story, before asking many interesting questions afterwards. Staff members also took the opportunity to hear this incredible woman talk. Year 9 were a credit to the school, my thanks to them, and to Miss Almey and Miss Allender for helping me to arrange this visit. I doubt anyone who witnessed it will ever forget it - Mr R. Williams
Science
Well done everyone for another fantastic year in science! It has been a wonderful year with exciting activities in all years' lessons, some great science club projects such as the eco-friendly home design and rocket making, and a fantastic trip to the SS Great Britain. Well done to all Year 9 and 10 students in the science exams this term and to those that have to chosen to pursue the separate sciences next year. Looking forward to another year of whizz bangs in September!
Inclusion/SEND
SENDaWelcome has been working in partnership for 2 years now to ensure children with Special Educational Needs and Disabilities (SEND) have visibility and opportunities in our community. We have worked with many fabulous and committed people and groups. Here are some opportunities for families with children with SEND to get out and about locally this summer:
Kings Lawn Tennis Club
2 - 3PM Coaching for children with SEND and their siblings; Free time to play with parents, carers and family from 3 - 3.30PM and biscuits!
Tuesday 7 August
Tuesday 14 August
Tuesday 21 August
Tuesday 28 August
For all sessions please book online! (search Junior Coaching)
Please contact Elly if you have any queries or concerns (07581237260 or ellytennis.Kings@hotmail.com).
https://clubspark.lta.org.uk/EllyShearmanCoaching
Golden Hill Community Garden
Family Adventure days
Thursday 26 July, Thursday 16 August and Thursday 30 August 11am-3pm
Sunday Club
5 August and 2 September 2-4pm
Contact Lucy: ghcgarden@gmail.com
Baby Bites
Amy will be running accessible cookery sessions again this Summer, dates and times to be confirmed. Please keep an eye on her Facebook page for more details: http://www.facebook.com/BabyBitesUk
PlayDay, College Green, Wednesday 1 August
This is a free event open to children, young people and their families.
The event is as accessible as we can make it and therefore inclusive for all. There will be water and loos available close by with limited facilities on site.
We want to encourage people to be as playful as they choose without any restrictions other than to have fun.
For any questions about accessibility or inclusion at PlayDay you can contact Bristol City Council's Inclusive Play Project on inclusiveplayproject@bristol.gov.uk
Children's Scrapstore - Stay & Play sessions
We will be running Stay & Play sessions throughout the Summer holidays every Friday afternoon, which will be planned with children with SEND in mind. These sessions will have fewer children and more supporting adults, but will be open to all children so families can decide which environment is right for them.
We are always happy to talk about special requirements ahead of a visit – contact us: events@childrensscrapstore.co.uk / 0117 9143002
ICAN Regular Sessions
Sunday mornings during term time
2018/19 dates tbc in August
Circomedia's weekly circus workshop for young people aged 8-16 with Special Educational Needs and Disabilities. These creative sessions are tailored to individual skills and aspirations. Our team of professional circus practitioners help participants learn new skills, make new friends and build confidence.
Contact: classes@circomedia.com or call Robin or Mia on 0117 924 7615 for more information
House News
Sigma
Sigma end of year update
It has been a great year for Sigma. As a House we have been fundraising for our house charity The Rainbow Centre for Children. We have had cake sales, cookie sales, non-school uniform days, raffles, bike rides, clothing drive and tutor challenges. We have raised a grand total of £2,156.02 this year for our House charity The Rainbow Centre for Children. Thank you to everyone who has supported us to reach this amazing amount. We welcomed Chelsea Harding from the Rainbow Centre for Children into our final House assembly for this year to give us an update on how our money is being spent. It costs just over £2,000 to put a child and their family through a counselling session for a year. With the money we have raised we have been able to support one session.
We have been successful with our recycling and are now recycling food and plastics/cans within the Food Science dept. We have reduced our landfill by 80% in each of our practical lessons. We will be working towards getting more bins delivered for the canteen and faculty areas. Recycling also played a part in our fundraising, we did a clothing drive and this was very successful. We hope to do another next year.
The water fountain will now become the Sigma Water Project. The Cofund have kindly offered to support us and have approved the granting of £500 towards this project. We will continue to fundraise additionally to help fund it. If all goes to plan we will have installed for the new school year.
I am very proud of the Sigma Prefects Abir, Louis, Paramjeet and Aineias who have been busy in their roles organising fundraising events and delivering their first assembly this week. They have been involved and supported Sigma events - name the tree, the new yr6 inductions and helped to organise the successful inter House Summer Fete.
Meat Free Monday
This was a great success and I would like to thank Lola Gurvitz, Adam Davey Takolia, Jana Al Masri and Christine Wierzbicki for all their hard work in planning and promoting the day. We are hoping to hold more Meat Free Mondays next year.
Sigma Superstars June and July
This is a joint award for Adam Davey Takolia, Lola Gurvitz 7BSA, Christine Wierzbicki 8ID and Jana Al Masri 9AF for their commitment to Sigma and their hard work with Meat Free Monday. Congratulations we are very proud to have you in Sigma.
Congratulations to all our Sigma Superstars this year.
Anna Alvarez Stodulkova, Harry Giles, Erin White, Kushal Vijay, Prerana Nerlige Prashanth, Eleanor Barrett, Waqar Younis, Abdishakur Abdillahi, Abdi Hassan
Fifa World Cup
Sigma have been following the Fifa World Cup. Each tutor group was given a group to follow in the tournament. We have seen lots of goals and lots of action over the last few weeks. We have had prizes for the first 0-0 draw 8SL, first hat trick 9AF, first team to win on penalties 8ID, first red card 7BAK. Congratulations to 8SL who were the winners of the World Cup tournament with France as their winning team. They were awarded world cup cupcakes and the Fifa World Cup Trophy. The golden boot was awarded to 9ACL who had Harry Kane and England in their group.
Congratulations to Mackenzie Steadman 7BSA who has made his own music video. We were proud to play it during our House assembly. https://www.youtube.com/watch?v=nNzYGMInq1w
Sigma High Flyers
This was awarded to students who have achieved 100 or more house points this year. This means that on more than 100 occasions a member of staff has recognised their hard work and commitment. They were all awarded a Sigma House drink bottle. Congratulations to the following students.
Eleanor Barrett, Oscar De Havilland, Oren Fox, Hamdi Jama, Misha Evans, Ana Stiven, Lara Swallow, Mina Elsheikh, Zai Tan, Abdul Munawar ,Hugo Serrano-Chan, Stella Hutchins Kushal Vijay, Iuliana-Larisa Cioaca, Kieran Johnston, Lola Gurvitz, Arianna Barnes, Hana Almasri, Elias Arango, William Duggan, Maleeka Watson, Adam Davey-Takolia ,Oula Al Tehami, Mackenzie Steadman, Bram Bourbon, Angus White, Sana Hussain, Alaya Brown, Alexandre Dias, Elliott Ritchie, Eva Liberman, Noah Yaldron, Samuel Davies ,Candia Carolan, Jackson Tucker, Abdiraman Hassan, Cashelle Carter-Hartley, Lee Sebire-Fleming, Anna Alvarez Stodulkova, Jaele Clarke, Ali Hussain, Carys Renwick, Lia Anwandter, Daniel Medus, Linus De Souza Krog, Riyaan Kheire, Rosa Evans ,Omayma Adow,Ezra Penny, Gabriel Evans, Robin Higginson Lloyd, Angus Sinclair, Ethen Sigler, Rena Osman, Samuel Yeo, Abdishakur Abdillahi, Jude Hughes, Luke McLaughlin, Hassan Habib, Yassir Hassan, Zakaria Mohamed, Yankuba Janneh Aisha Kousar, Luqmaan Abdullah, Martha Iles, Sana Ali, Harry Giles, Aliza Barber,Jasmin Heyer
Summer Fete
We ended the year with all four houses coming together and putting on a fantastic House Summer Fete. The sun was shining, games were played, faces painted and cakes and ice creams were eaten. The Delta Ice bucket challenge finished off the festivities in style with members of staff receiving a cold bucket of water to the cheers of students and staff. Money raised from the fete will be shared between the four houses.
As a house we would like to thank Mr Shutter, site services team and catering team who have been an enormous support to Sigma this year.
We would like to wish everyone a great summer and a happy holiday.
Mrs Arnold (Head of House) and the Sigma team.
Delta
This has been another hugely positive year for the Delta House Community. This year has seen us hold a greater number of fundraising events, which has resulted in us raising more money than ever before for our house charity, Off The Record. This has also been a bumper year in terms of house points too. Everything this year seems to have got bigger and better!
A word from our House Captain, Istahil Abdi:
This year as Delta's house captain I hope to help create a safe happy environment for everyone that goes to school here, I hope to create a better reward system that also applies to the older years and help younger students by coaching them and supporting them.
During our first full term as a team we have:
Helped run the Summer Fete
Helped with Year 6 inductions and knowing me knowing you days
Took part in House Assemblies
Carried out our daily duties
Attended House and School Council meetings
This is only the first term there is still plenty that we wish to achieve such as hold another ice bucket challenge in Term 1 of the next school year, but we'll have to wait and see.
Anyways that's it from me, hope everyone has a great summer and I'll see you next year.
Istahil (Delta House Captain)
Reflections on 2017-18
Cotham showed that they definitely went donuts for Delta with the hugely popular donut sales. Delta House tutor groups also did their bit by completing the Mini Egg challenges and Chocolottery, reaffirming that we really are the 'sweetest' house!
We've had a variety of themes throughout the year in our assemblies. We kicked off the year considering what it meant to be part of the Delta House Community in that every member is expected to be kind, hardworking and be the best version of themselves . Since Delta House was founded, students have been reminded that "what you do every day matters more than what you do every once in a while". These messages and values are fundamental to our house and will continue to be at the core of what we do.
During the year we also spoke about how each member of the Delta House Community has a part to play and that each of us can make a difference if we choose to. I am pleased to report that many of our students have made a difference and have got involved, which meant that we were able to donate more than £1000 for our house charity. Off The Record visited us in an assembly to share the fantastic work they do in supporting young people in our city and informed students of how the money raised will be spent.
As we moved throughout the year Delta students shared with each other the 'Delta Way' of being kind, polite, lending a helping hand, holding doors open and acknowledging others. This message was delivered in a creative way by 10SBA students and the house reps namely:Saedo, Wehib, Bullale, Maciej, Nawaal, Callum, Istahil, Mike, Hux, Olivia and Eva putting together a comical video of how we do and don't do things in Delta.
7PPR shone bright from the offset as a motivated, determined and competitive tutor group. This resulted in them winning the Delta Cotham Manners inter-tutor challenge where they lived up to their initials of being polite, pleasant and respectful. They also won the 'Finish Strong' challenge too, which demonstrated that there really was no stopping them and that they were going to end the year in the best possible fashion.
It was fantastic to see students getting involved in the Action for Happiness 'Meaningful May, the Delta Way' whereby we focused on promoting positive mental health in line with our house charity. In our most recent assembly we looked at the lessons learned from the England squad from the World Cup. We considered the importance of being a leader like Harry Kane, the importance of compassion like Gareth Southgate, the importance of getting help if you are struggling like Danny Rose and the importance of self-belief like Harry Maguire.
Delta House Highlights
One of the highlights for not just our house but the whole school community came when we had the Delta House Ice Bucket Challenge at the end of the Summer Fete whereby we saw Mr Cawse, Mr Fagan, Mr Vaughan, Mr Lloyd and Mrs White take one for the team all in the name of charity! It was a brilliant and memorable way to end the Fete and provided a lovely moment whereby Siobhan looked after Mrs White after the initial shock of the icy water!
Another highlight came during our Annual End of Season Awards and this was where we were able to welcome students not to the Delta House 100 Club but to the Delta House 200 Club. This is a truly phenomenal achievement and we are especially proud of Esme, Ethan and Hannah for leading
the way and setting the bar even higher for next year. Could we see the creation of a Delta House 300 Club?! I sure hope so!
Thank you
A huge thank you to the prefects, house reps and students who throw themselves in to house activities. A particular shout out must go to Ria, Orla, Amelia, Zakariya, Jess, Emma, Sumaya and Wilf for their enthusiasm and contribution and support in fundraising activities.
What next for Delta?
Next year our priority will be to work alongside the whole school council to create a rewards system that works for all students. We will be nominating a new house charity in September, if any Delta House students have any suggestions as to a local Bristol charity we could support then please let Miss McDonagh know and we will cast a vote in September.
The Delta House team would like to wish you and your families a fun-filled holiday and we are looking forward to welcoming you all back in September in our first House Assembly of the year.
The Delta Squad
Miss McDonagh (Head of House), Istahil, Falah, Harry and Siobhan
Gamma
Gamma has gone from success to success this year and we have never been prouder of all of our achievements. We have had numerous fundraising events for our house charity- Above and Beyond. At the start of the year we had a Spookfest celebration at Halloween, a Santa Dash for Christmas and a candy cane delivery service. Gamma then went on to collect money in tutor groups in order to win sweets, have a book donation and sale event, a cake sale and a History scavenger hunt. In this term we have had the whole house Summer fete which means we have managed to raise a staggering amount for Above and Beyond.
Students in Gamma knew that they wanted to work with the children's hospital as it was a cause close to their hearts and therefore we have paired with the Bluebell ward. Bluebell Ward in Bristol Children's Hospital is a specialist brain unit - one of only a handful in the country. The ward provides essential care for children who have suffered traumatic brain injuries, brain tumours or epilepsy. Children can spend months or even years on the ward. The majority of the children cared for on the Unit need to use a wheelchair, and most are unable to move themselves in and out of bed, to the bathroom or into wheelchairs. The current system is old, bumpy and can be painful. Above and Beyond want to install new ceiling hoists above beds which will provide a much smoother, more controlled and more pleasant experience for children. The money raised by Gamma has completed the funding for the fourth new hoist meaning children in the ward are soon going to be more comfortable, be able to move themselves independently and have more room for their families to stay with them. This will really help their quality of life. The children at Bluebell ward and Above and Beyond would like to thank the whole of Gamma house.
Our new prefects (Soha Abushama, Rhys Harries, Sophie Jones and Sophia Tucci) this year have been an absolute joy to work with and have been a credit to the House. They have helped on multiple transition days for younger students, have helped lead an assembly and have completed all their duties with enthusiasm and dedication. We are very sad to be saying goodbye to Sophia, the school and the House will miss her greatly.
A final massive well done to all the Gamma House Champions throughout the past year. Each person has shown dedication, resilience and is therefore a credit to Cotham School-
Soha Abushama
Rhys Harries
Alicia Mayne
Ibraahim Jama
Amy Howe
Bryn Coates-Cook
Alex Cox
Rylan Bawden
Leon Hartl
We are so proud of everyone in Gamma House and next year will only see us going from strength to strength. Have a restful, jubilant and happy summer everyone! - Miss Madge (Head of House)
Omega
This year has been an amazing one for Omega house.
We adopted a new house charity, the Jessie May foundation, and had visitors in to speak about it the work of the charity and also show students where their money was going, and the valuable work it was helping them complete.
In efforts to raise this money we had;
Whole school non-uniform days
Donut challenge, where students competed to see how fast they could eat a donut, hands free.
Penny Pick up challenge, each tutor group competed to see how many copper coins they could collect off the street in a term, the winners won pizza for their whole tutor group.
Sponge a student, as a farewell to the old prefects they were lined up and pelted with sponges of icy water for the reasonable price of 10p a sponge.
Pancake flipping, a fun competition to see which student could flip the most pancakes.
Throughout the year we have been recognising students for exceptional effort and work with the house award of Omega Legends. Our legends' this year have been.
Ridwan 7JBR – for always being a happy and helpful student
Elia 9KBO – for a brilliant and brave charitable donation.
Rachael 7JBA – for continual hard work and always smiling.
Jaden 8GM – for working hard with a smile all term.
Thomas 8GC – for being a hard-working and generous student.
Larry 11LAL – for hard work and always being willing to help.
Yahye 8GM – for amazing behaviour around school.
We organised an inter-house Santa dash at Christmas, where we all ran around school in fancy costumes.
We have also resurrected an old tradition of an inter-house fete in the summer. This year saw stall ranging from Hook a duck to the crossbar challenge and was very popular among students and staff, we hope to have re-started a lovely tradition that will continue for many years to come.
It has been a lovely year and we have raised over £1000 so far this year for the Jessie May foundation, that's over three times what we have raised in previous years. The students have done amazingly well.
While I have sadly decided to step down as Head of House from September, Omega house will be left in the very capable hands of Mr Nunn.
Have a lovely summer break.
Best Wishes
Mr J Barber
Community News
Peoples Republic of Stokes Croft - Workshops this summer
Creative workshops
PRSC have a wide range of creative workshops running this summer.
Please click here to see all events on offer.
Proper Bristol Postcard Competition
PRSC are running a competition (free to enter, open to all) to create a new set of postcards for Bristol. There is an over 18 and under 18 category. Click here for more information.
Space for more activities
Our beautiful event space and yard are being under-used this summer. We have space for parents or families to run activities here during the day. If you want to run something or if there is a particular activity you would like to see hosted here, please get in touch via email to events@prsc.org.uk.
Useful quick links
Keep us posted
It would be great if parents/carers could let the school know of any student achievements outside of school please. It is sometimes only at parents' evenings that we find out what students are doing in their own time. Email us: adminoffice@cotham.bristol.sch.uk
Key Dates
Please click here to view the Key Dates by year group for the 2017-18 academic year. You will be notified of any significant changes/additions, but please can we ask that you check the dates for your year group regularly as they are subject to change.
Parents' Evening Booking System (PES)
Please click here to access the online appointment booking system for Parents Evenings/Family Consultation Day. Please note this is only available if an event is due. We will email you to let you know when booking opens. If you encounter any difficulties with booking your appointments please contact the admin team by email to adminoffice@cotham.bristol.sch.uk or tel: 0117 919 8000
Assessment Calendars for KS3
We have created Assessment Calendars which contain details of the class assessments that will take place in each subject. The final column contains a link which gives information about each of the assessments.
Click here to see Year 7
Click here to see Year 8
Click here to see Year 9
Click here to see Year 10
WisePay
WisePay is the Online Payment Service at Cotham School which allows you to pay for trips and visits as well as to add credit to your child's Cashless Catering account. Click here to access your account now. If you have any queries about your account please contact the support team by email to wisepay@cotham.bristol.sch.uk
School Uniform
Please click here to view the compulsory uniform requirements of Cotham School, along with visual examples of uniform and details of our uniform suppliers.
GCSEpod
Click here to access GCSEpod which contains lots of revision resources for most GCSEs. Students self register through the website using their name and school details.
SAM Learning
Click here to access SAM learning which contains revision exercises and self marking quizzes with automatic progress tracking and reporting. Please use the Centre ID: BS6CS. Student usernames and passwords are their birthday formatted as DDMMYY, followed by their Initials.
Diagnostic Questions
Click here to access. This site contains self marking quizzes with lots of templates including some from a range of exam boards. It's easy to make your own questions in Microsoft PowerPoint too. Students sign up with their school Google account using the G+ button to automatically create a school account
Free School Meals
https://www.cloudforedu.org.uk/ofsm/sims to check if your child is eligible for Free School Meals or to apply.
Click here to Contact Us