Weekly Mailing - Friday 14 September 2018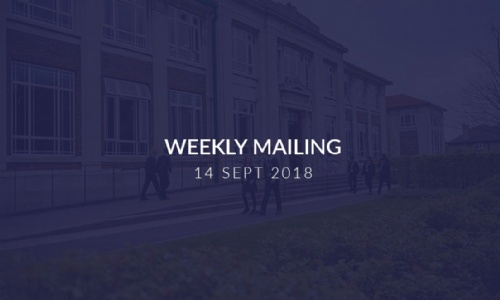 Dear Parents / Carers
Please find below my usual updates on events that have taken place this week, information, letters etc.
Ms Jo Butler
Headteacher
Congratulations
PE Awards - Outstanding Contribution to PE
Congratulations to Alex Cox, Matilda Hall, Freddy Aitken, Prerana Nerlige Prashanth, Sam Bradshaw and Lani Ward who received the Year 7, 8 and 9 awards respectively for Outstanding Contribution to PE.
These students were awarded this award in recognition for their positive attitude to sport, their commitment to lessons and their support to staff and other students throughout the last academic school year. This is a fantastic achievement and well done to all.
Important Information for Parents/Carers
Early School Closure - Wednesday 19 September
The School's annual Open Evening for Year 6 parents, carers and families will be held on Wednesday 19 September from 6.30 - 8.30 p.m. As you will appreciate this is one of the most important events in the school year, therefore the school will close early for students to help staff and student helpers prepare.
The school day for students in Years 7 - 11 will end at the start of lunchtime and they will therefore be dismissed from the school site at 1.05 p.m. Any student eligible for a Free School Meal will be able to collect it from the dining hall before they leave.
Work will be set for students to complete as independent study in lieu of the single lesson missed. Post 16 lessons will continue as normal for all Post-16 students.
Advance Notice of Early School Closures - 2018/2019
Please be advised that the school will close early and students dismissed at 12:00 on the following dates:
Thursday 20 December 2018 (Last day of Term 2)
Tuesday 23 July 2019 (Last day of Term 6)
Governor Vacancies
Cotham School is very fortunate to have always maintained a strong and skilled Governing Body during such challenging times in Education. Due to a number of current governors reaching the end of their terms of office several vacancies have now arisen in the following areas:
Finance
Personnel
Fundraising
If you or anyone you may know has particular skills or experience in any of these areas and has the desire to get more involved in the governance of the School and would like to find out more, please contact the Clerk to Governors, Leanne Sowersby by email to sowersbeyl@cotham.bristol.sch.uk
Changes of parents/carers address, phone numbers or email address
Please let the school know as soon as possible if you have a change of address, or if your contact telephone numbers or email addresses change.
You can:
Email the school using info@cotham.bristol.sch.uk, or
Contact your Learning Coordinator for your student's year group, or
Write us a message with all the details for your child to bring in, or
Send us an email using the Enquiry Form on the Contact Us page of our school website (www.cotham.bristol.sch.uk).
If possible, please could you ensure that the school holds at least two emergency contacts and telephone numbers. We rely on these numbers to contact you in an emergency.
Many thanks
Data Team
Knitted poppies for Remembrance day
Calling all knitters... we would like to collect as many knitted red poppies for Remembrance day as possible in the next few weeks. Our aim is to stitch them all together to display around the pillars in the hub. If you would like to support us, please click here to access a knitting pattern to get you started. Please feel free to use your own pattern if you would prefer.
Reflection Space/Prayer Room
A118 is currently available as a supervised "Prayer and Reflection Space" from 1.10 pm to 1.30 pm Monday - Thursday. This is open to the whole school community to provide a multi-faith space for reflection and prayer.
Mental Health and Wellbeing
Off the Record (OTR) offer excellent and free workshops called Resilience Labs for young people aged 14-25 living in Bristol or 11-18 living in South Gloucestershire to teach them skills and strategies for managing stress and anxiety in all parts of life. Click here to find out about the dates and themes of their workshops for Terms 1 and 2.
During the October half term OTR are also offering a programme of events for young people entitled 'Inspiration Works'. All the activities are free and drop-in. Click here to view the flyer.
Word of the week
Each week at Cotham we promote a Word of the Week. This is to help students expand the range of vocabulary they use. Please find the word for the week ahead by clicking here.
Future Bright
The Future Bright Programme helps employed residents throughout Bristol aged 19 or over, who receive in-work benefits, into more secure and rewarding careers.
Future Bright can help people to improve job prospects and earning potential by providing Careers advice, guidance and funding for training and development.
Could you use Future Bright's help? To be eligible you must receive either: Working Tax Credits, Child Tax Credit, Housing Benefit or Council Tax reduction
(but not JSA, ESA, Income support or Universal Credit). You would then receive support from a dedicated Career Coach who will provide tailored advice,
guidance and practical support on improving and achieving your career ambitions.
To find out more about this fantastic opportunity, visit www.westofengland-ca.gov.uk/futurebright or get in contact.
Email futurebright@bristol.gov.uk or call 0117 9222250.
Was Your Adopted Child Previously in Care and Adopted On or After 30 December 2005?
You may be aware that schools receive additional funding for children in receipt of Free School Meals which is called Pupil Premium Funding. These children are automatically identified to the school through the Local Authority. The government have recently announced that they are extending this funding to provide additional income for schools to support children who have been adopted from care. This funding will be called Pupil Premium Plus and will be £1900 per year per child.
Unfortunately, unlike Free School Meals eligibility, the school is not given information on whether or not students have ever been in care. We therefore need parents and carers to let us know that they have adopted children from care so that the school can claim the funding available for the next financial year.
This additional funding is only eligible for students who:
left care under a Residential Order on or after 14 October 1991 (under the Children Act 1989)
left care under a Special Guardianship Order on or after 30 December 2005 (under the Children Act 1989)
were adopted from care on or after 30 December 2005 (under the Adoption and Children Act 2002)
If your child fits into any of the above categories and you are willing to let the school know that this is the case, please contact either your child's Learning Coordinator giving the name and form group of the student concerned as soon as possible. You will then be contacted and asked to provide supporting evidence, i.e. the Adoption (Court) Order. In order to claim the funding for the financial year 2018-19 the school need to include information in the census return that they send to the DfE in January 2019.
Pupil Premium Plus funding is not ring-fenced, and is not for individual children. It is designed to provide specific support to raise attainment and address the wider needs of children in this vulnerable group. Children who have spent time "in care" have usually experienced grief and loss, many have had traumatic experiences in their early lives caused by abuse or neglect and this can have a lasting impact even after many years of adoption in a loving home. National statistics show that children in care face unique challenges at school and often struggle to keep up with their peers. It is vital that they are given the targeted support they need and the education they deserve to help them get on in life.
There is no obligation for you to share this information with us, but doing so will help both your child and the school benefit from this substantial additional funding. If you would like a confidential conversation about how this information will be held in school, please do not hesitate to contact Mrs Bajic- Raymond (Deputy Headteacher).
All information received will be treated in strictest confidence.
Junk Food ban
As you will be aware, the bringing in and consumption of junk food is completely banned at Cotham. We have become increasingly concerned about students bringing 'junk' food and drinks into school. The cheapness of large 'family size' bags of crisps, sweets and bars/ 4 packs of chocolate and large bottles/ cartons of sugary and fizzy drinks, energy drinks has led to an increase in such items being brought into school. The impact on children's long term health is considerable. In addition the additional litter created has phenomenal and represents a huge burden on our site team.
In order to help your children please provide a packed lunch or pre- pay their cards via WISEpay and please don't give them cash! All junk food is bought on the way to or from school in large supermarkets or corner shops.
Please can we also ask you to remind students that they should be drinking plenty of water during the day. There are water fountains across the school site.
Yoga Tribe for teens
Miss Gallien hosts a Yoga, relaxation and mindfulness session for students on Friday lunchtime from 1.10 to 1.45 and Tuesdays after school from 3.15 to 4pm in the Main Hall. All welcome and no booking required, just come along.
There is also a 'yoga tribe for teens' google classroom page available to students who are attending the sessions, sharing information on yoga, tips on wellbeing and health. If students want to be added to the group please see Miss Gallien.
Key Stage 3 (KS3) News
Yr. 9 Girls' HPV Vaccinations
Yr. 9 girls will receive their booster jab on Friday 21 September 2018.
Key Stage 4 (KS4) News
Year 11 Future Plans
This term, Year 11 students must start deciding what they will do after their GCSEs.
To help them make good choices, they have been learning about Post-16 options in their PSHE lessons and tutor sessions and every student will have a 1:1 careers guidance appointment with Ms Chester, the school's careers advisor. Parents/carers will be notified of the exact day and time by text, so please remind your children when they should attend.
For students who wish to drop-in with short queries, Ms Chester will also be available in B104 at lunchtime from 1.30-2.00pm each day (except Friday).
Please support your children by taking them to appropriate sixth-form and college open days so they can see what different places have to offer.
Forthcoming open days are on the school's website here
Cotham School's sixth form is part of North Bristol Post-16 Centre - their Open Evening will be held at Cotham School on Thursday 18 October from 6.30-9.00pm.
Post-16 News
All Post 16 lessons have now started and there is a very positive atmosphere at the NBP16 Centre
Parents/Carers of Year 12: Should your son/daughter have any queries over their subject choices, the subject change week commences the week beginning 24 September 18 and they will be notified about the process in assembly on Wednesday morning at 08.30am in G001
The Parent Engagement Group (PEG) meeting on Wednesday was well attended and the presentation will be uploaded onto the NBP16 website along with any useful information.
Parents/Carers of Year 13: Your son/daughter should have signed up to Unifrog even if they do not want to apply to university. Those students wishing to apply to university must write their personal statements on Unifrog so that their tutor can best support them. If your son/daughter is having trouble registering with UCAS they should contact their form tutor or Mrs Kempt for support.
The Enrichment programme was launched this week and predominantly takes place on a Wednesday lesson 5 where the majority of students do not have timetabled lessons. All students have been emailed a Google form to register interest in particular activities. They should see their form tutor for further information. There are many exciting opportunities for them to get involved with.
Year 12/Year 13 Textbook Deposits
All Year 12 and Year 13 students are required to pay a £25 deposit to cover their textbook loans. This payment is now due. Payment can be made on via a Wisepay account(listed as "P16 Library Deposits Sep 2018"), or by cash/cheque to the Finance office at Cotham School. This deposit allows students to access their textbooks at Cotham and RGS and is fully refundable at the end of Year 13 provided all items are returned to the library. If there are any problems please see a member of the library staff. Students entitled to a bursary do not have to pay the deposit.
To find out more about recent events and achievements in Post 16, please visit the 'This Term at Cotham Post 16' section of our website.
Subject Area News
PE/Sports Update
Please click here to view all of our recent results and the upcoming fixtures for the week ahead.
Please click here for a list of all of the PE/Sports Extra-Curricular activities available to students in Term 1
Follow @CothamPE on Twitter for all the latest news and updates from the Cotham School PE department
Performing Arts News
Extra Curricular Activities in Performing Arts 2018/19
Click here to view the Dance, Drama and Music opportunities that are available for your child at Cotham.
Instrumental Tuition
Does your child play an instrument or are they interested in taking one up? At Cotham we are proud to offer an extensive range of experienced tutors for small group or individual lessons. Click here for more info.
Dance Uniform
Now that all students have received their timetables, we would like to remind you that all students are expected to wear a dance specific uniform. This consists of the Cotham dance t-shirt with black shorts/ trackies/ leggings. Uniform is available from http://www.harrissports.co.uk/. Harris's will also be coming into school every Thursday to sell uniform. Please come to the main school reception between 2:30 - 4:00pm to purchase. If, for any reason, you are unable to purchase the correct kit by your son/daughter's next dance lesson then they must have a note in their planner from you and an alternative plain black t-shirt.
Steam News
Wanted - Fabrics or Recycled Clothing - Jeans / Shirts / Skirts / Jackets / Pajamas / Etc
For our new Year 8 Textiles Technology project students are making nature inspired fabric pencil cases and we're on the hunt for any useful old items of clothing or large fabrics samples to build a bank of spare material that students could cut up to make and decorate their products from during the project. Donations of accessories such as buttons, zips and any other haberdashery style items would be greatly appreciated too. Items can be dropped at student reception by parents or sent in with students who should bring it to a member of staff in the Design and Technology office. - Many thanks, Mr Lawrence
Careers News
The Creative, Digital & High-Tech Careers Fair planned for Wednesday 3 October has had to be postponed, due to unforeseen circumstances. The new date will be announced asap.
There is an Engineering & Technology Careers Fair @ We The Curious on Friday 21 September from 12.00-5.00pm. Click here for details and to register.
USA College Day is the largest US university fair in Europe, with over 150 American universities exhibiting. It's in London on Friday & Saturday 28-29 September. Entry is free but you must register - Click here for full details.
House News
Sigma Update
The Green Plan it Challenge
Sigma have been invited to take part in The Green Plan it Challenge with the RHS. This is a student led project, which allows them to explore community needs, environmental issues and to grow their understanding of how plants play such valuable roles in our lives. Students are matched with an industry mentor to design a green space in their school over a 10 week period. The group will then present their projects to a team of horticultural professionals at a celebration event at the end of November. A team of six students from across Year 8 and Year 9, Bram Bourbon, Oscar de Havilland, Prerana Nerlige Prashanth, Eva Liberman, Misha Evans and Anna Alvarez Stodulkova attended the launch day on Thursday 13 September at The Bristol Botanical Gardens. They had a tour of the gardens and met their mentor. They all came back inspired by what they had seen and learnt from the day and are now working together to plan their design.
Community News
Trailblazers Conference
An exciting new event for aspirational girls featuring trailblazing speakers. Click here to view the flyer.
Creative Youth Network
Creative Youth Network are offering a range of FREE, creative courses for young people aged 11-16 years, being run at a variety of locations around Bristol, starting NEXT WEEK.
They are run by professional creative practitioners/youth workers and there are spaces available on the following:
Music Wednesdays 5-7pm at the Greenway Centre, Southmead BS10 5PY.
Starting Wednesday 19 September (NEXT WEEK) – 28 November.
Book on here: https://www.creativeyouthnetwork.org.uk/Event/music-autumn-18
Printmaking Wednesdays 5-7pm at the Station, Silver Street BS1 2AG
Starting Wednesday 19 September (NEXT WEEK) – 28 November.
Book on here: https://www.creativeyouthnetwork.org.uk/Event/printmaking-summer-18
Theatre Tuesdays 5-7pm at Meadowvale BS5 7RF
Starting Tuesday 25 September – 4 December.
Book on here: https://www.creativeyouthnetwork.org.uk/Event/theatre-autumn-18
Film Thursdays 5-7pm at Hillfields Youth Centre BS16 4EH
Starting Thursday 20 September (NEXT WEEK) – 29 November.
Book on here: https://www.creativeyouthnetwork.org.uk/Event/filmmaking-autumn-18
Fashion Thursdays 5-7pm at the Station, Silver Street BS1 2AG
Starting Thursday 20 September (NEXT WEEK) – 29 November.
Book on here: https://www.creativeyouthnetwork.org.uk/Event/fashion-autumn-18
By attending and engaging in the 10 week course the young person can achieve a Bronze Arts Award. A nationally recognised qualification which can count towards UCAS points. Please email Sophie.Harding@creativeyouthnetwork.org.uk for more information.
Become a Reading Volunteer
The appeal is run by Bristol's Reading in Schools Consortium, a partnership organised by the council which brings together different organisations who all recruit volunteers to read in schools.
Last term over 250 people from all across the city volunteered in 50 schools, but now sights are being set even higher. Bristol's Mayor Marvin Rees wants to make sure there's a reading volunteer for every child who needs one and that means 300 additional volunteers are needed. Click here to find out more.
New course guide for adult learners launched in Bristol
Bristol City Council has launched a new course guide to encourage adults of any age or ability to learn something new. With over 550 courses on offer at Stoke Lodge, Bristol is building on its status as a Learning City by providing a broad range of courses which cover many different interests, hobbies and skills. Click here for more.
Developing a Bristol Post 16 Strategy
The Bristol Learning City Partnership, chaired and led by Councillor Anna Keen, is pulling together city leaders who can help drive forward improvements in four thematic areas, including; Developing a new Post 16 strategy and offer, developing Bristol as a reading city, driving improvements in attendance and Integrating and promoting opportunities for young people with special educational needs and disabilities (SEND). Click here for more information.
Dickinson's Real Deal
Back for a Fifteenth series, David Dickinson and the dealers are traveling around the country looking for some more bobby dazzlers brought in by members of the public!
If you want to sell your goods, but only for the right price, David and the dealers are going to be at The Tropicana, Marine Parade, Weston-Super-Mare BS23 1BE, on Saturday 15 September. Doors will be open between 8am and 5pm – You can contact the Dickinson's Real Deal team with any queries regarding the event or the programme, on the DRD hotline: 0117 970 7618 or via dickinsonsrealdeal@rdftelevision.com
Twitter: @ITVRealDeal
Facebook: ITVRealDeal
Useful quick links
Keep us posted
It would be great if parents/carers could let the school know of any student achievements outside of school please. It is sometimes only at parents' evenings that we find out what students are doing in their own time. Email us: adminoffice@cotham.bristol.sch.uk
Key Dates
We are in the process of compiling the Key Dates for 2018/19 and will publish them via the Weekly Mailing and School Website as soon as possible. In the meantime, if you have any questions please email info@cotham.bristol.sch.uk
Parents' Evening Booking System (PES)
Please click here to access the online appointment booking system for Parents Evenings/Family Consultation Day. Please note this is only available if an event is due. We will email you to let you know when booking opens. If you encounter any difficulties with booking your appointments please contact the admin team by email to adminoffice@cotham.bristol.sch.uk or tel: 0117 919 8000
Assessment Calendars for KS3
We are in the process of compiling the Assessment Calendars for 2018/19 and will publish them via the Weekly Mailing and School Website as soon as possible. In the meantime, if you have any questions please email info@cotham.bristol.sch.uk
WisePay
WisePay is the Online Payment Service at Cotham School which allows you to pay for trips and visits as well as to add credit to your child's Cashless Catering account. Click here to access your account now. If you have any queries about your account please contact the support team by email to wisepay@cotham.bristol.sch.uk
School Uniform
Please click here to view the compulsory uniform requirements of Cotham School, along with visual examples of uniform and details of our uniform suppliers.
GCSEpod
Click here to access GCSEpod which contains lots of revision resources for most GCSEs. Students self register through the website using their name and school details.
SAM Learning
Click here to access SAM learning which contains revision exercises and self marking quizzes with automatic progress tracking and reporting. Please use the Centre ID: BS6CS. Student usernames and passwords are their birthday formatted as DDMMYY, followed by their Initials.
Diagnostic Questions
Click here to access. This site contains self marking quizzes with lots of templates including some from a range of exam boards. It's easy to make your own questions in Microsoft PowerPoint too. Students sign up with their school Google account using the G+ button to automatically create a school account
Free School Meals
https://www.cloudforedu.org.uk/ofsm/sims to check if your child is eligible for Free School Meals or to apply.
Click here to Contact Us