Weekly Mailing - Friday 21 September 2018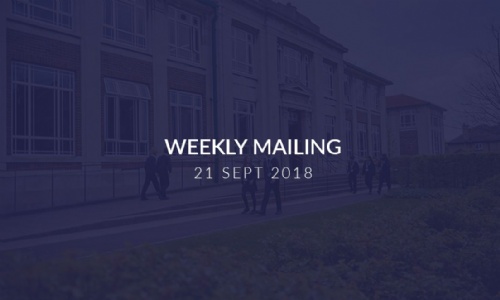 Dear Parents / Carers
Please find below my usual updates on events that have taken place this week, information, letters etc.
Ms Jo Butler
Headteacher
Important Information for Parents/Carers
Mental Health and Wellbeing
From mindfulness to educational needs, we offer a range of services to support students with their mental health and wellbeing:
Headspace
A quiet place for students to relax, engage in some mindful activities and listen to calming music. Every lunchtime in room A101 with Mr Saunders.
Yoga Tribe for Teens
Friday lunchtimes in the main hall with Ms Gallien
Tuesdays after school in the main hall with Ms Gallien
SEND lunchtime club
For students with special educational needs and disabilities who need a place to get away from the hustle and bustle of a busy lunchtime. Every lunchtime in room B017.
School Counsellor's drop-in service
Every Monday and Thursday lunchtime in the SEN area
Mindfulness sessions
In the weeks leading up to each year group's exams, Ms Leong offers sessions teaching students mindfulness techniques to help with exam anxiety in room A106 at 1.30pm on Fridays; this will be promoted to students in assemblies prior to their exams.
Mentoring
Many of our students have access to a mentor for a period of time supporting them weekly with any issues
Kooth
Bristol offers an online counselling service called Kooth where students can have access to a regular telephone counselling service. We can support students to access this, helping them to get started and set up an account. Some of our students have already taken this up, and students can speak to their Learning Co-ordinator or a member of the SEND and Inclusion team if they would like to access the service.
RESPECT Ambassadors
Post-16 students are volunteering as peer mentors to support our younger students with any issues they may have; offering advice and a listening ear, with particular attention to healthy relationships
Wellbeing Library
There are a number of books in the main school library for students to borrow that can support them with their mental health and wellbeing. These are also available to Post-16 students in Ms Kempt's office in Charnwood
LGBTQ+ student group
This is a group that meet regularly to discuss LGBTQ+ issues affecting students such as transitioning and questioning, whilst actively leading on promoting awareness and tolerance. Any student wishing to join this group should contact Ms Hepworth in the English faculty.
Library and After-School Homework
Cotham's library is open to students after school until 4pm as a space for students to complete homework, where they have access to computers and a printer/photocopier.
Research Project
The University of Bristol invites local parents to take part in a research project called 'All Our Voices'. The project explores the involvement and decision-making of children and young people with disabilities, as well as their parents and carers with the processes of social care assessment and support. If you would like to find out more, please click here.
City Conversation III
Cotham school will be hosting City Conversations III on Wednesday 26 September at 6.30pm. An evening based on pledges which look at addressing racial inequality in Bristol in order to make a change to the city. Please click here for more information about the event.
Advance Notice of Early School Closures - 2018/2019
Please be advised that the school will close early and students dismissed at 12:00 on the following dates:
Thursday 20 December 2018 (Last day of Term 2)
Tuesday 23 July 2019 (Last day of Term 6)
Governor Vacancies
Cotham School is very fortunate to have always maintained a strong and skilled Governing Body during such challenging times in Education. Due to a number of current governors reaching the end of their terms of office several vacancies have now arisen in the following areas:
Finance
Personnel
Fundraising
If you or anyone you may know has particular skills or experience in any of these areas and has the desire to get more involved in the governance of the School and would like to find out more, please contact the Clerk to Governors, Leanne Sowersby by email to sowersbyl@cotham.bristol.sch.uk
Changes of parents/carers address, phone numbers or email address
Please let the school know as soon as possible if you have a change of address, or if your contact telephone numbers or email addresses change.
You can:
Email the school using info@cotham.bristol.sch.uk, or
Contact your Learning Coordinator for your student's year group, or
Write us a message with all the details for your child to bring in, or
Send us an email using the Enquiry Form on the Contact Us page of our school website (www.cotham.bristol.sch.uk).
If possible, please could you ensure that the school holds at least two emergency contacts and telephone numbers. We rely on these numbers to contact you in an emergency.
Many thanks
Data Team
Word of the week
Each week at Cotham we promote a Word of the Week. This is to help students expand the range of vocabulary they use. Please find the word for the week ahead by clicking here.
Post-16 News
Social Mixer
The year 12s who were not at Cotham School for year 11 enjoyed a social mixer and quiz on Wednesday which allowed them to meet other students in the same position as them.
Bursary Applications
Please make sure that you provide all the evidence needed for bursary applications - please look at the sheet provided in the pack for this information.
Enrichment
Enrichment for year 12s starts next week on Wednesday 25 September at lesson 5 - this is compulsory for all year 12 students apart from those who have timetabled lessons.
University Applications
Year 13 students who are applying to university - please ensure that your son/daughter is working on their personal statement on UNIFROG and asking their tutor for help and support.
Yr 13 Registration
Year 13 students: From Monday 24 September there will be no formal registration but students MUST swipe in using the inventory system either at Main School Student Reception or at Charnwood House before 08.40am. Assembly on Wednesday Week B remains compulsory and students should have made appointments to meet with their tutor. Their form tutor will always be in the regular tutor base for drop ins.
Bike Storage
For students who have RGS taught lessons: please note that bikes should only be locked up in the Post 16 bike shed (combination lock code available from Post 16 reception), or on the bike racks outside the main front door of the school. For reasons of access and security bikes should not be left anywhere else.
Wellbeing Drop In
Wellbeing Drop in continues on Thursday lunchtimes in G208 - all student are welcome.
To find out more about recent events and achievements in Post 16, please visit the 'This Term at Cotham Post 16' section of our website.
Subject Area News
PE/Sports Update
Please click here for a list of all of the PE/Sports Extra-Curricular activities available to students in Term 1
Follow @CothamPE on Twitter for all the latest news and updates from the Cotham School PE department
Performing Arts News
Instrumental Tuition
Does your child play an instrument or are they interested in taking one up? At Cotham we are proud to offer an extensive range of experienced tutors for small group or individual lessons. Click here for more info.
Steel Pan Taster Sessions
We are excited to offer a free Steel Pan Taster session to our Y7 students on Tuesday 25 September. Spaces are limited, and the sign-up sheet can be found in the Performing Arts Foyer until Monday break time.
Cue Bristol Youth Theatre Group
Cue Bristol is a fun, informal Drama group for anyone in Y7-Y11 who loves Drama. Cue is a great way to make new friends and explore a range of Drama, both scripted and devised. Our sessions run in the Performing Arts Building at Cotham School, and are even open to students from other schools. We perform our work at twice yearly 'Sharing Evenings' and invite parents and friends to come and watch.
Fees are £50 for 10 sessions and run on Mondays at the following times:
Year 7 - 8 at 5.15pm - 6.45pm
Year 9,10 and 11 at 7.00pm - 8.30pm
Students are welcome to turn up for a trial session any Monday if they are interested in joining (meet in the Performing Arts Foyer). Alternatively, you are welcome to email for more information: ashcrofth@cotham.bristol.sch.uk
Steam News
Wanted - Fabrics or Recycled Clothing - Jeans / Shirts / Skirts / Jackets / Pajamas / Etc
For our new Year 8 Textiles Technology project students are making nature inspired fabric pencil cases and we're on the hunt for any useful old items of clothing or large fabrics samples to build a bank of spare material that students could cut up to make and decorate their products from during the project. Donations of accessories such as buttons, zips and any other haberdashery style items would be greatly appreciated too. Items can be dropped at student reception by parents or sent in with students who should bring it to a member of staff in the Design and Technology office. - Many thanks, Mr Lawrence
Careers News
Cotham School Website
Cotham School website is now a source of information and advice about future options for students such as subject choices for students aged 14, 16 and 18; university, apprenticeships and career options, providing links to current opportunities and forthcoming open days and events. The pages are located under Students - Careers and Opportunities or can be found here.
Community News
Bristol Giving Day
Bristol Giving Day is happening on 10 October. There was a launch event supported by the Mayor last week and we encourage our students to support the cause. Please see here and here for further information.
Creative Youth Network - Theatre
Tuesdays 5-7pm at Meadowvale BS5 7RF
Starting Tuesday 25 September – 4 December.
For more info or to book tickets click here.
Useful quick links
Keep us posted
It would be great if parents/carers could let the school know of any student achievements outside of school please. It is sometimes only at parents' evenings that we find out what students are doing in their own time. Email us: weeklymailing@cotham.bristol.sch.uk
Key Dates
Please click here to view the Key Dates by year group for the 2018-19 academic year. You will be notified of any significant changes/additions, but please can we ask that you check the dates for your year group regularly as they are subject to change.
Parents' Evening Booking System (PES)
Please click here to access the online appointment booking system for Parents Evenings/Family Consultation Day. Please note this is only available if an event is due. We will email you to let you know when booking opens. If you encounter any difficulties with booking your appointments please contact the admin team by email to adminoffice@cotham.bristol.sch.uk or tel: 0117 919 8000
Assessment Calendars for KS3
We are in the process of compiling the Assessment Calendars for 2018/19 and will publish them via the Weekly Mailing and School Website as soon as possible. In the meantime, if you have any questions please email info@cotham.bristol.sch.uk
Homework and Independent Learning timetables
WisePay
WisePay is the Online Payment Service at Cotham School which allows you to pay for trips and visits as well as to add credit to your child's Cashless Catering account. Click here to access your account now. If you have any queries about your account please contact the support team by email to wisepay@cotham.bristol.sch.uk
School Uniform
Please click here to view the compulsory uniform requirements of Cotham School, along with visual examples of uniform and details of our uniform suppliers.
GCSEpod
Click here to access GCSEpod which contains lots of revision resources for most GCSEs. Students self register through the website using their name and school details.
SAM Learning
Click here to access SAM learning which contains revision exercises and self marking quizzes with automatic progress tracking and reporting. Please use the Centre ID: BS6CS. Student usernames and passwords are their birthday formatted as DDMMYY, followed by their Initials.
Diagnostic Questions
Click here to access. This site contains self marking quizzes with lots of templates including some from a range of exam boards. It's easy to make your own questions in Microsoft PowerPoint too. Students sign up with their school Google account using the G+ button to automatically create a school account
Free School Meals
https://www.cloudforedu.org.uk/ofsm/sims to check if your child is eligible for Free School Meals or to apply.
Click here to Contact Us