Weekly Mailing - Friday 28 September 2018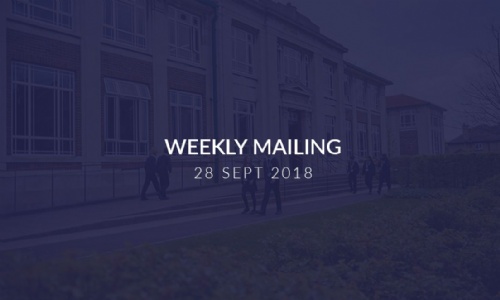 Dear Parents / Carers
Please find below my usual updates on events that have taken place this week, information, letters etc.
Ms Jo Butler
Headteacher
Important Information for Parents/Carers
Safeguarding your children: Changes of parents/carers address, phone numbers or email address
Please let the school know as soon as possible if you have a change of address, or if your contact telephone numbers or email addresses change.
You can:
Email the school using info@cotham.bristol.sch.uk, or
Contact your Learning Coordinator for your student's year group, or
Write us a message with all the details for your child to bring in, or
Send us an email using the Enquiry Form on the Contact Us page of our school website (www.cotham.bristol.sch.uk).
If possible, please could you ensure that the school holds at least two emergency contacts and telephone numbers. We rely on these numbers to contact you in an emergency.
Many thanks
Data Team
Homework Guidelines
Homework is an essential part of students' learning and progress. It provides valuable opportunities for independent work, extension of learning and deliberate practice and consolidation of in class learning.
Please click here to view the Cotham School Homework Guidelines for 2018-19.
The school has a range of free and paid services that can support learners through home and independent learning. All are accessible through the intranet or school website or via the quick links section below, and can be used at home by students on home PCs. Some even support mobile devices or have companion apps that students can download.
Junk Food is banned at Cotham!
As you will be aware, the bringing in and consumption of junk food is completely banned at Cotham. We have become increasingly concerned about students bringing 'junk' food and drinks into school. The cheapness of large 'family size' bags of crisps, sweets and bars/ 4 packs of chocolate and large bottles/ cartons of sugary and fizzy drinks, energy drinks has led to an increase in such items being brought into school. The impact on children's long term health is considerable. In addition the additional litter created is phenomenal and represents a huge burden on our site team.
In order to help your children please provide a packed lunch or pre- pay their cards via WISEpay and please don't give them cash! All junk food is bought on the way to or from school in large supermarkets or corner shops.
Please can we also ask you to remind students that they should be drinking plenty of water during the day. There are water fountains across the school site.
School Uniform Shop
Harris's will be in School at the Main Reception (Cotham Lawn Road) on the following dates:
Thursday 25 October from 2.30pm until 4.00pm
Thursday 8 November from 2.30pm – 4.00pm
School uniforms can also be ordered by ringing Harris's on the following contact number 01275 87435. If you do decide to place an order over the phone then orders will be delivered to school for collection. Alternatively, you can visit Famous Brands on 186-190 Henleaze Road, BS9 4NE.
The Day Online Newspaper
The Day Online Newspaper is an online service which emails three news articles a day, plus teaching resources and points for discussion.
This service offers a searchable archive of over 700 news articles on everything from Sport to Science, Politics to Arts as well as the following:
Three original news articles every day, written with no jargon or bias.
Brilliant illustrations and infographics.
Each article focuses on the big ethical issues behind the story.
Stories translated into French, Spanish, Italian and German (linked to their English language versions).
This resource is now available for parents and carers to access from home by clicking here
The login details for parents and carers are:
Username:Cotham
Password:CothamSMSC
Please contact library@cotham.bristol.sch.uk if you have problems accessing this resource.
Mental Health and Well Being
It is important that students are kept safe whilst using the internet, social media and other online applications and devices. Please look at the latest issue of the Online Safety Newsletter for updates.
Design the school Christmas card competition 2018
This competition is open to all year groups to design the school Christmas card. This is a House Competition with the winner receiving a £20 Amazon voucher and £10 for the runner up.The winning design will be used for the school Christmas card. House points will also be awarded for runners up. Hand in your entries to the Visual Arts Office by the deadline of Friday 9 November 2018. For more information click here
Open Evening 19 September 2018
The school opened its doors to prospective Year 7 students and their parents and carers on Wednesday 19 September for our annual Open evening.
We provided a real 'Cotham experience' for visitors and the programme included tours of the school, expertly delivered by Year 8 volunteers, our Year 11 prefects and Sixth Form Ambassadors. Presentations in the Hall included a Headteacher's address, anecdotes and insights from our new Year 7 students anda brilliant musical performance by the 'Jazz Band'.
Feedback from our visitors was really positive and students who represented the school did a fantastic job; many visitors expressing how impressed they were by their enthusiasm and pride in their school and their achievements.
The Year 7 speakers in the hall who spoke so clearly about their new school deserve special credit. After only two and a half weeks they were confident, a real credit to themselves and showed that they have really become part of our Cotham School community.
Reception
Please be advised that we have two receptions at Cotham: one being a Visitor Reception on Cotham Lawn Road and the other being a Student Reception on Cotham Road.
We would like to remind parents and carers that the Student Reception is for both students and parents or carers of students, and the Visitor reception is for guests who have appointments to visit the school. If you need to come to Cotham school then please make sure that you visit the Student Reception.
Advance Notice of Early School Closures - 2018/2019
Please be advised that the school will close early and students dismissed at 12:00 on the following dates:
Thursday 20 December 2018 (Last day of Term 2)
Tuesday 23 July 2019 (Last day of Term 6)
Word of the week
Each week at Cotham we promote a Word of the Week. This is to help students expand the range of vocabulary they use. Please find the word for the week ahead by clicking here.
KS3 News
Year 7 Parents
Important
Please note that from Monday 1 October Year 7 students will finish school at 3.05pm.
Year 7 Activities Week
You will have recently received an email regarding the Year 7 Activities week which takes place in Term 6 2019. We are currently experiencing some technical difficulties uploading the payment schedule for this event to Wisepay. We will email Year 7 parents to advise again once the problem has been resolved, at which point you will be able to log and pay the first installment to secure a place for your child.
Key Stage 3 Information Evening
You are warmly invited to a Key Stage 3 Information Session for parents of students in Key Stage 3 on Thursday 4 October from 6.00pm until 7.00 pm in the Main Hall.
There will be representatives from English, Maths, Science, Modern Foreign Languages and Humanities in attendance describing how to support students with their studies in Key Stage 3.
The Mail Hall has a maximum capacity of 200. In order to assist us with gauging numbers please can we ask you to click here to register your interest in this event.
KS4 News
Year 10 Work Experience (WEX) 1-5 July 2019
At Cotham School all Year 10 students are expected to take part in Work Experience week (WEX) which will be during week 1-5 July 2019 of this academic year. All details can be found on the school website here.
Post-16 News
Year 12 Talk
This week, Year 12s had a brilliant and inspirational talk from an ex student George Thompson, as part of their Core Programme, who discussed potential barriers to learning that students face and how best to overcome them.
Year 13 Registration
We can report that student feedback over the INVENTRY system has been taken on board and would like to thank the students for their patience with registration and how responsible they have been.
UK Apprenticeship and University Search Fair
You will have received a letter via email inviting students to attend on the UK Apprenticeship and University Search Fair on Thursday 10 October. This takes place in the school day and students should return by lesson 5.
Bursary Applications
Bursary application forms need to be handed in to Ms Kaur in G202. The bursary packs can be collected from Charnwood Reception.
Open Evenings
NBP16 Open Evenings are on 18 and 28 October .We would be so grateful to have as many students to be Student Ambassadors for these evenings as possible - please encourage your son/daughter to see Mrs Kempt to sign up.
House News
Sigma House update
House Assembly
We are all looking forward to another great year in Sigma. As part of our first House assembly on Thursday, it was a pleasure to welcome the new Sigma Year 7 students. In our assembly we spoke about Cotham manners. The Prefects spoke about what Cotham manners mean to them and how they play an important part of school life and need to be used daily.
House Charity
We are delighted to announce that we have decided to stay with our chosen House Charity The Rainbow Centre for Children another year. They are a charity that provide bereavement support for children and families. On Friday 5 October Sigma will be hosting their famous cake sale as part of our first fundraising event for the year. The event will be held at break time in the Hub, and cakes will go on sale for 50 pence. Please remember to bring in your money to support our Charity.
We are also having our first Tutor Challenge to raise money for The Rainbow Centre for Children. Each tutor group will be given a large tube of smarties. After sharing the sweets, they will then fill the tube with loose change. The tutor group who collect the most money will win a prize.
Protecting the Planet
Our house role in school is to protect the environment. We have been working hard to promote recycling around the school and to stop single use plastic bottles being used. We launched our own Sigma House reusable drink bottle last year, which are given out as prizes to students and can also be bought through Wise Pay for £2.50. Money raised from the sales will go towards our chosen house charity.
Last year we supported Meat Free Monday and are keen to hold another Meat Free Monday this term.
We have been invited to enter The Green Plan it Challenge with the RHS. This is a student led project which runs over the course of ten weeks. We have a team of six students who are taking part in the project; they are working with a mentor to design a Well being Sensory garden. They are called The Bee Friendly Gardeners - BFG. The gardeners are Eva Liberman, Bram Bourbon, Oscar DeHavilland,Misha Evans, Anna Alvarez Stodulkova and Prerana Nerlige Prashanth. We wish them lots of luck with their project.
Sigma High Flyers
This term it was awarded to the students who achieved the most Cotham Manners house points this term. Congratulations to the following students:
Nurhaan Bouh 7JLL, Xavier George Morales 7JLL, Havana Kent 7JLL, Rayyan Azad 7EH, Olivia Curtis 7JLL, Raffaella Naylor 7JLL, Harry Pheasant 7EH and Polly Utley Scott 7EH. They all received a Sigma drink bottle and certificate as an award.
Each month we award the Sigma Superstar award. This months Superstar is Adam Aden 7EH, Adam has all the star qualities of a Cotham student and we are very proud to have Adam in Sigma. Congratulations to Adam, he received a Sigma drink bottle and £3 to spend in the canteen.
House Reps
House reps represent the voice of the students. We have two reps to each tutor group. We will be electing the year 7 reps very soon. Details will be sent to tutors on how to apply to become a Year 7 Sigma Rep.
Subject Area News
PE/Sports Update
Year 7 Rugby
Year 7 rugby practice is every Wednesday after school with Mr Lloyd. It would be great to see more boys signing up to play rugby as the current uptake has been low as many Year 7 boys have displayed interest and told their PE teachers they would like to participate.
St Brendan's Old Boys are also currently looking for more boys to join their team, if any year 7 boys are interested in playing rugby outside of school. They are based at Coombe Dingle and train and play matches on Sunday mornings 10.30am-12pm. They are a friendly, welcoming club and play against similar teams in Bristol, Somerset and Gloucestershire.
Swimming Gala
If a student wants to compete and represent Cotham School in the Bristol Schools Swimming Gala at Easton on Thursday15 November, they need to come to the PE office to sign up.
This competition is open to boys and girls in years 7 to 13 who currently swim or have swam for a swimming club. Students will also need to provide a PB time for their event as there is a maximum 3 swimmers per event.
All students need to have signed up by Friday 5 October
Please click here to view all of our recent results and the upcoming fixtures for the week ahead.
Please click here for a list of all of the PE/Sports Extra-Curricular activities available to students in Term 1
Follow @CothamPE on Twitter for all the latest news and updates from the Cotham School PE department
Community News
SENDaWelcome
SENDaWelcome are a charity who support children with Special Educational Needs aged 11- 16 years old. They are running 6 music workshops across October and November. For more information and to book a place please click here.
Young Bristol
Young Bristol work in partnership with a range of community based youth groups to ensure that all young people have access to opportunities and experiences so they can realise their capabilities and needs. Find out what the Summer held in store for Young Bristol and what they will get up to in the Autumn by clicking here.
Black Boys Can
Black Boys Can run a Saturday school for children age 10-16. The sessions run from 10-1pm during term times and the school is at Tudor Rd Easton Bristol. Please see the attached flyer for more information
Bristol Giving Day
Bristol Giving Day is happening on 10 October. There was a launch event supported by the Mayor last week and we encourage our students to support the cause. Please see here and here for further information.
Useful quick links
Keep us posted
It would be great if parents/carers could let the school know of any student achievements outside of school please. It is sometimes only at parents' evenings that we find out what students are doing in their own time. Email us: weeklymailing@cotham.bristol.sch.uk
Key Dates
Please click here to view the Key Dates by year group for the 2018-19 academic year. You will be notified of any significant changes/additions, but please can we ask that you check the dates for your year group regularly as they are subject to change.
Parents' Evening Booking System (PES)
Please click here to access the online appointment booking system for Parents Evenings/Family Consultation Day. Please note this is only available if an event is due. We will email you to let you know when booking opens. If you encounter any difficulties with booking your appointments please contact the admin team by email to adminoffice@cotham.bristol.sch.uk or tel: 0117 919 8000
Assessment Calendars for KS3
We are in the process of compiling the Assessment Calendars for 2018/19 and will publish them via the Weekly Mailing and School Website as soon as possible. In the meantime, if you have any questions please email info@cotham.bristol.sch.uk
Homework and Independent Learning timetables
WisePay
WisePay is the Online Payment Service at Cotham School which allows you to pay for trips and visits as well as to add credit to your child's Cashless Catering account. Click here to access your account now. If you have any queries about your account please contact the support team by email to wisepay@cotham.bristol.sch.uk
School Uniform
Please click here to view the compulsory uniform requirements of Cotham School, along with visual examples of uniform and details of our uniform suppliers.
GCSEpod
Click here to access GCSEpod which contains lots of revision resources for most GCSEs. Students self register through the website using their name and school details.
SAM Learning
Click here to access SAM learning which contains revision exercises and self marking quizzes with automatic progress tracking and reporting. Please use the Centre ID: BS6CS. Student usernames and passwords are their birthday formatted as DDMMYY, followed by their Initials.
Diagnostic Questions
Click here to access. This site contains self marking quizzes with lots of templates including some from a range of exam boards. It's easy to make your own questions in Microsoft PowerPoint too. Students sign up with their school Google account using the G+ button to automatically create a school account
Edmodo
Edmodo is an application that can be used on both mobile devices and in the web environment to create an online community of practice. Edmodo is a free social learning platform that allows students to access the course content uploaded by their teachers.
Linguascope
The Language Learning Platform
Free School Meals
https://www.cloudforedu.org.uk/ofsm/sims to check if your child is eligible for Free School Meals or to apply.
Click here to Contact Us